Dieser Beitrag ist auch verfügbar auf:

Deutsch (German)
The best healthy vegan banana bread recipe I have ever tried- naturally sweetened and gluten-free! The batter uses cornmeal and oat flour, which makes it both moist and fluffy. A true keeper.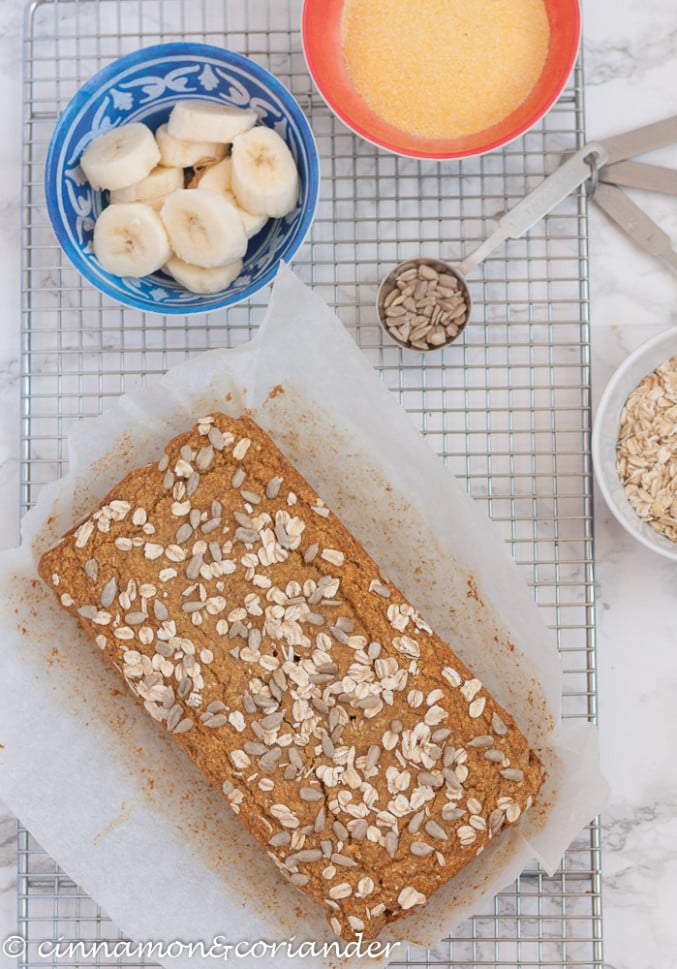 Happy Weekend everyone, and to all my Canadian reader: Happy Thanksgiving weekend! I hope you all have a great feast planned for either tonight or Monday.
We are gonna have our big feast on Monday as we are going to spend Sunday in the Moose Jaw, apartment hunting. Yes, the next move is about to happen and we are both very excited to spend some more time in beautiful Saskatchewan.
As a snack for the 2,5-hour road trip, I wanted to bake something healthy-ish, something that would not send us on a sugar high and straight to sleep after 10 minutes.
I grabbed those overripe bananas from the counter and created a refined sugar-free vegan banana bread recipe that I JUST HAVE TO share with you.
It's amazeballs!
This Healthy Vegan Banana Bread Recipe is gluten-free, refined sugar-free & DELICIOUS!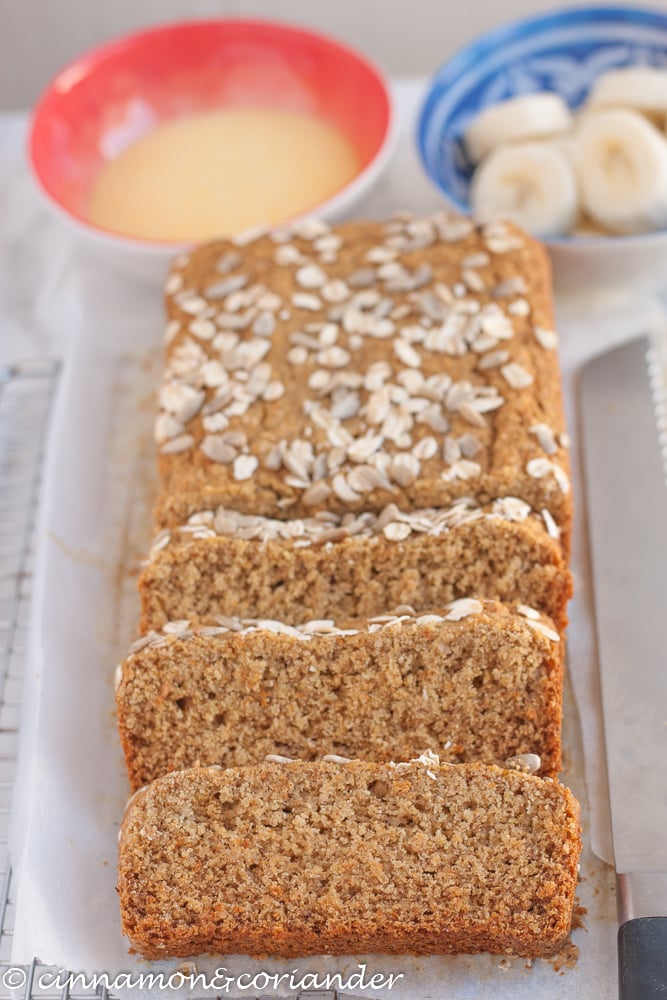 This healthy vegan banana bread recipe uses a mix of cornmeal and oat flour, which gives it a really great texture, plus it is gluten-free.
The texture is indeed the perfect combination of moist and fluffy, with a slightly coarser crumb than your regular banana bread.
What I love about this healthy vegan banana bread recipe, is that it needs no refined sugar. All the sweetness comes from the ripe bananas and a splash of maple syrup.
I really like the slight nutty aroma the maple syrup adds to the loaf, especially together with the natural sweetness of the cornmeal.
How to make Oat Flour:
This gluten-free banana bread recipe uses oat flour instead of wheat flour. You do not have to buy it if it's something you normally don't use.
Simply make your own oat flour!
To do so, pulse the rolled oats in your food processor until they are ground into a powder-like consistency. Depending on the speed and power of your food processor, this should take 60 seconds or less.
Stop and stir the oat flour to ensure that all have been finely ground.
Note that one cup of rolled oats will yield approximately 1 cup of oat flour
What toppings and add-in shall I use for this Vegan Banana Bread Recipe?
I am a bit of a purist when it comes to banana bread, but you can feel free to stir some vegan sugar-free chocolate chips or chopped nuts into the batter before baking.
Pecans, Walnuts, or Chia Seeds are other great additions.
As you can see, I only sprinkled a couple of tbsp of sunflower seeds and rolled oats on top of my vegan banana bread right before baking. I love how it makes my vegan banana bread looks rustic and wholesome.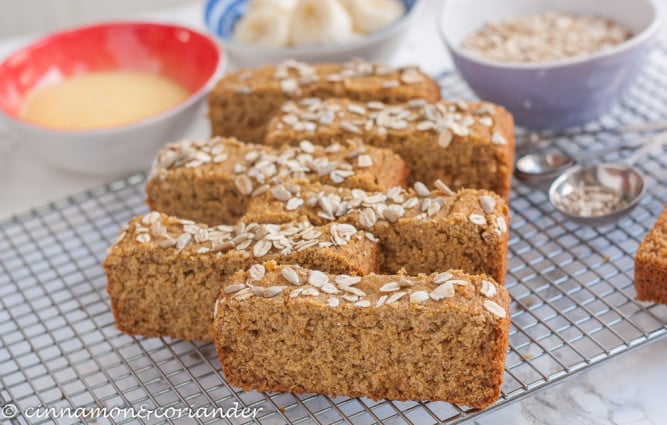 The vegan banana bread tastes best fresh out of the oven. Pure or with a tsp of nut butter! Store it in an airtight container at room temperature for up to one week.
For more healthy vegan desserts, check out my Vegan Black Bean Brownies and my Vegan Hazelnut Cinnamon Cake.
My product recommendations
★ Did you make and love this healthy vegan banana bread recipe? Give it your review below! And make sure to share your creations by tagging me on Instagram!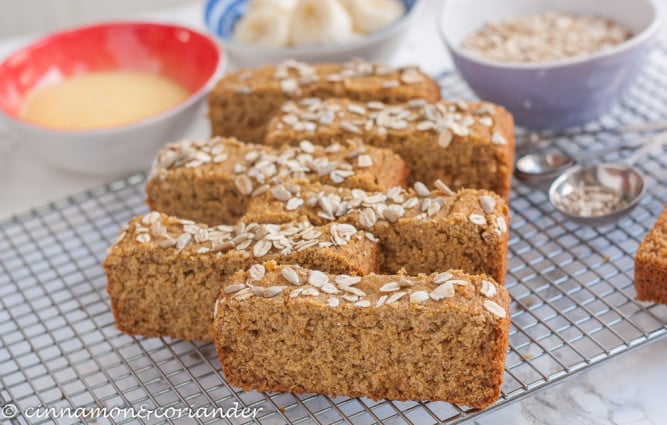 Best Vegan Banana Bread | No refined sugar, gluten-free
This vegan banana bread is so quick and easy to make! The mix of oat flour and cornmeal ensures a fluffy yet moist crumb and maple syrup adds the perfect amount of sweetness to this healthy treat.
Ingredients
1

cup

oat flour

80 g

1

cup

cornmeal

150 g

1

tsp

baking powder

1

tsp

baking soda

2

tbsp

tapioca starch

or cornflour

1

tsp

cinnamon

1/4

tsp

nutmeg, freshly ground

1/2

tsp

salt

3

large

ripe bananas

1/3

cup

maple syrup

80 ml

1

tsp

vanilla extract

2

tbsp

coconut cream or -milk or almond milk

2

tbsp

rolled oats
Instructions
Preheat oven to 325 F and line a loaf pan with parchment paper.

Mix the dry ingredients in a bowl. In a blender, puree banana with maple syrup, vanilla and coconut cream. Stir wet ingredients into dry ingredients until just combined. Pour batter into the loaf pan and sprinkle some rolled oats or nuts on top.

Bake banana bread until a skewer inserted in the middle comes out clean. Depending on the size of your loaf pan, this could take 30 to 45 minutes. Let cool, slice and enjoy!
Recipe Notes
This recipe makes one regular small-ish loaf or 6 muffins.