Dieser Beitrag ist auch verfügbar auf:

Deutsch (German)
Back in my Costa Rican days I would take off to the Caribbean Coast every other week! I fell in love with the untamed vibe of the Caribbean beach towns around Puerto Limón. From the pastel coloured houses to the absence of air conditioning. I just love everything about that area. And of course, there's the food ! The area around Limón has a lot of cultural and gastronomic influences from other countries like the West Indies and Africa. That means spices, exciting textures and exotic ingredients!
The beginning of my Caribbean escape would typically be marked by eating one of those wonderfully flaky empanadas that we would get at the first and only stop on the 6 hour bus ride in Puerto Limon. Filled with beef, chicken, beans or whatever was on the menu that day. They were always fresh and always on the spicy side. My entertainment for the remaining bus trip would be watching the odd tourist break into a sweat after taking a first bite of their beef patties ! While down there I managed to get a hold of a really good recipe for beef empanadas that turn out just like the ones I used to get in Limón.
A buttery, flaky empanada dough with a spicy beef filling!

The flaky dough of these Beef Empanadas is loaded with butter and colored with tumeric. Make sure your butter is very cold to ensure it bakes up flaky. The flavorful ground beef filling gets its special taste by added onions, garlic, and Scotch bonnet peppers, and is loaded with curry, allspice, and thyme.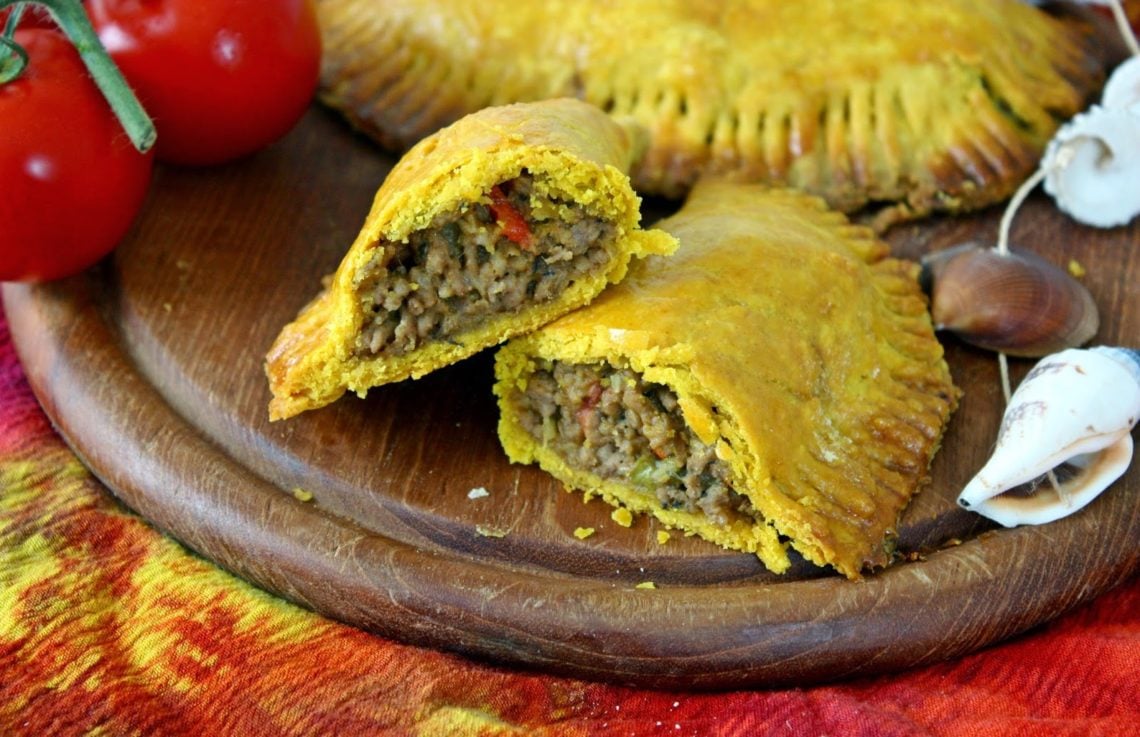 Here is the recipe for my Favourite Beef Empanadas
For the dough
400g flour
1/2 teaspoon kosher salt
2 tsp tumeric or 1 tbsp curry powder
1 cup cold butter, cut into small pieces (226 g)
3/4 cup cold water
1 tablespoon distilled white vinegar
1 egg, lightly whisked
Add flour, salt, tumeric powder, and butter to the bowl of a food processor and pulse to combine. Whisk water, vinegar, and egg together in a small bowl. Add it to flour mixture in small portions, pulsing after each addition until a ball of dough forms. Wrap dough in plastic wrap and refrigerate for at least 1 hour.
For the Beef Empanadas filling
1 finely chopped onion
2-3 cloves garlic, peeled and minced
100g butternut squash, in little cubes
1 spring onion, sliced
1/2 red bell pepper
400g ground beef
2 little slices bread, crumbled (50 g)
1 tsp ground ginger ,1/2 tsp allspice , 1,5 Tbsp curry powder, 1/2 tsp cayenne pepper
1 bay leave
2 tbsp fresh chopped thyme (4 sprigs)
125 ml beef broth
1 scotch bonnet chili, finely minced
2 Tbsp worcester sauce + 2 Tbsp BBQ Sauce
salt and pepper to taste
1 egg mixed with 2 tbsp water for eggwash
Brown ground beef in a large sauté pan over medium-high heat, breaking meat into little bits. When beef is nearly cooked through, move the meat to the side of the pan, reduce heat to medium and add onion, chili, red bell pepper,spring onion, squash and garlic. Cook, stirring often, until vegetables have softened, 4 to 5 minutes.
Add broth, BBQ sauce, Worcestershire sauce, cayenne, curry, allspice, salt, bay leaves, and thyme. Stir to combine, reduce heat to low and simmer, stirring occasionally, until most of the liquid is evaporated, about 20 minutes. Remove from heat. Discard bay leaves and thyme sprigs. Taste and adjust seasonings, add salt and pepper if needed. Add the breadcrumbs and stir thoroughly.
Adjust the oven rack to lower-middle position and preheat oven to 190 Celcius.
Flour your work surface and rolling pin. Roll the dough out to 1/8 inch thick. Cut the dough into 6-inch circles and place 2 tablespoons of the meat filling onto half of each round of dough. Brush the edges of the dough with the egg wash and fold dough over the filling to make a half-moon shape. Press edge with tines of a fork to seal. Make sure they are really sealed tightly!
Set the beef empanadas on a parchment-lined baking sheet and bake until dough is golden brown and cooked through, about for 25 to 35 minutes. Let stand about 5 minutes before serving.