Dieser Beitrag ist auch verfügbar auf:

Deutsch (German)
Make this authentic German Chocolate Marzipan Cake with Hazelnuts & Poppyseed for your next party. A moist hazelnut cake that is smothered with apricot jam, a layer of marzipan, and chocolate ganache.
This authentic and traditional German chocolate marzipan cake is made with ground hazelnuts, and poppy seeds and features a splash of rum for moisture. Marzipan and chocolate ganache turn this into a sophisticated hazelnut cake that is super easy and yet elegant enough for any celebration!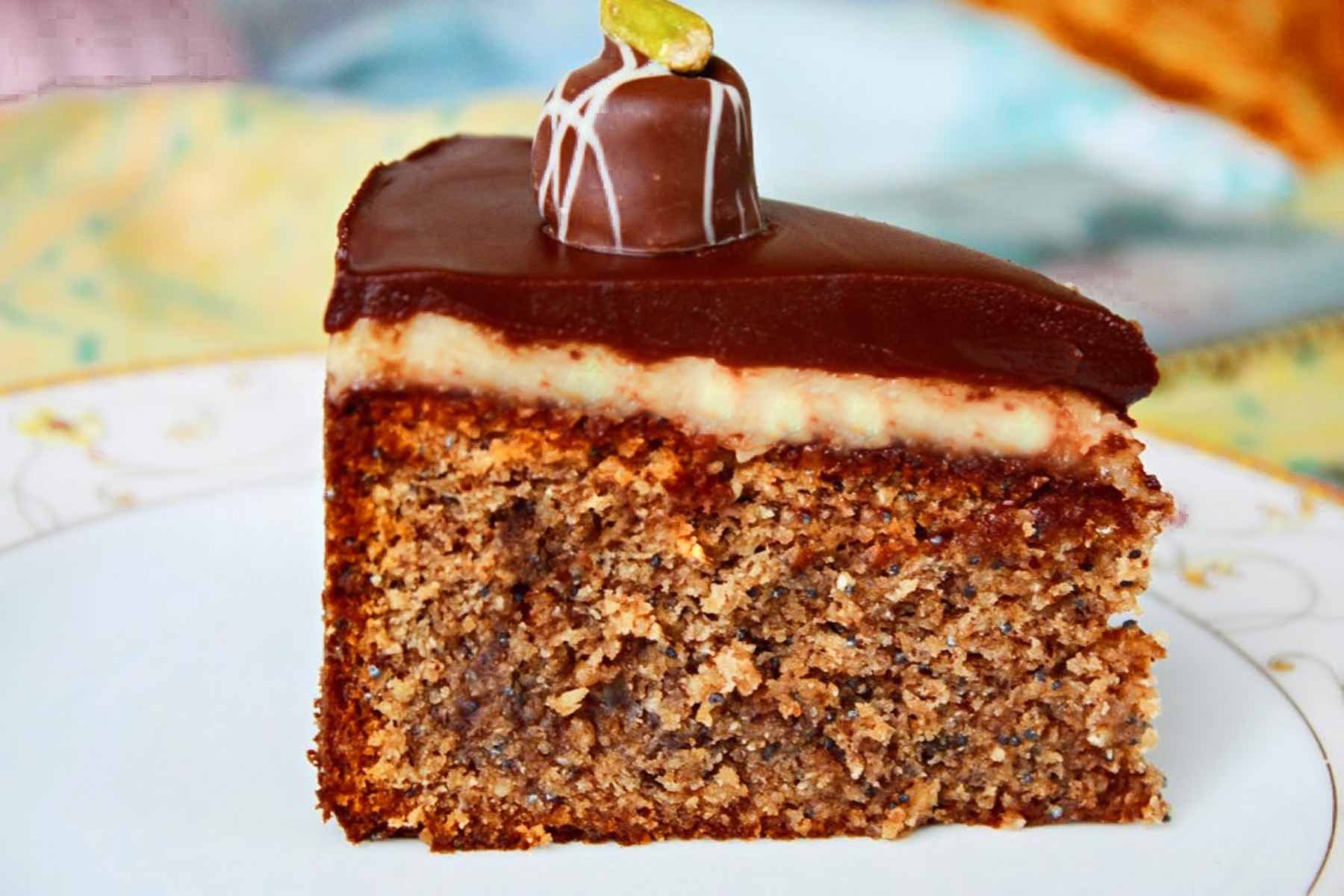 German Hazelnut Chocolate Marzipan Cake – perfect for parties and keeps for days
This simple chocolate nut cake covered with marzipan is AMAZING! Who can say no to a slice of moist nut chocolate cake at any time of the day and if it is made with marzipan and chocolate ganache!? OMG!
I'm talking about traditional German Baking ingredients like hazelnuts, dark chocolate, marzipan and poppy seeds! Oh yeah…and rum!
Poppy seeds, marzipan, hazelnuts and chocolate in one glorious German cake! This may sound like a bit of a wild mix at first, but don't worry! The flavors are nicely balanced and the taste is an absolute stunner.
The marzipan cover helps keep the hazelnut poppyseed cake wonderfully moist for days. The poppy seeds provide some crunch if you leave them whole. However, I like to grind them up a bit. They harmonize wonderfully with the nutty flavor of the marzipan. We finish the cake with a thick layer of creamy dark chocolate ganache which we pour over the marzipan.
Roll out marzipan
Before you roll out the marzipan, you should prepare the marzipan well.
Knead the marzipan mixture very thoroughly before rolling it out.
Icing sugar and some drops of rose water help so that the marzipan can be rolled out easier.
If you want, you can use homemade marzipan. Freshly made, it's super easy to work with.
To roll out the marzipan you will need a smooth surface. Then, also two layers of cling film, and a rolling pin. If you don't have cling film, dust the surface and the rolling pin with powdered sugar and then roll out the marzipan evenly. However, it is easier if you use cling film.
Place a piece of cling film that is at least twice the size of the finished marzipan blanket on the countertop. The marzipan mass is placed on the lower half. Wrap the top half of the cling film over it. Now roll out the marzipan until you reach a 20 cm round. Remove the top sheet and carefully lift up the with the rest of the sheet.
Tips:
warm-up the jam with a splash of rum and stir well before spreading it on the cake. It will help keep the cake moist.
The cake keeps for about a week and will get better and better
Use store-bought marzipan or make marzipan at home
For more German baking recipes, try:
★ Did you make and love this German Cake recipe? Give it your review below! And make sure to share your creations by tagging me on Instagram!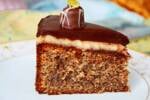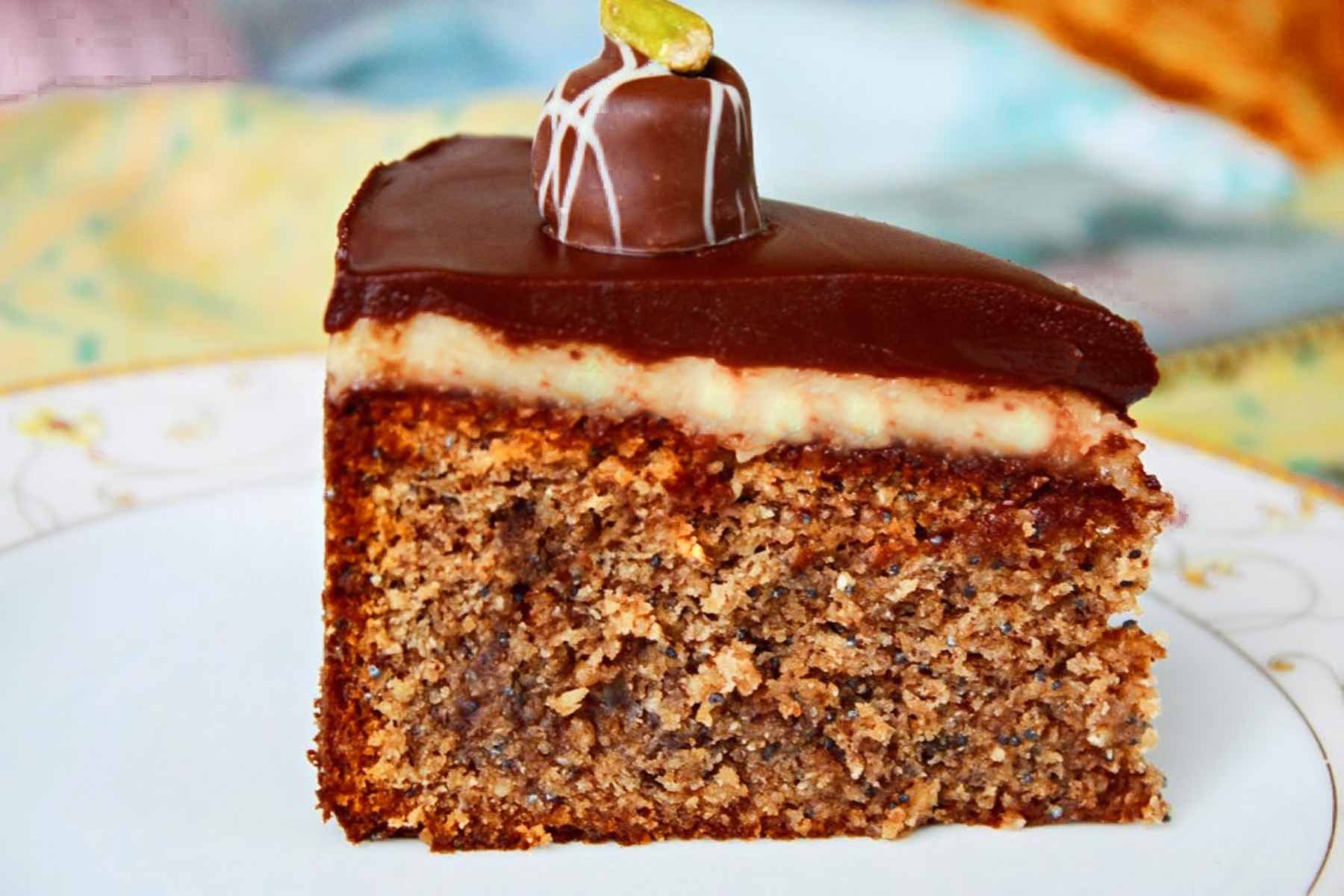 German Hazelnut Poppy Seed Cake
This German Hazelnut Poppy Seed Cake topped with Marzipan and Chocolate Ganache is super simple and yet elegant enough for any celebration!
Total Time
1
hour
5
minutes
Ingredients
150

g

whole hazelnuts

75

g

finely grated dark chocolate

2-3

tbsp

poppy seeds

50

grams

ap flour

1

tsp

cinnamon

2/3

tsp

baking powder

150

g

butter

room temp.

150

g

brown sugar

3

eggs room temperature

separated

3

tablespoons

of rum

20

grams

of sugar

2

tbsp

jam

I like apricot

150-200

g

marzipan a pack

125

g

dark chocolate 70% -75%

grated

25

grams

butter

1

tsp

sunflower oil
Instructions
Preheat the oven to 150 degrees C / 300F

If you have whole nuts, toast them in the oven first. Transfert them onto a baking sheet and roast the hazelnuts at 300F for 10 minutes and let them cool down a bit before finely grinding them in the food processor. Grate chocolate and mix with ground poppy seeds, flour, cinnamon and baking powder and ground hazelnuts. I mix everything together in the food processor to form a sandy mixture.

Now cream the softened butter and brown sugar for about 5 minutes and then add the egg yolks and rum (tbsp by tbsp) one after the other and stir in. Now add the nut mixtureand is carefully combine with the egg mixture to form a smooth dough.I use a handmixer on low speed but you can do this by hand. Beat the egg whites with the remaining 20 g of sugar until stiff using a handmixer and then carefully fold one third of each into the batter with a metal spoon.

Now pour batter into the greased and lined 20 cm springform pan and into the oven for about 50 minutes. But check in after 42-45 minutes! If the cake has risen nicely and a skewer comes out clean, it is done.

Brush the cooled cake with the warmed apricot jam. Roll out the marzipan into a 20 cm circle and place on top of the cake.

Break the chocolate into small pieces and melt over a water bath. Now stir in the warm butter first until the mixture is nice and smooth. Then stir in the sunflower oil. Allow to cool slightly.

Put a cake ring around the cake and pour the chocolate icing on the marzipan layer.

Let set at room temperature and decorate as you like.