Dieser Beitrag ist auch verfügbar auf:

Deutsch (German)
This gluten free Italian Almond Chocolate & Chestnut Torte is deliciously rich and highly addictive!
Flavoured with Brandy, Chocolate, roasted Almonds and Chestnuts, it`s the perfect dessert for special occasions such as Thanksgiving or Christmas!
It also makes for a pretty decent breakfast the day after 🙂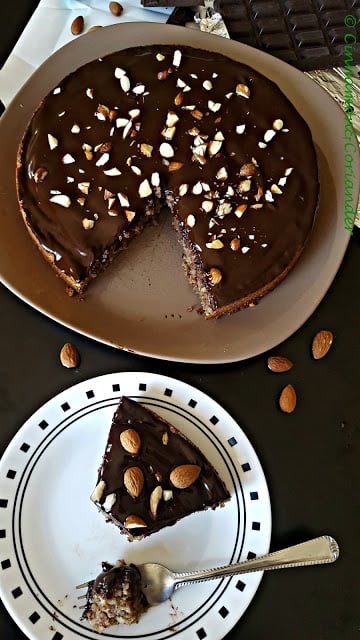 It takes a bit of an effort to make it entirely from scratch but believe me – it is so worth it!
Feel free to substitute the homemade chestnut puree with the canned, unsweetened stuff.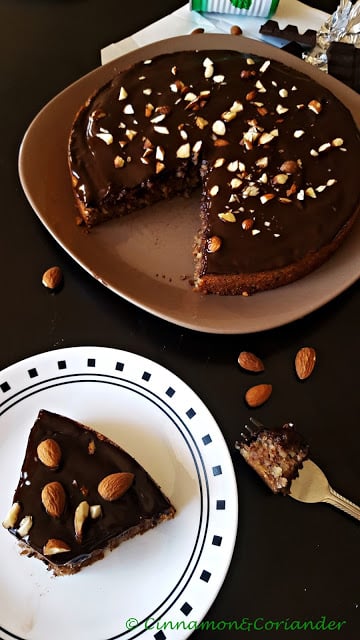 For 16 pieces /a 9 inch cake pan
500g chestnuts
250ml milk
6 eggs, separated
250g caster sugar
100g unsalted butter, softened
100g roasted almonds, ground
100g dark, grated chocolate
1 lemon, zest grated
60ml brandy
For the glaze:
3 Tbs apricot preserve
125 g of dark chocolate
40 g of Butter
Preheat your oven to 200 C and grease a 26 cm round cake tin.
Roast the whole almonds and grind them. I like to leave a few bigger pieces in there for that special nutty crunch in the cake.
Cut an x into each single chestnut and place them on a baking tray.
Roast the chestnuts in preheated oven for 15 to 20 minutes or until the skins start to peel outwards. Keep our oven on, but reduce its temperature to 180 C / Gas 4.
Allow for your chestnuts to cool slightly, then peel them.
Place the chestnuts in a small pan with the milk and bring to the boil.
Simmer your nuts on low heat for about 15 minutes until they are soft. Drain them well and puree them in a food processor. If your nuts are very starchy you might want to add a bit of milk as you puree them.
Cream your egg yolks with sugar, then beat in butter. Combine this mixture with the pureed chestnuts.
Mix the cooled, ground almonds and chocolate with lemon zest, brandy and the chestnut mixture. Beat egg whites until stiff peaks form and gently fold in till evenly combined. Pour this mixture into the prepared tin and bake in preheated oven for 45 minutes or until a skewer comes out clean when inserted into the centre.
Once your cake has cooled, warm up your apricot preserve to make it more spreadable and spread it on your cake. Melt butter and chocolate over a waterbath and glaze your cake.
Allow for the chocolate glaze to set a bit, before you cut into the cake.
Noch mehr Schokoladenkuchen für gemütliche Stunden ?
Looking for more chocolate cakes for comfy hours?
Brandy & Walnut Chocolate Cake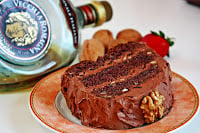 Dark Chocolate & Irish Whiskey Cake
Nutty Chocolate, Marzipan & Poppy Seed Cake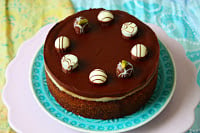 XoXo,
Kiki