Dieser Beitrag ist auch verfügbar auf:

Deutsch (German)
These super moist Spiced Coffee, Banana and Rum Raisin Cake Bars will knock your socks of! Rum Raisins, mashed bananas and a spiced coffee syrup make these flavour packed cake bars almost brownie-like !

The idea for these Spiced Coffee Syrup, Banana & Rum Raisin Cake Bars was born while sipping a nice spiked coffee in one of Vienna's wonderful cafés and nibbling on a piece of rum raisin studded cake.
I got to admit, I go a bit crazy over all things rum raisins. In Germany we buy them coated in chocolate and eat them as a snack 🙂 Don´t judge us. But they are even better in cake.
Even if you are not the biggest fan of raisins you might want to give these bars a try! They kind of melt into the dough and are not chewy at all! By no means can they be left out! I´ts the soaked rum raisins in the batter that make these cake bars so rich, moist and boozy!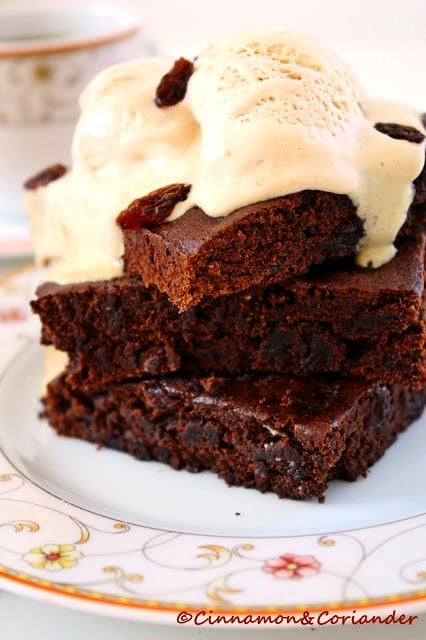 Seriously, these Rum Raisin Cake Bars are out of this world.
I´d place them somewhere in between a cake and a brownie
We start by cooking a sinful spiced coffee syrup to which we add cocoa powder and rum.
Aaaand in go the raisins! The smell coming out of this pot is incredible!! Takes me back to Vienna!
For some extra moistness we add a mashed banana to our Rum Raisin Cake Bars ! Less for flavor than for texture! If you are a bowl-licking kind of baker, you are in serious danger here! This stuff already tastes delicious when unbaked.
And here`s the recipe for my Spiced Coffee, Banana & Rum Raisin Cake Bars
7 tsp instant coffee powder
40g cocoa powder
200 g sugar
175 g raisins
ca 125 ml rum + 1 shot of rum
ca 125 ml water
125 g butter
60 g powdered sugar
2 Tbsp Vanilla infused sugar or 1 tsp vanilla essence
2 eggs
1 pinch of salt
1 ripe banana, mashed
1 tsp nutmeg
1 tsp cinnamon
1/2 tsp cardamom
1/4 tsp cloves
250 g flour
1 tsp baking powder
Soak the raisins in the rum. Drain and save all the rum that the raisins couldn´t absorb and add more rum until you reach the 125 ml.
Mix coffee powder, 125 ml of water, sugar, cocoa in a pot and bring to a boil. Add the raisins and let simmer for 15 minutes. Add the spices as it simmers. After the 15 minutes turn of heat and let come to room temperature.
Preheat your oven to 180 Celsius and prepare a 30 cm square baking pan.
Cream Butter with powdered sugar and vanilla. Add eggs, banana pure, salt and rum.
Combine flour and baking powder and sieve over the wet dough while gently folding it in with your spatula.
Now, slowly add the sirup to your dough.
Pour the batter into your baking dish and bake for 30 minutes.
For a clean cut, let the Rum Raisin Bars cool down a bit as it might crumble when sliced too hot.
Love,
Kiki