Dieser Beitrag ist auch verfügbar auf:

Deutsch (German)
Paleo Grilled Pork Shoulder Skewers aka Malaysian Penang Pork Satay – as crisp, smoky, juicy, and delicious as those skewers you get at Asian night markets. Paleo and gluten-free! Jump to Recipe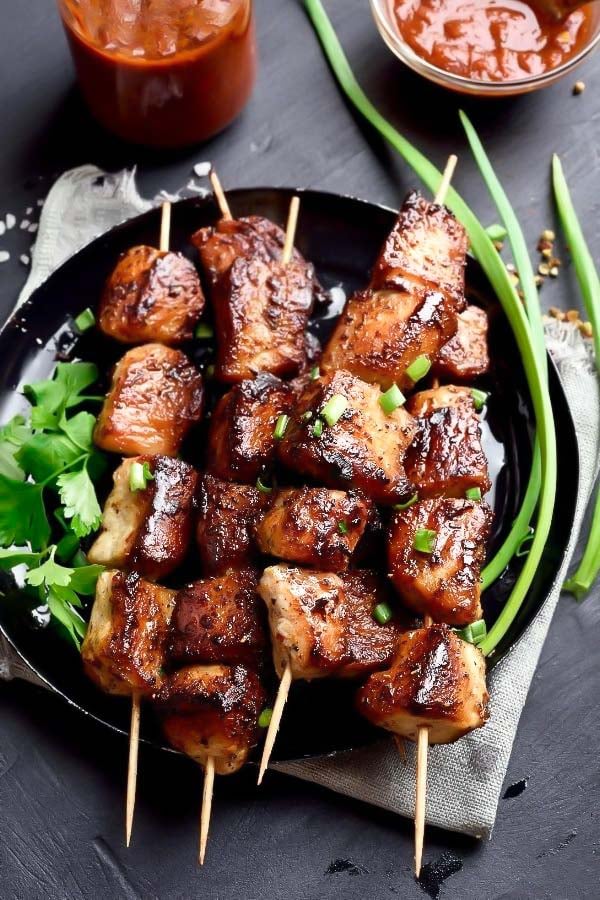 Grilled Pork Shoulder Skewers " Penang Satay " – the best way to grill pork!
We all know what satay is, right? Do I have to go there? Let's just call them the best skewers ever! Juicy marinated pork or chicken threaded onto skewers and cooked over the charcoal grill until charred. It is always served with a sweet-and-spicy peanut dipping sauce aka satay sauce? If you want to keep these skewers paleo, you might want to serve them with chili sauce or a quick homemade paleo satay sauce made with almond butter.
You'll find pork satay in Thai, Indonesian and Malaysian restaurants but also at many a regular restaurant, though more often in the appetizer section.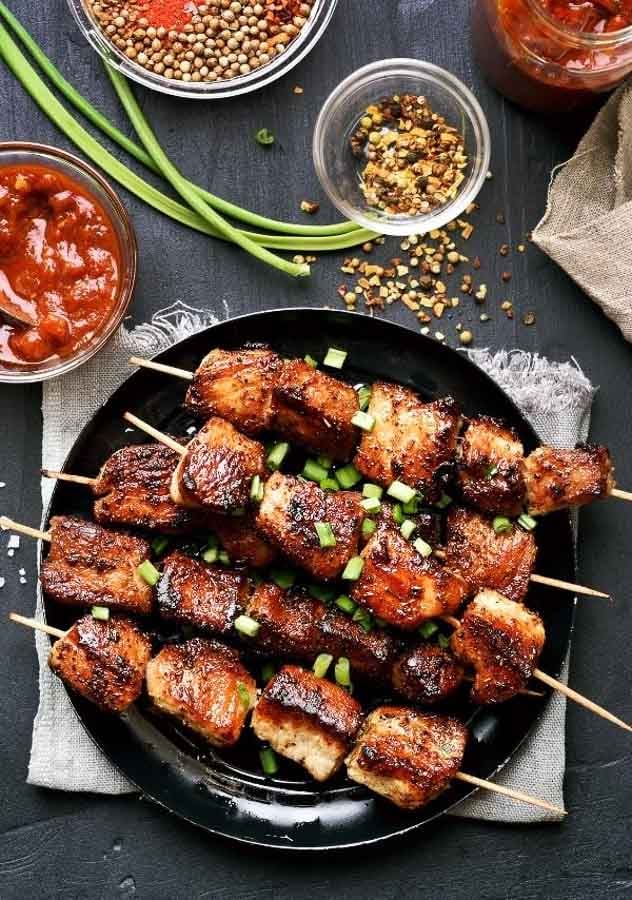 These paleo grilled pork shoulder skewers might be the most delicious satay I've ever had and they are made without refined sugar. They come with a perfectly sweet and aromatic marinade that ist brushed on the meat as it cooks and drizzled over it right after it comes off the grill.
I like these with chili dipping sauce spooned on top or with paleo satay sauce. The pork is deeply charred on the exterior thanks to the coconut sugar in the marinade, but not bitter. The crisp crust gives way to a juicy interior that melts in your mouth in the way that only well-rendered pork fat can.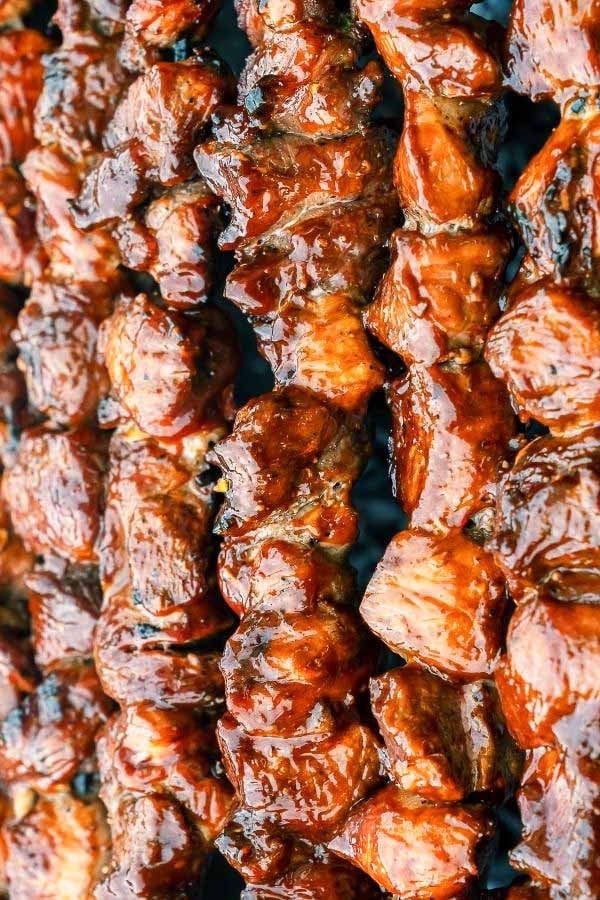 Which meat to pick for pork satay
As for the meat, the pork shoulder ( aka pork butt) you'll find at any supermarket will work perfectly well in its place.
Use a fairly large chunk of pork, because it doesn't take long to develop that beautifully brown, crusty exterior on the grill. Or in a broiler turned to high. Or in the oven at 500 degrees! Serve over rice with paleo satay sauce (try this recipe here) or regular Thai peanut sauce and my dairy-free creamy cucumber salad.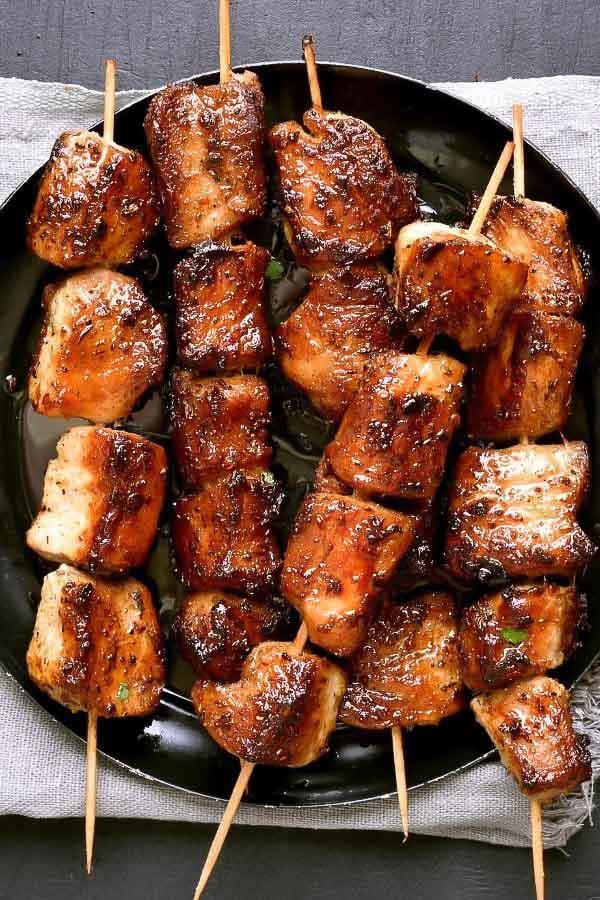 How to cut pork shoulder for making satay skewers:
So what size pieces to use. At some restaurants, you'll find satay as long strips of meat that are threaded onto skewers individually. At most street food stands, you'll find the pork ones as smaller chunks. After trying strips and chunks I found that you get the best results with smaller chunks, threaded together as tightly as possible without squishing. This not only minimizes the length of the muscle fibers for more tenderness but also prevents them from drying out before they char properly.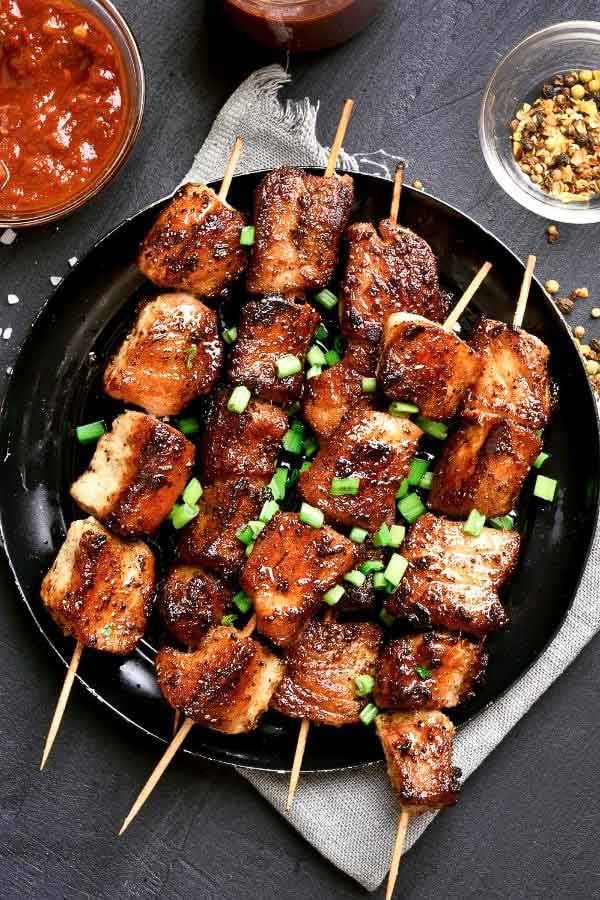 Tips
I have also made this on a cast iron and it turned out just fine
A charcoal chimney is useful for lighting coals so they'll already be hot when you add them to the grill
You can cook these pork satay skewers over a gas grill because of the high heat necessary to give them a really nice char, I do prefer charcoal. Scratch that – I always prefer charcoal.
Get a fanning device.I used a piece of cardboard for mine. As soon as I placed the skewers over the hot coals, they started to drip fat, causing flare-ups. Be ready with that stiff piece of cardboard to start fanning.
Once the pork was cooked to my liking and crisp around the edges, I move it over to the cooler side of the grill so that I can brush it with the remaining sauce without worrying about flare-ups. Then quickly back over direct heat just until the sauce reduced down to a sticky glaze that coats the meat. This takes about 40 seconds.
★ Did you make and love this paleo recipe for grilled pork shoulder satay? Give it your review below! And make sure to share your creations by tagging me on Instagram!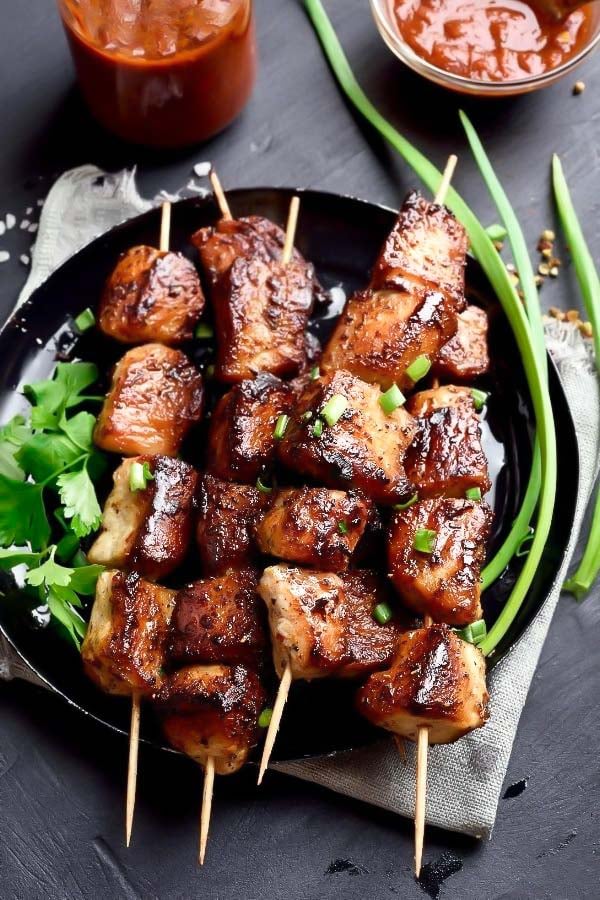 Grilled Pork Shoulder Skewers - Malaysian Pork Satay Recipe
Best recipe for Thai inspired Paleo Pork Satay Skewers / Penang Pork Skewers with an amazing Asian marinade. The marinated pork shoulder is threaded on skewers and grilled over hot coals. Serve them with rice and peanut sauce or paleo almond satay sauce! These moist grilled pork shoulder skewers smothered in a rich and flavorful sweet and salty satay marinade are sure to be a hit this summer at any bbq party.
Ingredients
2 1/2

inch

piece turmeric root

peeled and sliced thinly

1

teaspoon

ground turmeric

or to taste1

2

inch piece

fresh ginger root, sliced

1

large shallot

roughly chopped

8

cloves

garlic

peeled

1/4

cup

coconut sugar

or brown sugar

2 1/2

tablespoons

ancho chili powder

1/2

tsp

cumin

1

tsp

chipotle chili powder

2

teaspoons

ground coriander

1/2

teaspoon

cayenne pepper

optional

4

tbsp

coconut milk

optional

1/4

cup

rice vinegar

2

tablespoons

coconut aminos

or soy sauce for non paleo

1

tablespoon

fish sauce

1

teaspoon

tamarind paste

1/2

bunch

cilantro

leaves and stems

1

2 1/2 pound pork shoulder roast

cut into cubes

1

tablespoon

kosher salt

Spring onions for serving

Satay Sauce for Dipping

5

large metal skewers
Instructions
Place fresh turmeric in a food processor along with powdered turmeric. Add in the fresh ginger, shallots, garlic cloves, coconut sugar, ancho or chipotle chili powder, coriander, cumin, cayenne, rice vinegar, coconut milk, coconut aminos, fish sauce, tamarind paste, and cilantro. Blend into a fine paste.

Cut pork into 1 1/2-inch cubes, trimming off fat as needed. Place pork in a bowl and season with some sea salt. Pour in the marinade. Now mix and massage the pork with your hands until completely coated. Cover the bowl with plastic wrap and refrigerate for 4 to 18 hours.

Take meat out of the fridge 30 minutes before grilling.

Preheat an outdoor grill for medium-high heat and lightly oil the grate. Thread the pork through skewers so the pieces are touching but not squished together. Reserve leftover marinade for brushing.

Grill the skewers, brushing on the reserved marinade as you grill the other side, until pork just starts to firm up but is still slightly pink in the center, about 9-10 minutes per side. This depends on the size of your cubes. Never go by time, always go by looks, feels and temperature. An instant-read thermometer inserted into the center should read 145 degrees F (63 degrees C). Serve immediately with Satay Sauce and Cucumber Salad.
Recipe Notes
Substitute 2 teaspoons powdered turmeric for the fresh kind, if you like.
Use any kind of chili powder you prefer.
The coconut milk is optional but adds sweetness and helps tenderize the meat, but I think it's perfectly fine without.
You can use bamboo skewers instead. Just soak them in water beforehand.
You can use a fairly large chunk of pork, because it doesn't take long to develop that beautifully brown, crusty exterior on the grill.
You can grill those under a broiler turned to high. Or in the oven at 500 degrees!
Serve over rice with peanut satay sauce and my creamy cucumber salad.