Dieser Beitrag ist auch verfügbar auf:

Deutsch (German)
This Finnish Blueberry Pie is a popular traditional Finnish cake you will love. My mustikkapiirakka recipe features a luscious sour cream and blueberry filling baked in a rye flour pastry. Let's try this Finnish dessert Jump to Recipe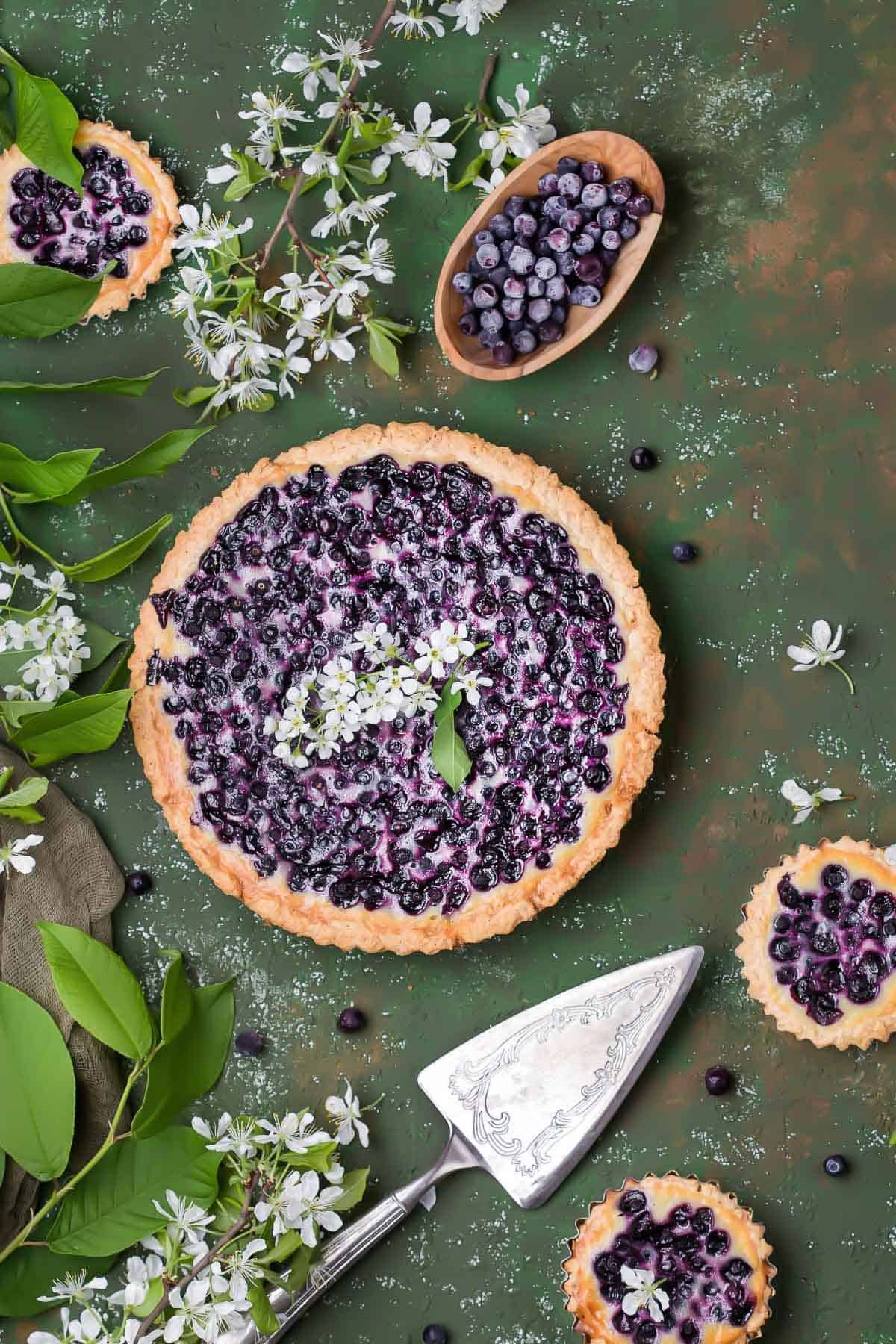 Finnish Blueberry Pie – Traditional Mustikkapiirakka Recipe
This easy blueberry cake is an iconic Finnish dessert that can be found in almost every cafe in Finland. In Finnish, this blueberry pie is called mustikkapiirakka – "mustikka" means blueberry, and "piirakka" means pie. This easy blueberry pie consists of a sour cream custard baked in a rye flour shortcrust pastry! Think of Mustikkapiirakka as a cross between a blueberry pie, a tart, and a cheesecake.
In Finland, each household has its own family recipe for mustikkapiirakka, so there are many variations of this traditional Finnish dessert. It's also known as " summer cottage pie " in Finland because the Finnish people like to make it in summer when they head out to their cottages "mökki" in the summer to pick berries by nearby lakes or in the forest.
I like that this pie is not too sweet and I love the contrast between the nutty rye crust with hints of cardamom and the creamy soft and luxurious blueberry custard filling. Paired with plump blueberries that explode in your mouth with every bite, sheer heaven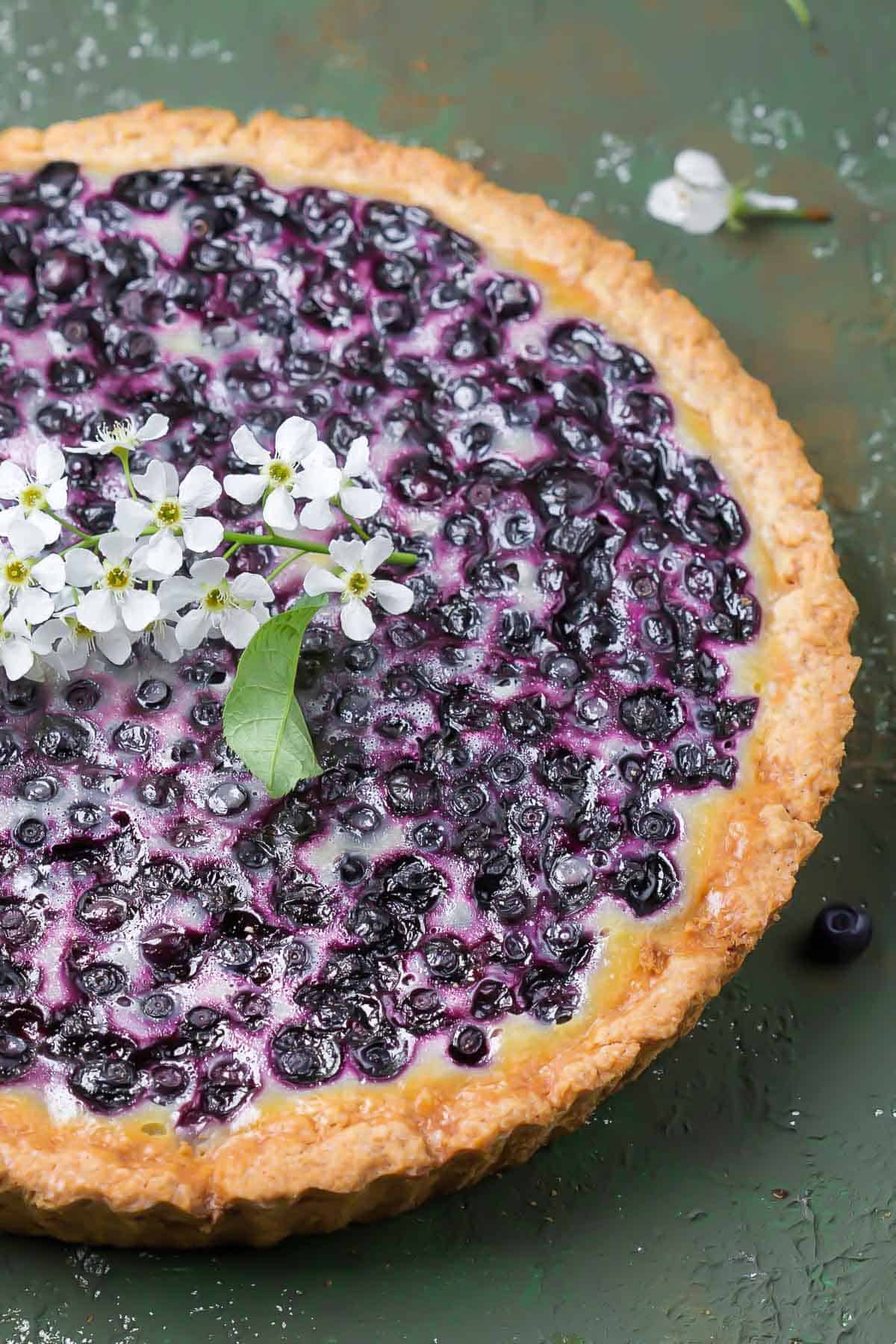 Blueberries vs Bilberries?
A traditional Finnish Blueberry Pie is made using arctic bilberries. Although many people use the terms interchangeably, there are differences between the two berries. Blueberries and bilberries both grow in separate regions of the world. While arctic Bilberries are native to Northern Europe, blueberries are native to North America. Both are similar in taste and can be used interchangeably in this blueberry pie recipe. I used wild Canadian blueberries for my mustikkapiiraka recipe because that is what I could find at grocery stores.
This Finnish cake can also be made with raspberries or lingonberries depending on what berry is in season!
Blueberry picking in Finland
Finland is a country covered with mostly forest so in the summer months it's blueberry paradise! Arctic blueberries grow in the wild throughout the country and people will venture out to pick arctic bilberries from July until the beginning of September to make iconic Finnish dessert recipes like berry soups, berry juices, sweet buns and jams.
Blueberries and bilberries are some of the most nutrient-dense foods you can find so why not use this as a justification for making (and eating!) this delicious blueberry pie.
HOW TO MAKE FINNISH BLUEBERRY PIE (MUSTIKKAPIIRAKKA)
While this recipe is called "pie" it is important to use a springform pan or tart pan, not a glass or ceramic pie dish. We want something with a removable bottom and made of metal.
For the rye flour pastry we use:
rye flour and all-purpose flour, or just rye flour depending on your taste
softened butter,
sugar, light brown sugar or can sugar can be used instead
egg
baking powder
and a pinch of cardamom
We cream butter and sugar, add the egg, then stir in the dry ingredients. Easy! No chilling, no rolling out the dough. Simply press it into the dish. Now, you can either pour the filling straight onto the crust and sprinkle with berries and bake it as a whole. Or, you pre-bake the crust for 8 minutes. While this step is not necessary it does make for an especially crunchy crust.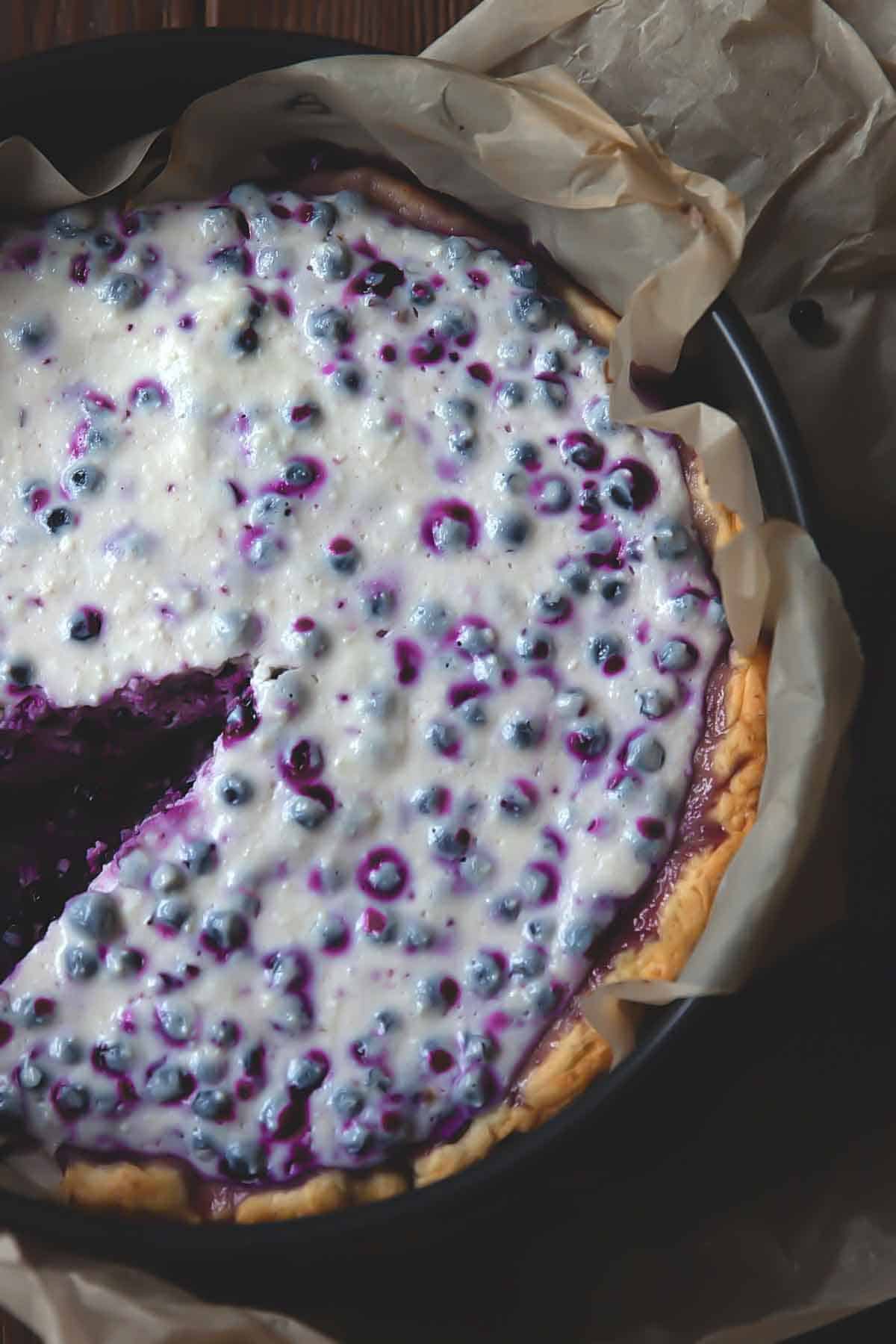 Make the sour cream custard filling:
For the filling sour cream, creme fraiche, eggs, vanilla, and sugar are all whisked together to obtain a luscious, aromatic filling. We pour this filling onto our crust, then sprinkle on the blueberries. If you prebaked the pie crust, make sure it has cooled. down.
How to know when your tart is cooked?
The tart takes 25 – 30 minutes to bake. For the version without blind-baking, it will be closer to 30 minutes. It's ok if the filling in the center jiggles a tiny bit, it will set once the pie is cooled.
Depending on whether you prebaked your crust or not it will turn a bit dark towards the end so consider covering the crust with aluminum.
Do I need to use rye flour for this recipe?
For this recipe, you can use rye flour or a combination of rye flour and all-purpose flour. You could use all-purpose flour only but it will not be authentic.
What to serve with blueberry pie?
My personal preference is to serve my Finnish blueberry tart chilled and I find it's even better the next day. Preferable for breakfast in the morning. No one will judge you!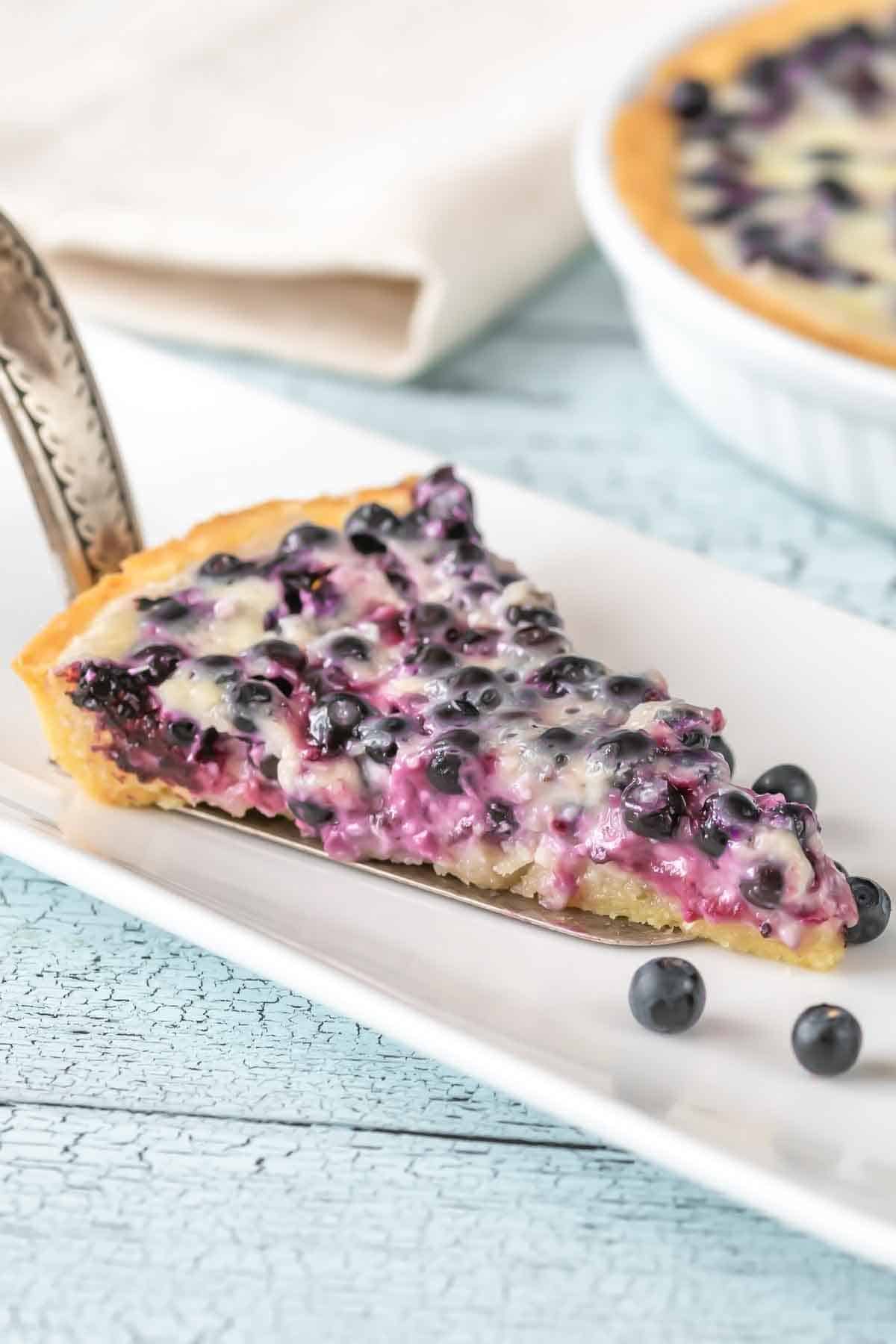 Tips:
The blueberry tart will keep in an airtight container in the refrigerator for up to 5 days. Note that the crust will soften as the days pass, due to the moisture in the filling
You can make this tart using lingonberries
Use frozen or frozen wild blueberries, bilberries or regular cultured blueberries
Serve this at room temperature, or store it in your refrigerator overnight to chill. You can pair this pie with vanilla ice cream or whipped cream for a finishing touch.
More Blueberry Recipes:
★
Did you make and love this Finnish Blueberry Pie recipe? Give it your review below! And make sure to share your creations by
tagging me on Instagram
!
Finnish Blueberry Pie
Finnish Blueberry Pie with wild blueberries, sour cream filling and rye shortcrust pastry - try this easy traditional Mustikkapiirakka , a Finnish dessert recipe for wild blueberry tart!
Ingredients
For the pastry
100

g

butter soft

- 5 tbsps

80

g

sugar

- 1/3 cups

1

egg

at room temperature

150

g

rye flour

alternatively 100 g wheat flour and 50 g rye flour - 1 1/2 cups

1/4

tsp

cardamom

1/4

teaspoon

salt

1

teaspoon

baking powder
For the filling:
150

g

crème fraîche

or more sour creme 2/3 cups

100

g

sour cream

1/3 cup + 2 tbsp

1

egg

5

tbsp

sugar

1

tsp

vanilla essence

250

g

wild blueberries or blueberries 1 1/3 cups
Instructions
Bring the chilled ingredients, i.e. eggs, butter, creme fraiche and sour cream to room temperature in advance. Preferably 1 hour before baking. In summer 20-30 minutes are enough.

Preheat the oven to 375 F and grease a tart pan with removeable bottum or a 9 inch springform pan.

Beat the soft butter and sugar together with the mixer until frothy. Mix in the egg.

Then combine the rye flour with the cardamom, baking powder and add to the egg mixture! Combine everything into a batter. The dough should no longer be too sticky. If necessary, just add a little more flour.

Press the dough into the cake pan with your fingers forming an edge around 2 cm up the sides.

Optional: Prick the tart all over with a fork and blind bake at 375 F for about 8 minutes.

For the filling mix all ingredients for the filling with the hand mixer - apart from the the blueberries, then pour into the blind baked and cooled or unbaked crust and sprinkle with the blueberries.

If you now notice that the edge of the dough is too high, simply press it down a little.

Bake the tart at 375 for 25 - 30 minutes for a 9 inch / 23 cm pan - if you have a 28 cm/ 11 inch tart pan, the filling takes less time to set. If you have prebaked it , it will be done after 25 minutes for sure. If you see your crust is browning too quickly, cover with aluminum. The filling will be a bit jiggly in the middle when you take it out, just like a cheesecake. It becomes firmer as it cools.