Dieser Beitrag ist auch verfügbar auf:

Deutsch (German)
This authentic Malaysian Beef Rendang recipe is a MUST TRY for curry lovers! This boldly spiced Asian Beef Stew with coconut is seriously tasty and can be made in a slow cooker or Instant Pot! Jump to Recipe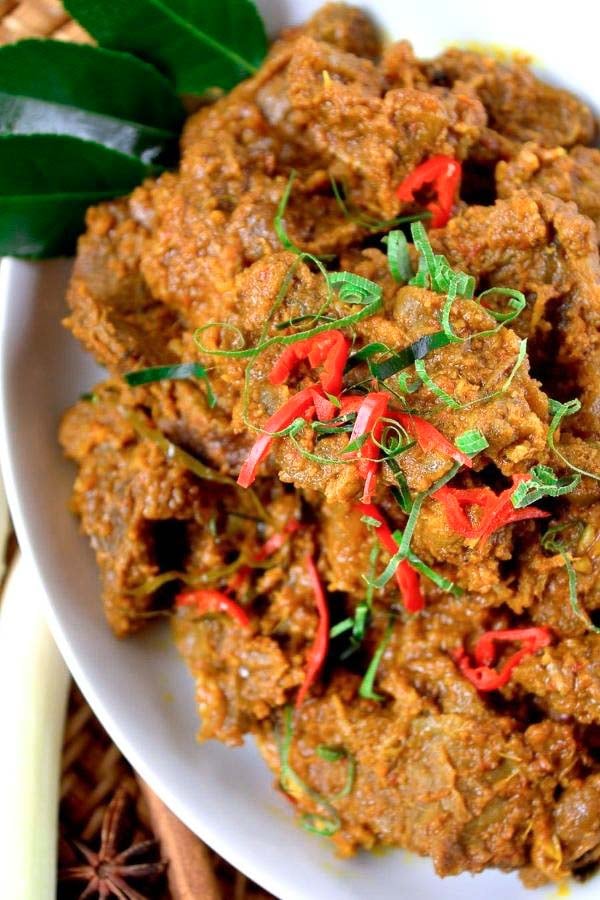 One thing I love about living in Canada, is the availability of exotic Asian ingredients. Back in Germany, cooking an Asian dish meant spending hours running about town in search of kaffir lime or shrimp paste. Here, I find everything I need in one single store and cooking Asian dishes all of a sudden became so much easier and more fun. Less time spent shopping means more time for cooking!
Today's Malaysian Beef Rendang recipe is one of those Asian dishes which take a bit of time but every single step is super fun and the result is so worth the effort!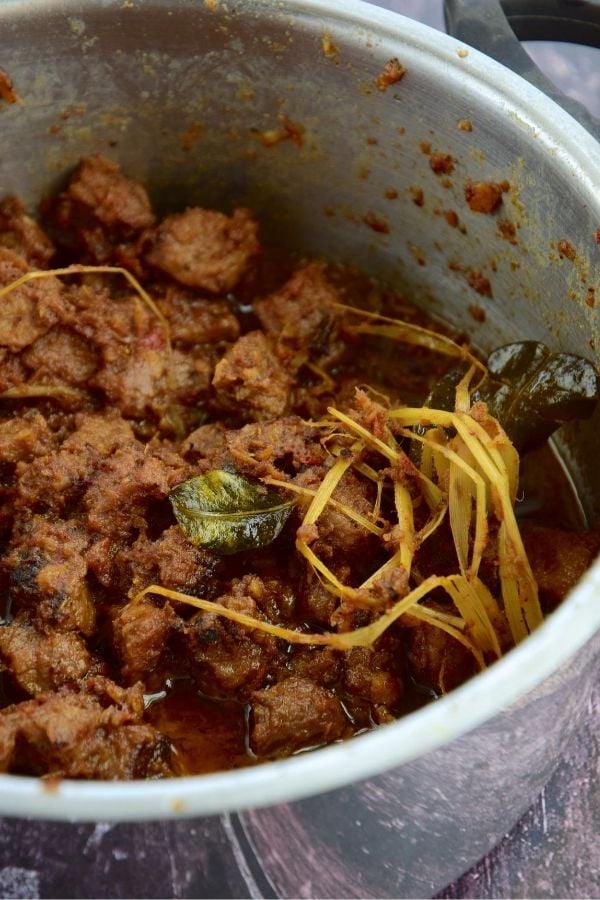 What is Beef Rendang?
Beef Rendang Curry has an incredible depth of flavor and the taste is bold, multi-layered and complex due to all the Asian spices we are gonna use. You will love it! And have I mentioned that this tasty Malaysian beef curry was chosen the number one dish of CNN International's "World's 50 Most Delicious Foods "?
Beef Rendang – a dry curry:
Today's recipe for Beef Rendang is a so-called dry curry, which means that there's not a lot of sauce left in your pot when the meat is done. However, after slow cooking, the meat turns out so tender and has a thick coating of grated coconut and thickened sauce on each piece. It falls apart as soon as you touch it with a fork and can be mixed with rice so easily!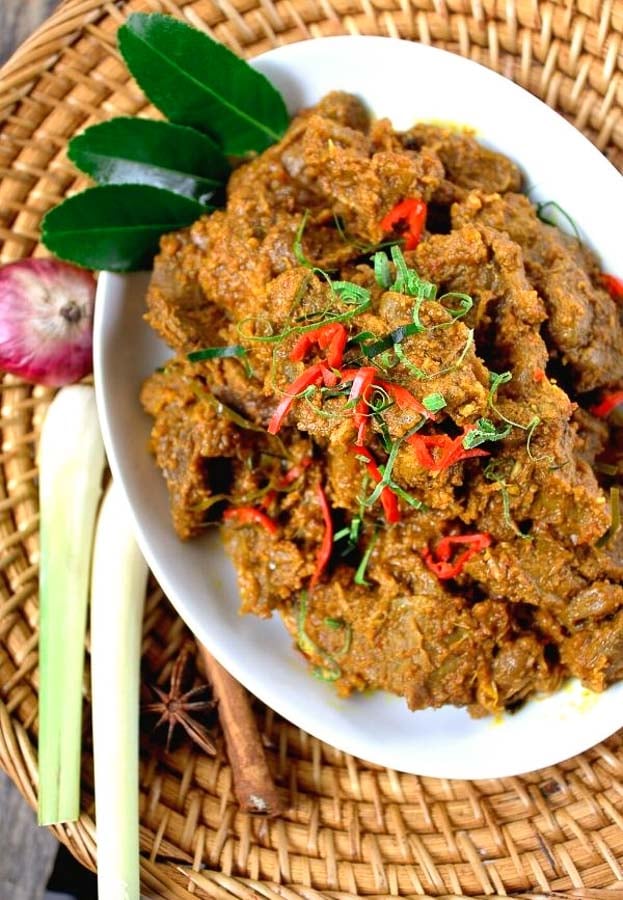 Malaysian Cooking Secret – Kerisik
This is one of the Asian curry recipes that require a bit of prep work. First off, we make a quick spice paste from garlic, ginger and chilies! To thicken the curry, we draw on a Malaysian Cooking Secret: kerisik, which is basically just toasted, desiccated coconut! It is the secret to the nutty caramelized flavor of a perfect rendang dish.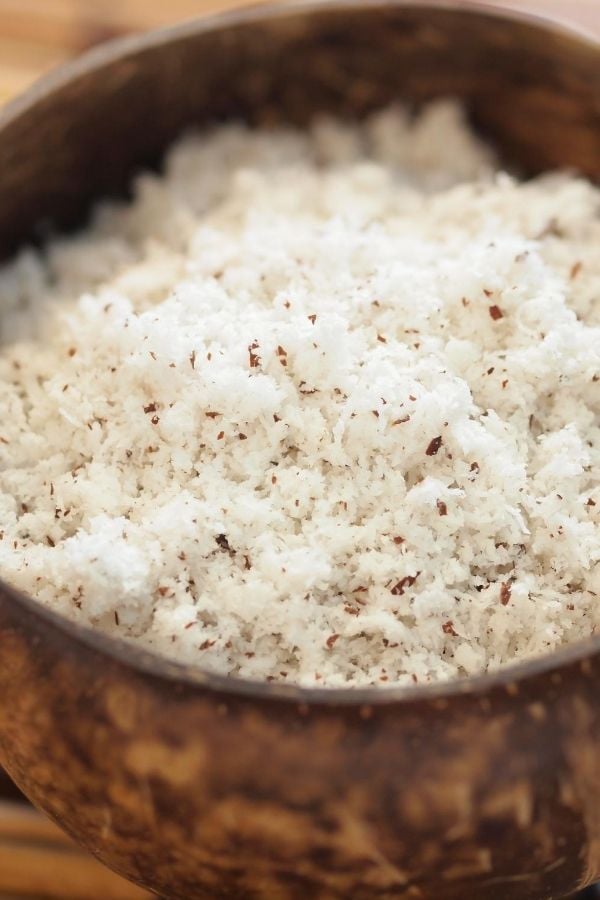 How to make Kerisik:
That's right! We toast some desiccated coconut in a pan until fragrant and golden brown! I like to blitz the coconut once it has cooled down a bit to get a finer texture. You can also use a mortar and pestle! And there you go, you have made kerisik!
The best kerisik uses freshly grated coconut which is carefully toasted over low heat until it reaches the ideal golden brown shade. However, you can also use unsweetened desiccated. The toasted coconut is then pounded until the natural oil is released. This results in a shiny oily brown paste which is referred to as kerisik.
Not only does it thicken our Beef Rendang, but it also adds a wonderfully round and slightly sweet coconut flavour which is further enhanced by the addition of coconut milk.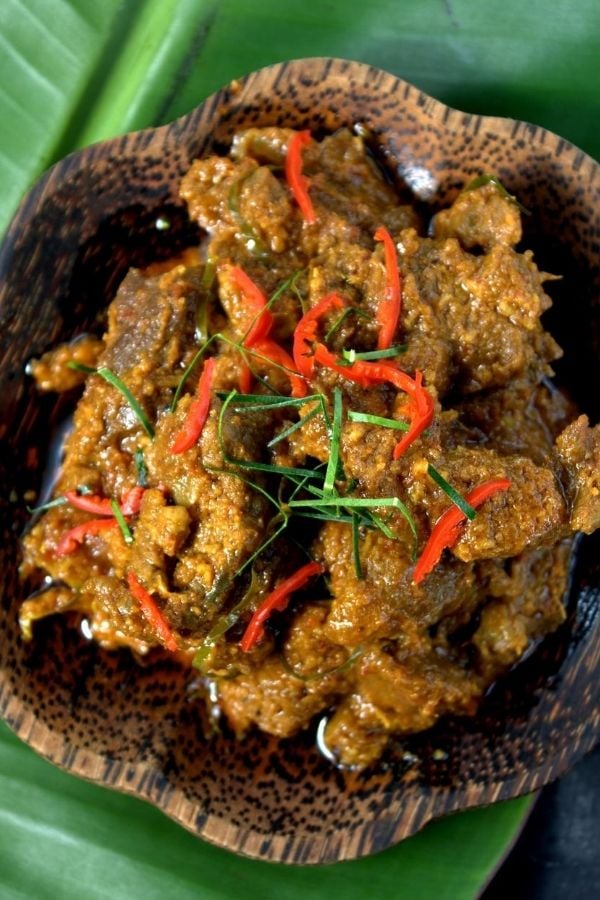 Seriously, this authentic Beef Rendang might be one of my new favorite curry dishes and I am SO glad I tried it even though it looks, well, rather unspectacular at first sight. The flavor, you guys, makes up for the visual shortcomings!
As with so many slow-cooked meat stews, Beef Rendang gets better with time so you might want to double the recipe and save those leftovers for later.
More authentic curry recipes:
★ Did you make and love this beef rendang recipe? Give it your review below! And make sure to share your creations by tagging me on Instagram!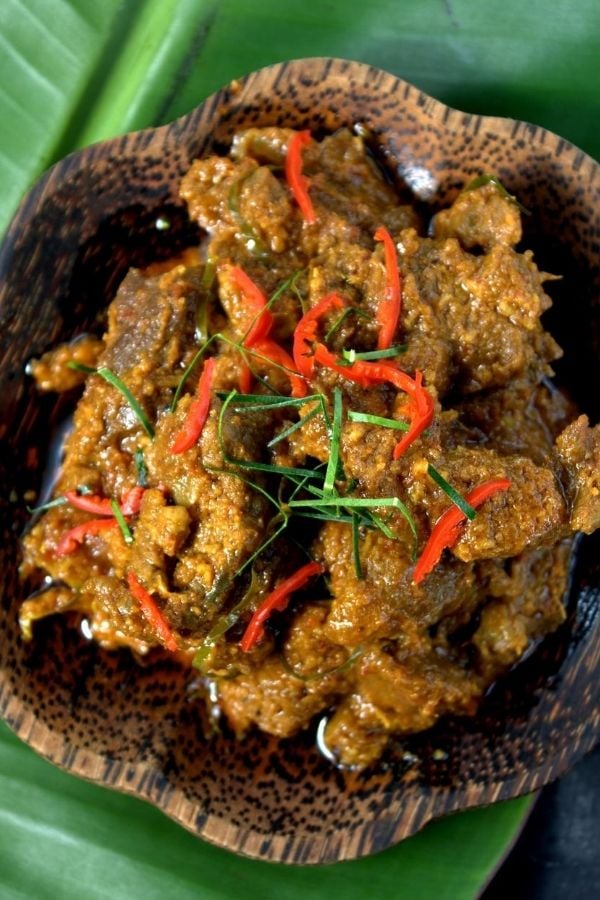 Beef Rendang Recipe
Beef Rendang is a MUST TRY for curry lovers! This boldly spiced Malaysian Beef Stew is seriously tasty and has an incredible depth of flavour! The perfect meal for a fun weekend dinner party with friends.
Let simmer
1
hour
30
minutes
Ingredients
For the spice paste

6

small dried chillies

2

fresh red chillies

f.ex Thai chilies

3

garlic cloves

2

cm

piece of fresh ginger

3

Shallots
For the Rendang
2

lemongrass sticks

80

g

desiccated coconut

or fresh shredded coconut

3

whole cloves

1

cinnamon stick

4 to 5 cm long

3

cardamom pods

250

ml

coconut milk

450

g

beef stewing meat

2

tbsp

tamarind paste

2

Kaffir Lime Leaves

Rice to serve
Instructions
Soak the dried chilies in warm water for 10 minutes, then deseed and chop roughly. Halve, deseed and chop the fresh chilies. Peel garlic, ginger and shallots and roughly chop them. Put all the ingredients for the paste into the food processor, add a splash of water and blitz into a spice paste.

Remove the outer leaves of the lemongrass stick. Chop the tender part of the lemongrass stalk into thin slices. Cut the woodier, upper part of the lemongrass into 3 cm long chunks. Put those 3cm pieces on your cutting board and smash them with a heavy pan for a couple of times. This helps to release the flavour. Set aside.

Toast the coconut in a pan without the addition of any oil until golden brown and set aside to cool. You can blitz it in the food processor to make it a bit finer, if you want.

Heat 3 tbsp of oil in a pan over medium heat and add finely chopped lemongrass, the spice paste, cloves, cinnamon and cardamom and let fry for 2 to 3 minutes, stirring once in a while. Add 3 tbsp coconut milk and fry for 1 more minute.

Toss meat and the hard lemongrass chunks into the pan and fry for another 10 minutes, stirring to avoid any sticking.

Add the rest of the coconut milk, tamarind paste and 200 ml of water, put the lid on and reduce the heat to low. Let simmer for 30 minutes, then add lime leaves, 1 tbsp sugar, 0,5 tsp of salt and toasted coconut. Let simmer for 1,5 h until the sauce is thick and the meat is super tender. Season with salt and sugar to taste and serve with rice.
For making in the Slow Cooker
To make this in a slow cooker, do the first 5 steps up to searing the beef in a pan then pour the contents in your slow cooker. Pour 1/2 cup water or coconut milk into the pan you used and bring to simmer, making sure to scrape all the brown bits off the bottom of the pan to mix in with the water, then pour the water into the slow cooker (make sure you scrape in as much of the brown bits as you can!). That is where the flavor is. Slow cook on low for 6 hours. Then pour the curry into a pot and let simmer uncovered to reduce the sauce.
Pressure cooker / instant pot
Follow step 1-5 in sautee mode. Then pressure cook on high for 30 minutes, allow to depressurize naturally for 10 minutes before releasing steam.
Recipe Notes
Beef Rendang, like other slow cooked curries just gets better with time so make a whole bunch! Great on the day and fantastic the next day. Freezes well too.