Dieser Beitrag ist auch verfügbar auf:

Deutsch (German)
When I want to brag with homemade bread but still want to play it safe I bake Soda Bread!
Ridiculously easy to throw together and you get showstopping results every time – no yeast, no kneading, no fuss!
Plus you can add pretty much any flavour you can think of ! With it being winter I opted for some festive flavours – I liked the idea of serving a loaf with cranberries and orange to go with my squash soup! So just in case you were wondering if the bread can be paired with hearty food! Absolutely! It´s not a very sweet bread but well – maybe on the sweet side of savoury! You know what I mean!
It would also make an awesome breakfast bread – fresh out of the oven with some salted butter and this jam !
Christmas Morning – H-E-L-L-O!!!!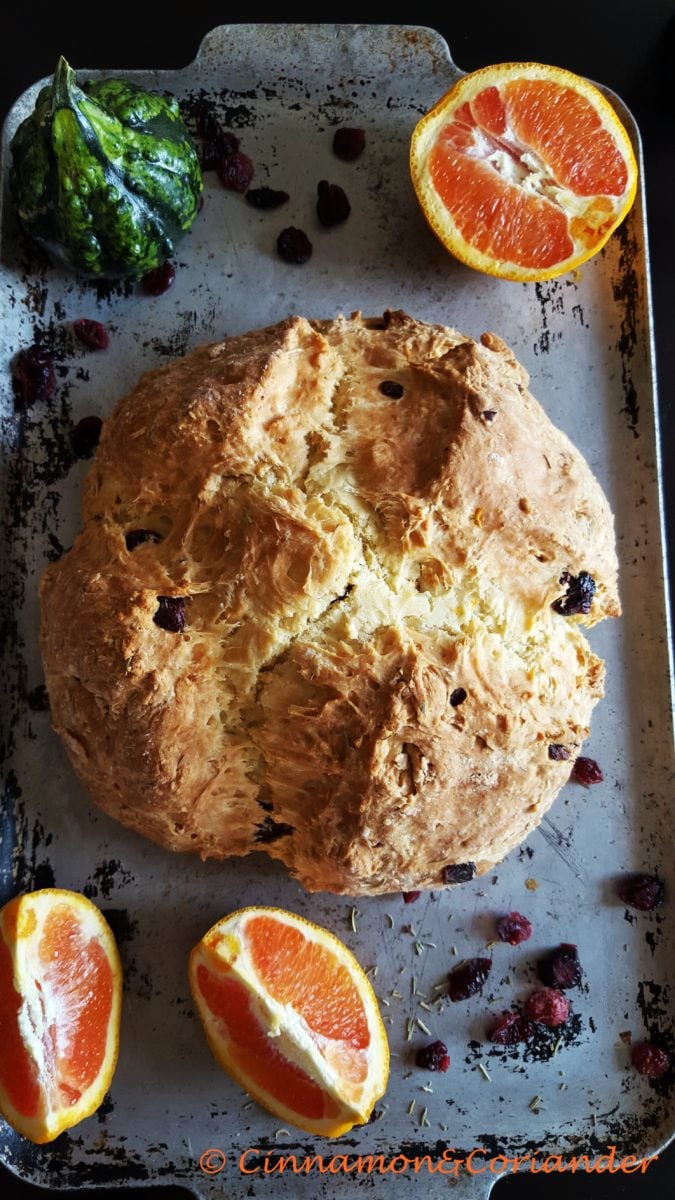 The texture of this Soda Bread is simply wonderful. Dense and moist but still tender. It`s actually really hard to stop eating it once you´ve started!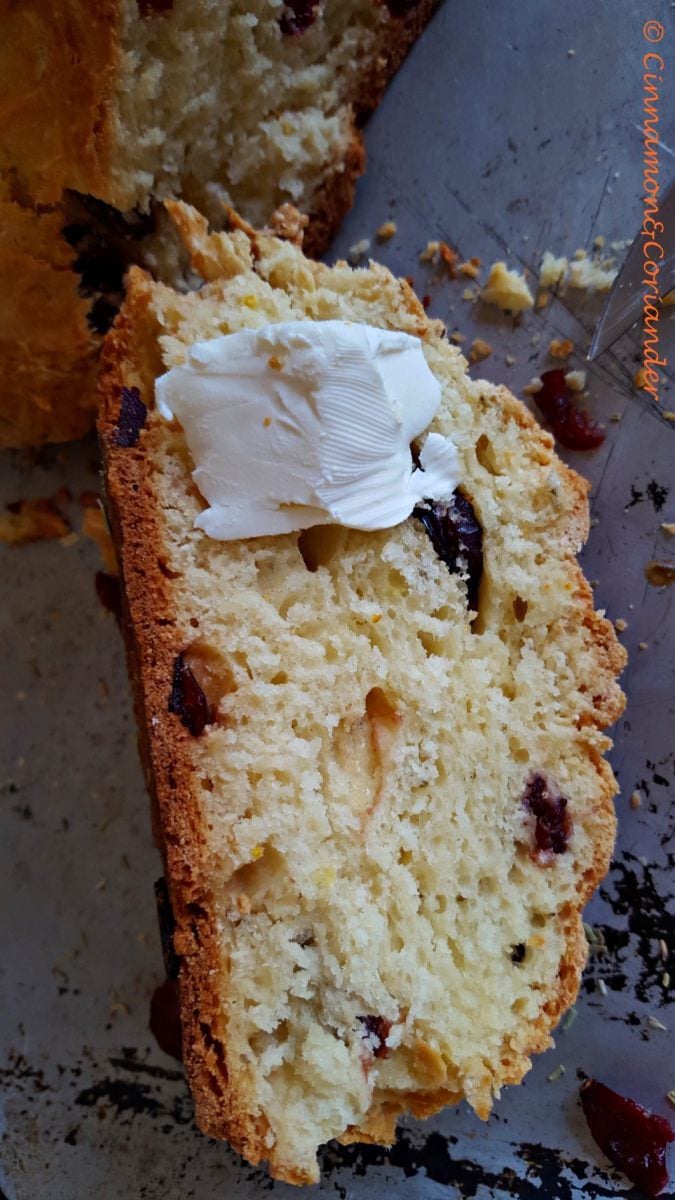 The dough comes together nicely and it makes a very sticky batter – so no, you are not doing anything wrong 🙂
Rest assured, when dumped onto a well-floured board and folded a few times, the dough will be easier to manipulate into a roundish loaf. And it will rise like crazy and turn into the most beautiful loaf with golden crust and all!
Cranberry Orange Soda Bread
The fruity twist by adding some orange zest and dried cranberries makes this Irish Soda Bread the perfect festive loaf for cold winter days!
Ingredients
4

cups all-purpose flour

plus extra for currants

4

tablespoons sugar

1

teaspoon baking soda

1 1/2

teaspoons kosher salt

4

tablespoons cold unsalted butter

1/2 stick, cut into 1/2-inch dice

1 3/4

cups cold buttermilk

shaken

1

extra-large egg

lightly beaten

2

teaspoon grated orange zest

1

cup dried cranberries

soaked in Orange Juice
Instructions
Preheat the oven to 375 degrees F. Line a sheet pan with parchment paper.

Combine the flour, sugar, baking soda, and salt in the bowl of an electric mixer fitted with the paddle attachment. Add the butter and mix on low speed until the butter is mixed into the flour.

With a fork, lightly beat the buttermilk, egg, and orange zest together in a measuring cup. With the mixer on low speed, slowly add the buttermilk mixture to the flour mixture. Combine the cranberries with 1 tablespoon of flour and mix into the dough. It will be very wet.

Dump the dough onto a well-floured board and knead it a few times into a round loaf. Place the loaf on the prepared sheet pan and lightly cut an X into the top of the bread with a serrated knife. Bake for 45 to 55 minutes, or until a cake tester comes out clean. When you tap the loaf, it will have a hollow sound.

Cool on a baking rack. Serve warm or at room temperature.