My easy recipe for vegan General Tso's Cauliflower is spicy-sweet and tangy like the original and will please meat-eaters and vegetarians alike

It's almost weekend and its gonna be a cold one again, here up north. Another chance to hibernate on the sofa with some vino and watch The Crown all weekend long! And then there's Sunday brunch, of course! I That's when my husband and I get those mid-morning cravings for sweet and tangy things. Like teriyaki chicken or BBQ ribs. Might have something to do with all that Saturday Vino.  I still prefer to believe that sleeping in causes that urgent need for sugar and salt, or shall I just say: For Take-Out Food.
However, one of our resolutions for 2017 is to cut down on the meat and this is when I started to up my veggie game and look for vegetarian versions of take-out classics. And of, course the path leads me to last year's veggie star, the cauliflower. Seriously, at this point, the question should be what you CANNOT do with this awesome vegetable. Well, one thing you maybe haven't tried yet is General Tso's Cauliflower. And you should.
Just imagine: Fried, tender cauliflower florets tossed in a thick and shiny, slightly spicy, sweet and tangy sauce.
That's right!  Tender cauliflower florets are breaded with rice flour and fried before getting tossed in this beautiful thick and shiny general tso sauce.  When served right after tossing, the cauliflower is still crispy under the coating of sauce. Just imagine!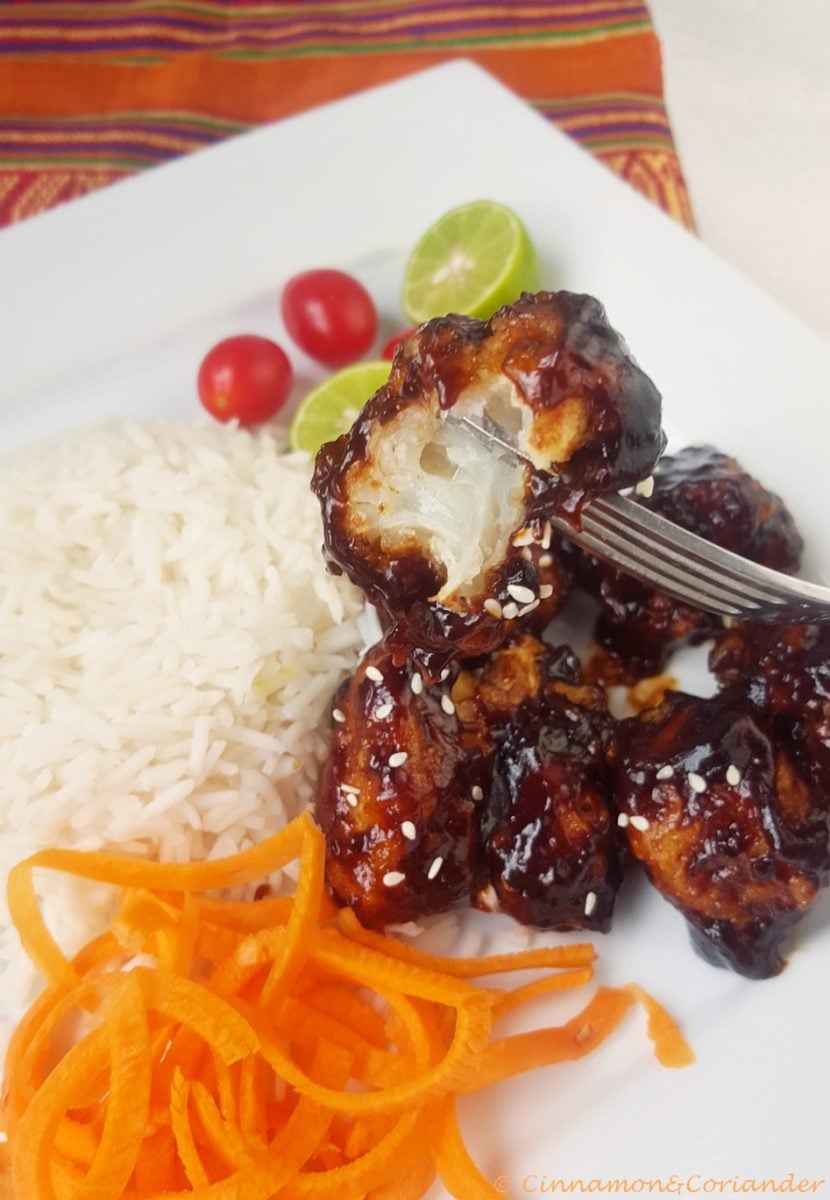 Seriously, if you like your vegetables and are a fan of  Asian-y flavours. Or if you try to sell vegetables to kids or convinced meat-eater. Or If you just like to mix things up in the kitchen once in a while, then this General Tso's Cauliflower is the recipe for you.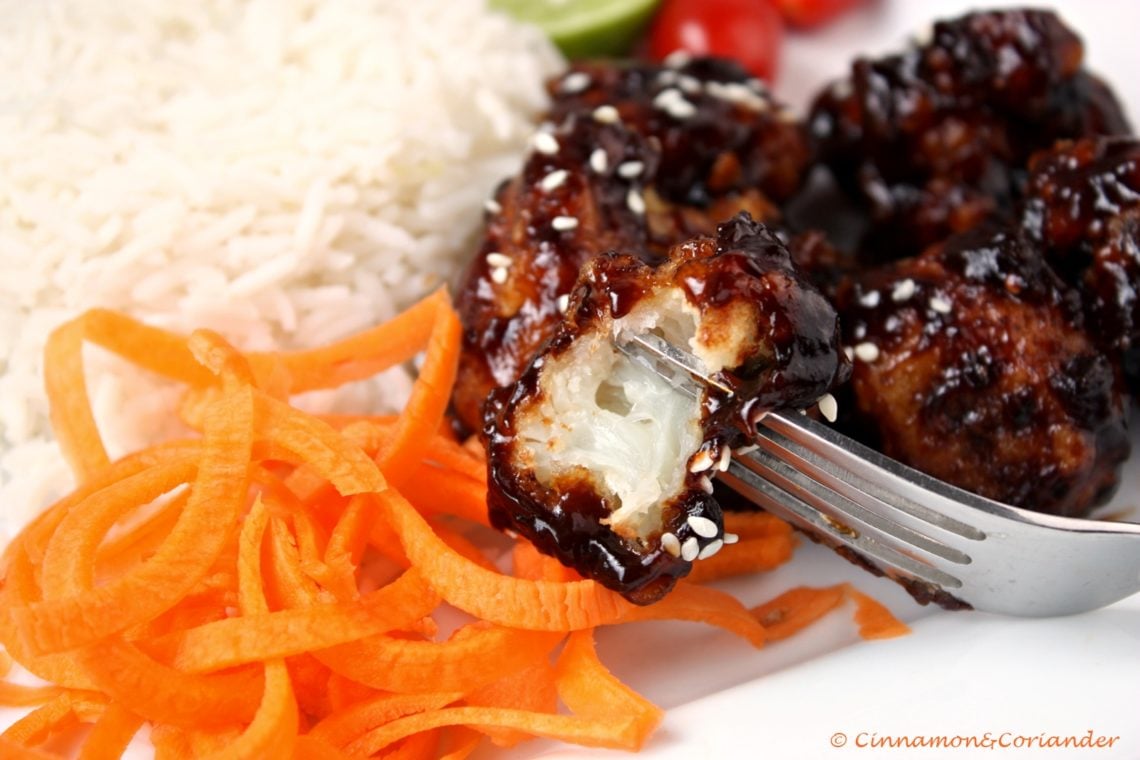 This recipe for General Tso's Cauliflower is really easy to make. If you cook Asian recipes on a regular basis, there's a chance that you even have all the ingredients in the house. Yes, you could have this for dinner tonight! Or, like us, all Sunday long.
*Amazon Ads (see Impressum for discaimer)
General Tso's Cauliflower
A meatless, vegan version of General Tso's chicken, replacing the chicken with crispy fried pieces of cauliflower. This healthy spin on a Chinese Restaurant Classic will be a hit with both adults and the little ones!
Ingredients
1

tbsp oil

3

garlic cloves

4

cm

ginger

minced

1

small red chilli

2

tbsp tomato paste

150

ml

orange juice

125

ml

soy sauce

80

ml

rice vinegar

50

g

sugar

1,5

tbsp cornstarch

mixed with 3 tbsp water

For the cauliflower

1

smallish head cauliflower

100

g

rice flour

2

tbsp cornstarch

1

tsp baking powder

1/2

tsp salt

1

tsp sesame oil

60 - 80

ml

water

for frying

3

cups of oil
Instructions
Mince the garlic, chilli, and ginger finely. Heat a pan with 1 tbsp of oil and fry ginger, chilli, and garlic for about 2 minutes. Add the tomato paste and fry for another minute.

Add orange juice, soy sauce, rice vinegar, and sugar. Bring to a boil and add the cornstarch slurry. Let the sauce thicken, stirring constantly, then turn the heat down to low and let simmer while you prepare the cauliflower.

Break the cauliflower into 5 cm rosettes and put them aside in a medium bowl.

Take 25 g of rice flour and put it aside for later.

Heat the oil in a deep pan until it reaches 365 F.

While the oil is heating, mix remaining 75 g rice flour with corn starch, baking powder, and salt. Add sesame oil and water and stir with a whisk to create a thick batter. Now, toss the cauliflower florets with this mixture, trying to coat them from all sides. Sprinkle the remaining 25 g rice flour on top and give it the last toss. There should be no dough remaining in the bowl.

Fry, using a metal spider or slotted spatula to rotate and poke the pieces as they cook until evenly golden brown and crisp all over, about 4 - 5 minutes. Transfer to a paper towel-lined plate and keep warm while you fry the remaining cauliflower.

Once your cauliflower is fried, add it to a large bowl and pour the simmering sauce all over the pieces. Toss them to coat the florets evenly. Serve sprinkled with sesame seeds with a side of rice.
Recipe Notes
Serve with some rice and a salad for a full meal