Dieser Beitrag ist auch verfügbar auf:

Deutsch (German)
Fans of healthy Asian Cuisine will love these crispy Vegan Vietnamese Crepes stuffed with herbs and vegetables! They are easy to make and vegan.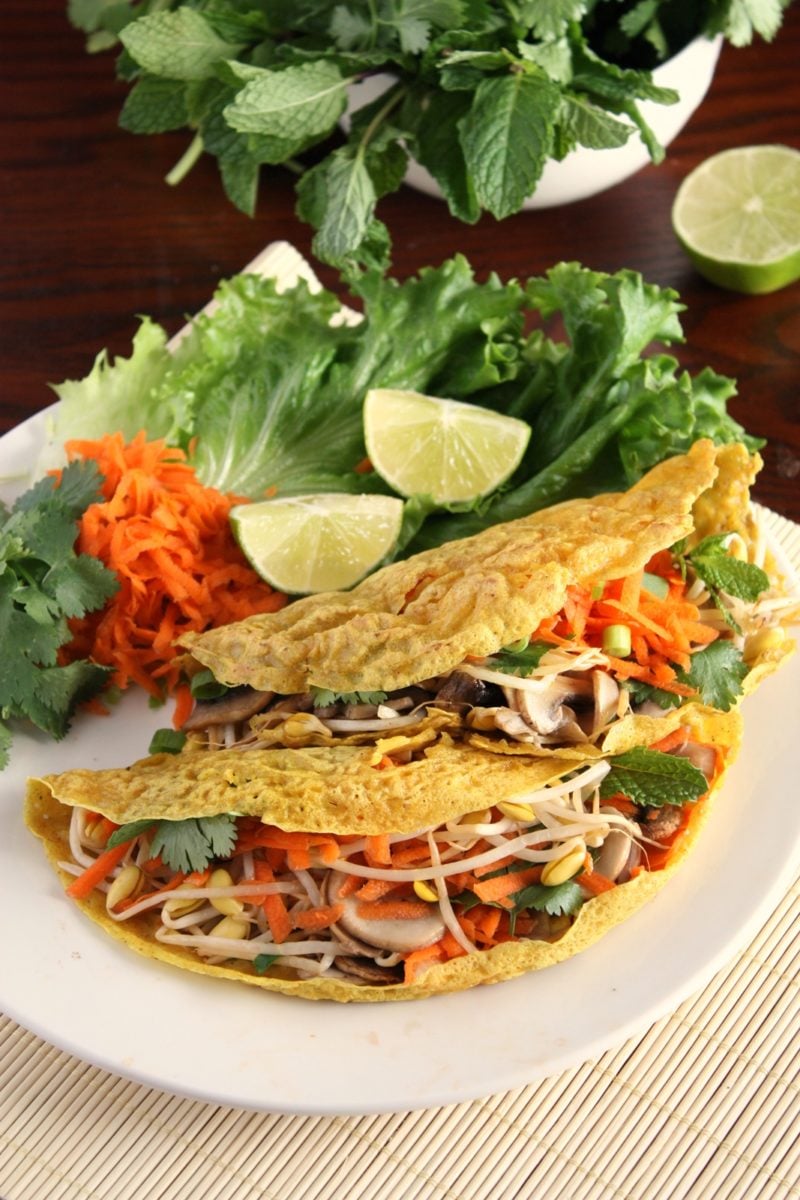 Amazon Affiliate Link Disclaimer: I will receive a small commission for every product purchased through the links on my page. There are NO additional costs for you.
I don't know about you guys but I am definitely ready for spring. Last week, I got super excited when temperatures rose to PLUS 6 here in Dawson Creek, BC.
Unfortunately, this was only due to a yearly weather phenomenon called chinook!
Well, at least I got a brief chance to thaw and wear my German winter coat for a couple of days. And man, was it great to feel my fingers and toes again. So why not use those agile fingers for a little crêpe-action in the kitchen?
But not in a banana & nutella kinda way. No, I tried something completely new: Savory Crispy Vietnamese Crêpes filled with vegetables and fresh herbs.
These crispy Vegan Vietnamese Crepes are the perfect healthy recipe for spring and summer!
These pretty Vietnamese Crepes are unlike any crepe you have ever had before! First off, there are no eggs in here. It's just turmeric powder that colors them yellow!
The vegan pancake batter is a simple 3-ingredient affair: water, rice flour and coconut milk. Therefore, these crispy Vietnamese Crepes are vegan. They are not only easy to make but also really healthy as you can fill them with all kinds of vegetables and fresh herbs!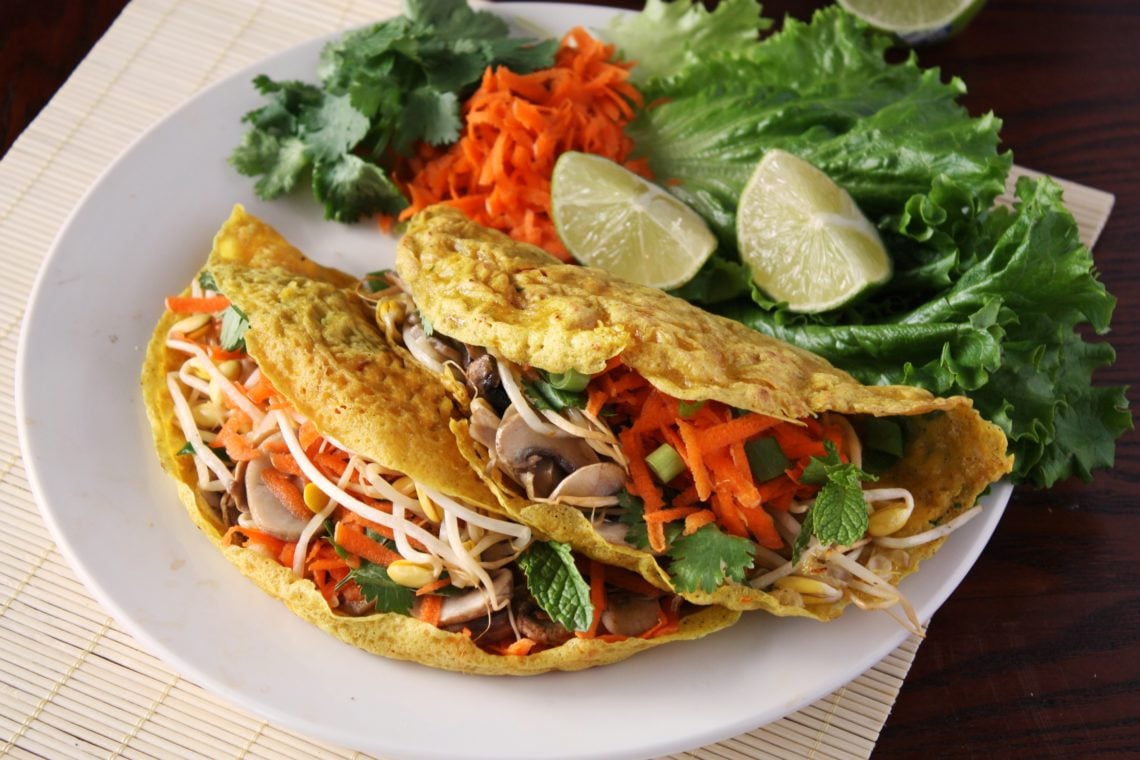 Fry your "sizzling" Vietnamese Crepes in a very hot pan!
The most important thing is to fry the batter in a HOT pan. The word "xèo" refers to the sizzling sound it makes when the batter touches the pan. Make sure to swirl the pan as soon as you pour in the dough as it sets rather quickly. Add a small ladle of batter first and add more if necessary.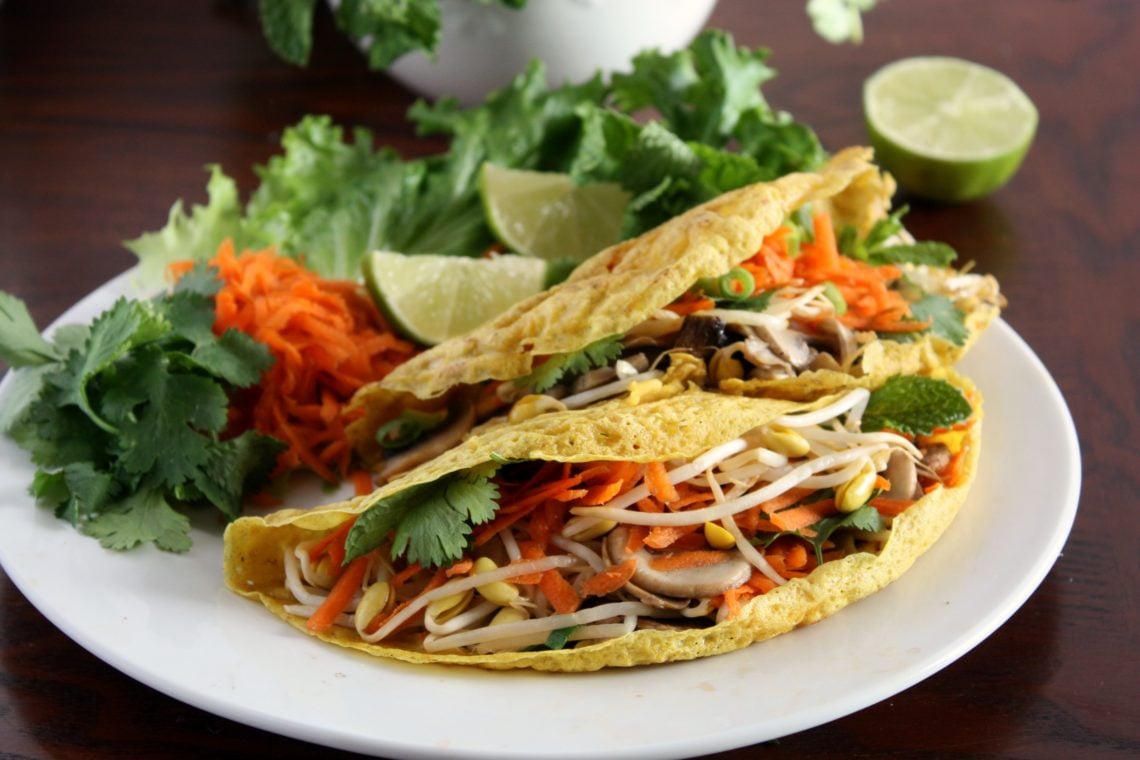 Like all the best food in the world, Vietnamese Crepes are meant to be eaten with your hands, which can get a bit challenging if you are greedy like me and stuff your crepes to the brim. But then again, who's watching?
The fillings I used just happen to be my favorites and you can feel free to throw in whatever you have in the fridge. If you are not vegan, you can also add some fried shrimp or tofu to the filling for some extra protein.
Easy to make and fun to eat and share – try my Vegan Vietnamese Crepes at home!
I hope you guys give my Vietnamese Crepes a try. They are so easy and fun to make with a group of friends. Just prep a couple of different fillings and let everyone mix and match their own. Happy days.
Looking for more healthy Vegan Asian recipes? Check out:
This healthy take on Vietnamese Spring Rolls, this gorgeous Asian Slaw , these Vegan Sushi Rolls with Mango or my Vegan Vietnamese Pho Recipe!
My product recommendations for this recipe
★ Did you make and love this Vegan Crispy Vietnamese Crepes recipe? Give it your review below! And make sure to share your creations by tagging me on Instagram!
Crispy Vietnamese Crepes (Bánh Xèo) - Vegan
Fans of healthy Asian Cuisine will love these crispy Vietnamese Crepes stuffed with herbs and vegetables! These so-called "sizzling pancakes" are easy to make and vegan.

Ingredients
200

g

rice flour

1/2

tsp tumeric

250

ml

coconut milk

1

lime

2

tbsp

gluten-free soy sauce

1

garlic clove

minced

2

carrots

4

spring onions

200

g

mushrooms

1/2

bunch fresh cilantro

1/2

bunch fresh mint

1

tbsp

gluten-free soy sauce

200

g

bean sprouts
Instructions
In a bowl, whisk rice flour with turmeric, 1/4 tsp salt into the coconut milk. Add 250 ml water and whisk vigorously to obtain a smooth batter. Let rest for 15 to 30 minutes at room temperature.

In a small bowl, stir together the juice of 1 lemon, soy sauce, 2 tbsp sugar and 2 to 3 tbsp water. Mince the garlic and add to the sauce. Set aside. For the filling, wash peel and grate the carrot. Cut the spring onion and mushrooms into thin slices. Chop the fresh herbs.

Heat a tsp of oil in a no-stick pan and add the mushrooms and spring onions. Add 2 pinches of salt and a pinch of sugar and fry veg for about 2 to 3 minutes on medium-high heat until the mushrooms are just starting to lose their water. Add 1 tbsp soy sauce and stir well for. Transfer mixture to a little bowl.

Wipe the pan with a paper towel and reheat 2 tsp of oil on medium-high heat. Add a ladle of dough to the hot pan and swirl the pan immediately so the batter is evenly spread. Add more batter if it wasn't enough to cover the pan. Drizzle more oil around the border of the crepes.

Sprinkle 1 tbsp carrot, mushroom and bean sprouts on one-half of the crepes and cover the pan with a lid. After a minute lift the lid and carefully check the color of the bottom side of the crepe using a rubber spatula. If the bottom is crispy and golden, it's time to sprinkle some fresh herbs on the filling and to fold the crepe over to enclose.

Keep the crepes warm in a preheated oven while you repeat the whole process with the remaining ingredients.

Serve the crepes with the sauce.
* Amazon Affiliate Link: I will receive a small commission for every product purchased through the links on my page. There are NO additional costs for you.