Dieser Beitrag ist auch verfügbar auf:

Deutsch (German)
Whip up this Double Chocolate Cherry Lamingtons Recipe for Valentine's Day and make your date swoon! An easy-to-make, mini chocolate treat for special occasions!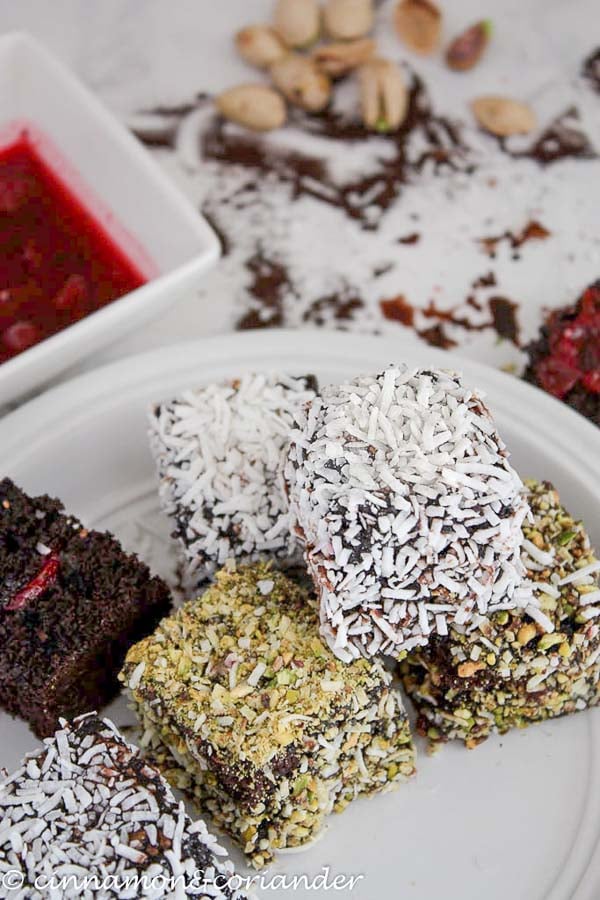 Now I got to admit that Valentine's Day is usually not a big deal here on the blog. Part of it has to do with my reluctance to whip up cheesy pink, heart-shaped things. But the real reason is, that I am usually on vacation in February, which is the worst month to be in Canada, in my opinion.
This year though, we are both buried in work and get to spend the month of February in Mile 0 City, Northern BC. That's right, the city where the Alaska Highway starts and man, can I feel that cold Alaskan ice wind blowing.
Our Valentine's Day is gonna be quite indoorsy and will involve bubble baths, vino and – of course- little edible love declarations! Also known as laminations!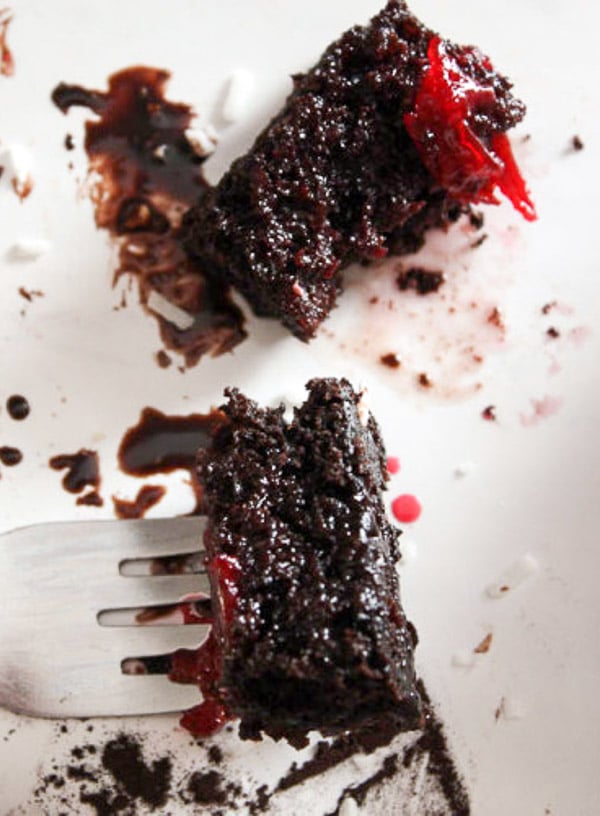 Why you will love this Chocolate Cherry Lamingtons recipe:
Present-wise, we all know by now that we had better steer clear of all anything in the self-improvement zone or overly practical. Valentine's Day should be all about indulgence, and what is more indulgent than chocolate and cherries?
Well, one thing maybe: double chocolate and cherries. Because this is what these Cherry Lamingtons are.
You heard right! Picture a double chocolate cake filled with sour cherry jam, dipped in brandy chocolate glaze and rolled in coconut and ground pistachios! Guys, you will love this recipe for lamingtons!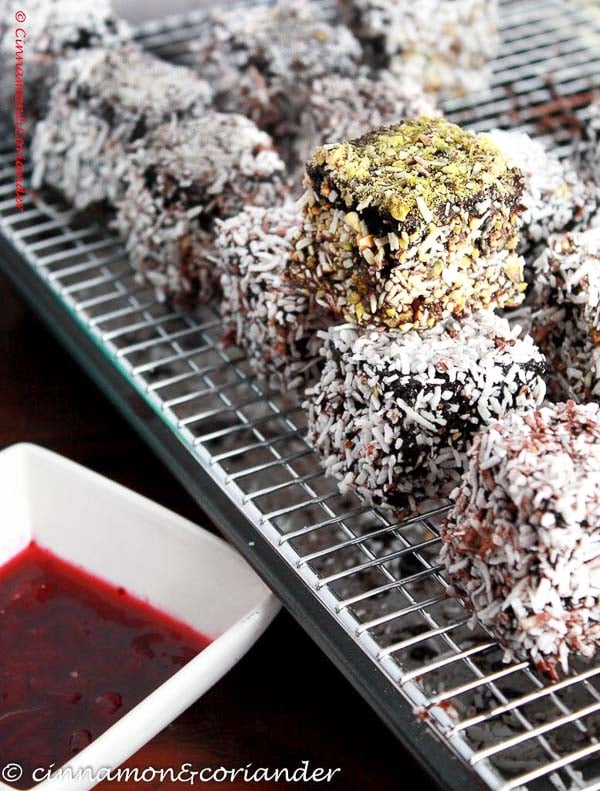 These are not your classic Aussie-Style Lamingtons but more of a decadent chocolate lover's edition! The chocolate sponge cake has a subtle rich chocolate flavor and feather-light texture, perfect for dipping but still more moist than your regular lamington.
To turn these little chocolate bombs into a proper Valentine's Day treat, you need to include something red, don't you? And this is actually the best part of these double chocolate lamingtons – the sour cherry filling!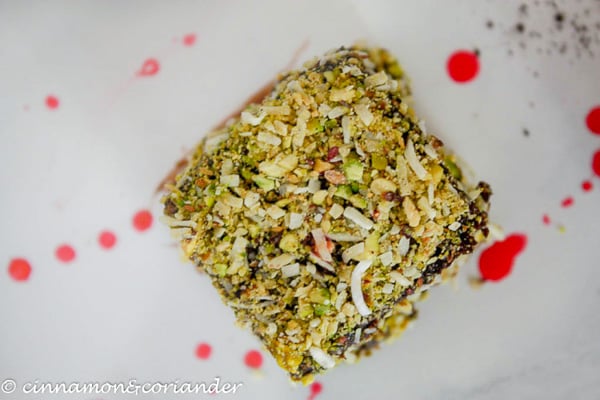 Chocolate and cherries are just meant to be together and there is no denying that this sweet and tart couple is destined for your Valentine's Day dessert success. To mix things up a bit, I rolled some of the double chocolate cherry lamingtons in coconut, others in a blend of ground pistachios and coconut! Sheer bliss!
I even went as far as to brush the chocolate sponge with a bit of brandy to make the lamingtons extra moist.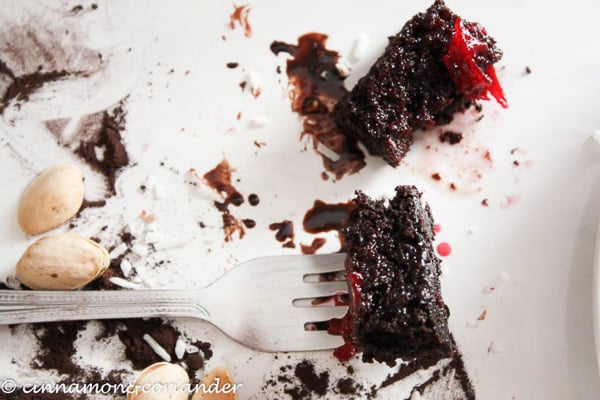 This Double Chocolate Cherry Lamingtons recipe is a must-try for chocolate lovers! Truly insanely good! I made mine bite-sized but if you want to make yours a bit bigger, I recommend eating them with a fork.
How to store lamingtons:
I put mine in a plastic container, which I store in the fridge. The chocolate cherry lamingtons do stay moist when stored that way and the fridge really helps with setting the glaze, which allows for mess-free eating.
A note about affiliate links in this post: some of these links will take you to Amazon where I may receive a small percentage of sales, at no extra cost to you.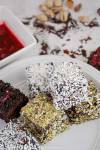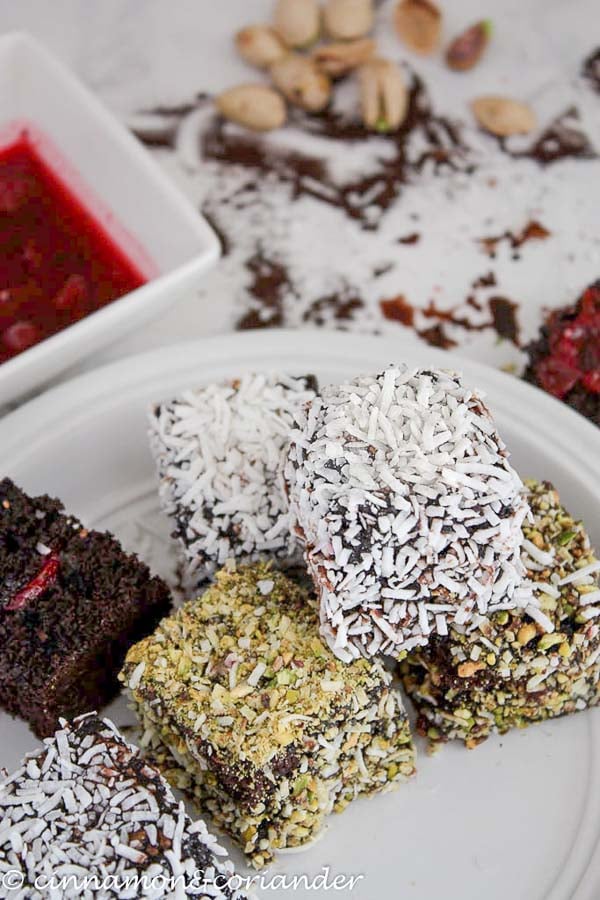 Double Chocolate Cherry Lamingtons
This Valentine's Day, surprise your beloved one with these decadent Double Chocolate Cherry Lamingtons! An easy-to-make, showstopping treat for special occasions!
Ingredients
300

g

castor sugar

50

g

cocoa

75

ml

milk

50

g

unsalted butter

50

g

dark chocolate

50

ml

sunflower oil

4

medium eggs

at room temperature

100

ml

low-fat natural yoghurt

at room temperature

3

tsp vanilla extract

175

g

plain flour

3

tsp baking powder

Filling

1

jar sour cherry jam

For the icing

75

g

unsalted butter

230

ml

milk

at room temperature

2

tbsp brandy

or milk as a substitute

65

g

cocoa powder

1/2 cup

435

g

icing sugar

3 cups

For coating

5

cups desiccated coconut

1

cup pistachios
Instructions
Line the base of a deep, 24cm square cake tin with non-stick paper and heat the oven to 170C. Put the sugar and cocoa in a bowl, add a big pinch of salt and beat in the milk. Melt the butter and chocolate in a saucepan, and add to the sugar mix along with the oil. Beat in the eggs until smooth, stir in the yogurt and vanilla, and mix in the flour and baking powder. Pour the batter into the tin, cover with a slightly domed sheet of foil and bake for about 35 minutes. Lift off the foil and bake for another 10 to 15 minutes or until the cake is done. Check with a toothpick after about 10 minutes. Remove the cake from the oven and cool in the tin. You might want to refrigerate the cake at this point for a few hours or even leave the cake overnight in an airtight container because a slightly less fresh cake will be less fragile and so much easier to dip in the chocolate icing.

When you are ready, cut the cake into even, bite-sized pieces about 4 cm. You might want to discard the edge pieces, as they won't be completely square. They are perfect for a little single-serving trifle 🙂

Cut each cube in half horizontally and spread about 1 tsp of sour cherry jam in the middle. Sandwich the two halves together.

In a food processor, grind the pistachios roughly and mix with 1 cup of desiccated coconut.

When you are ready to dip the cakes, prepare bowls for the chocolate icing, the coconut, the pistachio coconut mix and also a large tray topped with parchment paper and a cooling rack.

To make the icing, sift the icing sugar and the cocoa powder into two different bowls. In a large saucepan, melt the butter, then mix in the milk and brandy. Next, using a whisk to stir, start to add the cocoa powder. Once the cocoa powder is completely dissolved, add the icing sugar about a cup at a time, whisking constantly to prevent lumps. When all the icing sugar is fully combined, pour the chocolate mix into two separate bowls – that way you can switch to the next bowl once the first one is full of crumbs.

Using a fork, dip the chocolate cake cubes into the chocolate glaze and roll them around with the tines of the fork to completely coat. Drain any excess mixture off the cakes then drop them in the desiccated coconut or the pistachios and roll them around lightly to coat evenly. Set the cake cubes on the cooling rack placed over parchment paper to drain. To help set the icing, you can refrigerate the lamingtons. Just make sure to bring them to room temperature before serving.
Recipe Notes
How to store lamingtons:
I put mine in a plastic container, which I store in the fridge. The chocolate cherry lamingtons do stay moist when stored that way and the fridge really helps with setting the glaze, which allows for mess-free eating.