Dieser Beitrag ist auch verfügbar auf:

Deutsch (German)
Try this exotic twist on the classic brioche ! My Coconut Brioche with Dark Chocolate Chips is a real treat for lovers of all things coconut and chocolate! Coconut Milk makes the brioche extra rich – the little half-melted dark chocolate bombs take this bake to the next level !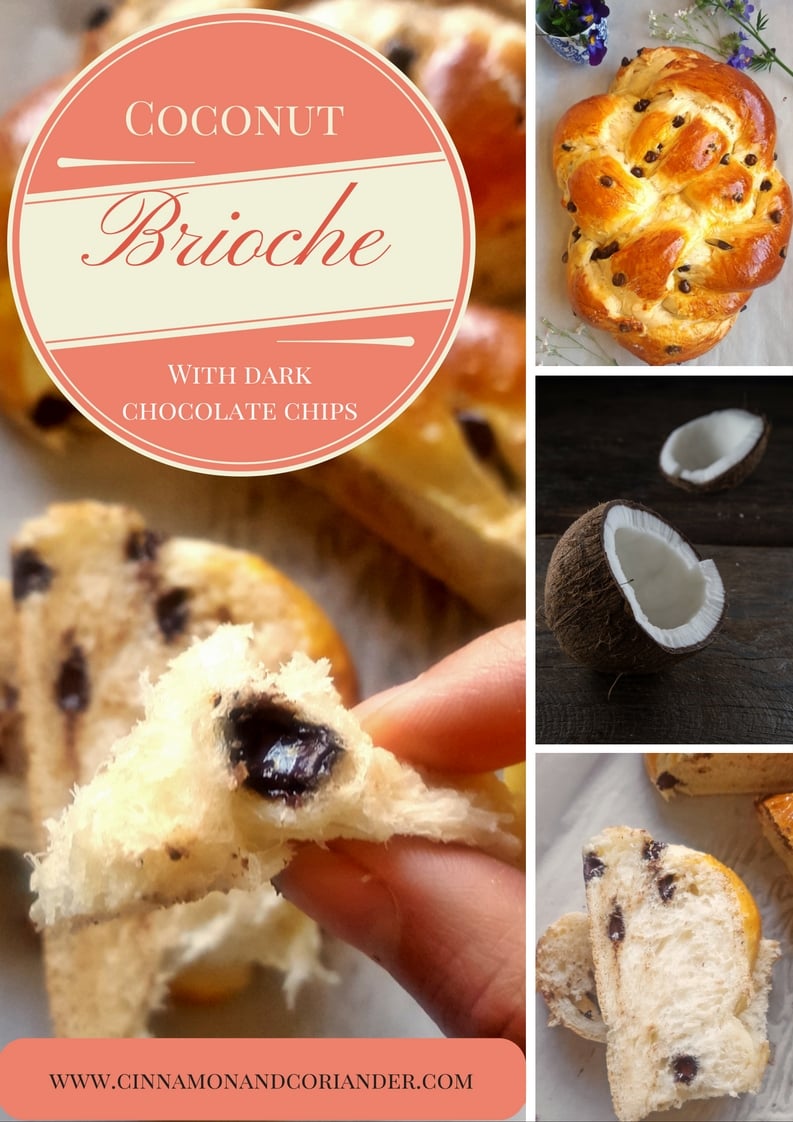 Brioche! Clearly one of those melt-in-you-mouth French delicacies that makes you forget about all the butter that went into it 🙂 The wonderful thing about brioche is that it's both light and sweet yet also incredibly rich in flavour – clearly a special occasion kind of thing.
Being a lover of all things coconut it was just a matter of time before I start experimenting with a coconut version of the Classic French Brioche -simply by adding Coconut Milk instead of milk. The addition of dark chocolate chips to the dough just seemed like the logical continuation of this idea.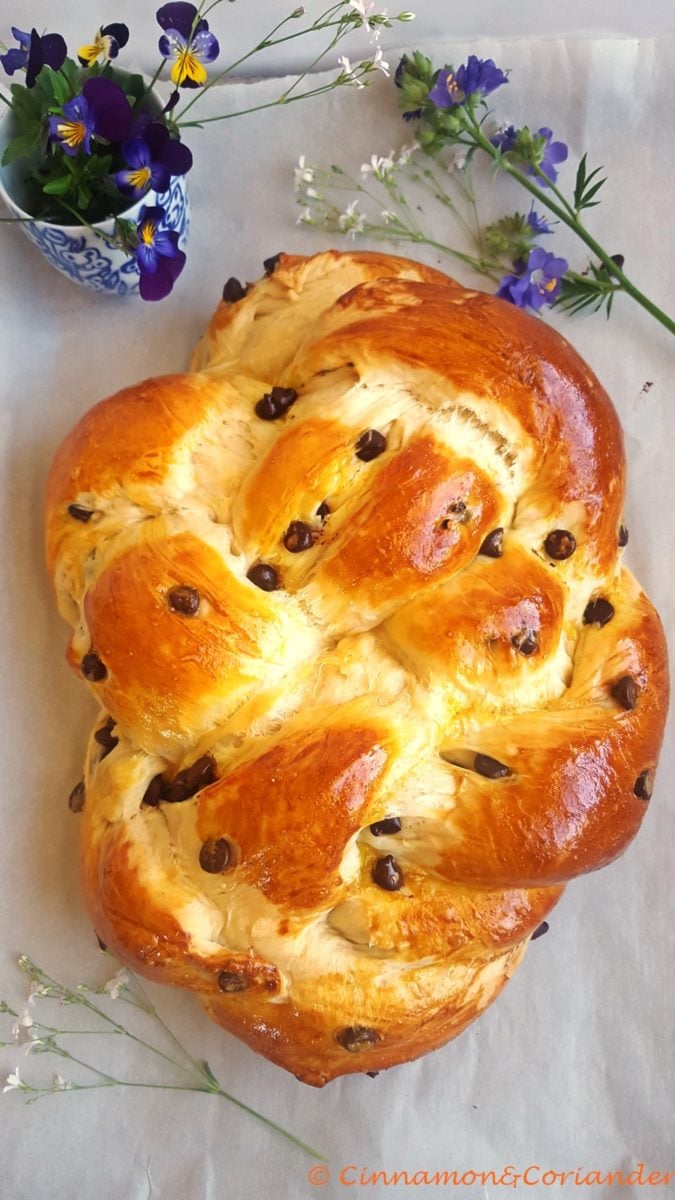 When it comes to Classic Brioche recipes I usually go for this Bouchon Bakery Brioche Recipe . As we are adding full-fat coconut milk instead of normal milk I went for a "lighter" base recipe with less butter in it. It's still pretty buttery tough – don't get me wrong.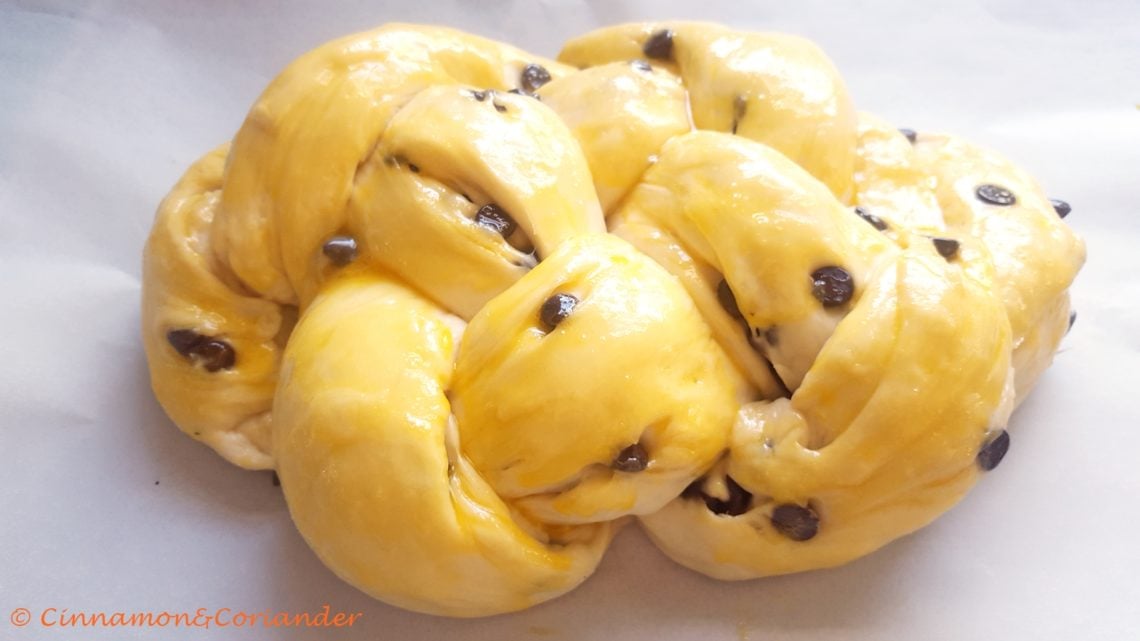 Shape-wise I opted for a round braided loaf but you can shape or braid your brioche however you like. I didn't take pictures of the plaiting but if you want to know how to shape your coconut brioche into a round braid you can check out the picture tutorial here! It's quite easy really.
I am pretty sure you are supposed to let your Coconut Brioche cool before you cut into it – but then you would not get those little melting dark chocolate bombs!
As you can imagine – leftover Coconut Brioche makes the best French Toast ! I did pick out some of the chocolate chips before pan-frying it though as I was scared the chocolate would burn. Maybe I missed out – Tell me if you tried it with chocolate chips still in.
Recipe for 1 Loaf Coconut Brioche with Dark Chocolate Chips
500g flour
60 g sugar
1/4 tsp salt
7 g yeast (5 if proofing over night)
250 ml full fat coconut milk (lukewarm, cold if proofing over night)
1 egg (L)
60 g butter, softened
100 g dark chocolate chips
1 egg yolk whisked with a pinch of sugar and salt for brushing
In the bowl of your kitchen aid, whisk together flour, salt, sugar and yeast. Mix coconut milk with the egg and add to the dry mix. Using the hook attachment, knead the dough until it starts to come together, then add the softened butter in small additions.
Knead on speed 2 for about 20 minutes, adding the chocolate chips during the last minutes.
Shape the dough into a ball, put it into a bowl and cover it with cling film.
Either let the dough rise in the fridge over night (my prefered method) or let it rise in a warm place for about 1 h.
Afterwards knead the dough for about 2 minutes and shape the loaf by cutting the dough into 4 equal parts. Shape each part into 4 rolls and shape according to this picture tutorial.
Let the shaped loaf rest for another hour , then preheat the oven to 150 Celsius (305 F).
Brush the loaf with an egg yolk which you whisk with a pinch of sugar and salt and bake the brioche for about 35 minutes until golden brown.
Enjoy while it's still warm!