Dieser Beitrag ist auch verfügbar auf:

Deutsch (German)
These pretty Cinnamon Roll Cookies are an easy Christmas Cookie recipe, perfect for busy moms! Buttery and crispy cinnamon cookies with a perfect swirl that taste just like cinnamon rolls but are way quicker to make! 
A note about affiliate links in this post: some of these links will take you to Amazon where I may receive a small percentage of sales, at no extra cost to you
These Cinnamon Roll Cookies are impressive, yet super easy Christmas Cookies everyone will love!
Need a last-minute Christmas treat to bring to your cookie exchange, office Christmas Party or holiday gathering? These easy, yet impressive-looking Cinnamon Roll Cookies come together quickly with a prep time of about 30 minutes or less!
I really hope you have an empty cookie tin left to give these gorgeous Cinnamon Roll Cookies a home!
They're fun and easy Christmas Cookies to make with your kids and taste just like cinnamon buns!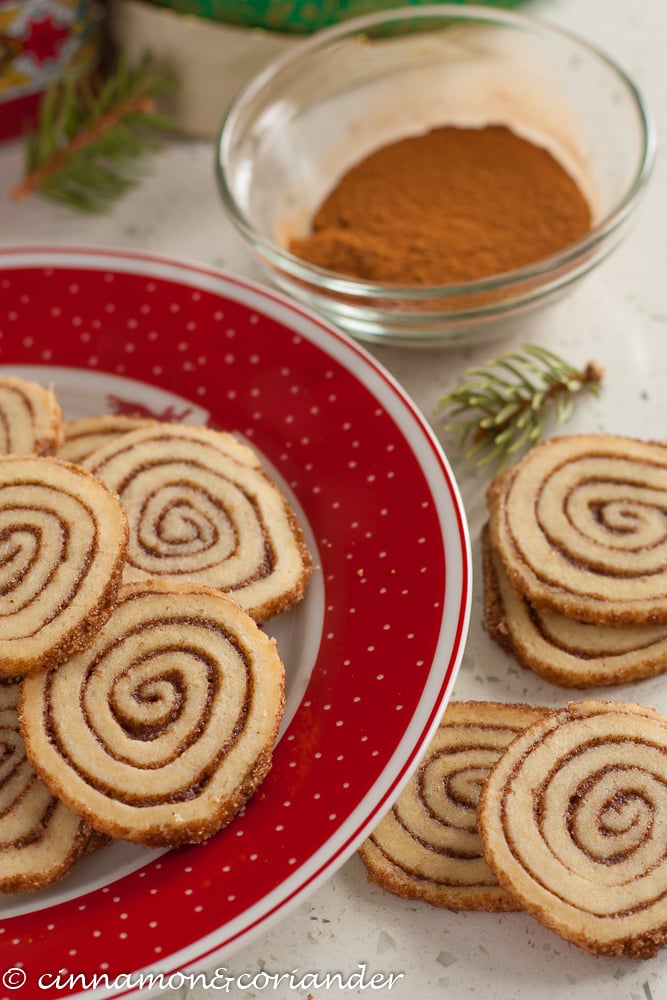 Why this recipe for Cinnamon Roll Cookies works:
The recipe for these adorable little Cinnamon Roll Cookies could not be easier!
Believe me, I was DONE with baking for this year and was already packing up my suitcase for my little German Christmas Escape (ok, it's not that cool, I'll just hang out with my parents for the holidays).
So I had no time for fiddly business! I did, however, want to pack a couple more Christmas Cookies for the family. This recipe seemed so easy and straightforward – just the ticket for those last couple of days until Christmas!
You prepare these Cinnamon Roll Cookies just like you make cinnamon rolls, but without the annoying and time-consuming parts, like dough rising, and all that.
Plus, these easy Christmas Cookies need about 12 minutes total to bake. As you can tell, they are the perfect last-minute Christmas cookies!
The cookie dough uses not only butter but also cream cheese, which gives these Cinnamon Roll Cookies an extra tender texture and a wonderfully light color.
I like them best fresh out of the oven, but they keep well for about 2 to 3 weeks if stored in metal tins.
My product recommendations:

A note about affiliate links in this post: some of these links will take you to Amazon where I may receive a small percentage of sales, at no extra cost to you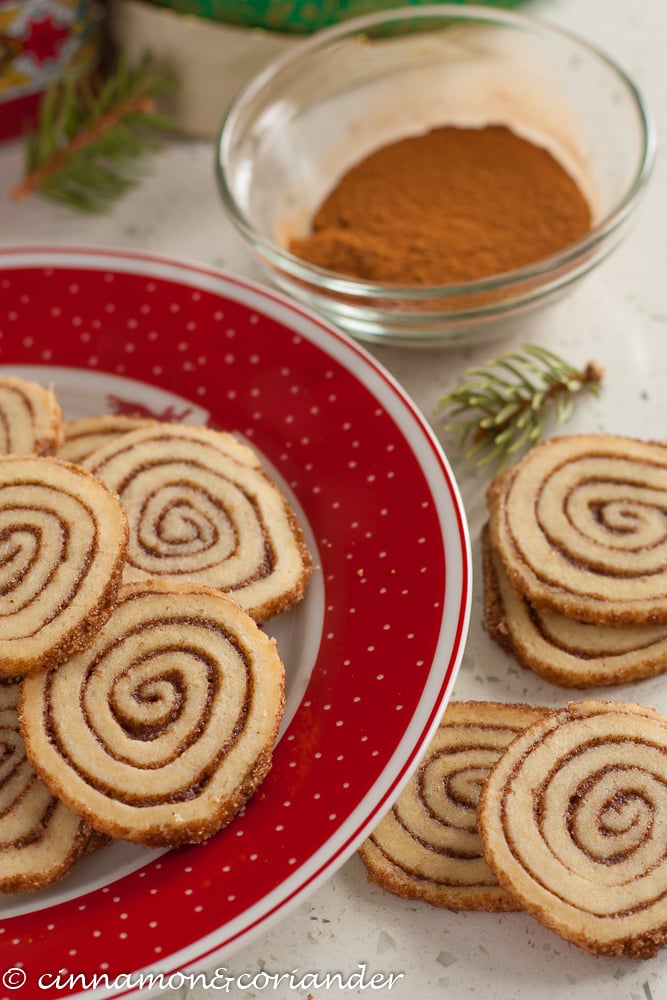 Cinnamon Roll Cookies
These easy-to-make Cinnamon Roll Cookies are the perfect last-minute Christmas Cookie recipe and a must-bake for lovers of cinnamon rolls!
Ingredients
60

g

soft butter

50

g

cream cheese

at room temperature

80

g

sugar

1

pinch

salt

1

tsp

vanilla extract

1

large

egg yolk

at room temperature

150

g

flour

30

g

cornstarch

1/4

tsp

baking powder

50

g

brown sugar

30

g

white sugar

2,5

tsp

ground cinnamon

1/2

tsp

ground cardamom

optional

1

pinch

salt

30

g

butter
Instructions
With the paddle attachment of your mixer, beat butter and cream cheese for 2 to 3 minutes until fluffy and light, then add the sugar gradually and beat for another 2 minutes. Beat in salt, vanilla and egg yolk.

Stir together flour, cornstarch and baking powder and sieve over the batter. Combine everything into a smooth dough. Roll out dough between 2 layers of cling film. You are aiming at a rectangle of about 20x30 cm.The dough should be quite easy to work with. Should it crack, smooth the dough out with your fingers.

In a small bowl, combine sugars, spices and salt. Melt the butter in the microwave and brush rectangle with the butter. Sprinkle the sugar mixture on top, saving about 2 tbsp for later.

Roll the dough up tightly– and very slowly, using the cling film as a help. Wrap the log tightly in cling film and chill for 3 to 4 hours. The chilling is the most important step as it prevents the cookies from spreading too much in the oven and losing their cinnamon roll shape! You are also not gonna be able to cut them neatly if not chilled properly, so do not rush this.

Preheat the oven to 180 C. Remove cling film and cut cookies into slices of about half a centimetre thickness. Bake for 12 minutes and let cool on a rack. Enjoy!
Recipe Notes
Store the cookies in metal tins and consume within 2 to 3 weeks.