Dieser Beitrag ist auch verfügbar auf:

Deutsch (German)
This easy butternut squash soup recipe with ginger and orange juice is simply the best! Super creamy, seasoned with curry powder and slightly fruity! Vegan option included.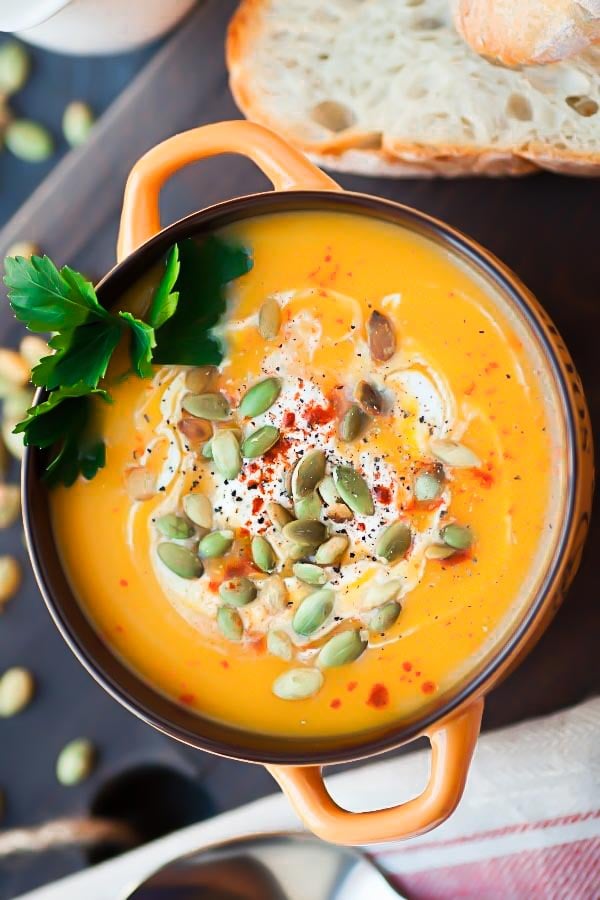 This easy Butternut Squash Soup with Ginger and Orange juice is warming, perfectly smooth and super silky. It has a zesty flavour from freshly grated ginger and orange juice and an earthy, warming note from curry and turmeric that makes it far more interesting than ordinary butternut squash soup.
It's super creamy. If you are following a plant-based Paleo or Whole30 diet, use coconut oil instead of butter and use plant-based milk or coconut milk instead of cream. This would also make this soup vegan!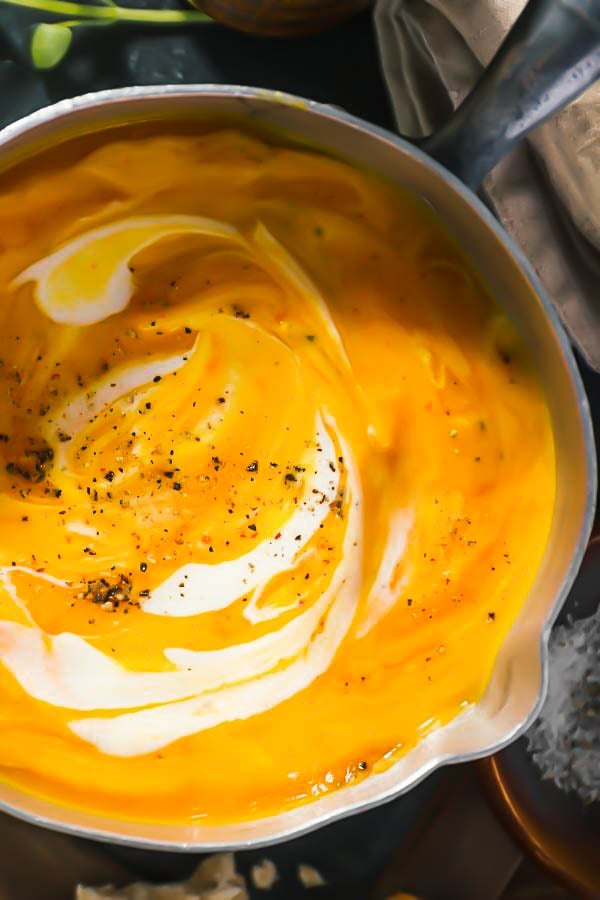 I love the fruity sweetness the fresh orange juice adds and that touch of heat from the ginger really purs this soup in a league of its own.
How to make this easy Butternut Squash Soup Recipe:
I sauté onions, then add aromatics like ginger and garlic along with some warming spices. Then I add the cubed butternut squash, which is rich in the disease-fighting antioxidants beta-carotene and vitamin C. I also add a carrot, a potatoe and some celeriac, which is the trifecta of all German soups. Then we deglaze with some white wine and simmer it with vegetable stock and orange juice, which adds a pop of bright flavor and nutrients.
Finally, I puree the butternut squash soup until it reaches a perfectly creamy consistency As a finishing touch, I stir in some cream. For dairy-free use coconut cream and use coconut oil for sauteeing.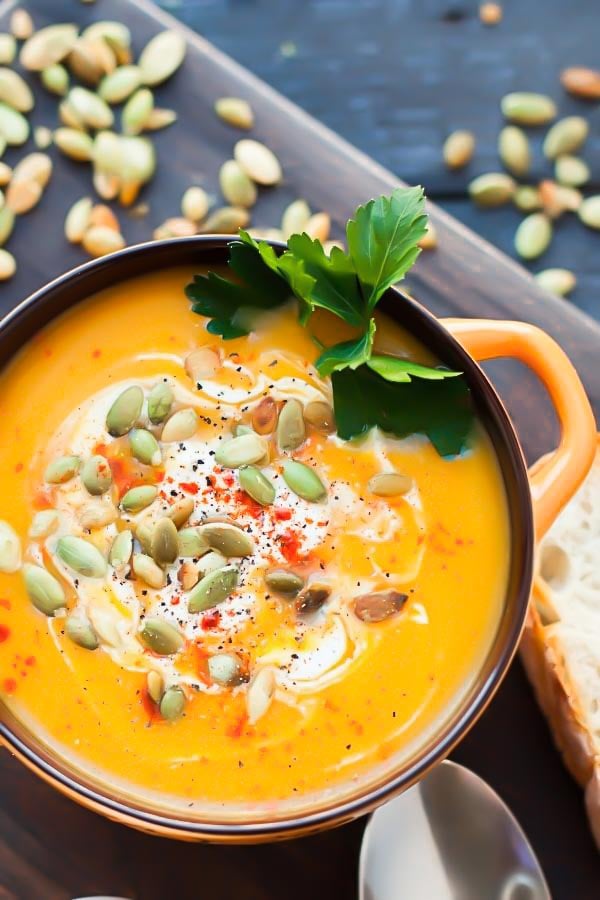 Serving suggestions for butternut squash soup:
I like to top my soup with a swirl of tangy Greek yogurt or crème fraiche, fresh parsley, orange zest, chili powder and some toasted pumpkin seeds for a delightful crunch!
MAKE AHEAD AND FREEZE FOR LATER
This butternut squash soup freezes well. I often make a double batch of this recipe, pour it into Mason jars and freeze it for easy lunches.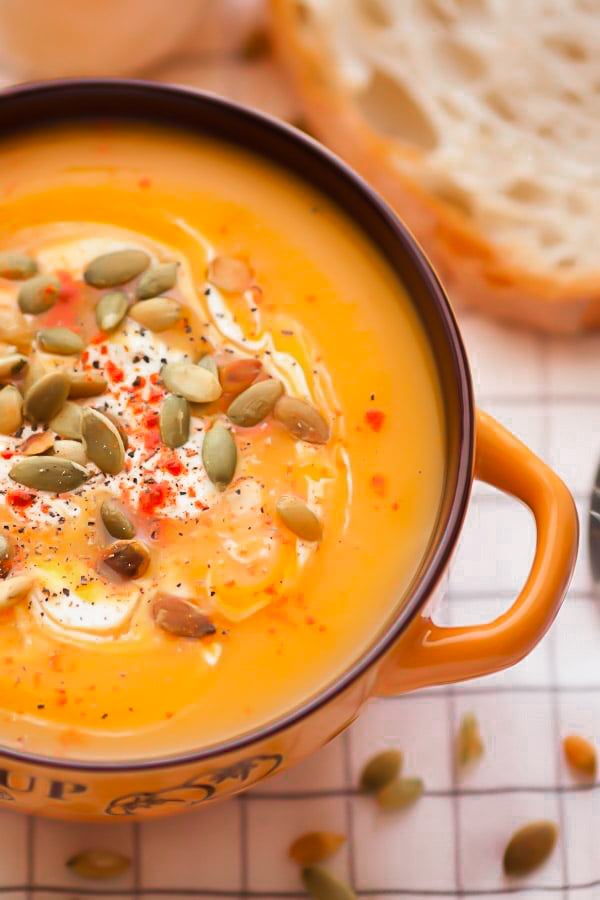 Easy Butternut Squash Soup Recipe with Ginger, Orange & Curry
1 tbsp clarified butter / ghee
1 butternut squash, kabocha or Hokkaido
1/2 celeriac root, peeled and chopped
2 onions
2 cloves of garlic
1 thumb thick piece of ginger
100 ml white wine
3 oranges
1 carrot
1 potato ( or 1/2 sweet potato)
1 cup of cream
900 ml vegetable broth
1 tsp curry powder
1 teaspoon turmeric
Salt pepper
Wash, peel, and dice all types of vegetables.
Heat clarified butter in a large saucepan and sauté onions for 3 minutes. Now, add garlic, ginger, curry powder and turmeric first and fry for 30 seconds. Add some more ghee if needed, then toss in chopped carrots, celery, pumpkin and potatoes. Sautee, then deglaze with white wine, letting the wine boil up and reduce before adding the broth. Add pepper and salt to taste and add the juice of the 3 oranges.
Let everything simmer for about 20 minutes until the vegetables are soft. Then puree everything and finally stir in the cream. For an extra boost of orange, add some finely grated zest.
The soup tastes great with toasted baguette and a dollop of sour cream.