Dieser Beitrag ist auch verfügbar auf:

Deutsch (German)
This amazingly easy and wonderfully moist Irish Potato Bread is one of my all-time-favourite bread recipes. Not only does it require zero proofing time or endless kneeding, it is also incredibly versatile as you can add any flavour to the potato dough that your little heart desires.
With spring just waiting around the corner ( it is, right) I felt like adding some clean and fresh spring/summer flavours to my Irish Potato Bread. And does it get any more refreshing than combining cilantro with lemon zest ???
To incorporate those beautiful flavours into my bread I opted for a heaped tablespoon of lemon zest. That's roundabout 2 medium sized lemons. For the cilantro part I opted for store bought coriander chutney. You find that in every supermarket nowadays and I can't imagine doing without it anymore.I use it in salad dressings, in soups…you name it! It's one of my heatlhier addictions.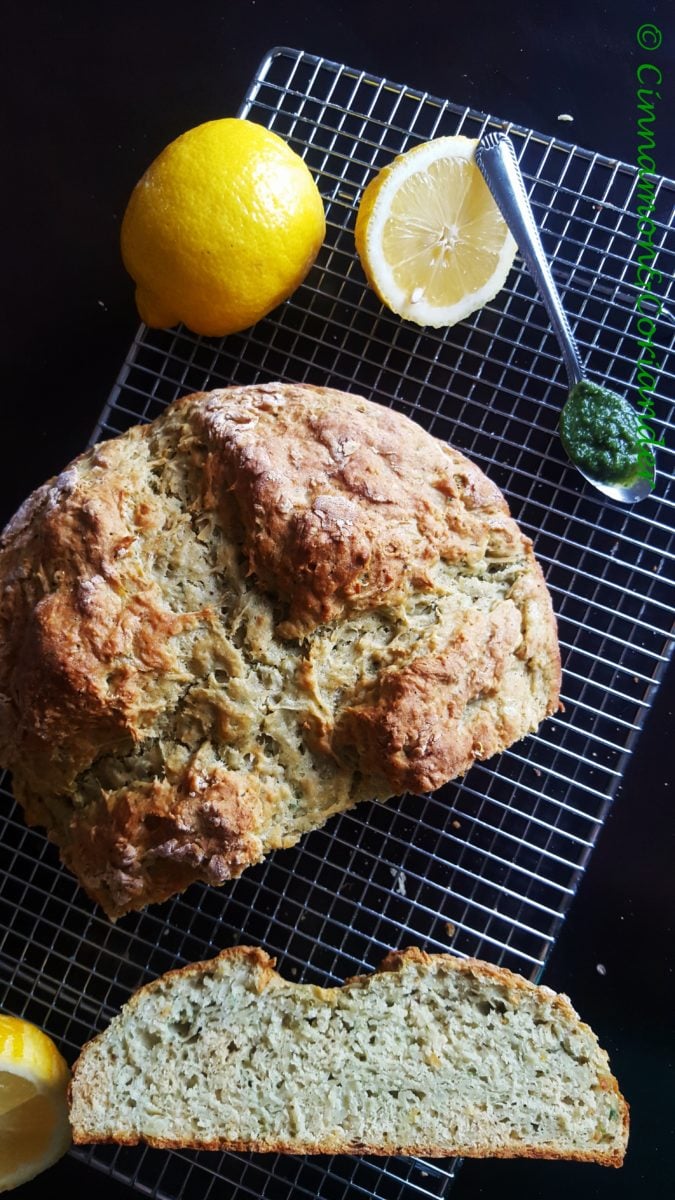 If you look closely you'll notice the little yellow freckles in the bread..that's where the lemon magic is happening! The Potato Bread has a slightly bright greenish color from adding the chutney. Not like mold…it's actually a very appetizing, herby green.
We often make this bread for an informal healthy dinner and serve it with a salad and some salted Butter. Glorious! The loaf would disappear within minutes. With it's fluffy structure the Irish Potato Bread invites to tear it into big chunks without bothering about slices! That's my favourite way of eating bread. Just break it open with your hands and breath in that lemony aroma.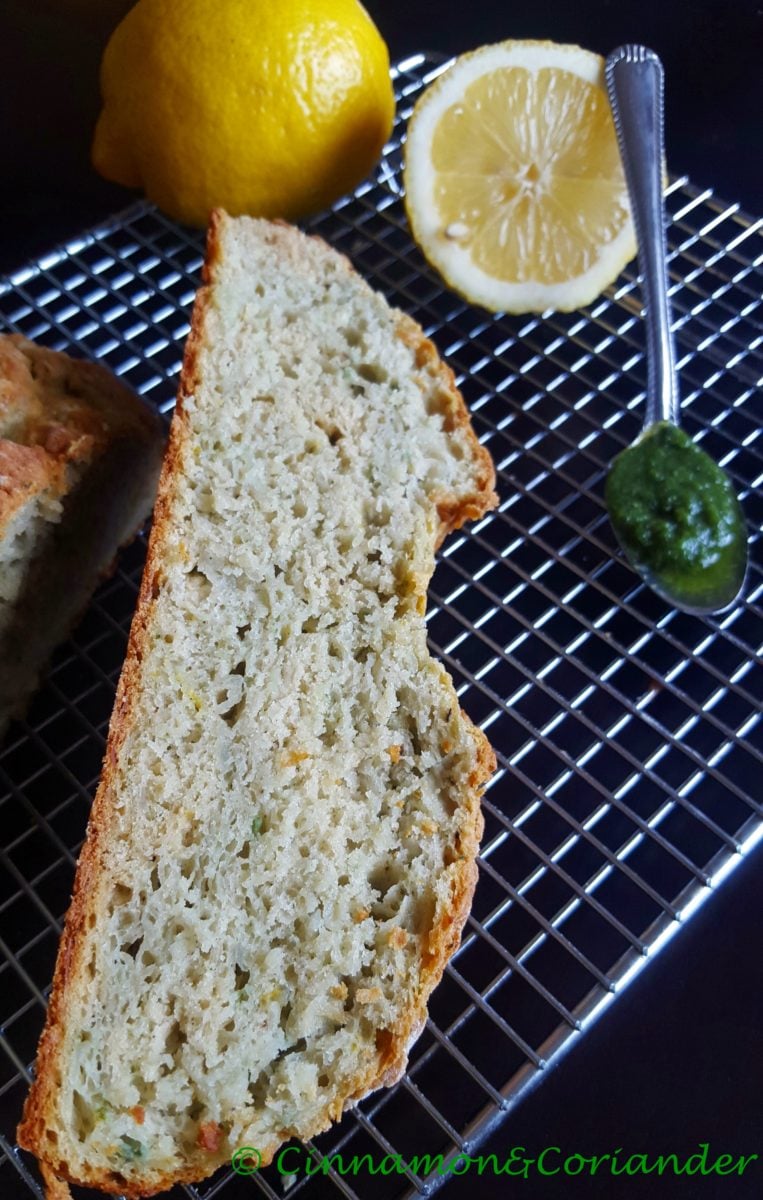 Irish Potato Bread with Lemon & Cilantro
An incredibly easy bread recipe from Ireland with the summery addition of Lemon and Cilantro Chutney. Crunchy on the outside, soft on the inside! This Cilantro & Lemon Potato bread is best eaten fresh. Serve it alongside a nice salad or as a side for your next BBQ.
Ingredients
Ingredients

3/4

cup cooked

mashed potato

3/4

cup raw

grated potato

1

egg

1

egg white

1/3

cup oil

3/4

cup milk

2

Tbsp Lemon Zest

2

Tbsp Cilantro Chutney *

3

cups flour

1/4

cup whole wheat flour

1 1/2

Tbsp baking powder

1

tsp sea salt
Instructions
Preheat oven to 375. Lightly oil an 8 inch cast iron pan or spray with cooking spray. Set aside.

Mix the mashed potato with the grated potato. Stir in egg, egg white, oil, and milk until well combined.

In another bowl, stir together chives, caraway seeds, flour, whole wheat flour, baking powder, and salt.

Stir dry ingredients into wet ingredients until a soft dough forms.

Lightly flour a work surface. Turn the dough out onto the flour and knead 6 - 7 times. Place dough into center of prepared cast iron pan and gently press into an 8 inch circle. Use a sharp knife to cut an "X" into the top.

Bake at 375 for about 45 - 55 minutes. It should be nicely browned and sound hollow when tapped.

Remove from oven and let sit on wire rack for 5 minutes before removing from pan. Let cool for at least an hour before slicing. or it will be rather crumbly to cut.
Recipe Notes
You can make your own Cilantro Chutney by blending 1 bunch of coriander with 2 Tbsp of Lemon Juice, a garlic clove some sugar and salt. If needed add a splash of vinegar.