Dieser Beitrag ist auch verfügbar auf:

Deutsch (German)
This Mexican Chocolate Pudding is the most rewarding dessert ever. I found this recipe while looking for a way to use some of the black onyx cocoa powder that I got for Christmas and loved the idea of turning a classic dessert like chocolate pudding into a Latin inspired decadent treat. And all that by simply adding a pinch of chili, cinnamon, allspice and nutmeg to our dark chocolate pudding base.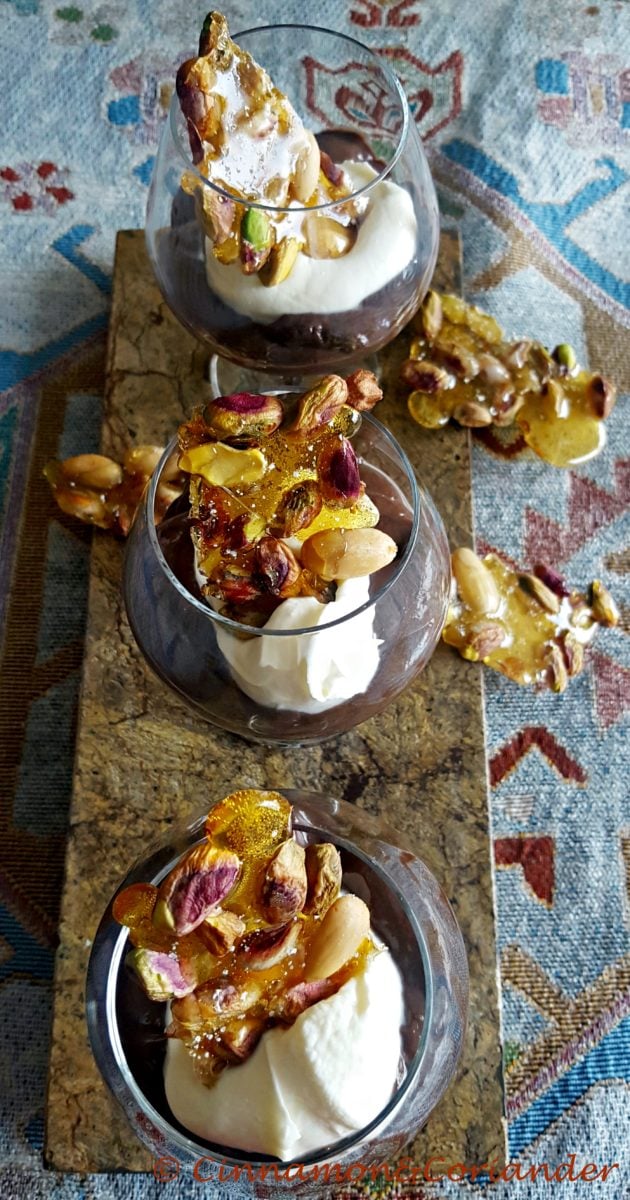 Of course there´s more than just chocolate pudding ! To contrast the decadent and rich chocolate pudding I decided to serve it with a dollop of that sinful borderline mascarpone / creme fraiche, that my mother in law made the other day. The beauty of marrying into a foodie family 🙂 Homemade milk products! At this point I`ve already decided to go all out so why not add an edible spoon aka. big shards of salted caramel & pistachio brittle to the whole thing?
To restate the obvious: This is an incredibly addictive concoction! No doubt restaurant – quality, yet very easy to make! Try it out and wow your guests with this truly indulgent Mexican inspired dessert!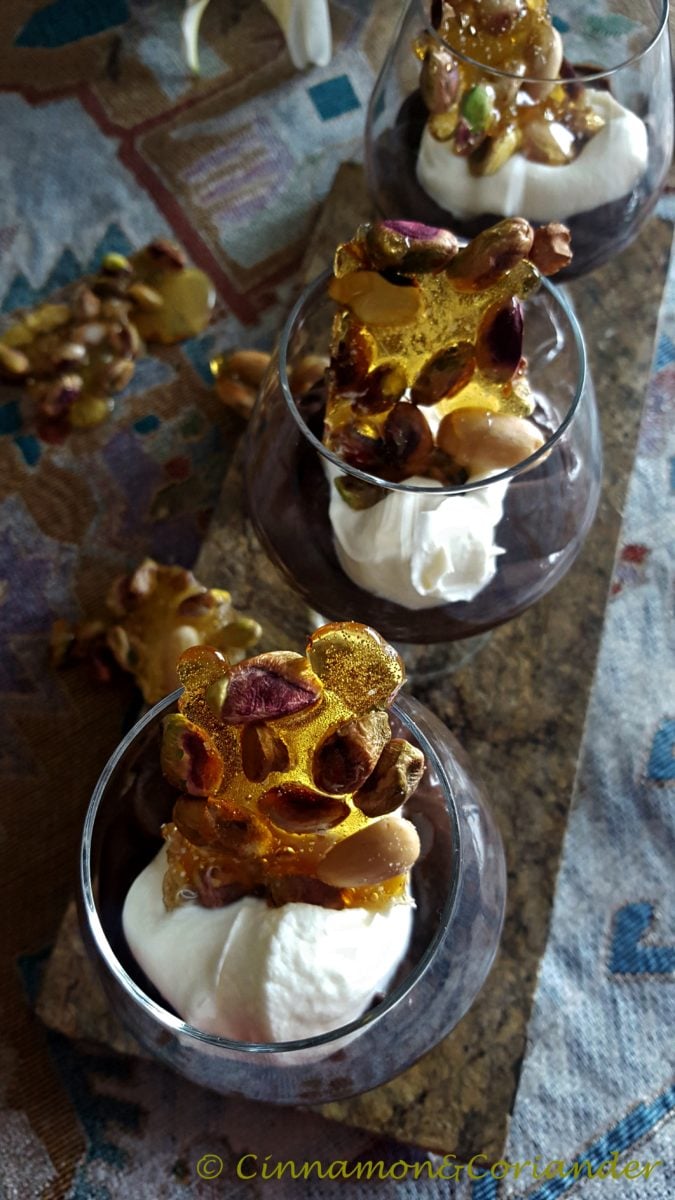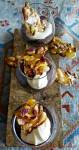 Mexican Chocolate Pudding with Salted Caramel & Pistachio Brittle
a dark & decadent Mexican spiced chocolate pudding served with a dollop of creme fraiche and a divine pistachio brittle
Ingredients
For the mexican chocolate pudding

100

g

dark chocolate

chopped *

3

tbsp

dark unsweetened cocoa powder **

3

tbsp

corn starch

1/2

tsp

salt

1

cup

heavy cream

3

large egg yolks

2 1/2

cups

whole milk

1/2

cup

sugar

1

tsp

vanilla extract

1/4

tsp

nutmeg

if possible, use freshly grated

2

tsp

ground cinnamon

1/4

tsp

ground allspice

1/4

tsp

chili powder

For the salted caramel pistachio brittle

1

cup

roasted pistachios

1/2

cup

sugar

1

splash of water

sea salt crystals

some Creme Fraiche

Sour Cream or Whipped Cream
Instructions
In a heat resistant bowl mix the black cocoa, cornstarch, spices and salt. Slowly mix in the cream until it comes together- The paste will be quite thick. Add the eggyolks and whisk well.

Place the milk and sugar in a pan with the vanilla and heat it up so the sugar dissolves. Bring it to a gentle simmer ( do not to boil it!) and remove from heat.

Slowly whisk in the warm milk over the cocoa/egg mix, don't pour it all at once or it will curdle. Once you have poured the whole thing in, put the pudding mix back into the pot.

Cook the pudding mix by placing the pot over medium heat – use a wooden spoon to stir and make sure to scrape every corner of the pot while stirring. Once the mexican chocolate pudding comes to a full boil, let it bubble for about 2-3 minutes and remove from heat.

While the pudding is still hot, add the chopped chocolate and stir until combined ad smooth.

Transfer the mix into a bowl and put some plastic wrap onto the surface of the pudding so it doesn't get a gross skin. Let your pudding chill.

Place the roasted pistachios on a tray lined with a silicon mat.

Now: Make the caramel: place the sugar in a pot and add a splash of water (about 5 tablespoons). Turn on the heat on medium and gently. Watch it carefully. Once the mix turns caramel brown (as opposed to black or blond), quickly remove from the heat and drizzle over your pistachios. NOW QUICKLY sprinkle some salt before the caramel cools down.

Once the brittle is cold, break it apart into small chunks. Pick the prettiest pieces for your dessert presentation and save the rest for late night munchies 🙂 It`s divine!

Now it's time to assemble!

Scoop out some pudding or pipe it with a freezer bag into your glasses and add a dollop of creme fraiche, whipped cream or sour cream!

Decorate your Mexican Chocolate Puds with a nice piece of britte and enjoy
Recipe Notes
* I used Lidt Chili Chocolate 70% - If your use a chocolate without chili add some chili powder to your dry mixture along with the other spices
** I used black onyx cocoa powder (recommend - it´s awesome )