Dieser Beitrag ist auch verfügbar auf:

Deutsch (German)
This easy recipe for Sticky Maple Lime & Ginger Chicken Thighs makes for a delicious and healthy low carb weeknight dinner! The marinade bursts with the flavour of lime and ginger and turns into a sticky glaze that coats the tender chicken thighs!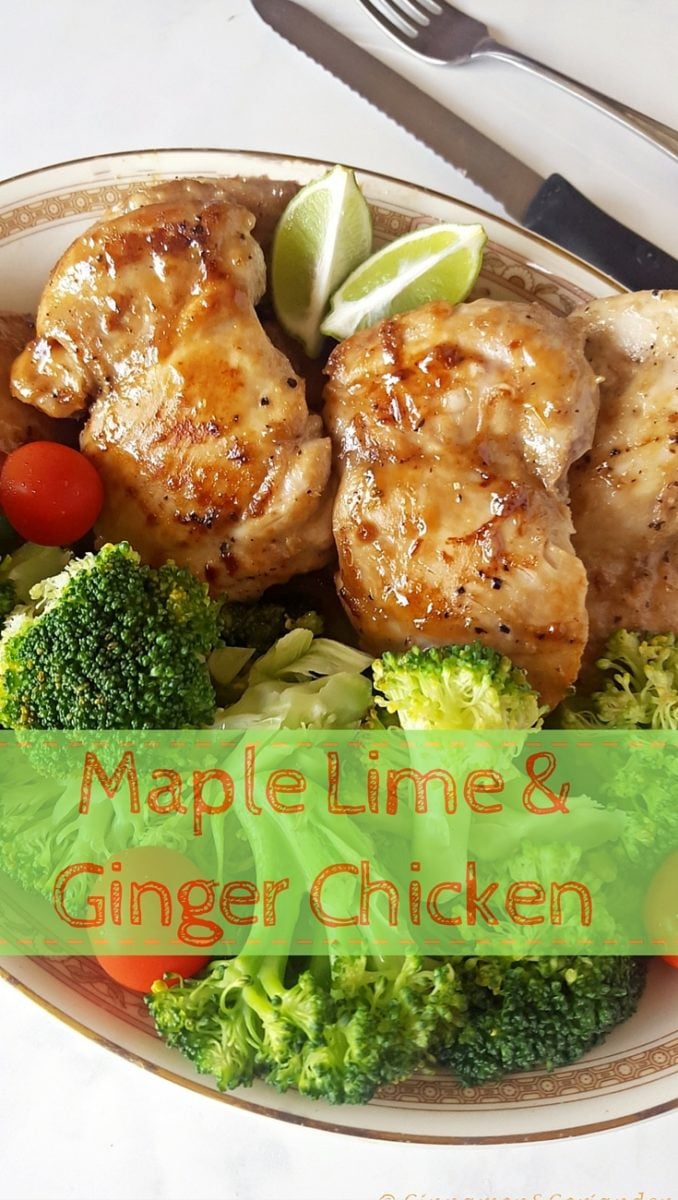 A note about affiliate links in this post: some of these links will take you to Amazon where I may receive a small percentage of sales, at no extra cost to you
Sometimes you get this one movie-like, perfect day. When the sun is shining despite a bad forecast and your husband comes home from work extra early. You decide to have a spontaneous Sangria Party and you end up winning concert tickets on the way out of the liquor store. Jep, that all happened to me a couple of days ago. I, who never ever wins anything got the chance to go to this private concert with George Canyon. PLUS there was free food!
George Canyon is such a sweetheart. I love his music and HELLO? Look at that jawline!  That big old smile almost broke my face but man was I happy that day!
That said, when we got home we were still in party mode and not really in the mood for lengthy dinner preparations. Luckily, I had seen that coming and already marinated some chicken thighs for my fav chicken dinner. Sticky Maple Lime & Ginger Chicken Thighs – baked to perfection with a caramelized and sticky outside and a tender inside!
This Sticky Maple Lime & Ginger Chicken is so easy to prepare. You start by making the marinade. Just throw all the ingredients into your food processor, and let it do its magic until you have this incredibly flavorful paste. Pour it over your chicken. I just put both chicken and marinade in a freezer bag and give the bag a good massage before I store it in the fridge. Maple Lime and Ginger – such an incredible combination! Sweet and refreshing with a slight heat from the ginger! Don't be too thrifty when adding the ginger! We really want it to come through in this dish! For my marinade, I used organic minced ginger by The Ginger People, a brand I recently discovered and fell in love with.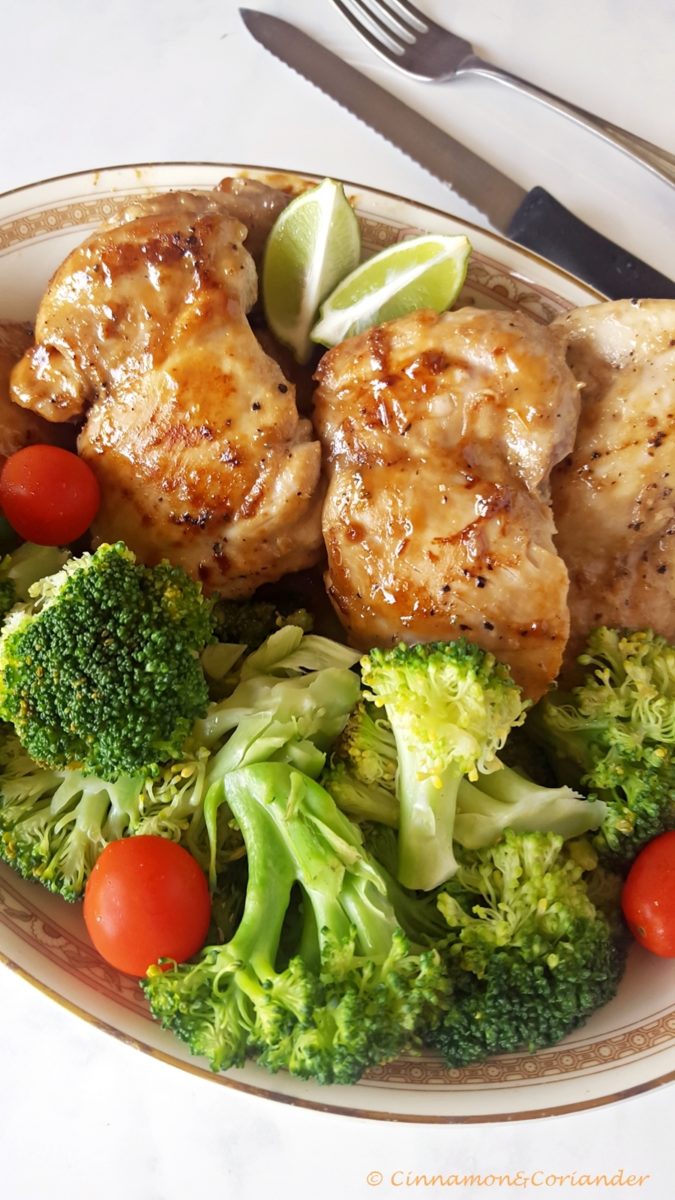 It's important to give the chicken time to marinate to make sure it's extra tender! Just prepare the sauce in the morning and let the chicken sit in the Maple Lime & Ginger Marinade until dinnertime. All you have to do then is to put the chicken skin side up into your casserole dish and pop it into the preheated oven.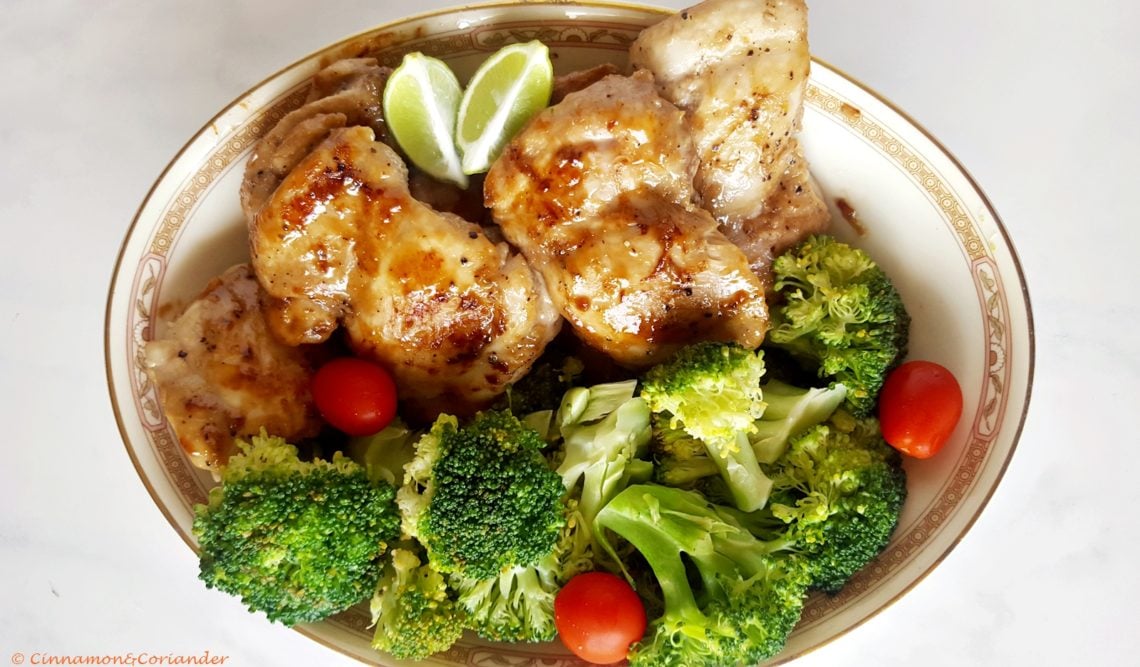 What you can see in the picture are skinless, boneless chicken thighs but you can also use skin-on thighs. In the recipe below, you`ll find two versions to make this Sticky Maple Lime & Ginger Chicken. You can either bake it with or without the marinade. I prefer the latter as I like my chicken a bit crispier. I just reduce the marinade in a little pot while the chicken bakes and glaze my chicken with it once it has thickened! By glazing the chicken while in the oven you end up with this glossy, sweet & sticky look we love so much.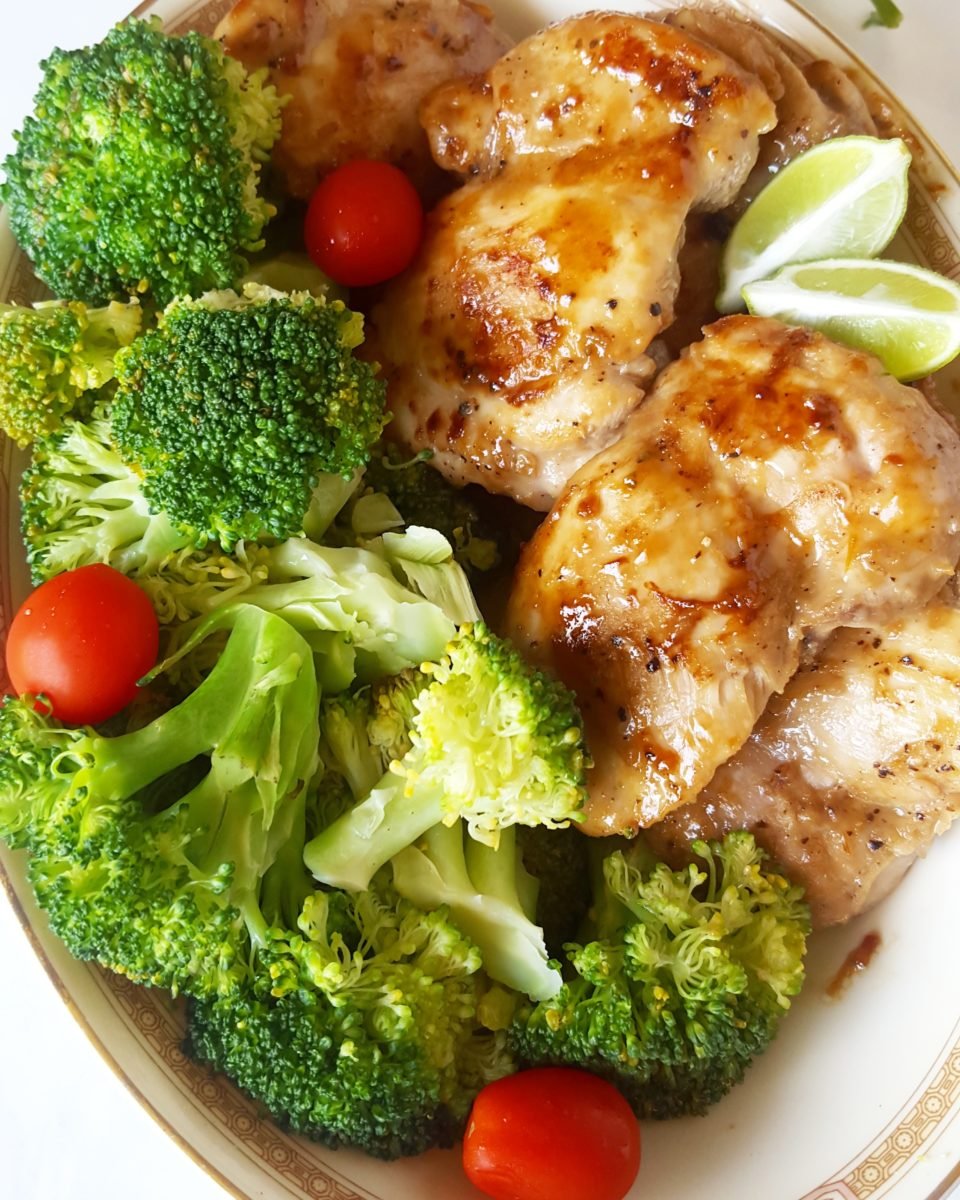 I really hope you give this Maple Lime and Ginger Chicken a try. It has become one of our favorite dishes. Time-saving, low carb, delicious and healthy. What's not to love about that? To make this recipe Paleo, substitute the Worcester sauce and soy sauce with homemade paleo worcester sauce.
For more healthy dinners check out:
My Indian Rice Salad with Mango 
or this Frittata with Feta, Sweet Potatoes and Jalapeno
My product recommendations:
A note about affiliate links in this post: some of these links will take you to Amazon where I may receive a small percentage of sales, at no extra cost to you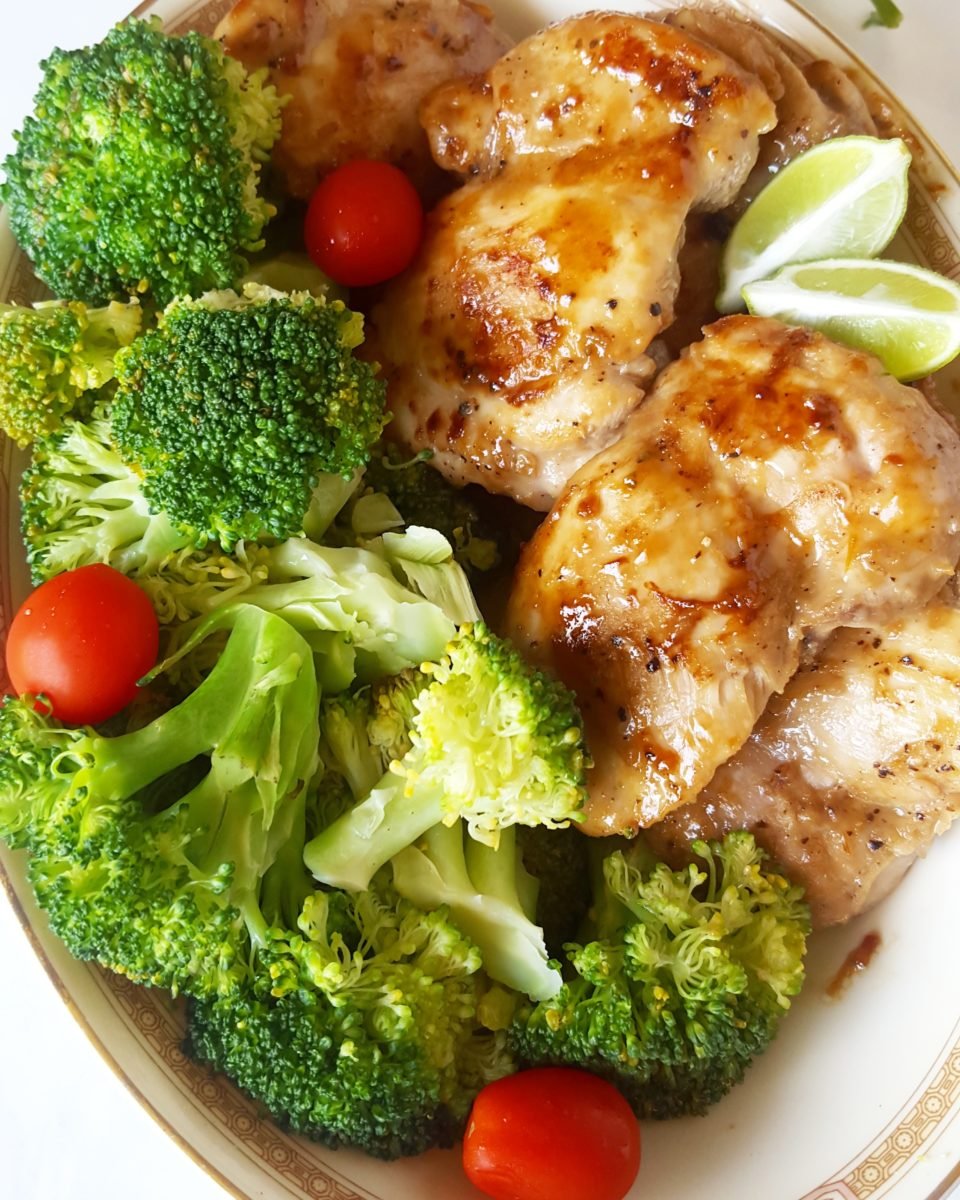 Sticky Maple Lime and Ginger Chicken | Healthy lunch recipes
Tender Chicken Thighs baked in a sticky and sweet ginger, lime and maple marinade! This easy chicken recipe makes for a healthy weeknight dinner.
Ingredients
500

g

boneless chicken thighs

2

limes, juiced

3

tbsp

maple syrup

1,5

tbsp

tbsp worcester sauce

1

tbsp

soy sauce

2

tsp

minced ginger or freshly ground ginger

I used minced ginger by the Ginger People

1

garlic clove

1 - 2

tbsp

rum

optional

1

tsp

salt

1/2

tsp

freshly ground pepper

optional:1 tsp chili sauce
Instructions
Put all ingredients apart from the chicken in a food processor and process until you have a smooth marinade. Add the marinade and the meat to a freezer bag, shake and massage the bag, making sure your chicken is coated with the marinade. Place the bag in a bowl and refrigerate for at least 4 hours or overnight.

Take the meat out of the fridge about an hour before you want to start cooking.

Now you have 2 options. You can either bake the chicken without the marinade. I personally prefer the latter and reduce the marinade in a separate pot.
Option 1
Preheat oven to 200 Celsius and put the chicken in a baking dish WITHOUT marinade.If your thighs come with skin on put them skin side up and bake for 25 minutes. Heat out the Marinade in a pot and reduce slightly. Glaze the chicken with the marinade twice - once right when you put it in (it's fine if the marinade is not yet very thick) and once after you turn your chicken midway through the baking time, so after about 12 minutes. Your cooking time depends on the size of the thighs and depends on whether there are bones and skin on them or not. The version you see in the picture was made with boneless, skinless thighs and I baked it for about 20 minutes. Generally, the inside temperature should be 70 degree

Option 2: Baking with marinade

Put the marinade and the chicken (skin side up) into your baking dish. If you want more sauce, choose a smaller dish and put the chicken closer together. For a crispier chicken ( less sauce) choose a bigger baking dish.

If you want crispy Skin, you can turn the temperature up to about 230 and change to grill function for the last minutes.

Regardless of the option, you chose for preparation, take the chicken out of the oven after the baking time and cover the dish with foil. Let it stand for a couple of minutes to allow the juices to set.