Yum Woon Sen is a refreshing Thai Glass Noodle Salad with fresh chopped vegetables, herbs and a zingy Ginger Lime Dressing. Fans of Thai Cuisine will love this quick and healthy recipe!
Disclaimer: A note about affiliate links in this post: some of these links will take you to Amazon where I may receive a small percentage of sales, at no extra cost to you. 
This Thai Glass Noodle Salad might not look very flamboyant, but believe me, there's a lot of flavor going on! Not in the same way as in many other incredibly spicy Thai dishes! No, it is definitely more subtle, with that perfect balance of spicy, tangy and sweet!  That's what I love so much about Yum Woon Sen. It is simple but oh so perfect!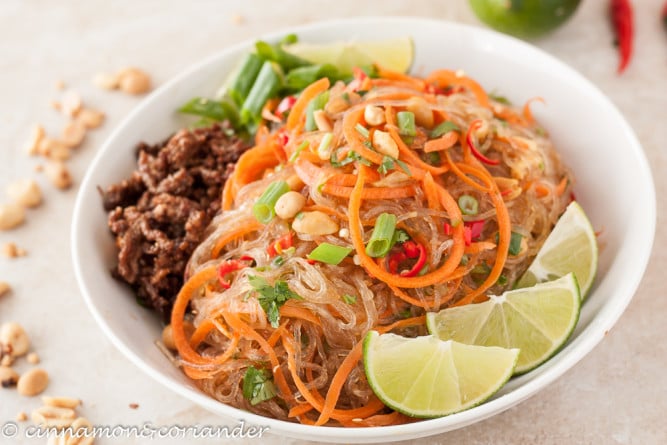 Yum Woon Sen is basically a cold or lukewarm-served salad of naturally gluten – free glass noodles sprinkled with fresh vegetables, crispy pork and crushed peanuts. The whole affair is tossed with a zingy ginger and lime dressing to achieve Thai Food perfection.
I gotta admit that we have become rather obsessed with this quick and healthy Thai glass noodle dish this summer. There's so much goodness going on in this salad and it is so fun to eat ! A real wake-up call for your taste buds! From the tart lime juice and aromatic cilantro to the crunchy peanuts and chewy noodles, then the saltiness of the soy – and fish sauce, and the savory notes of the crisp, almost caramelized pork, contrasted by the sweetness of the carrots freshly harvested from our garden. Perfection!
I love cooking with glass noodles as they take no time at all to prepare!  You'll find them in Asian supermarkets but there's a pretty good chance, that your local grocery store carries them as well, They are sometimes labeled differently, so you might want to check for mung bean noodles, or bean threads, as well. Yum Sen noodles are made from mung bean starch and are naturally gluten-free! They turn almost transparent when cooked and are surprisingly stretchy coming out of the hot water. I recommend you cut them up into a more manageable length using kitchen scissors!
I know you will love this Thai Glass Noodle Salad just as much as we do. It does not require a lot of cooking experience and only takes 30 minutes to put together. You can feel free to add any vegetables you have in the fridge, so it is perfect to get rid of odd bits and bobs.
My product recommendations:
Disclaimer: A note about affiliate links in this post: some of these links will take you to Amazon where I may receive a small percentage of sales, at no extra cost to you. 
Thai Glass Noodle Salad - Yum Woon Sen
a healthy, refreshing Thai Glass Noodle Salad made with gluten-free glass noodles, fresh vegetables, herbs and seasoned with a zingy ginger lime dressing! Quick and easy to make within 30 minutes!
Ingredients
150

g

dried glass noodles

1

tsp

oil

250

g

minced pork

shrimp or chopped firm tofu

1

clove

garlic, peeled and minced

2

limes

3

tbsp

soy sauce

1

tbsp

fish sauce

or more soy sauce

2

tsp

sesame oil

2

tbsp

brown sugar

1,5

cm

fresh ginger root, grated

1

small

red Thai Chili, minced

1

carrot, thinly sliced or julienned

4

spring onions, sliced

1/2

bunch

cilantro, chopped

40

g

roasted peanuts
Instructions
Put the glass noodles in a bowl and cover with boiling water. Let them sit for about 10 minutes.

In the meantime bring a pot with 1 l of water to a boil and heat a middle sized pan with 1 tsp of oil. Add the minced pork let fry for about 5 minutes, breaking the pieces apart with a fork as it fries. Add a pinch of salt and let fry for another 3 minutes, then add the garlic and fry for another minute until the garlic looses its raw smell. Put aside.

Take noodles from soaking water and add them to the pot of boiling water. Let them sit in the water for a minute, then drain and rinse with cold water. Cut them into smaller pieces with your kitchen scissors.

Juice the limes into a small bowl and add the soy sauce, fish sauce, sesame oil, ginger and brown sugar. Stir until the sugar dissolves. If it doesn't, put it in the microwave for a couple of seconds and stir again.

Set some peanuts and cilantro aside for decoration. Combine all the ingredients including dressing in a bowl and mix well. You want the dressing to coat the noodles properly. Sprinkle with peanuts and cilantro and serve.
Did you like my recipe for Yum Woon Sen – Thai Glass Noodle Salad? Pin it!