Dieser Beitrag ist auch verfügbar auf:

Deutsch (German)
This recipe for cherry studded Persian Lamb Meatballs is easy to make and will impress everyone. The sweet and sour cherry sauce and the chopped pistachios complement the rich, spiced lamb koftas so well and take this paleo and gluten free recipe to the next level!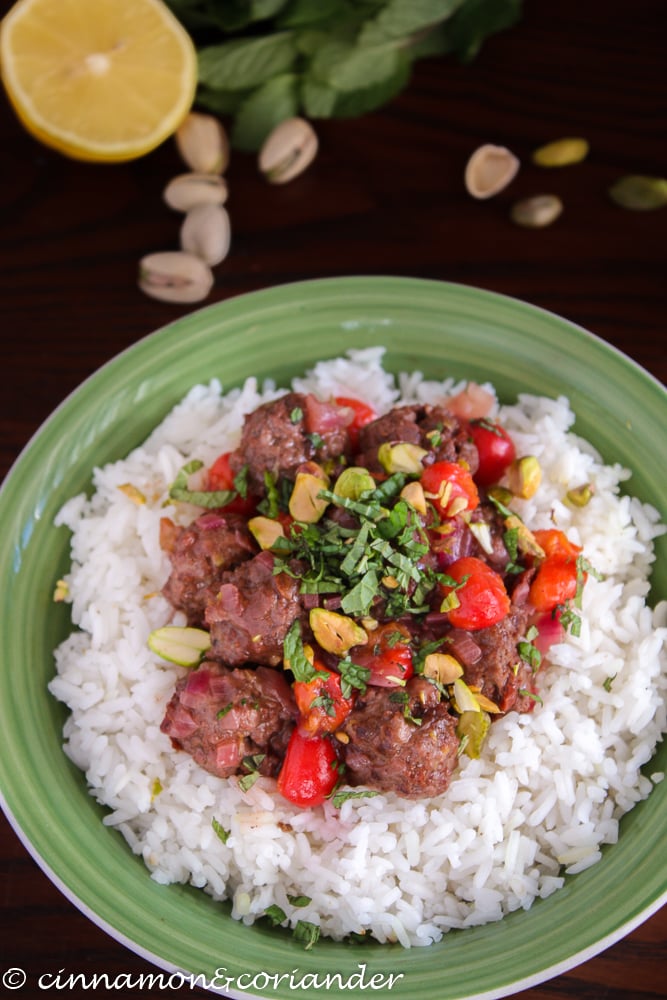 A note about affiliate links in this post: some of these links will take you to Amazon where I may receive a small percentage of sales, at no extra cost to you. 
Happy Sunday, everyone! Oh, and what a week it has been. Starting with our big move from Calgary to Saskatchewan on Monday. It is my first time in this part of Canada and I am already feeling very much at home in the little town next to the South Saskatchewan River, that we moved to. Having had bad luck with the first apartment we had rented, (which felt and smelt as if it had been formerly used as a sauna for chain smoking cats), we got really lucky with our second place. What I like most about it, is that it is directly opposite from a school which reminds me of my days as a teacher, plus it makes for great morning entertainment. Today we are gonna check out the Wolf Willow Winery  and I am all kinds of excited. I heard they make their own rhubarb wine and I cannot wait to try it.
Before it strikes wine o clock, though, I am gonna help myself to a big old portion of these delicious Persian Lamb Koftas with Sour Cherry Sauce and chopped pistachios. I came up with this creation after an afternoon with Marsha Mehran's  novel Pomegranate Soup
which made me so hungry that I had to get cooking something Persian right away. What I love about Persian food are the flavourful combinations – the mix of meat, bold spices and fresh herbs with sweet or tart fruits like cherries, plums, pomegranates, apricots, and raisins. Fun to eat and fun to cook.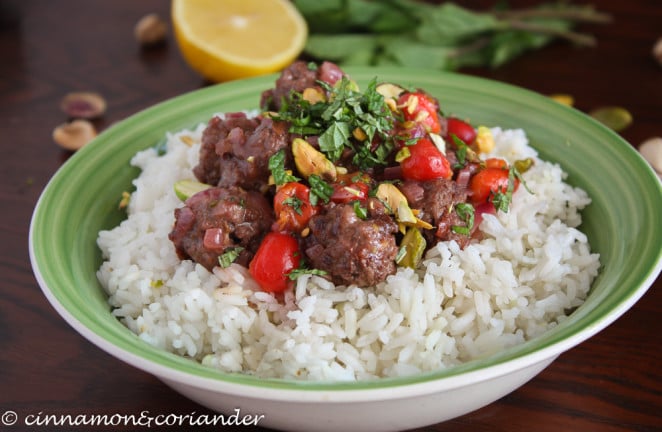 These spicy Persian lamb meatballs with Sour Cherry Sauce make for such an easy and satisfying lunch or dinner! 
Making kofta is a brilliant way of using minced lamb as an alternative to minced beef or pork. I love lamb and I find that the earthy flavor of lamb goes so well with the tartness of the sour cherry sauce.The sweet and tangy dried cherries add another unexpected element to the dish and the chopped pistachio nuts are a great change in texture.
You can buy sour cherries frozen or dried, both sweetened and unsweetened. Sweetened sour cherries work for this recipe, but if you are eating a paleo diet, or cutting out sugar like I do, I recommend these No Sugar Added Dried Cherries
. I still have a bunch left from my cherry drying experiment so mine had no additives whatsoever. Cranberries are a possible alternative.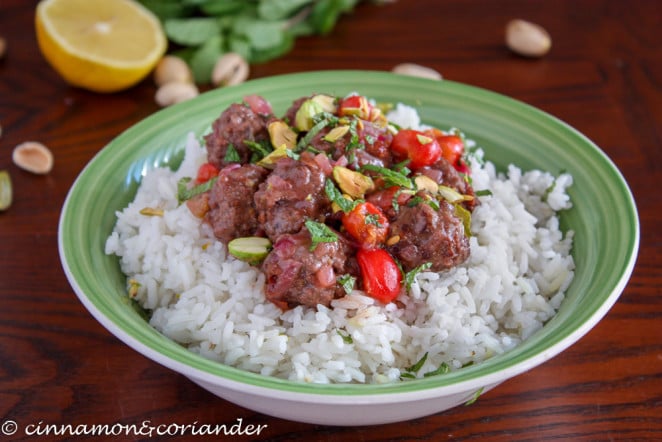 The sweet and sour cherry sauce complements the rich, spiced lamb meatballs exceptionally well. If you do not find minced lamb, or are not a fan, you can use ground beef, pork or turkey instead.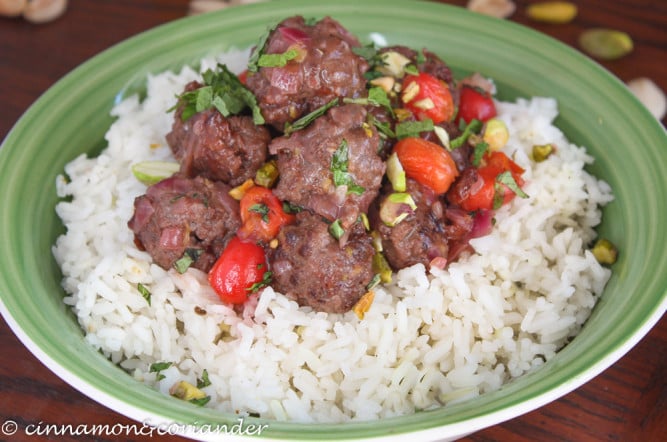 The recipe for lamb koftas with sour cherry sauce is both Paleo friendly and gluten free. If you are eating a strict Paleo diet, you can substitute the rice in the picture with cauliflower rice or with a side of cauliflower tabouleh.
Make sure to defrost the frozen cherries and to soak the dried cherries
, before chopping them and adding them to the meatballs. They make the lamb koftas extra juicy. I was naughty and used some brandy for soaking the dried cherries, which was really delicious. Water or Organic Cherry Juice
 work really well. If you use frozen cherries, you can simply use the liquid that gathers around the defrosted cherries.
These lamb koftas can be made in bigger batches and freeze well. The cherry sauce is only one way of enjoying them! You could also add them to pasta sauces to create a twist on your classic spaghetti and meatballs.
My product recommendations
A note about affiliate links in this post: some of these links will take you to Amazon where I may receive a small percentage of sales, at no extra cost to you.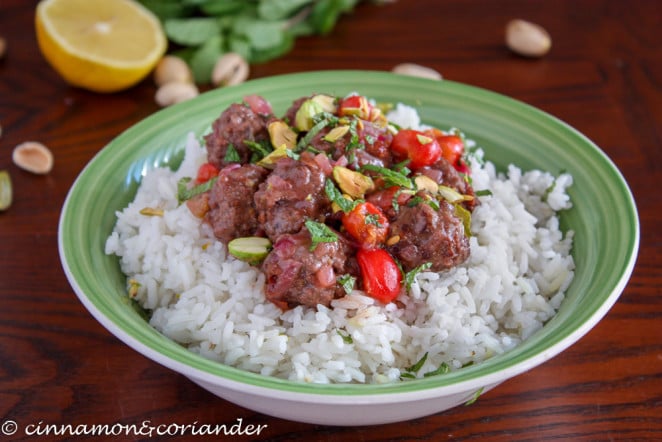 Lamb Koftas with Sour Cherry Sauce & Pistachios
This recipe for cherry studded Persian Lamb Meatballs is easy to make and will impress everyone. The sweet and sour cherry sauce and chopped pistachios complement the spiced lamb koftas and take this paleo & gluten free recipe to the next level!

Ingredients
1

medium sized

onion

40

g

dried cherries

substitute with raisins or cranberries

20

g

unshelled pistachios

400

g

minced lamb

substitute with beef or pork

2

tsp

ground cinnamon

1 1/2

tsp

ground cumin

1/2

tsp

cayenne pepper

1/2

tsp

ground cloves

5

tsp

coconut oil

use avocado oil or butter instead

2 1/2

tsp

honey

150

ml

bone broth

beef or vegetable broth

150

g

sour cherries

fresh or frozen

1/2

lemon

1/2

bunch

mint
Instructions
Put the dried cherries in a bowl and cover with either water, unsweetened cherry juice or juice that gathered around the thawed cherries. Put the bowl in the microwave for 15 seconds to let the liquid come to a quick boil, then let cherries soak in the liquid for 15 to 30 minute. Chop the soaked cherries coarsely in a food processor.

Chop the pistachios and put some aside for decoration. Add the rest of them to a bowl together with minced lamb, 3/4 tsp of salt, 1 1/2 tsp of cinnamon, cumin, cloves, cayenne and the chopped cherries. Shape this mixture into walnut sized meatballs and put them on a plate.

Heat 3 tsp of coconut oil in a pan on medium - high heat. Fry koftas in the pan for about 6 minutes, until nicely browned from all sides. Transfer the meatballs to a plate.

Wipe out the pan and heat another 2 tsp of coconut oil on medium heat. Add the sliced onion and a pinch of salt and fry them for about 5 minutes, stirring once in a while. Add leftover cinnamon and honey, let fry for a minute, add the broth and cherries. Let this sauce come to a boil for about a minute, then juice the lemon directly into the pan. Add the meatballs, let come to a boil, put the lid on and reduce the temperature to low. Let simmer for about 8 minutes.

Chop the mint. Lift the lid and season the sauce with salt and more honey, if needed. Thicken the sauce with a small amount of konjac flour, if needed. If not eating paleo, you can thicken the sauce with cornstarch.

Serve the kofta on a bed of cauliflower rice and sprinkle with pistachios and mint.
 Like my paleo recipe for Persian Lamb Kofta with Sour Cherry Sauce & Pistachios? Pin it