Dieser Beitrag ist auch verfügbar auf:

Deutsch (German)
This Maple Buttermilk Pie with Rhubarb Compote is my favorite springtime dessert! Serve this easy rhubarb pie it for Easter Brunch or Mother's Day!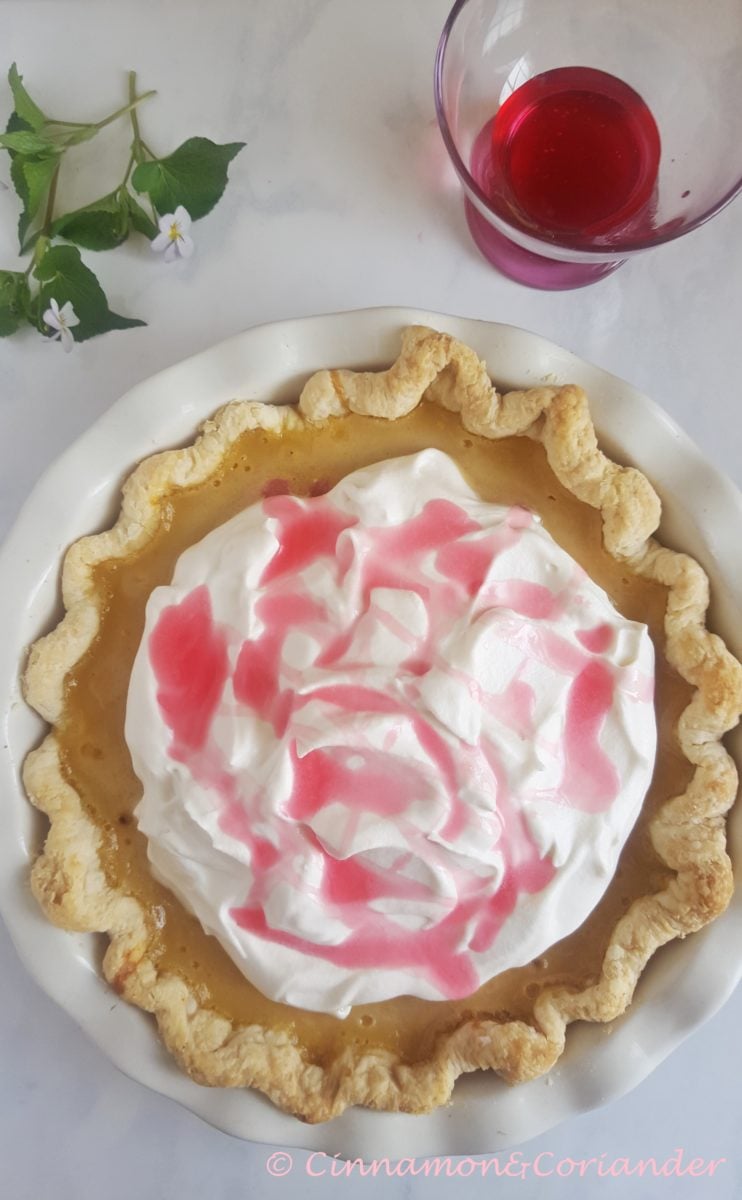 This Maple Buttermilk Pie comes with a hidden layer of rhubarb compote!
Today's easy pie recipe combines some of my favorite foods, namely rhubarb, maple syrup and buttermilk.
In one phenomenal Spring Pie.
You've maybe had Buttermilk Pie before. Or even – especially if you're Canadian- Maple Buttermilk Pie. It's tangy, refreshing and just glorious! But the rhubarb, I tell you, the rhubarb takes this pie to a whole new level! Be prepared to fall in love!
How to make Maple Buttermilk Pie with Rhubarb Compote:
You start by making the Pie Crust. Either use my tutorial to do so or just go with your favourite Pie Crust Recipe!
The important thing is to blind-bake the crust. You'll find the detailed instructions on the blog post.
For the rhubarb filling, we make kind of an express rhubarb jam. As there happened to be an opened bottle of Rosé on the kitchen counter I added it to the jam!
Rhubarb and Rose Wine are very good friends. Pink likes pink! You can, of course, skip this step and substitute the wine with juice! I find it adds a little je ne sais quoi to the Pie filling!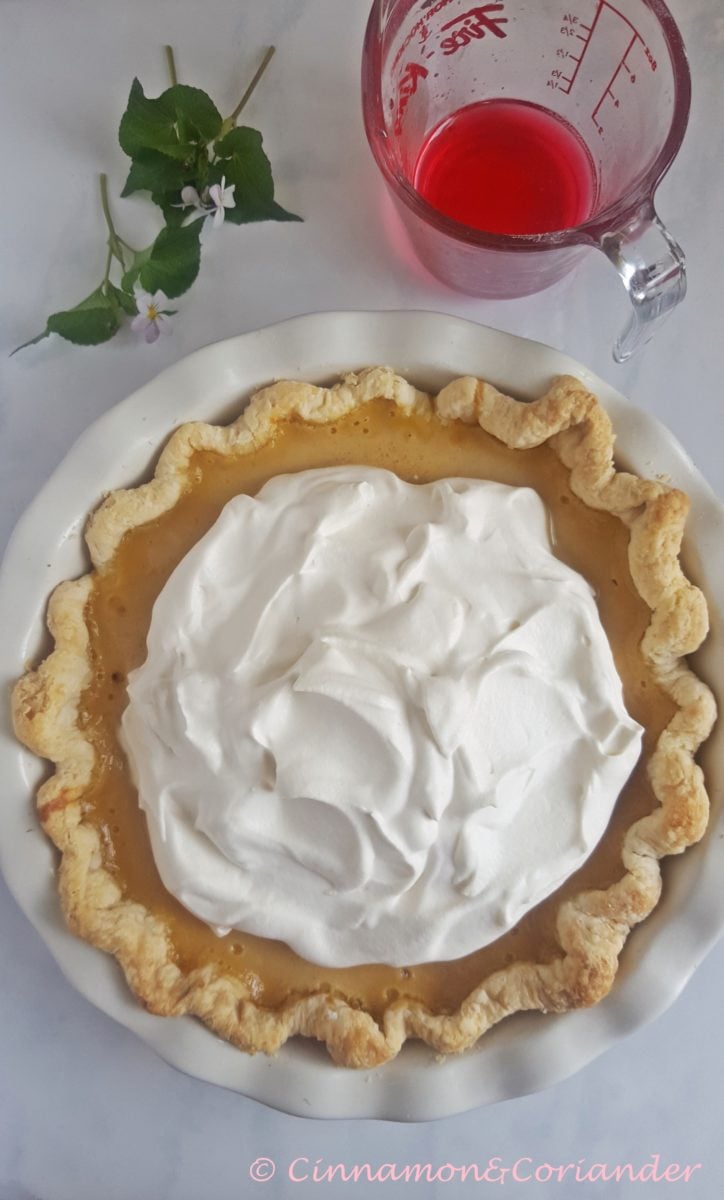 Can I use frozen rhubarb for this pie recipe?
I generally use frozen Rhubarb for all my Pies! When I defrost it, I always end up with a lot of lovely rhubarb juice, which I either drink pure (brrrrr…), use for sangria ( more likely) or for cooking a pretty pink rhubarb syrup!
This time I opted for the latter and thought I might just as well incorporate it. This is totally optional but I just love the look of the rhubarb syrup drizzled on top of the whipped cream!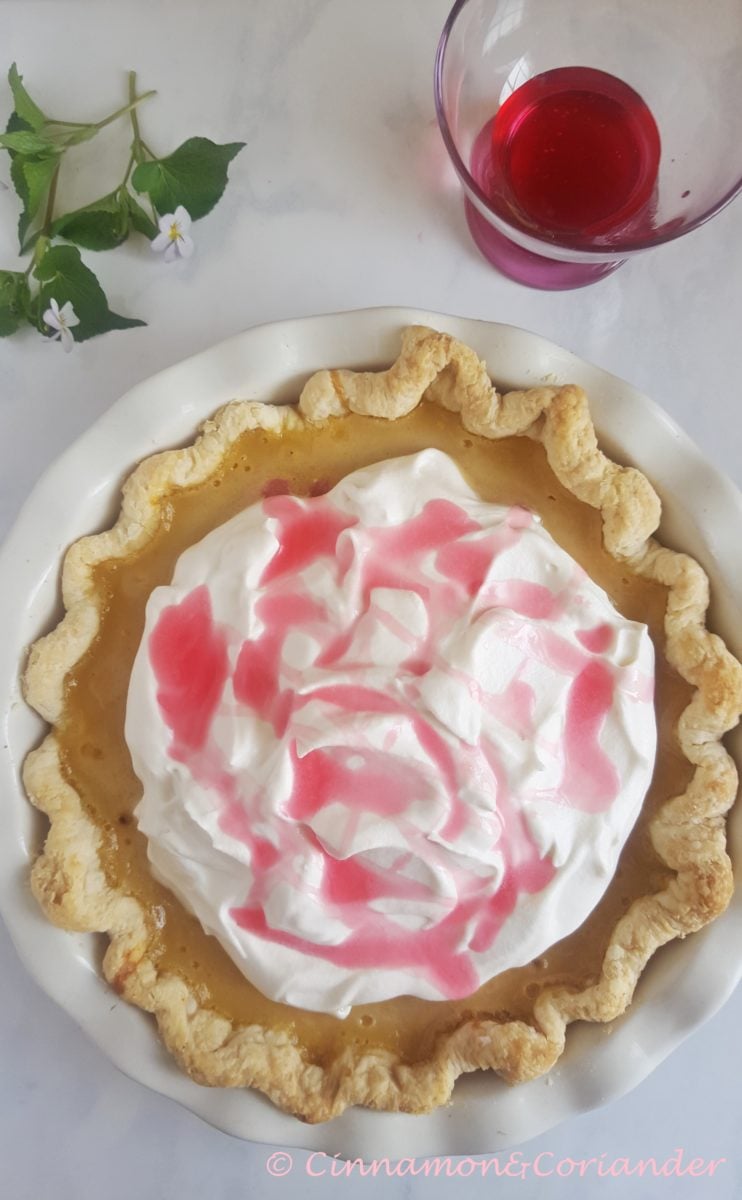 The Rhubarb Layer is hidden underneath a creamy, tangy Maple Buttermilk Custard! I could bathe in this custard!
The Maple Syrup adds it's wonderfully rich and complex flavor! You will probably want to bake this again for Thanksgiving – without the rhubarb maybe!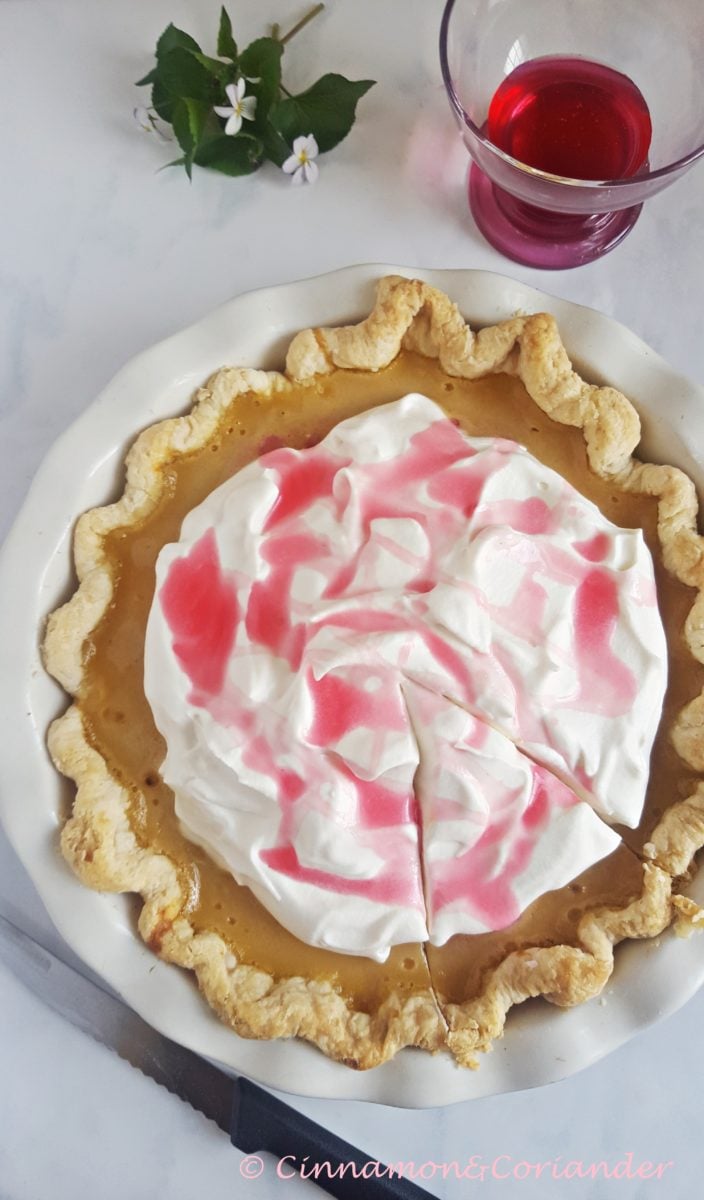 Tips for making this Rhubarb Maple Buttermilk Pie:
The Maple Buttermilk Pie slices pretty neatly but do make sure you give it some time to rest.
The best would be to prepare it a day in advance and to add the whipped cream and rhubarb syrup right before serving!
I find that the Maple Buttermilk Custard develops more flavour that way.
Anyways, after a few hours in the fridge, my Rhubarb Maple Buttermilk Pie came out in perfect neat slices!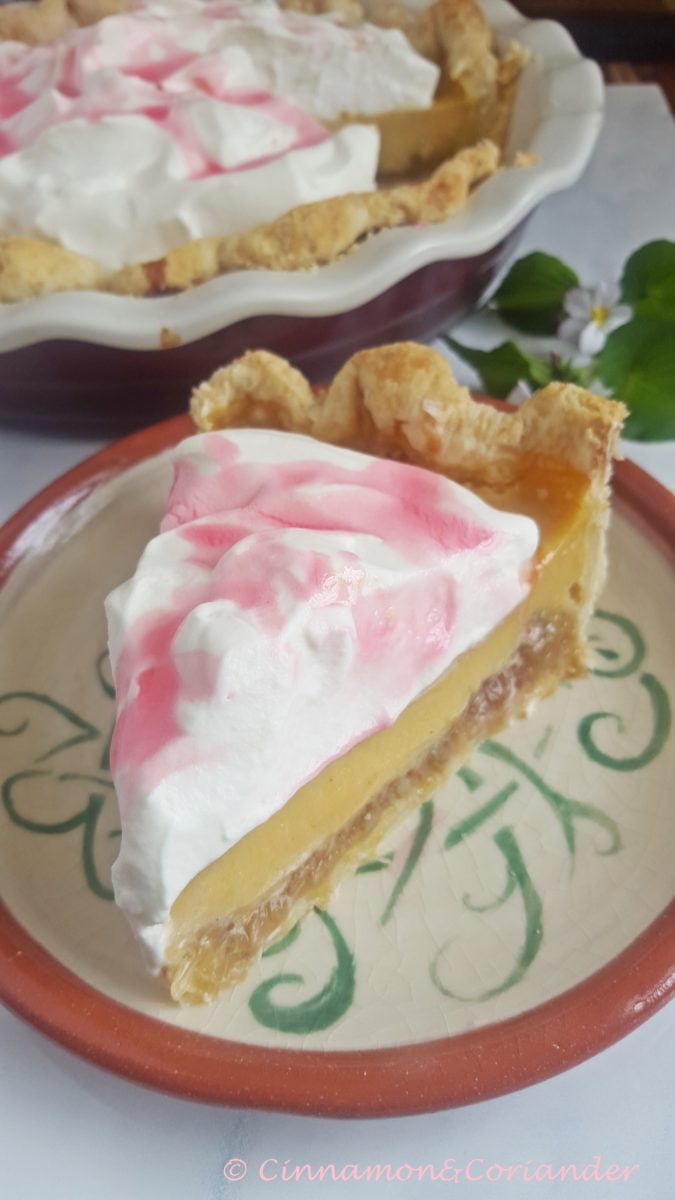 If you're a rhubarb hoarder like me, whose freezer is full of frozen sliced Rhubarb, you can have this wonderful Rhubarb Maple Buttermilk Pie all around the year.
For later in the year I can totally imagine substituting the rhubarb for strawberries!
My product recommendations:
Disclaimer: I am a participant in the Amazon Services LLC Associates Program, an affiliate advertising program designed to provide a means for us to earn fees by linking to amazon.com and affiliated sites
★ Did you make and love this rhubarb maple buttermilk pie recipe? Give it your review below! And make sure to share your creations by tagging me on Instagram!
Rhubarb Maple Buttermilk Pie
This gorgeous Maple Buttermilk Pie is tangy, refreshing and just glorious! The hidden layer of homemade rhubarb jam takes this Pie to a whole new level! Be prepared to fall in love!
Total Time
1
hour
30
minutes
Ingredients
For the Rhubarb Syrup

200

ml

Rhubarb Juice *

70

g

sugar

For the Rhubarb Filling

350

g

Rhubarb

1/2

cup

sugar

100

ml

white or rosé wine

200

ml

orange or rhubarb juice

For the Maple Buttermilk Custard

30

g

brown sugar

6

egg yolks

35

g

flour

160

ml

maple syrup

pref. grade b

480

ml

buttermilk

1

tsp

vanilla extract

1/2

tsp

fine grain sea salt

For assembling

200

g

whipping cream

2

tbsp

icing sugar

1

tsp

vanilla

4

tbsp

Rhubarb Syrup

recipe above
Instructions
Start by making the prebaked Pie Crust (see link)

For the rhubarb syrup, combine juice and sugar in a pot, let come to a boil, reduce the temperature and let simmer until thickish and about 1/3 of the original amount.

For the rhubarb filling combine all the ingredients in a pot, let come to a boil and let bubble away on medium heat until you reach a jam consistency. Let cool completely and spread on your prebaked Pie Crust.

To make the maple buttermilk filling, combine the lemon zest, brown sugar, egg yolks, and flour in a medium bowl. Whisk until the flour is lump free. Gradually add the maple syrup, stirring. Then the buttermilk, vanilla, and sea salt.

Pour the filling into the Pie Crust and bake at 165 Celsius for about an hour.

Let the Pie cool completely and chill it the fridge for a few hours, preferably overnight.

Before serving, whip 200 g of cream with the vanilla and powdered sugar and decorate your Pie whimsically with whipped cream and rhubarb syrup.
Recipe Notes
* I use the juice I get while thawing the frozen rhubarb