Dieser Beitrag ist auch verfügbar auf:

Deutsch (German)
This Pie Crust Recipe is simply the best. It's very easy to roll out and oh so tender, flaky and buttery .
The kind of Pie Crust that you want to snack in front of the TV. It also happens to be the easiest method ever! You make it in your food processor and only switch to the spatula when you stir in your water. A method I've discovered over at Kenji's. By combining the flour and butter in two distinct phases you end up with a perfect, easy to roll out dough. Every time!
Note that I use only butter for my pie crust, but you can substitute up to 6 Tbsp with shortening.
This is what you need for 2 single or 1 double crust pie:
350 grams of all-purpose flour
2 tablespoons of sugar
1 teaspoon kosher salt
280 grams of unsalted butter, cut into cubes
85 milliliters of cold water (6 Tbsp)
First, put sugar, salt and 230 g of your flour into the foodprocessor and blitz to combine.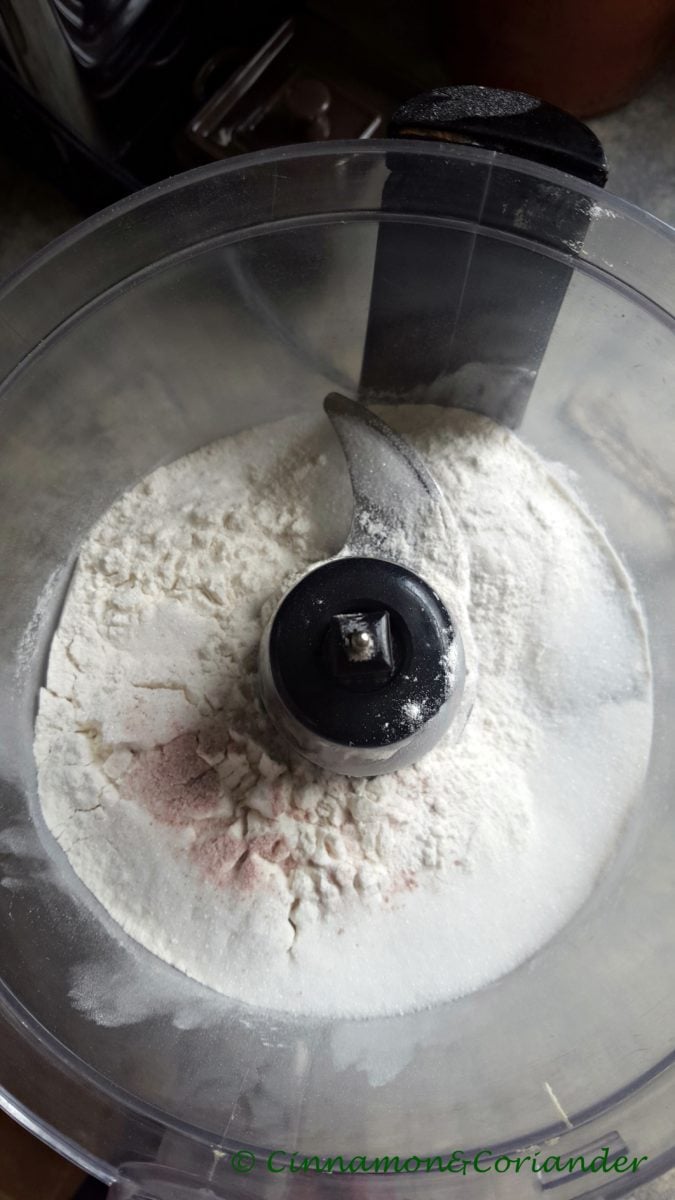 Throw your butter patches on top and pulse…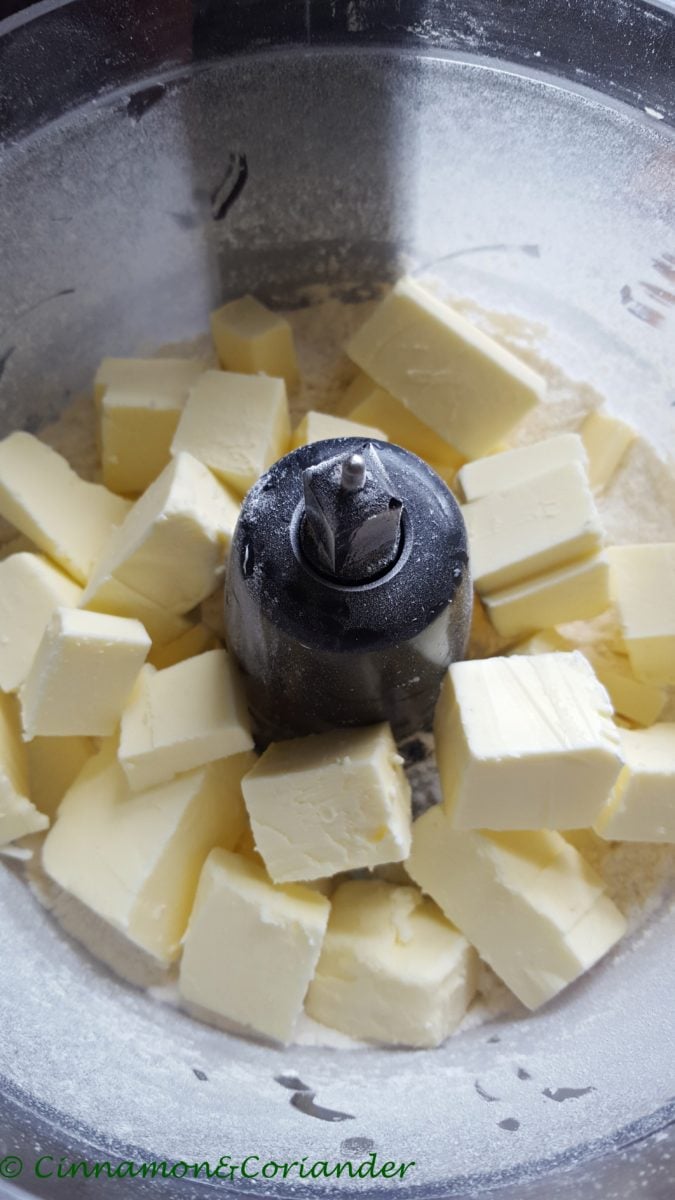 First it will look like this with litte pea sized butter chunks. Many recipes stop here but this time we want to keep on pulsing….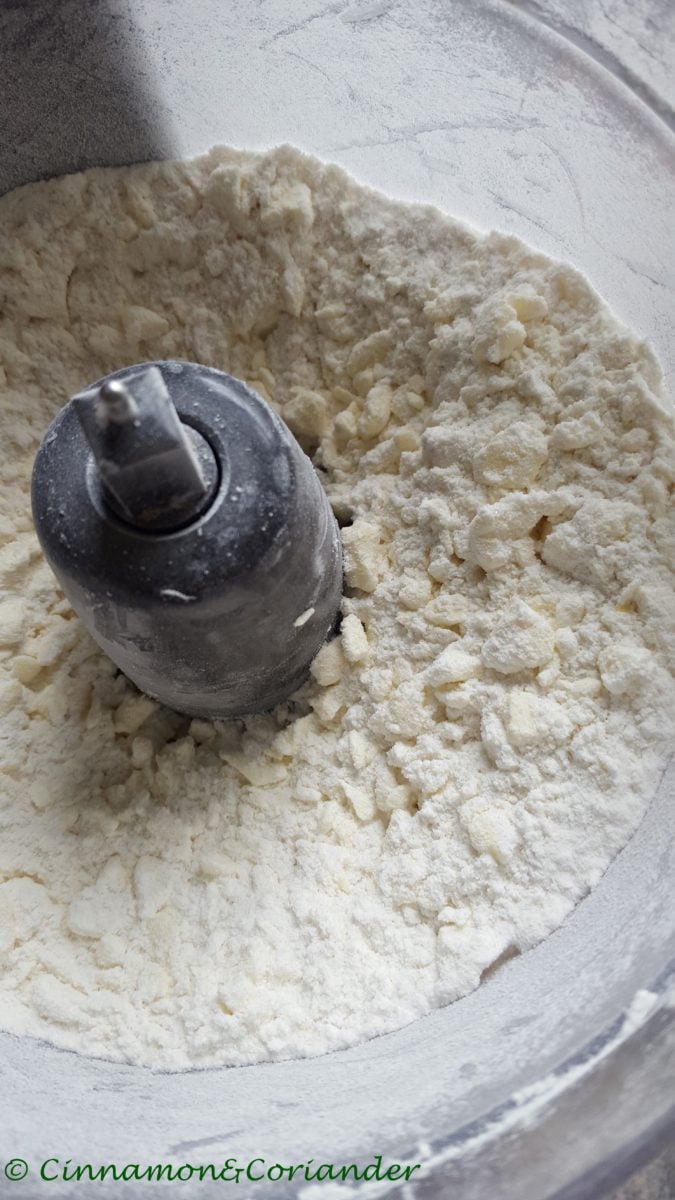 When it looks like this you are getting close…..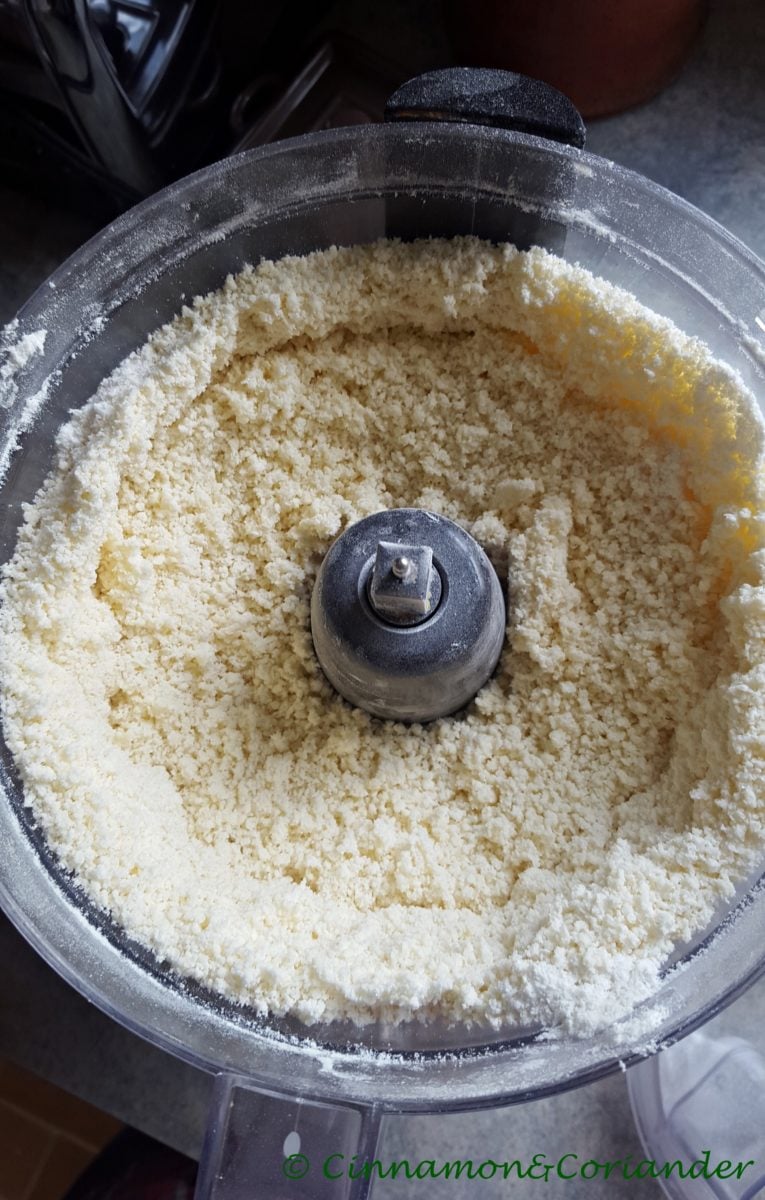 Pulse until no dry flour remains and dough just begins to collect in clumps. As soon as the dough comes together in clumps, we stop. Use a rubber spatula to spread the dough evenly around the bowl of the food processor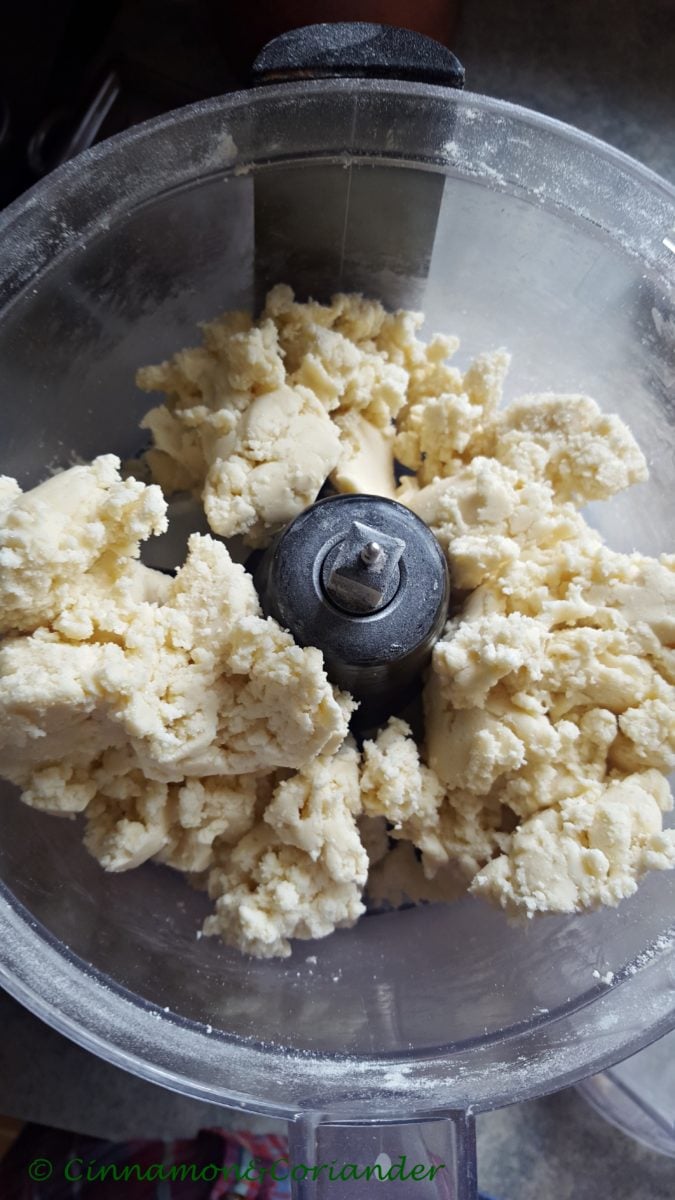 Now sprinkle with remaining flour and pulse until dough is just barely broken up, about 5 short pulses.
Transfer your dough into a large bowl. This is what I call the "Spaetzle Stage" as the dough looks like my German Grandma's Spaetzle Noodles.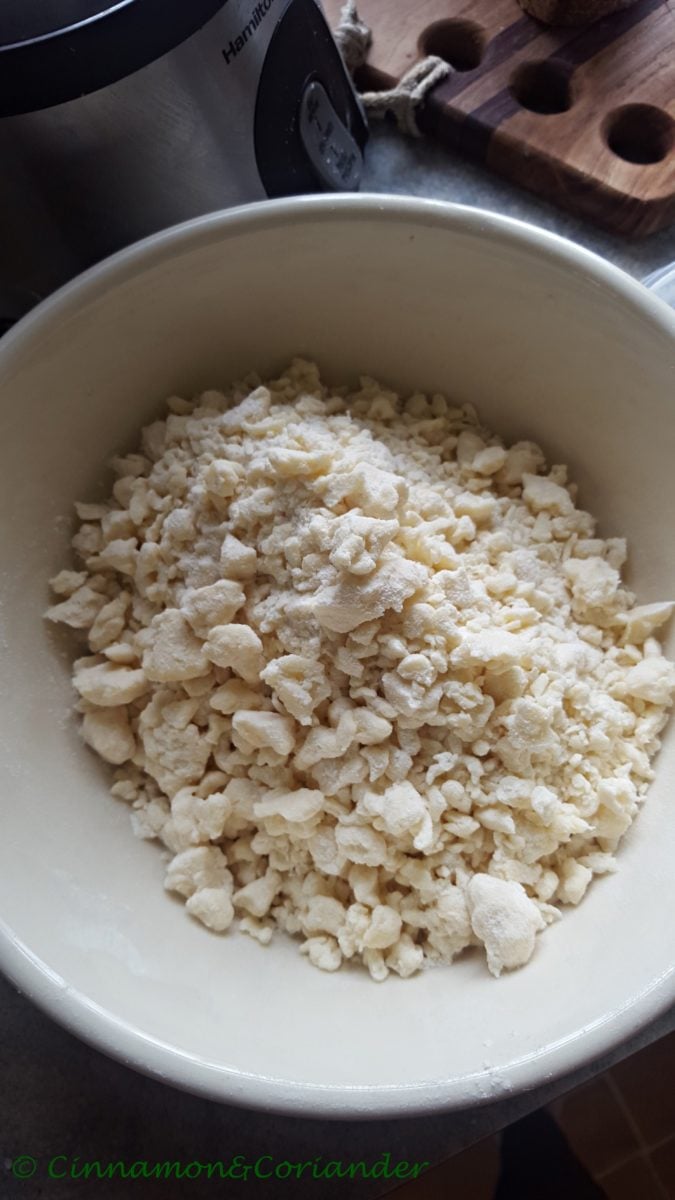 Sprinkle with water then using a rubber spatula, fold and press dough until it comes together into a ball.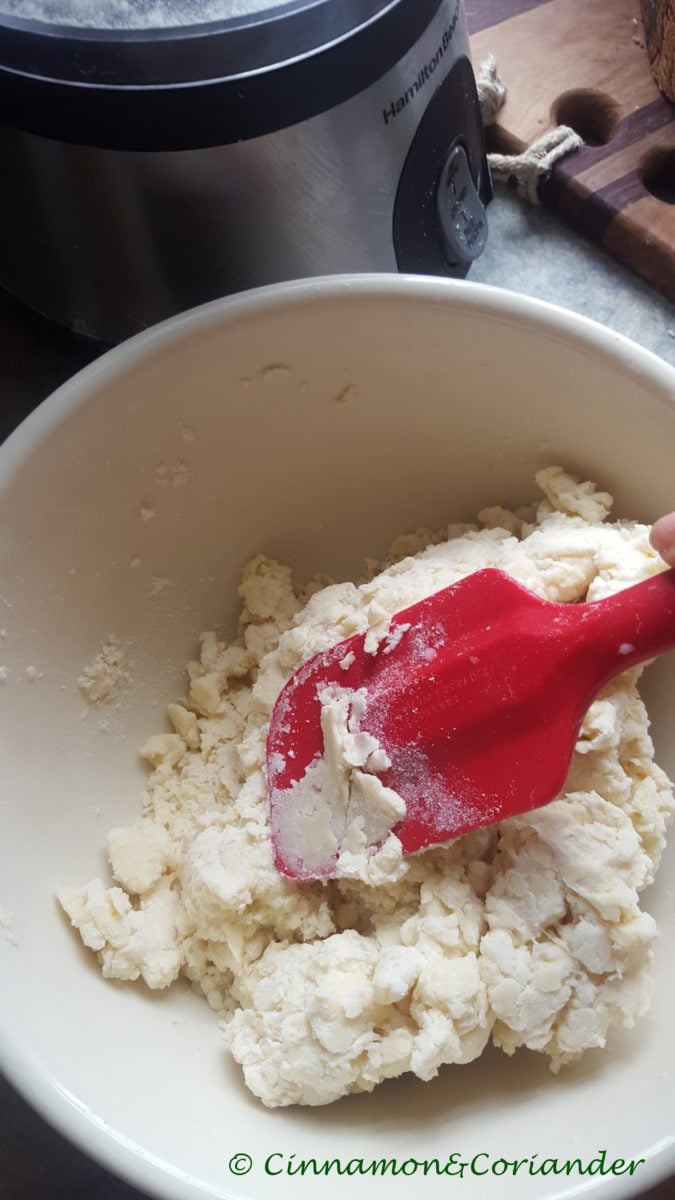 Divide ball in half and form each half into a 4-inch disk.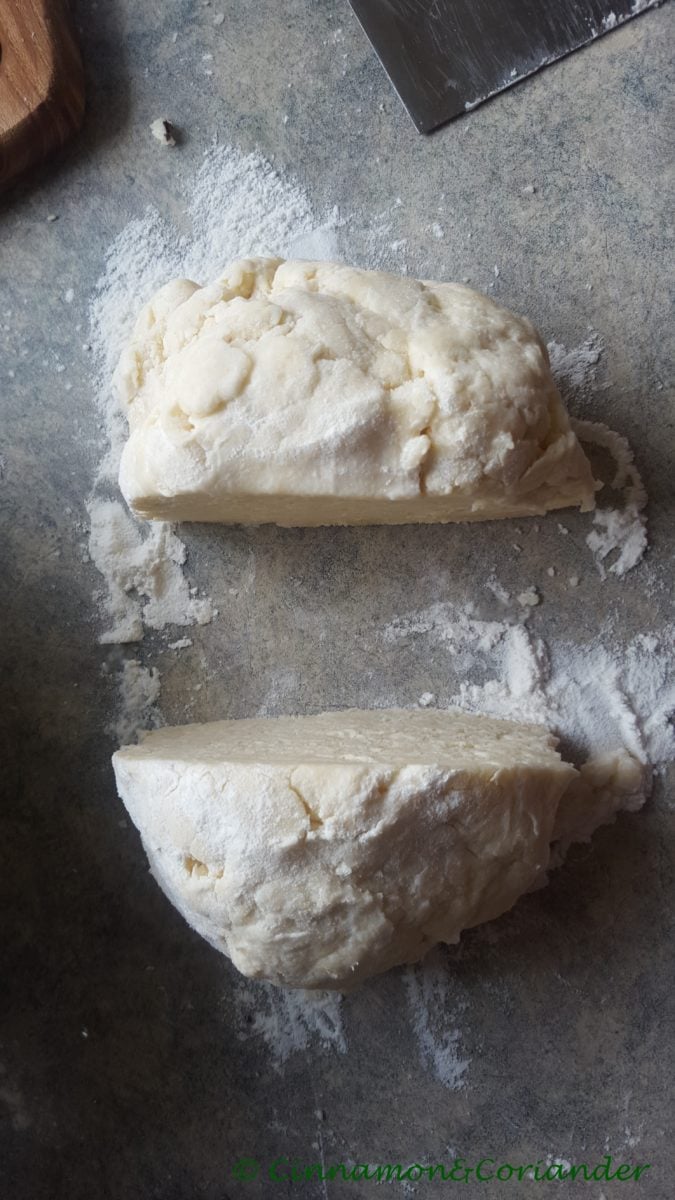 Tadaaa..Wrap your dough tightly in plastic and refrigerate for at least 2 hours before rolling and baking. You can also freeze it for up to 3 months and defrost it in the fridge over night when you want to bake.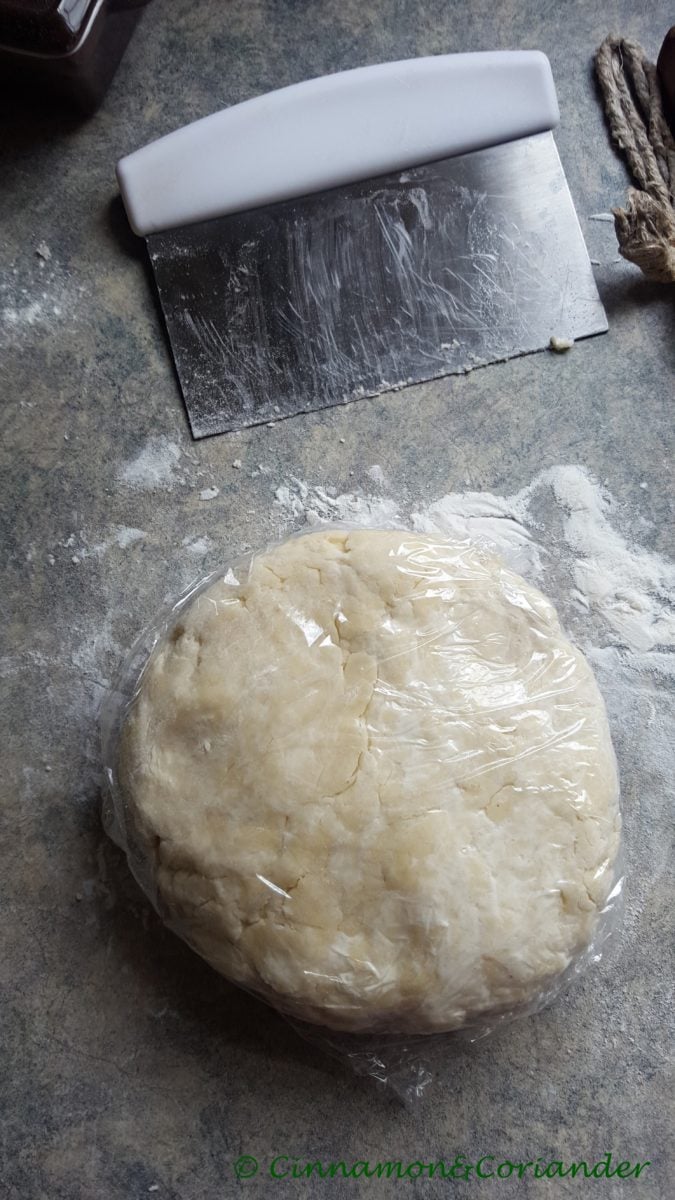 You're done! Why not start by making my favourite Pear, Ginger & Rhubarb Crumble Pie ?
You can also use this recipe for blind baking!
(  Update August 2017,  As of late,  I have had immense success using Stella Park's Low and Slow Method and lining the pie crust with aluminum foil! She bakes the pie crust at 350 Degrees for almost an hour. I have found that, for example for pies that need to bake again, like my purple sweet potato pie, 45 to 50 minutes seems to be the best baking time)
To blind-bake a crust, start by preheating your oven to 425°F, that's 190 Celscis, with a rack placed in the lower third. If you're using a metal pie plate, you can place it directly on the rack. If you're using a glass or ceramic dish, placing an empty rimmed aluminum baking sheet on the rack while the oven preheats can help ensure that your bottom crust comes out extra crisp.
For the best results, line your pie plate with your dough, crimp the edges and then transfer it to the freezer for about 10 minutes in order to really firm it up before lining it with foil or parchment. This will help ensure that the crust keeps a nice shape as it bakes.
Once it's lined and weighted, transfer the crust to the preheated, 190 Celcius, oven and bake for 15 minutes, just until the crust begins to set.
Remove the liner and the weights and continue baking until the crust is golden brown, about 10 minutes longer. Remove it from the oven, and make sure that it is completely cooled before you fill it. A blind-baked crust can be covered loosely with foil and stored at room temperature for up to three days before being filled