This Raspberry and Rhubarb Coffee Cake is an old Family Recipe. Ground Almonds make the dough extra moist! As a little twist, I also added some ground star anise to the buttery streusel!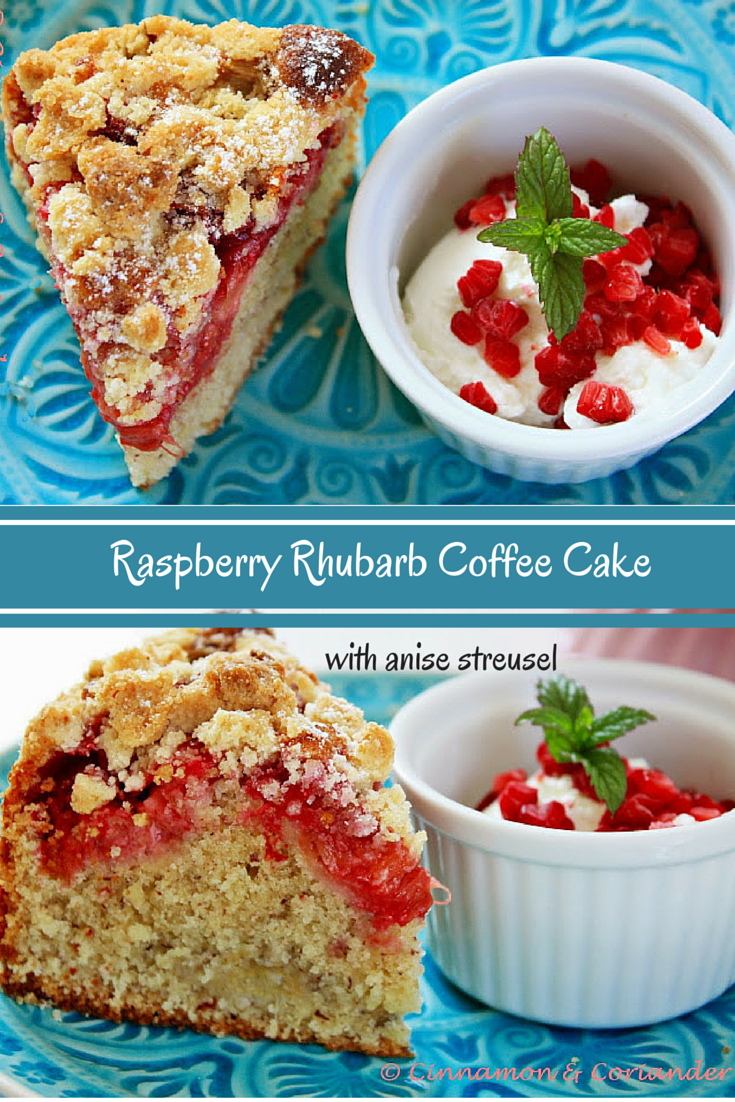 In Germany we are crazy about our Streusel Kuchen, which is what we call a moist coffee cake with a high butter content and lots and lots of crispy streusel on top! It's baked throughout the year but it's peak season is summer, when you can put fresh fruit in it. My favourite version is this Raspberry and Rhubarb Coffee Cake ! The pink dou of raspberry and rhubarb is one of the best fruit combos in the history of ever! The tart rhubarb plays off the sweetness of the raspberries, and together they create a gorgeous magenta fruit layer in our Coffee Cake!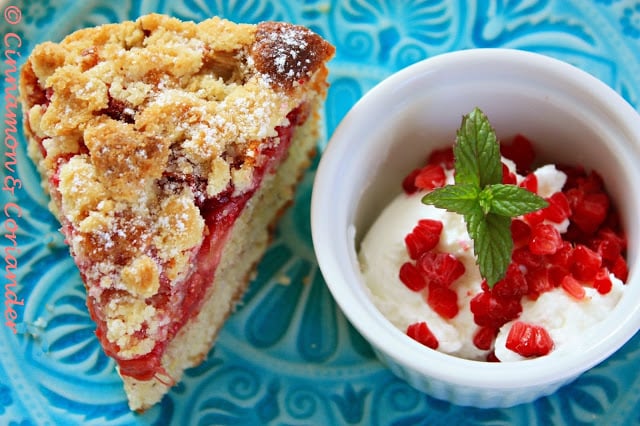 What I love about this Raspberry and Rhubarb Coffee Cake is this incredibly moist dough that we get by adding some ground almonds! It's such a nice contrast against the crispy streusel. The addition of ground star anise to the streusel is certainly not part of my grannies old recipe but it adds a nice licorice note and makes this coffee cake extra special!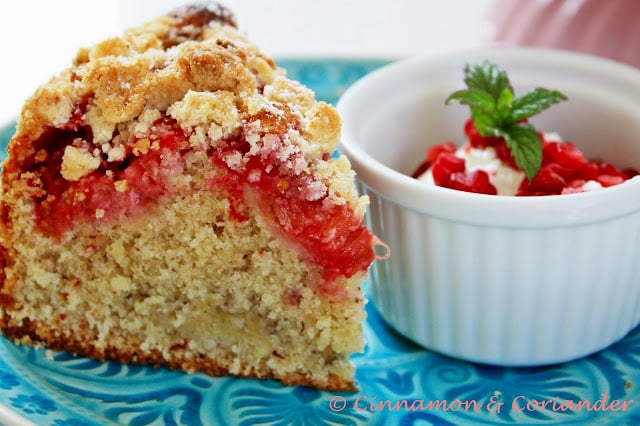 Here's the recipe for my Raspberry and Rhubarb Coffee Cake with Anise Streusel
Recipe for a 20 cm springform pan
200g Rhubarb
200 g raspberries
125 g sugar
125 g butter at room temperature
3 eggs at room temperature
1 tsp vanilla extract
150 g flour
50 g ground almonds
1,5 tsp baking powder
1 pinch of salt
for the streusel
50 g butter, cold
25 g sugar
100g flour
1/2 tsp ground star anis
Start with the streusel
Rub all the ingredients together with your fingers, pinching the dough into streusels and cool them while you prepare the rest.
Preheat the oven to 180 Celsius and prepare a 20 cm springform pan. Chop the rhubarb into pieces and sprinkle some sugar on top. This helps to extract some liquid and prevents the Coffee Cake from getting too moist. Now, sift flower and baking powder together and add the almonds. Cream butter and sugar together until light and fluffy. Add one egg after another and the vanilla, than fold in the dry ingredients until no flour is visible any more. Work quickly and don't overmix at this stage.
Spread the mixture in your baking dish, sprinkle fruit on top and top fruit with 2 tbsp of sugar if you like your cake filling less tart. Add the streusel and bake the cake for about an hour.
Serve with whipped cream!