Dieser Beitrag ist auch verfügbar auf:

Deutsch (German)
A rich & decadent chocolate mousse with Lavender Kissed Strawberries – served with some creme fraiche or greek yoghurt for extra tanginess! A perfect dessert for warm summer nights!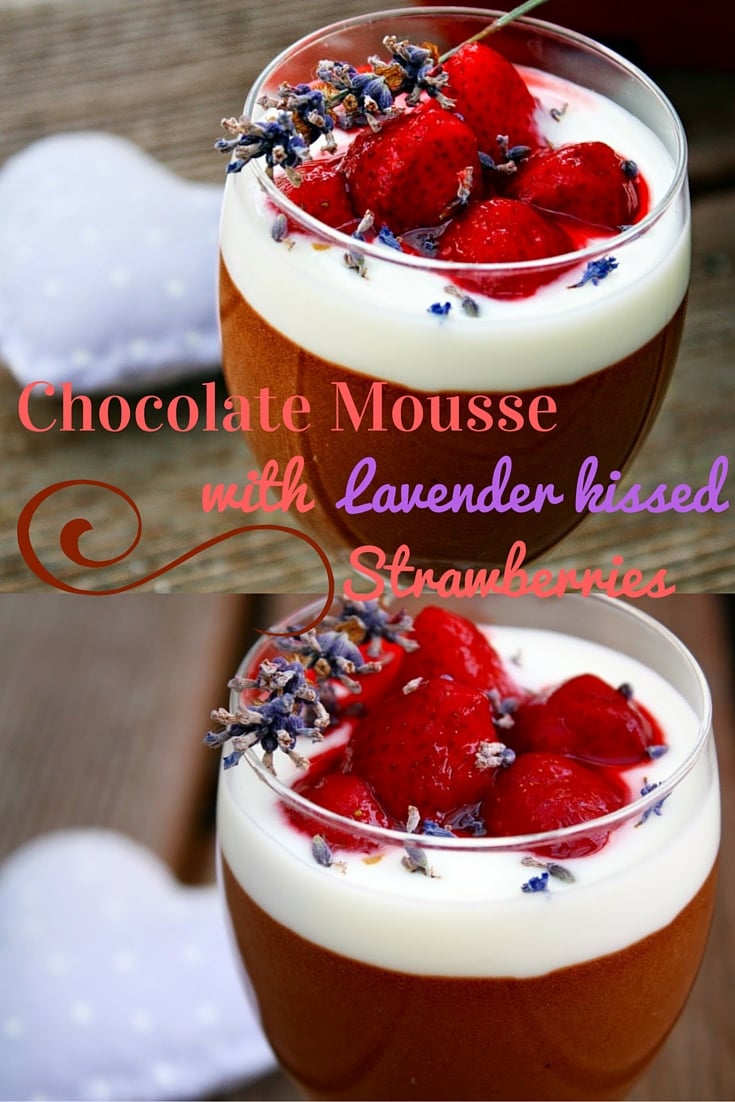 Strawberries and chocolate are a match made in heaven and the stars of this summery chocolate dessert! It all starts with an extra rich chocolate mousse – my favourite chocolate mousse ever! Make it and be prepared to fall in love!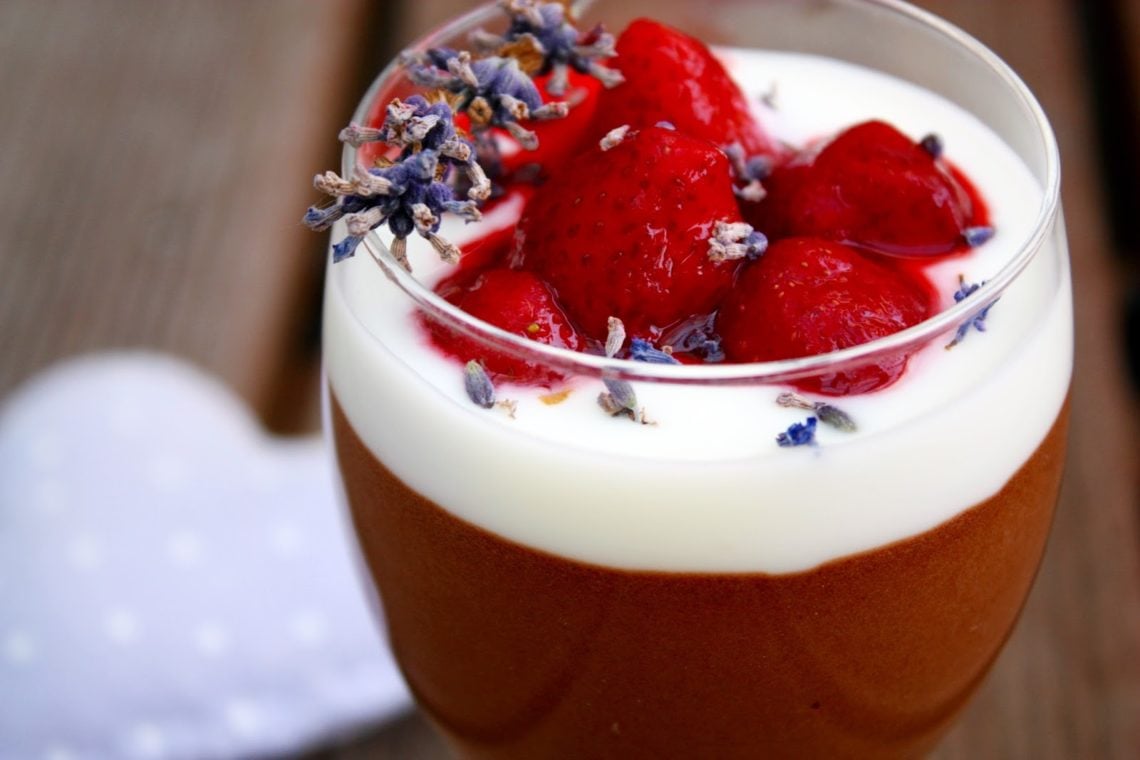 To add a bit of a twist to this classic french dessert I topped my chocolate mousse with lavender infused strawberries ! This takes the simple chocolate mousse dessert to a whole new level and makes you think of summer evenings in the French Provence. Think chocolate and strawberry & champagne picnics in lavender fields…! The lavender infused strawberries are super easy to make. We cook a simple lavender syrup and toss in the strawberries! Let that stand for a couple of hours while your mousse sets in the fridge and you are done!
Recipe for chocolate mousse with lavender kissed strawberries:
170 g dark chocolate, 70 &
3 eggs
3 tbsp butter
1/2 tsp cream of tartar
50 g + 2 tbsp sugar
125 ml cream
1/2 tsp vanilla
Melt the chocolate over a water bath, let cool slightly and whisk in the room temperature egg yolks. In a separate bowl, whisk the whites adding the cream of tartar once you reach soft peak stage. Whisk until stiff while slowly adding 50 g of sugar
Whip the cream with the 2 tbsp of sugar and the vanilla.
Lighten the chocolate mix with a few tbsp of egg whites and fold in the whites and the cream. Fold everything together ever so gently using a rubber spatula
Pour the mousse into 4 dessert glasses and put them in the fridge for a couple of hours. I like the mousse best when it had time to rest properly – preferably over night.
for the lavender kissed strawberries
1 tsp culinary lavender
300 g strawberries
80 ml water
70 g sugar
200 g of sour cream, greek yoghurt or creme fraiche
bring water, sugar and lavender to a boil and let simmer for 10 minutes. Let cool until lukewarm. Strain the syrup add the strawberries. Let them sit in the syrup for about 1 or 2 hours. You can also choose to leave them in the syrup over night.
Before serving, assemble the chocolate mousse by topping it with some creme fraiche and the strawberries.
Keep cool until serving