Dieser Beitrag ist auch verfügbar auf:

Deutsch (German)
Try my German Apricot Sponge Cake ( Apricot Kuchen)! An Easy coffee cake with apricot halves dusted with icing sugar.Jump to Recipe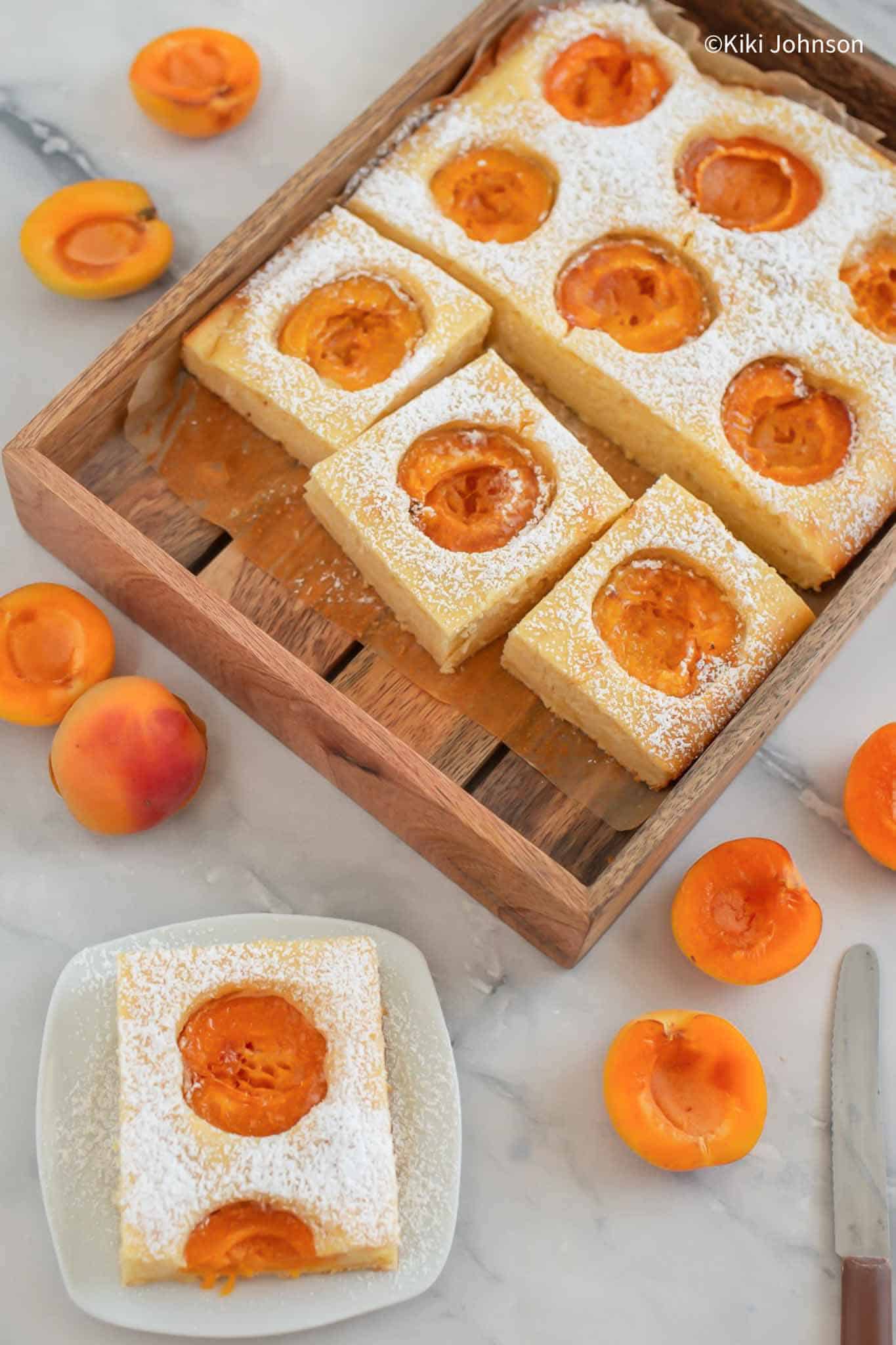 It's my favorite time of the year: Apricot season! And I've got the perfect quick cake recipe for you! German Apricot Sponge Cake aka. Apricot Kuchen – an easy cake made with simple ingredients that makes for a delicious dessert. This sheet cake is perfect for curbing that sweet tooth!
When apricots are in season in Germany I love buying a whole bunch at the farmers' market to make some of my granny's recipes.
I LOVED her sweet apricot dumplings (soon to come) or her apricot crumble cake recipes. This rustic German apricot cake ( Apricot Kuchen ) with fresh apricots is so flavorful that you won't even need whipped cream to go with it!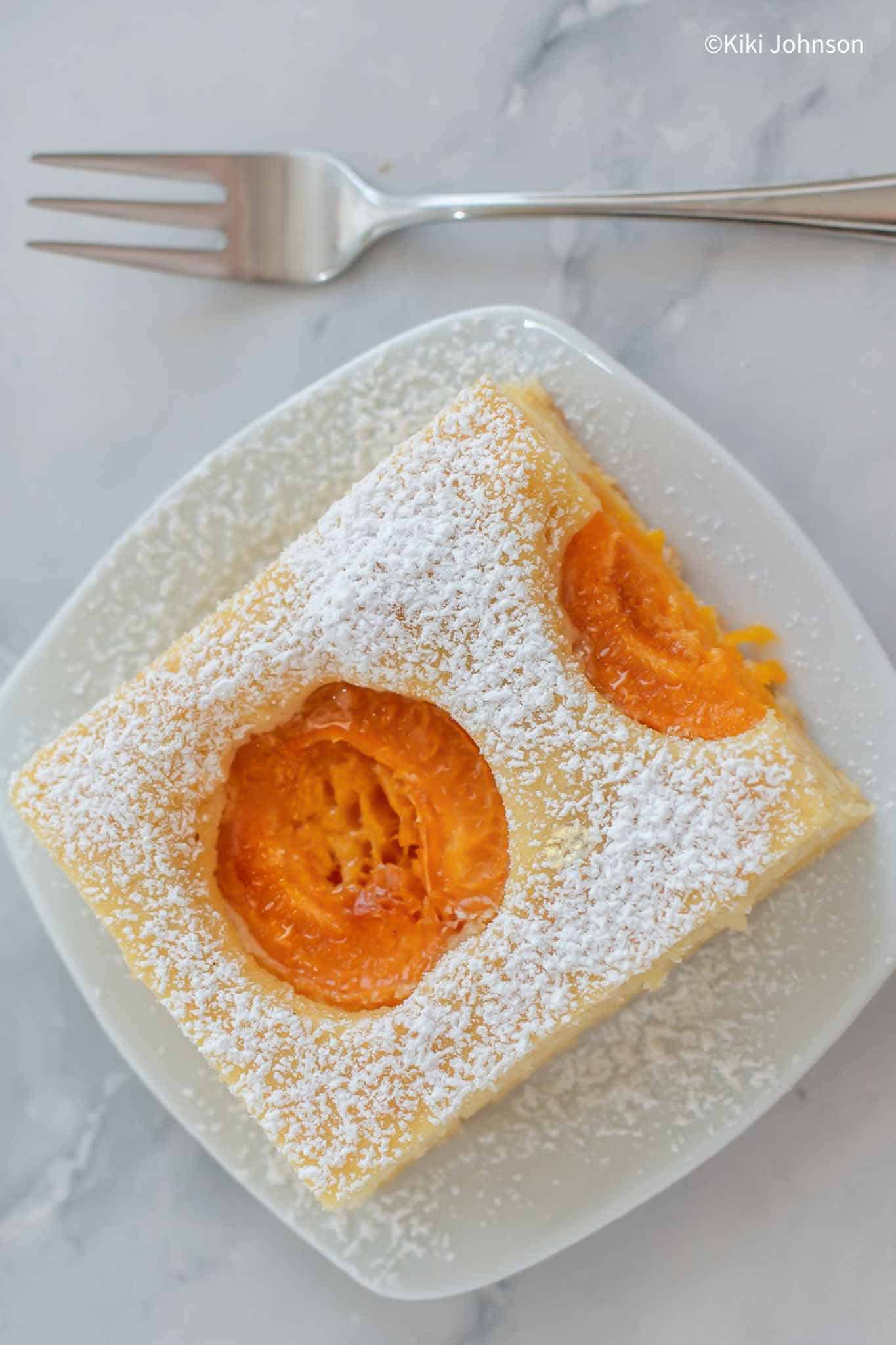 This cake is a true all-rounder – with its soft crumb and juicy apricots on top of the cake it's perfect for a coffee break with friends, a picnic in the park, or simply to make the most out of your fresh apricots!
Ingredients for Apricot Sponge Cake :
Apricots: Fresh apricots are the star of the show. Choose ripe, but not overripe apricots with a vibrant orange color and a slight firmness when touched.
Butter: Butter is a crucial ingredient in the sponge contributing to the moisture of the cake. It binds the dry ingredients together and imparts a rich, buttery flavor.
Cake Flour: Flour forms the foundation of the sponge dough, providing structure and consistency to the cake. You can replace a third of the flour with ground almonds for an extra nutty touch.
Sugar: Sugar adds sweetness to the cake and caramelizes during baking, creating a light crust on the surface.
Baking Powder: Baking powder acts as a leavening agent, making the cake light and airy.
Vanilla Sugar: Vanilla sugar infuses a subtle vanilla flavor and enhances the cake's aroma.
Grated Lemon Zest: Grated lemon zest or lemon aroma adds a refreshing note and intensifies the fruity flavor of the apricots.
Eggs: Egg yolks act as a binder, while egg whites are whipped to stiff peaks and contribute to the cake's volume and lightness.
Powdered Sugar: You can also use granulated sugar, but powdered sugar is better for stiffening the egg whites.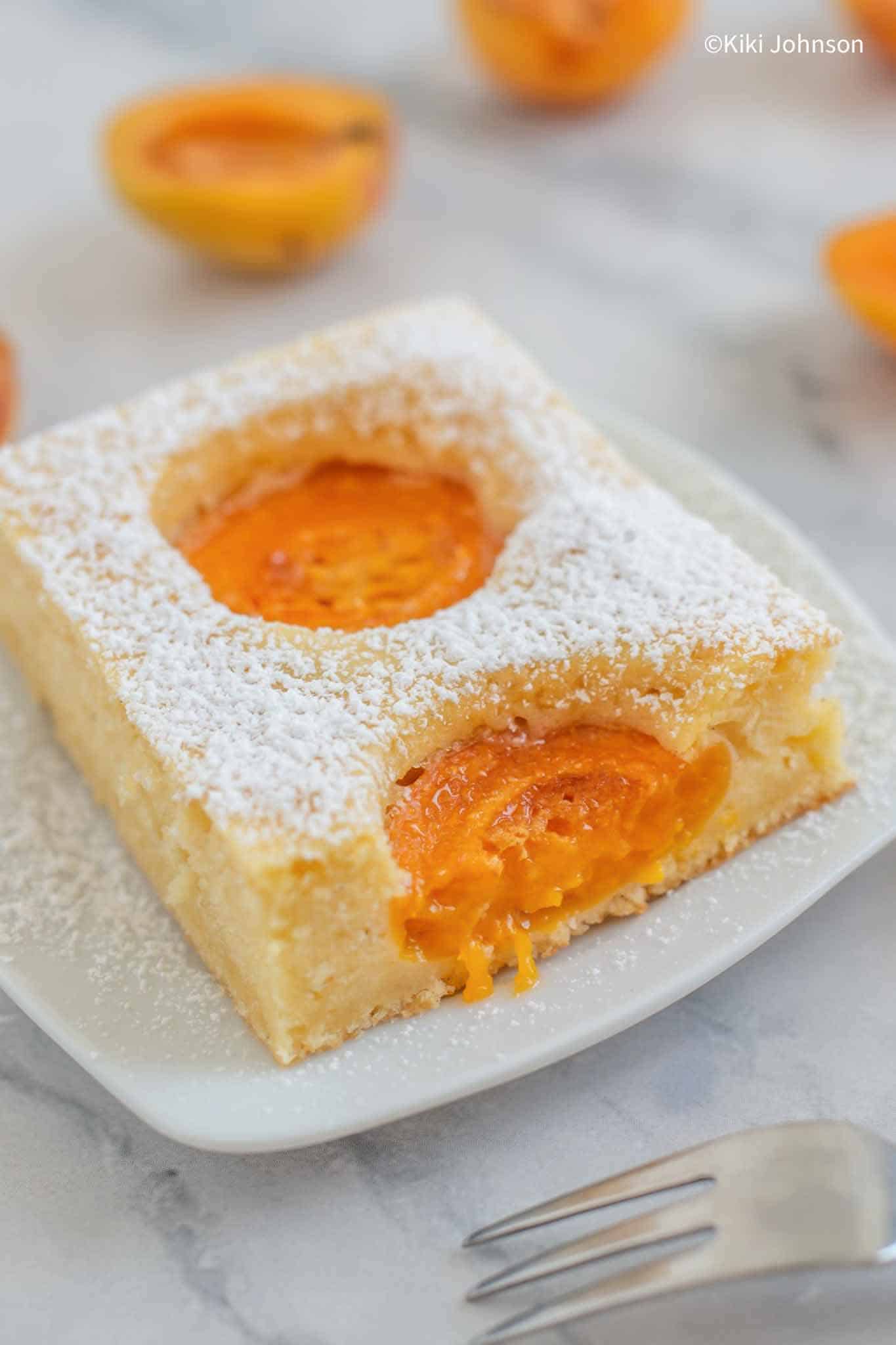 How to Achieve the Perfect Sponge Cake with Whipped Egg Whites:
To obtain a perfect sponge dough for your apricot cake, follow these tips:
Whipping Egg Whites: To achieve stable whipped egg whites, make sure that the bowl and beaters or mixer are clean and free of any grease. The egg whites should be at room temperature for easier whipping. A pinch of salt will aid in stiffening the egg whites.
Softened Butter and room temperature Eggs: Bring the butter and eggs to room temperature before starting to bake. Ensure that the butter is soft so that it can mix well with the sugar. Beat the mixture until creamy and slightly lightened. I use butter for the dough as it provides the best flavor, but margarine can also be used if preferred.
Adding Lemon Aroma and a splash of rum: Use freshly grated lemon zest or lemon peel to add a refreshing touch to the cake. Avoid using the white part of the lemon peel, as it can have a bitter taste. Granny would also add a splash of rum so enhance the flavor. This is totally optional.
Incorporating Flour and Baking Powder:** Sift the flour and baking powder with salt before adding it to the egg yolk mixture. Sifting removes lumps and ensures an even distribution of dry ingredients in the dough.
Folding in Egg Whites: When adding the whipped egg whites to the dough, gentle folding is crucial to maintain the cake's lightness. Use a spatula or a large spoon and fold the egg whites from the bottom to the top until no large egg white clumps are visible. If using a mixer, ensure it runs at very low speed.
Prepared Cake Pan: Grease the cake pan well and use parchment paper if necessary to prevent sticking.
Monitoring Baking Time: Each oven is different, so it's advisable to keep an eye on the baking time. Make sure your oven is properly preheated! Test for doneness by inserting a toothpick into the center of the cake. If it comes out clean, the cake is ready.
So there you have it, the best apricot cake with sponge dough from a sheet pan. Whether you serve it as dessert, with a cup of tea, or simply as a sweet treat in between meals, it will delight everyone. It's best still slightly warm from the oven served with unsweetened whipped cream or a scoop of ice cream.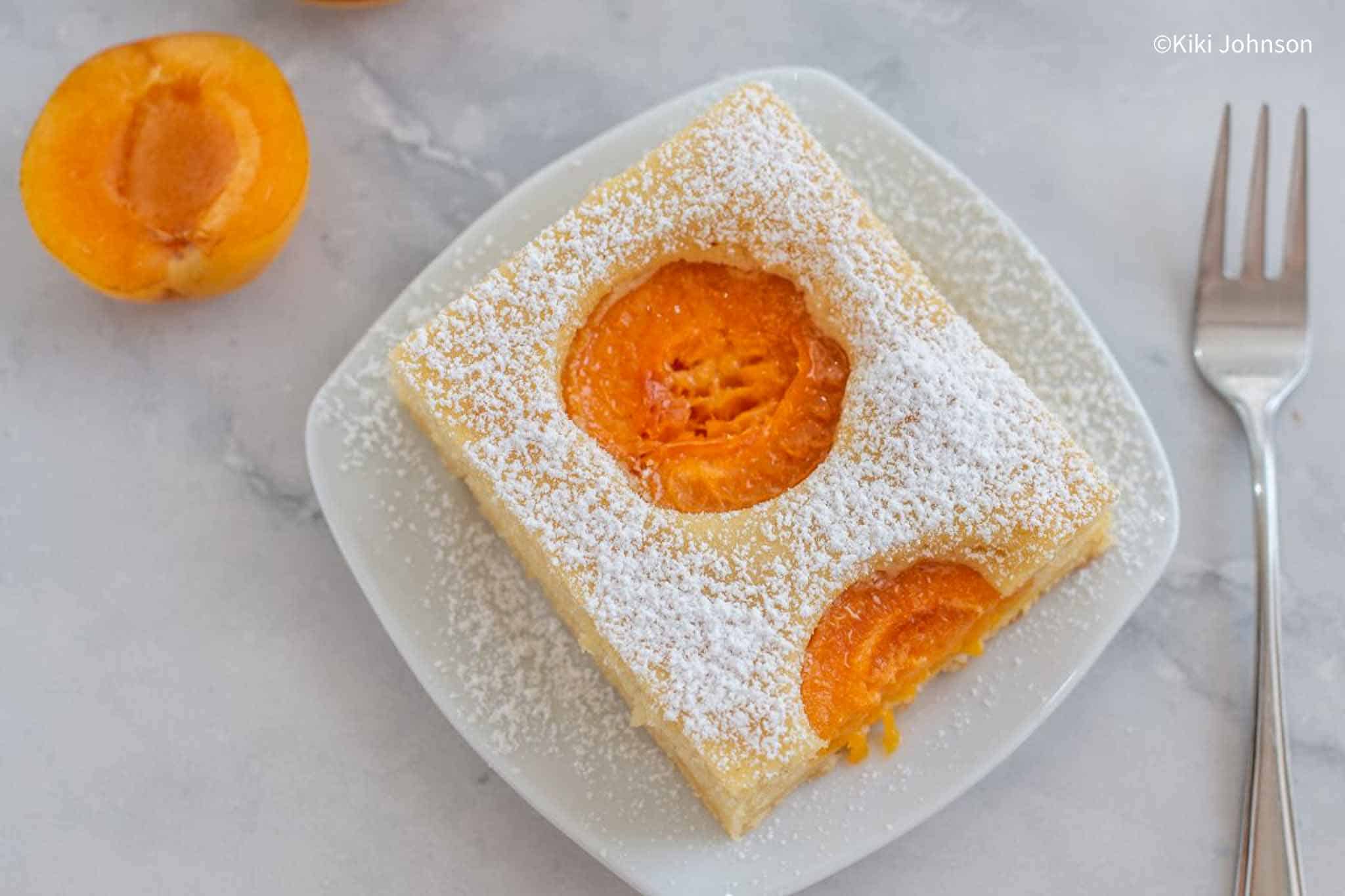 Recipe Variations:
You can make this cake with different kinds of fresh fruit like cherries or plums,
Instead of halved apricots, you can top the cake batter with chopped apricots and sprinkle with coconut flakes or slivered almonds.
If you're looking for more cake recipe ideas with summer fruits, be sure to check out my German Peach Kuchen or my German Plum Cake Recipe.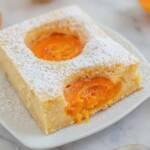 German Apricot Sponge Cake ( Apricot Kuchen)
Try my German Apricot Sponge Cake ( Apricot Kuchen)!  An Easy coffee cake with apricot halves dusted with icing sugar.
Total Time
1
hour
10
minutes
Ingredients
1

kg

Apricots ≈ 2 pounds

4

Egg Whites

100

g

Powdered Sugar ≈ 3/4 cup powdered sugar

200

g

Flour ≈ 1 1/2 cups all-purpose flour

1/2

Package of Baking Powder ≈ 1 1/2 teaspoons baking powder

A pinch of Salt ≈ A small pinch

around 1/8 teaspoon

200

g

Butter ≈ 7/8 cup unsalted butter

slightly less than 1 cup

100

g

Sugar ≈ 1/2 cup granulated sugar

A splash of Rum

optional ≈ A small splash (around 1 tablespoon)

4

Egg Yolks

1

Sachet of Vanilla Sugar

or add 1 tbsp vanilla extract

2

tsp

Grated Lemon Zest ≈ Zest from approximately 1 lemon
Instructions
Wash and dry the apricots, then halve them. Preheat the oven to 180°C / 365

In a bowl, whisk powdered sugar and egg whites until stiff peaks form. The meringue is ready when it's stiff and doesn't move when you turn the bowl upside down.

Sieve flour and baking powder together. I always add a pinch of salt.

Cream softened butter and sugar until fluffy, then mix in the room temperature egg yolks one by one. Add vanilla sugar, grated lemon zest, and a generous splash of rum. Fold in the sieved flour and baking powder.

Once the egg yolk-flour mixture is well combined, gently fold in the whipped egg whites by hand. Use a spatula or a large spoon and fold the egg whites from the bottom to the top until no large meringue clumps are visible. If using a mixer, ensure it runs at a very low speed.

Finally, pour the cake batter into a rectangular baking pan (mine was 36 x 24 cm / 9 x 14 inch) or spread it on a baking sheet + adjustable frame and arrange the apricots, cut side down, on top of the cake.

Bake at 180°C (365°F) in a preheated oven for 40 minutes. Don't forget the toothpick test. I love to serve the cake with a dusting of powdered sugar and whipped cream.