My Indian Style Rice Salad with ripe mango, chopped coriander, cucumbers and a refreshing Lime Dressing is packed with exotic flavours!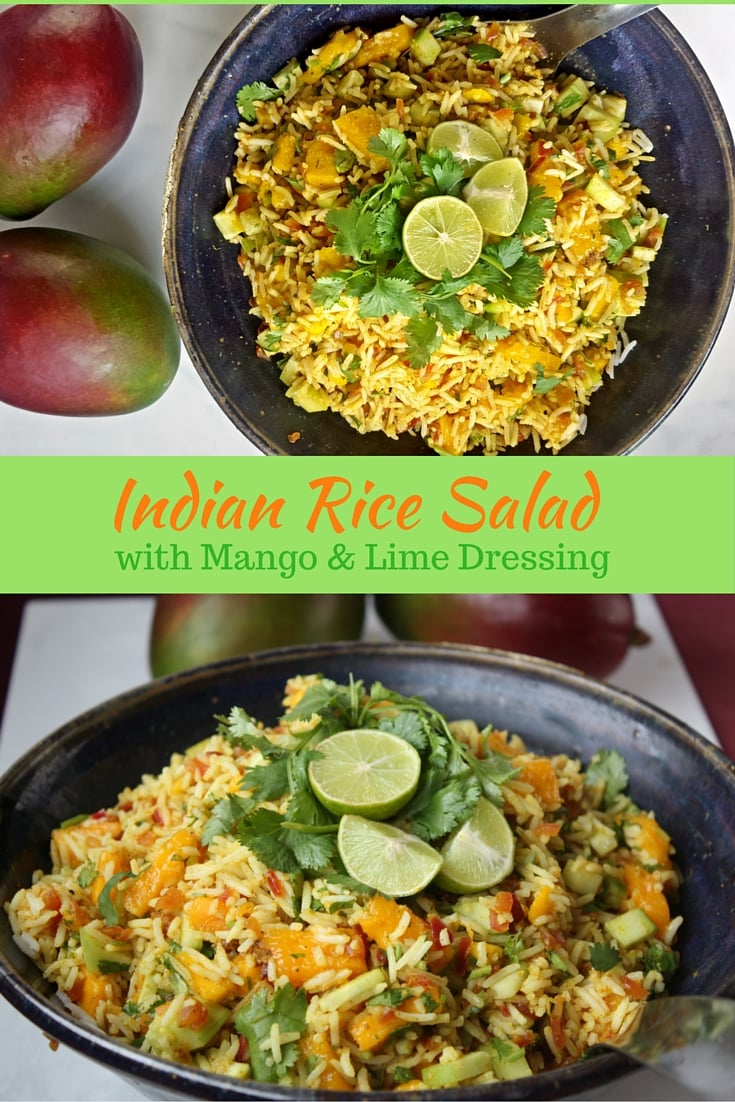 This Indian Rice Salad is one of the dishes that take literally 5 minutes to put together and just wow everyone! It's also a perfect way to use up leftover rice! We are the worst when it comes to cooking rice or pasta for 2 people. We always end up with way too much. Sounds familiar? Then this recipe should go on your fridge!
The base for this Indian Rice Salad is rice, obviously. I use basmati rice as I really like its floral aroma paired with the sweet mango. Plus we want to keep this salad as Indian as possible. But really, you can use any rice leftovers. No biggie. You want to make sure you use ripe mangoes for this recipe. We need their natural sweetness to balance out the acidity of the lime dressing!
The secret to this Indian inspired salad is also in the spices we use. We start by frying some chopped onions with cumin, curry powder and coriander. We pour our lime dressing into this homemade spice paste and toss this fragrant mix with our rice before adding the mangoes, cucumbers and fresh coriander. Your rice will turn a yellowish orange! So much fun. Now just add your cucumber cubes, the mango chunks and the coriander. And you are done! Easy!
We would normally eat this Indian Rice Salad as a main course as it it really filling! If you want to add some proteins to it, you can mix in some grilled chicken or tofu – maybe even some roasted peanuts?
I love putting Mango in fresh Summer Salads! If you share this love you should check out my Mango Tortilla Salad  .
Want to get in some proteins ? What about this  Mango Siracha Pulled Chicken Burger ? Always a good idea.
Things you might like
A note about affiliate links in this post: some of these links will take you to Amazon where I may receive a small percentage of sales, at no extra cost to you
Indian Rice Salad with Mango & Lime Dressing
My Indian-Style Rice Salad with ripe mango, chopped coriander, cucumbers and a refreshing Lime Dressing is packed with exotic flavours! A quick and healthy vegetarian recipe!
Ingredients
250

g

basmati rice

500

ml

water

1

tsp salt

1

big red onion

3

tbsp peanut oil

1,5

tbsp curry powder

1

tsp ground cumin

0,5

tsp ground coriander

salt

1

big or 2 medium mangoes

1

cucumber

1/2

bunch of cilantro

1

big lime or 3 key limes

1

tsp powdered sugar

salt

pepper to taste

optional: some chopped peanuts

lime wedges and fresh coriander to serve
Instructions
Put the rice into a pot with the salt and water, bring to a boil, cover with the lid and let simmer on low heat or about 10 minutes. Remove from the heat and let rest covered for another 5 to 10 minutes. Fluff up with a fork and put into a big salad bowl to cool down.

Chop the onion into cubes and fry in a pan with 1 tbsp of oil for about 3 minutes. Add the ground spices and a pinch of salt and let fry another minute or until fragrant. Remove from heat. Transfer the onion mixture to a small bowl and let stand for 5 minutes

Peel and cube the mango and the cucumber and put aside.

Zest and juice the limes and whisk the lime juice and zest with the remaining 2 tbsp of peanut oil, sugar, 1/2 teaspoon salt, and pepper to taste in small bowl. Add the dressing to the onion mixture, sir and pour over the rice. Now get in there with your hands and mix everything until the rice is nicely covered with spices and onion bits.

Now add mango, cucumber, cilantro and if you want, some chopped peanuts and stir everything to combine. Season with salt.