Dieser Beitrag ist auch verfügbar auf:

Deutsch (German)
This easy recipe for Korean Bibimbap comes with an extra portion of delicious Spicy Sesame Gochujang Chicken! A satisfying Asian rice bowl recipe full of proteins and veg!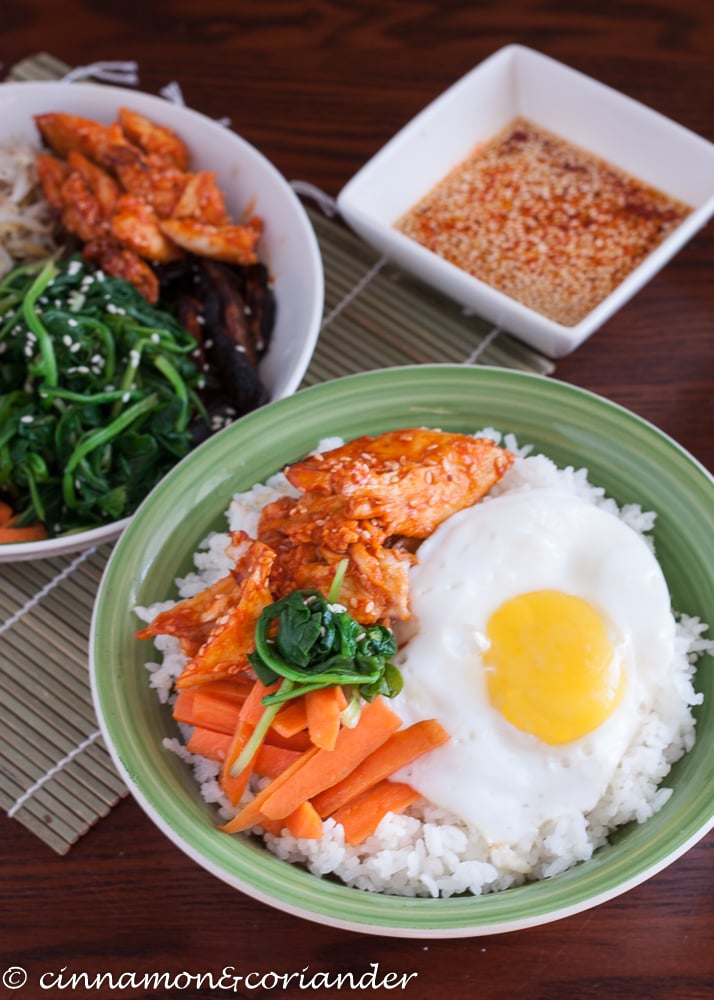 How was Easter, you guys? Ours was a blast! We didn't see the Easter bunny this year, but we did have a moose in the parking lot. He didn't bring anything special, though.
But that's no biggie as we had a whole batch of Hot Cross Muffins and the odd Chocolate Bunny.
By the way, did you know, that you can drink wine out of a beheaded Chocolate Bunny? Remember this for next year! You might want to use a straw, though.
Well, it's been a feast and now is the time to jump back on the wagon.
So what would you say to some healthy Asian Comfort Food?
Korean Bibimbap Recipe with Spicy Sesame & Gochujang Chicken
This recipe for Easy Korean Bibimbap Rice Bowls is just what I need after a weekend of indulgence! It is simple, healthy and satisfying!
As a rule, Korean Food is notoriously spicy and bibimbap is definitely one of the milder ones! The only spicy part in this recipe is the gochujang, a hot Korean chilli pepper sauce (You can order yours here
).
The gochujang is kind of a key ingredient as it is part of the sweet and spicy Korean dipping sauce, that you serve with your rice bowls.
Also, I am a lazy chef and use the dipping sauce as a cooking sauce for my Sesame Gochujang Chicken. The sauce coats the chicken beautifully and gives it this gorgeous red color!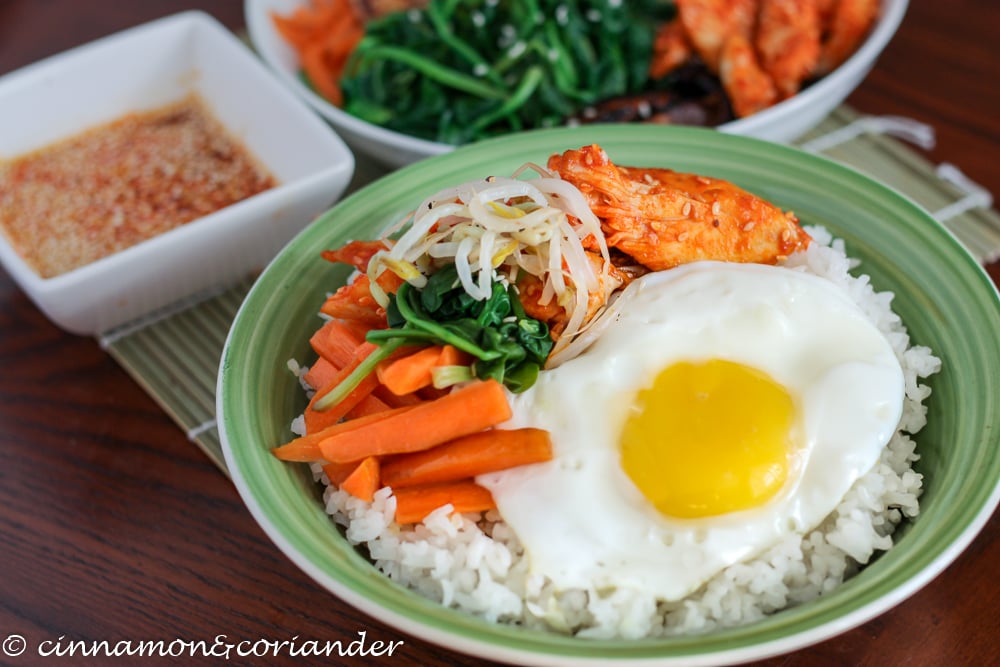 Now, I know that cooking different kinds of vegetables separately seems like a bit of a pain in the bum.
The truth is, that it all comes together very quickly and with a minimum of dirty dishes if you just use the same hot water for blanching the sprouts and the spinach, and then the same pan for stir-frying your veg.
Just make sure you have some paper towels near the stove so that you can wipe out your pan after frying.
I really hope you give my easy version of Korean Bibimbap Rice Bowl a try! You will love the combo of spicy gochujang chicken, runny egg yolk and stir-fried veg!
Korean Bibimbap is so colorful and fun to look at, and even more, fun to eat!
Things you might like
A note about affiliate links in this post: some of these links will take you to Amazon where I may receive a small percentage of sales, at no extra cost to you.
★ Did you make and love this easy Korean Bibimbap recipe? Give it your review below! And make sure to share your creations by tagging me on Instagram!
Easy Korean Bibimbap with Spicy Sesame Chicken
This healthy version of Korean Bibimbap makes a delicious lunch or dinner! My colourful bibimbap comes with Spicy Sesame Chicken, Korean Fried Spinach, Bean Sprouts and a fried egg on top!
Ingredients
250

g

rice

6

Shiitake mushrooms, dried

50

g

gochujang

2,5

tbsp

rice vinegar

1,5

tbsp

honey

or 1 tbsp sugar

3

tbsp

sesame oil

2

tbsp

sesame seeds

1

carrot, julienned

80

g

bean sprouts

1

garlic clove, minced

100

g

spinach

1

large

chicken breast (about 300 g)

cut into thin slices

2

tbsp

soy sauce

2

eggs

3

tbsp

oil
Instructions
Start by rinsing the rice several times until the water remains clear. Let the rice soak in cold water for 30 minutes. Drain the rice and put in in a small pot. Add water, until the water stands a cm above the rice, put the lid on and bring everything to a boil. Let boil for 30 seconds, then turn the heat to low and let the rice simmer for about 10 minutes. Take rice off the stove without lifting the lid and let the pot stand covered until you are ready to serve.

Put the shiitake mushrooms in a bowl and cover with a cup of hot water. Let stand for 10 to 15 minutes.

Rinse the bean sprouts. Bring about 1 l of water to a simmer and add the beans sprouts. Turn the heat off, stir once and let the sprouts cook for about 1 minute. Remove with a slotted spoon and quench the sprouts with cold water. Dab dry with a paper towel and put the sprouts in a little bowl. Add a pinch of salt and white pepper as well as 1 tbsp of sesame seeds and 1 tbsp of sesame oil. Reheat the water and repeat the same cooking and rinsing process with the spinach.

Heat 1 tbsp of sesame oil in a pan and add the garlic. Fry until just golden and add the spinach, 1 tbsp soy sauce and 1 tsp of rice vinegar. Stir and let everything cook for about a minute. Set spinach aside in a bowl and wipe out the pan.

Heat 1 tbsp of oil in the pan on medium heat and add the julienned carrots. Fry them for about 3 minutes, add a pinch of salt and 0,5 tbsp of honey, stir to combine and set aside. Wipe out the pan.

Squeeze out the mushrooms (keep the liquid in the bowl), remove the stems and cut the caps into slices. Heat 1 tbsp of oil in a pan on medium heat and add the sliced mushrooms. Fry them for about 2 minutes, then add 1 tbsp of soy sauce and fry for another minute. Set the mushrooms aside. Wipe out the pan.

Heat the pan on high heat with 1 tbsp of oil. Add the sliced chicken and fry for 1 minute. Add 1 tbsp of the gochujang sauce and stir well to cover the chicken with the sauce. Check meat for doneness and set aside. Wipe out the pan and reheat with 1 tbsp oil on medium heat. Fry the eggs, one after another and set aside.

Fluff up the rice with a fork and serve in bibimbap bowl with the toppings arranged on top. Drizzle sauce on top. Mix everything before eating.