Skip the line at Panda Express and make this easy Healthy Chinese Orange Chicken Recipe! It's made with a tasty blend of fresh citrus juices like orange, lime, and tangerine and is Paleo and gluten-free! The best healthy Chinese chicken Stir-fry recipe made with simple and healthy ingredients! Jump to Recipe
Panda Express 's Chinese Orange Chicken Recipe gets a healthy makeover
If you guys like orange chicken you will LOVE this easy Chinese Citrus Chicken recipe. It's like your restaurant-style orange chicken but BETTER and healthier! Better because we use a blend of citrus fruit here – not only orange juice but also a bit of tangerine and lime for a bright citrusy flavor profile!
Takeout Chinese food is delicious but definitely not the healthiest dinner option out there. Most Chinese takeout restaurants load their stir-fries with sodium, sugar, and funky ingredients. Convenient and cheap for big kitchens, but not at all necessary flavor-wise! This healthy spin on Chinese Orange Chicken proves the point!
Reasons to love this healthy Chinese orange chicken:
Easy to make in under 30 minutes
No refined sugar – we sweeten with fresh orange juice and some honey!
a touch of lime brightens the flavor
tangerine juice = secret ingredient
more authentic Chinese flavor by added 5 spice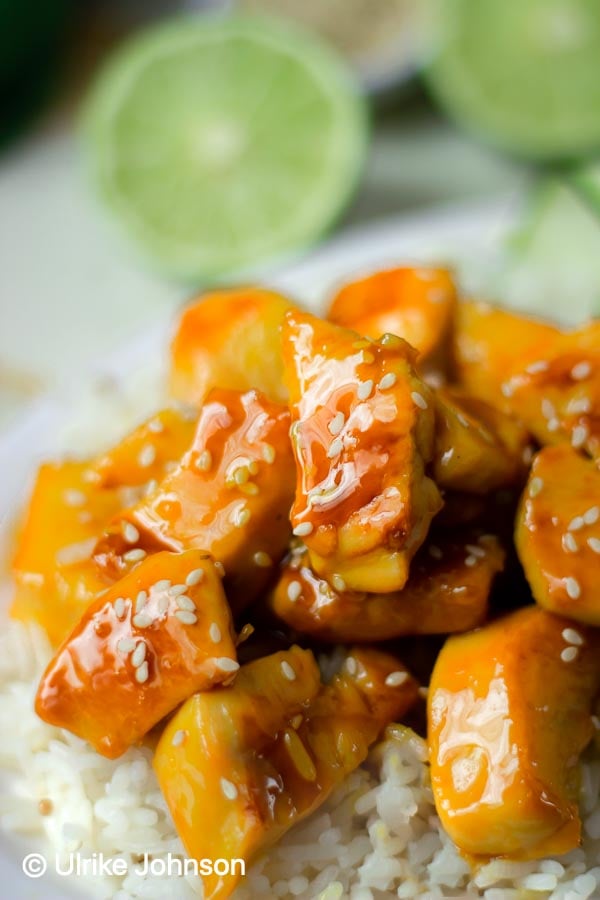 This sticky Chinese citrus chicken is easily as good as any take-out or restaurant version and you can whip it up in just 30 minutes in the comfort of your own kitchen.
No crazy ingredients or special skills needed here! The citrus sauce is perfectly balanced thanks to a mix of oranges, tangerines and lime – it is sweet and tangy and sticky Chinese stir-fry heaven.
Trust me, this one-skillet recipe is foolproof! You're gonna love this one for how easy it comes together! Definitely a better-than-takeout dish you want to have handy whenever that craving for sweet and sour chicken hits.
Despite the healthy ingredients and no refined sugar, the Chinese citrus sauce comes out unbelievably delicious! Like one of those sweet and sour sauces that you really just want to eat with a spoon.
Between the sauce and juicy tender chicken thighs, this easy Chinese Orange Chicken recipe became a favorite in my home in no time! I can't wait for you to try it out.
Which cut of chicken to use for stir-fries?
I've came to really love using chicken thighs for all my Asian takeout dishes, but chicken breasts also work for this easy orange chicken recipe! Be sure to cut your chicken into Same size pieces! Too big and it takes too long to cook through.
How to Make this easy Chinese Orange Chicken recipe:
The secret that makes this orange chicken recipe simply the best is in the sauce. We really bring on the citrus! Not only do we use oranges, but also tangerines and limes! The added tangerine juice enhances the orange flavor and the lime adds a nice freshness that brightens up the sauce. Plenty of fresh ginger and garlic are a must.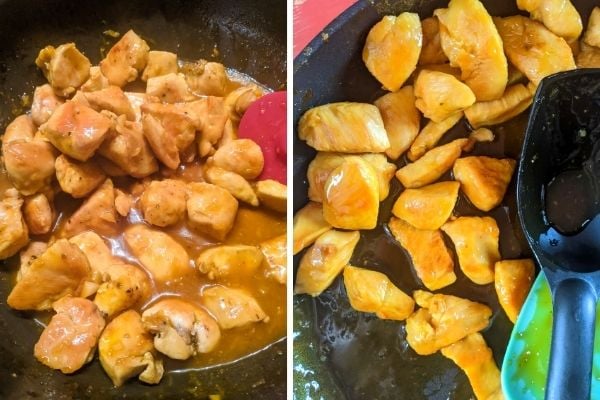 To make this taste a tad more authentic than takeout-style Orange chicken, we add some star anise, fennel or 5 Spice. For the perfect color, I add some turmeric.
Best Side Dishes for Chinese Citrus Chicken
I love this Chinese chicken stir-fry served over steamed rice with a side of Chinese Cucumber Salad. When cooking the rice, I added some lime zest to the cooking water along with the salt. I find that adds a nice lime flavor and goes really well with the citrus sauce.
You can also opt for some stir-fried veggies like broccoli, peppers, cabbage and anything else you enjoy. Zucchini noodles, broccoli rice or cauliflower rice would also be good if that's your thing!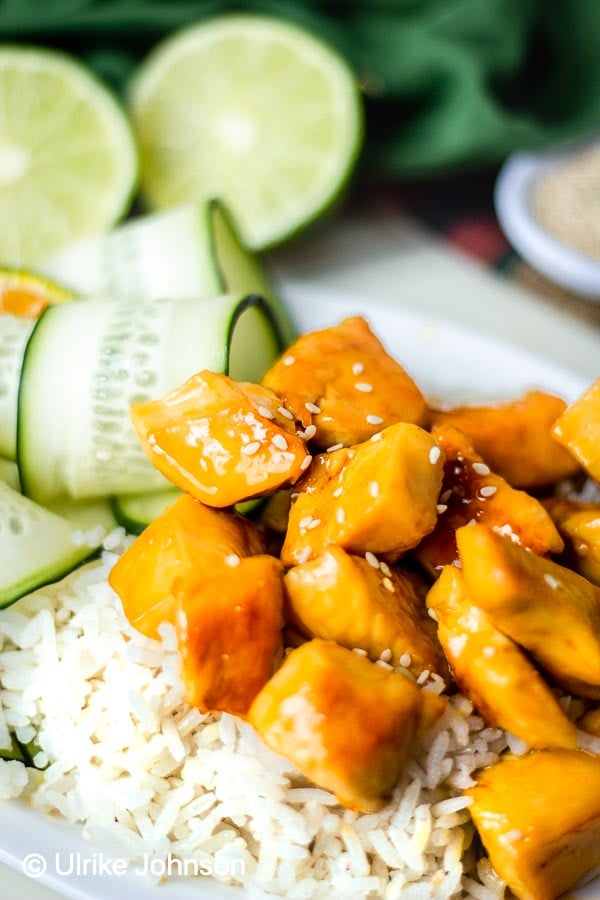 Tips for the best Chinese stir-fry:
Use a big frying pan – you want as much surface as possible.
As for spices, add 1/4 tsp of Chinese 5 Spice or 1/4 tsp of ground star anise or fennel.
If you cannot find tangerines, use orange juice instead. Lime can be swapped for lemon.
For paleo, use arrowroot instead of cornstarch!
More easy Chinese Recipes from the blog:
★ Did you make and love this Better Than Panda Express Chinese Orange Chicken recipe? Give it your review below! And make sure to share your creations by tagging me on Instagram!
Easy Chinese Citrus Chicken Recipe
Skip the line at Panda Express and make this easy Healthy Chinese Orange Chicken Recipe! It's made with a tasty blend of fresh citrus juices like orange, lime, and tangerine and is Paleo and gluten-free! The best healthy Chinese chicken Stir-fry recipe made with simple and healthy ingredients!
Ingredients
2

lbs

boneless skinless chicken breasts

- 800 g

Salt + pepper

3

tablespoons

toasted sesame oil

2

tbsp

freshly ground ginger

4

cloves

garlic

¼

tsp

crushed or ground fennel seeds

ground star anise, or ¼ tsp Chinese 5 Spice
Sauce:
Juice of 3 tangerines

Juice of 3 oranges

Juice of 1 lime

1

tbsp

orange zest

1/2

cube chicken broth or ½ tsp broth powder

2

tbsp

honey

1/2

tsp

salt

1/4

tsp

turmeric

for color - optional

60

ml

white wine

Japanese rice wine, mirin, or water

1

tsp

cornstarch mixed with 1 tbsp juice or water

Serving suggestion: Steamed Lime Rice and Chinese Cucumber Salad or asparagus
Instructions
Generously season the chicken with salt and pepper. In a large frying pan, heat 2 tbsp sesame oil in a skillet over medium heat. Add the chicken and sauté for 10 minutes, until browned and nearly cooked through.

Cooking time will vary based on the thickness of chicken breasts and the sizes of pieces. Chicken should be about 90% cooked through.

As the chicken is cooking, stir together the sauce mixture apart from cornstarch in a separate bowl. The citrus juice alone should yield 2 cups (500 ml).

Once the chicken is cooked remove it from the pan put it in a separate bowl.

Quickly fry the garlic and ginger for 30 seconds, add in the star anise, fennel seeds or Chnese 5 spice and then pour the entire citrus sauce into the same pan you cooked the chicken in.

Bring the citrus sauce to a boil for 5 - 10 minutes, stirring gently until it starts to thicken. (You will know it has thickened when the sauce pulls away from the sides of the saucepan)

Mix the cornstarch with a tablespoon of water or juice and stir into the pan. The sauce should be thick enough to coat the back of a spoon.

When the sauce has thickened, add the cooked chicken and the gathered juices back in + stir to coat the chicken

Serve sprinkled with sesame seeds over rice alongside the rice.
Recipe Video
Recipe Notes
Use a big frying pan – you want as much surface as possible.
As for spices, add 1/4 tsp of Chinese 5 Spice or 1/4 tsp of ground star anise or fennel.
If you cannot find tangerines, use orange juice instead. Lime can be swapped for lemon.