Dieser Beitrag ist auch verfügbar auf:

Deutsch (German)
Homemade Orange Marmalade with Rum and Rosemary makes for the perfect gift for the holidays! It's so easy to make this orange marmalade recipe and it is just so special!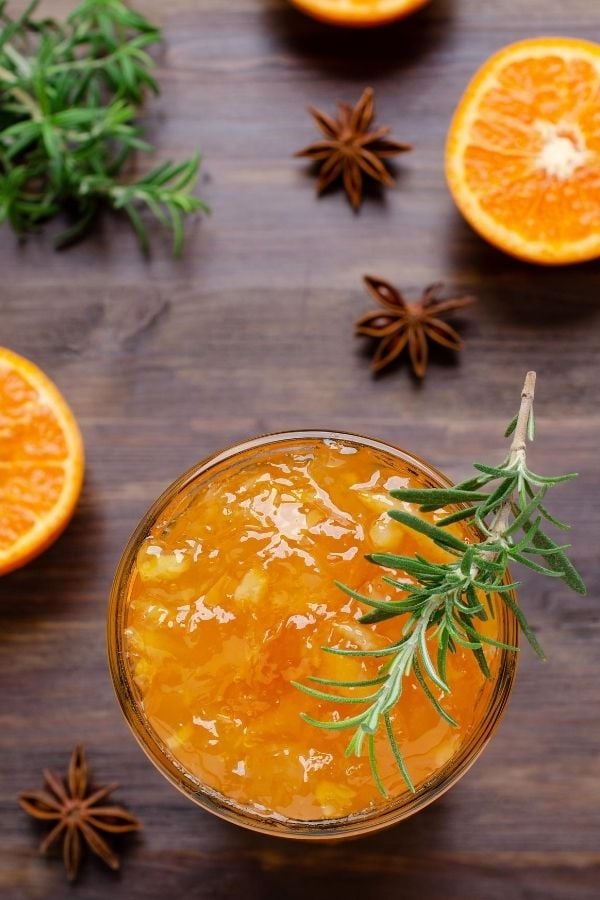 This Orange Marmalade Recipe is perfect for the holiday season!
You just can't go wrong with homemade jam and jellies – it's just so personal and made with love which you can ALWAYS taste!
This year I wanted to capture one of winter's best produce – citrus fruit – in a festive slightly boozy jam. I went with a traditional Seville orange marmalade recipe but added a festive twist to it. Rum, wine, and rosemary as well as some star anise.
The orange aroma paired with this slightly alcoholic note reminds me of summer evenings in Seville – tapas and Vino de Naranja! Oh, the taste of vacation AND holidays! Double win1
Orange marmalade vs jelly and jam
This is all very confusing to me. So, let's sum it up: Orange Marmalade is similar to jam or jelly, but typically includes fruit peel, which gives the spread its aromatic bitterness. This orange spread is a wonderful combination of sweet and bitter. It fills your kitchen with an addictive Christmas-y aroma and you will end yot with pretty jars full of orange deliciousness that will keep for weeks.
Making orange marmalade at home is actually very easy!
You simply peel and juice the oranges and throw everything in a pot along with rum, wine, rosemary, star anise, and, of course, sugar.
Recipe ideas for orange marmalade
This homemade orange marmalade with rum and rosemary is suitable both as a sweet spread and as an addition to savory dishes. The orange marmalade tastes great with my Greek Yoghurt scones with pine nuts or my vegan scones.
Then of course it makes an amazing Christmas cookie filling:
I am looking forward to churning some of this homemade orange jelly in some goat cheese ice-cream to see how it tastes! What I do know is that it also tastes great on Christmas pancakes. I especially like them with my vegan pancakes.
Swirl it onto a muffin or pound cake. Dollop it into plain yogurt.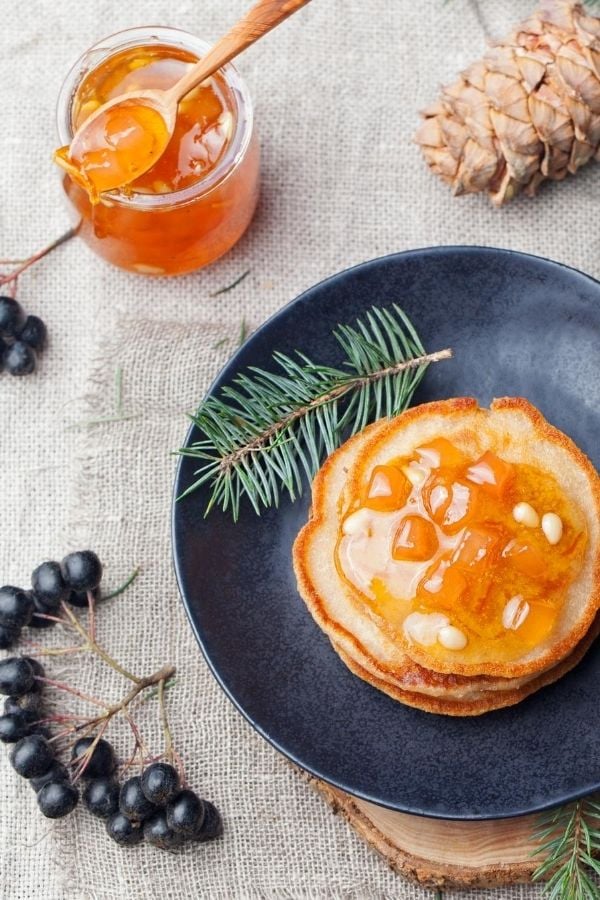 Due to the fruity-spicy notes from orange peel, rum and anise and the fine herbal rosemary aroma, this orange jam pairs wonderfully with cheese. Make it a gourmet addition to your next cheese platter or charcuterie board.
Here we go! Making orange marmalade yourself is a real pleasure! Try it this Christmas and you have one present less to worry about!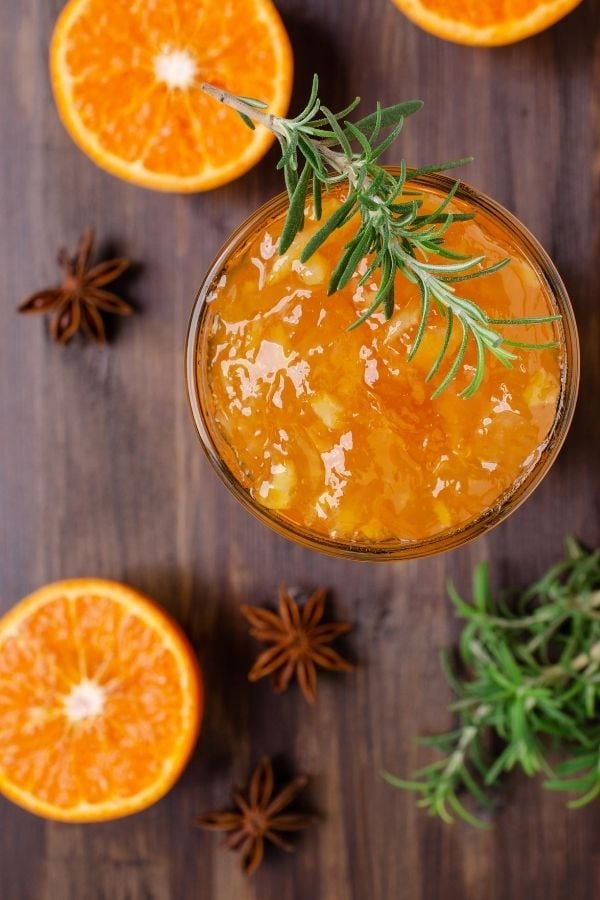 Orange Marmalade Recipe with Rum & Rosemary:
Recipe: homemade orange jelly
For approx. 4 glasses of 450 g each
9 organic oranges
1 pack x 500 g preserving sugar
200 ml white wine
50 ml rum
5 sprigs of rosemary
1 star anise
Slice off the peel of about 6-7 oranges thinly with a vegetable peeler and cut finely. Use a sharp vegetable peeler or paring knife, —and only remove the colored zest making sure to leave behind any and all of the white pith directly underneath as it is very bitter.
You need about 150 g zest. Juice all oranges. We need 700 ml of juice.
Put the juice, sugar, rosemary and orange peel, and star anise into a deep pot or saucepan and let it simmer for about 5 minutes. Then add the wine and rum and bring to the boil again.
Pour the jam through a sieve and then pour it into the glasses. The homemade orange jam will keep for about 8 months.
Storage tips:
If you did not sterilize and process the orange marmalade jars before filling them, the marmalade will keep in the refrigerator for only 4 weeks.
If the jars were sterilized, they will be shelf-stable and will keep for up to a year, unopened.