This Vegetarian Chow Mein is so much better and healthier than Take – Out! Try it once and toss that Take-Away Menu!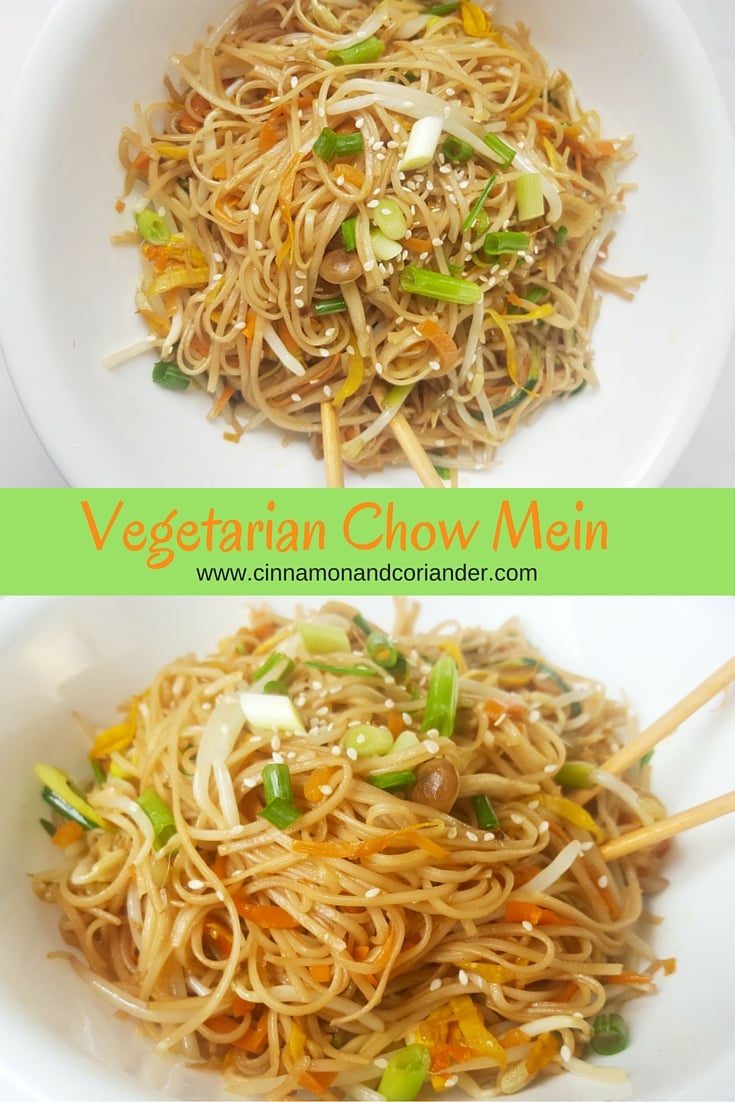 We all have those cravings for fried noodles – the sweet and salty sauce, the crunchy veg, the carbs…Me, usually after a party night. That's when we often opt for the take-out, and end up with greasy noodles sprinkled with over-cooked proteins. Not anymore ! This recipe for Vegetarian Chow Mein is so quick and easy to make – you'll have your  noodle fix and NOT feel like you want to take a long nap.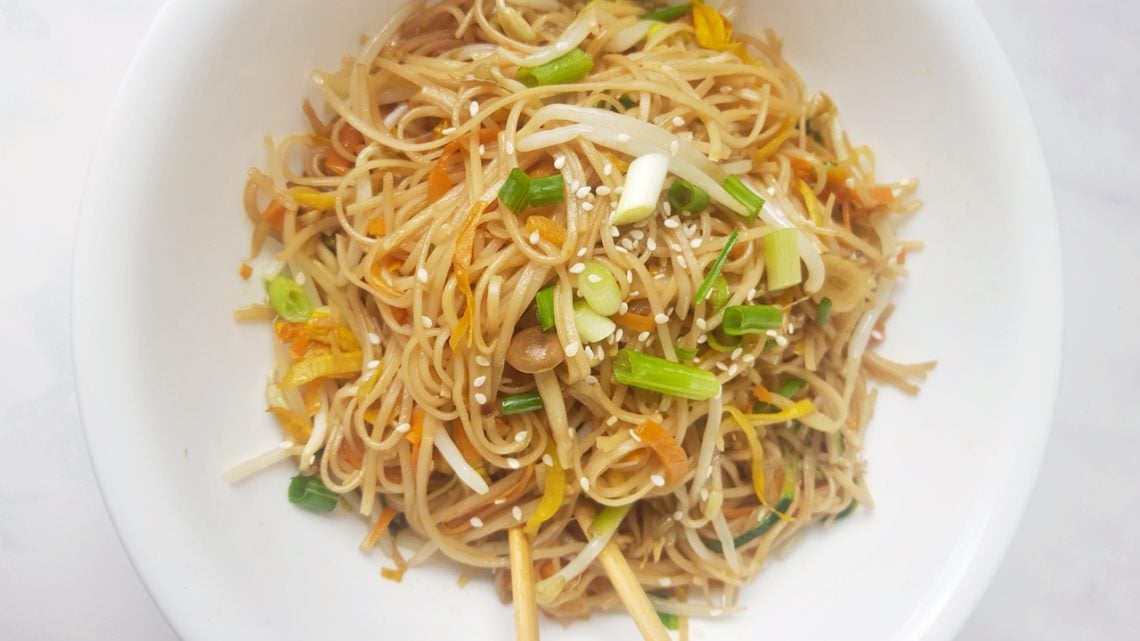 Now, I am not a vegetarian but I would still choose to make this Vegetarian Chow Mein over the meat version. Here's why: It's super cheap to make, very filling, quite adaptable to what I have in my fridge and on top of that a real Umami Bomb! What's not to love!?
The list of ingredients is pretty straightforward and adaptable. Don't have Shiitake mushrooms? Take any other mushroom or just leave them out. The vegetables used for Chow Mein in China are commonly shredded cabbage, carrot, bean sprouts and spring onions so that's what I chose for this recipe. But you can add your own touch. When it comes to Asian cooking it always comes down to the prep and the method of cooking. So read through the recipe before you get started. Chop your veg, mix your sauce and have it all ready to go. Mis en place, guys!
Once you've tried my Vegetarian Chow Mein and see how simple it really is, there will be no more Take Away when you get hit by the noodle craving. It's so simple and tasty – a real crowd pleaser.
My product recommendations:*
*Disclaimer: I am a participant in the Amazon Services LLC Associates Program, an affiliate advertising program designed to provide a means for us to earn fees by linking to amazon.com and affiliated sites
Vegetarian Chow Mein
This Vegetarian Chow Mein is so much better and healthier than Take – Out! Try it once and toss that Take-Away Menu!
Ingredients
250

g

chow mein noodles

1

tbsp sesame oil

4

garlic cloves

6

dried shiitake mushrooms

1

small zucchini

1

bell pepper

1

carrot

70

g

cabbage

optional

4

spring onions

150

g

bean or soy sprouts

2

Tbsp soy sauce

2

Tbsp rice wine

1

tsp chili sauce

optional

1

tsp sugar

2

tbsp peanut or sunflower oil

1/2

tsp white pepper

1

Tbso sesame oil

sesame seeds for decoration
Instructions
Soak the shiitake mushrooms in warm water for 15 to 20 minutes. Squeeze out the excess water. Discard the stems and thinly slice the mushroom caps.Bring a large pot of water to a boil and cook the noodles 1 to 2 minutes less than stated in the package instructions, or just before al dente. Drain the noodles, rinse under cold water, and drain again thoroughly. Transfer to a bowl and toss with the sesame oil.

Peel and chop the garlic. Chop the mushrooms and slice or grate the bell pepper, the zucchini, cabbage and carrots into julienne.Chop the spring onions and place them in a bowl with the sprouts.

Put the vegetables into separate little bowls and place them close to your wok.

In a little bowl, mix soy sauce, chili sauce, rice wine and sugar. Mix in 1-2 tsbp water and a pinch of salt and stir.

Heat a wok or large skillet over high heat until a bead of water sizzles and evaporates on contact. Add 1 - 2 tablespoon of the peanut or sunflower oil and swirl to coat the bottom. Add the garlic and let fry until fragrant and just slightly golden. Add the mushrooms and fry for about a minute.

Add carrots and cabbage and fry for another 2 minutes before you add the zucchini and bell pepper. Let the vegetables fry for a bit longer, stirring with a wooden spoon or chop sticks.

Add the noodles and the cooking sauce and season with the white pepper.Let the chow mein fry for about a minute.Sway the pan and keep everything moving with your chopsticks. As a final addition, add the spring onions and sprouts stirring constantly. As soon as the sprouts start to shrink a bit, mix in the tbsp of sesame oil, toss and serve immediately.
Recipe Notes
As soon as you add your noodles keep your chow mein moving all the time. I use chop sticks to stir my chow mein!