Dieser Beitrag ist auch verfügbar auf:

Deutsch (German)
Today I share with you THE BEST recipe for Thai Spring Rolls. This is the real thing so look no further!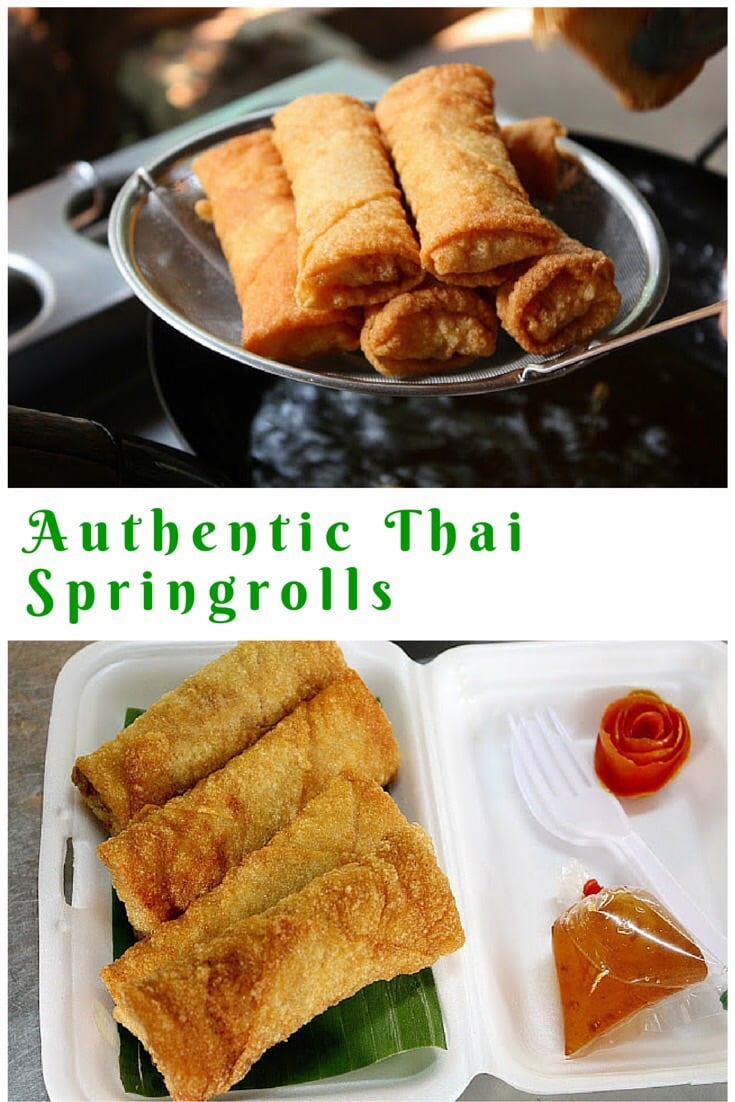 This is how I was taught to make them in a cooking course in Chiang Mai, Thailand, which happens to be THE Thai foodie spot! The recipe got passed on by a pretty bad-ass and slightly hung over instructor who wanted to start the morning with something fried and absolutely delicious!
This is why I trust this recipe. When it comes to hearty snacks, I cook my best stuff when slightly hungover.
Back to Spring Rolls!
Thai Spring Rolls were the gateway drug that started my love affair with Asian Food. They are not very spicy, crispy and filled with a mix of veg and proteins! Actually you can fill them with whatever you want!
And there's the old sweet chili sauce of course! Thai Spring Rolls need a dip!!!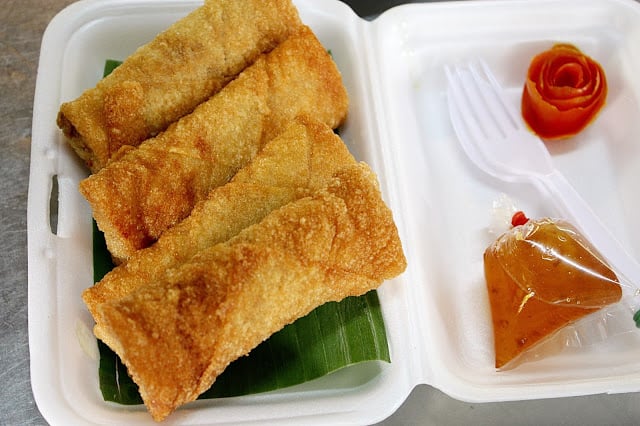 And if you want to serve your Thai Spring Roll the traditional way, our teacher told us there should also be a tomato rose. Tomato rose it is then ! If you are willing to teach people how to make tomato roses while fighting a hangover, you are really trying to make a point I guess!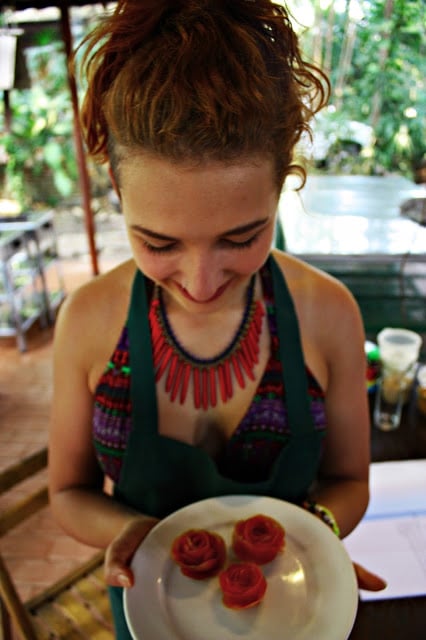 Or he just wanted to keep us busy for a while and have another coffee! Well…
The tricky part about spring rolls, the rolling part, is actually quite simple! Nevertheless, I made a little step by step picture for you!
For 10 Spring Rolls you need
10 spring roll wrappers
50g vermicelli noodles, soaked in hot water or broth
50 g minced pork or beef or tofu
50g fresh shrimp meat, minced
50g finely chopped cabbage
50 g sprouts
1 minced garlic clove
2 Tbsp minced onions
1 grated carrot
salt, pepper
1 Tbsp fish sauce
1 Tbsp soy sauce
1 egg
1 l and 1 Tbsp oil
Heat the 1 tbsp of oil and fry the meat, shrimp, onions and garlic until done. Season with salt, pepper and a pinch of sugar and add soy and fish sauce. Add the rest of the veg along with the noodles and stir. Put aside and let cool.
Let´s roll! Crack the egg into a bowl and stir. We will use this for sealing the rolls.
You simply start with the wrapper placed diagonally in front of you, then place some filling on it and shape the filling into a log shape. Then starting from the bottom, roll it up half way, tuck the left and right sides in, then finish rolling, sealing with egg wash.
If any stuffing is left over, you may refrigerate it and use it the next day. But do not wrap them in patties and store there in the freezer because they will become soggy.
Place the ready rolled Spring Rolls with the seam side down on a plate. Heat your litre of oil to 180 and fry then for about 4 minutes until golden brown. Let them cool down a bit and serve with my sweet and sour
chili sauce