Dieser Beitrag ist auch verfügbar auf:

Deutsch (German)
This Peanut Butter and Jelly Rice Pudding is simply to die for. I love the combination of strawberry puree, which we use instead of jam, and the salty and nutty Peanut Butter!

Who does not love Peanut Butter & Jelly ???
We find excuses to have this combo throughout the day!
Be it on sandwiches, as Peanut Butter & Jelly Ice Cream – a cupcake or even a milkshake!
This Peanut Butter & Jelly Rice Pudding is another perfect excuse to have it for breakfast, as dessert or even as snack!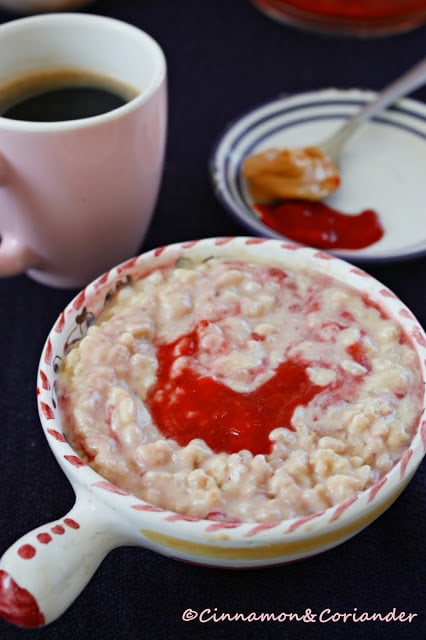 And the best part? It´s not even that bad for you! In this recipe a little Peanut Butter goes a long way! So don´t worry – eating this Peanut Butter and Jelly Rice Pudding won´t blast your daily calorie allowance! The Jelly part of this dessert is actually a homemade vanilla infused strawberry puree, so that´s pretty healthy as well! So no worries 🙂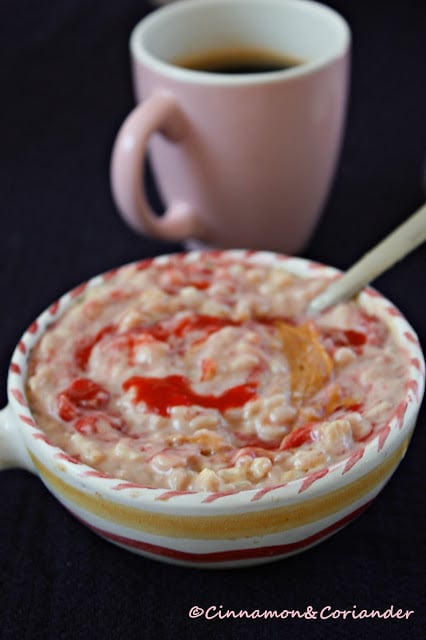 That is, if you are not me and can resist the urge to eat all 4 Portions between breakfast and lunch :-/
For 4 Portions Peanut Butter and Jelly Rice Pudding
500 ml milk
120 g arborio rice
Pinch of salt
2 Tbsp sugar, brown preferred
2 Tbsp Peanut Butter
Bring milk to a boil and add salt, sugar and rice. Let simmer on low heat for about 25 minutes until the rice is done stirring once in a while to prevent the rice from sticking to the bottom. You might want to add a bit more milk towards the end.
When the rice is done, stir in the peanut butter and cover the rice pudding with cling film
For the strawberry puree:
250 g strawberries, washed, chopped
1 Tbsp Sugar , 1 Tsp Vanilla essence
1 Tbsp Lemon Juive
Put all the ingredients in a food processor and pulse to combine.
Serve the Peanut Butter Rice Pudding with a nice big swirl of Strawberry Puree and enjoy.
Brownie Batter & Banana Morning Oats
Chunky Monkey Breakfast Bars
Black Forest Rice Pudding
Erdbeer Kokos Scones mit Chocolate Chips
Birnen Mohn Ofenschlupfer
Blueberry Muffins mit Cinnamon & Brown Sugar Streusel
Ich grüße euch,
Eure Kiki