These easy-to -make Hot Cross Muffins are perfect for Easter Brunch! Serve these delicious raisin-studded Muffins and you'll be more popular than the Easter Bunny!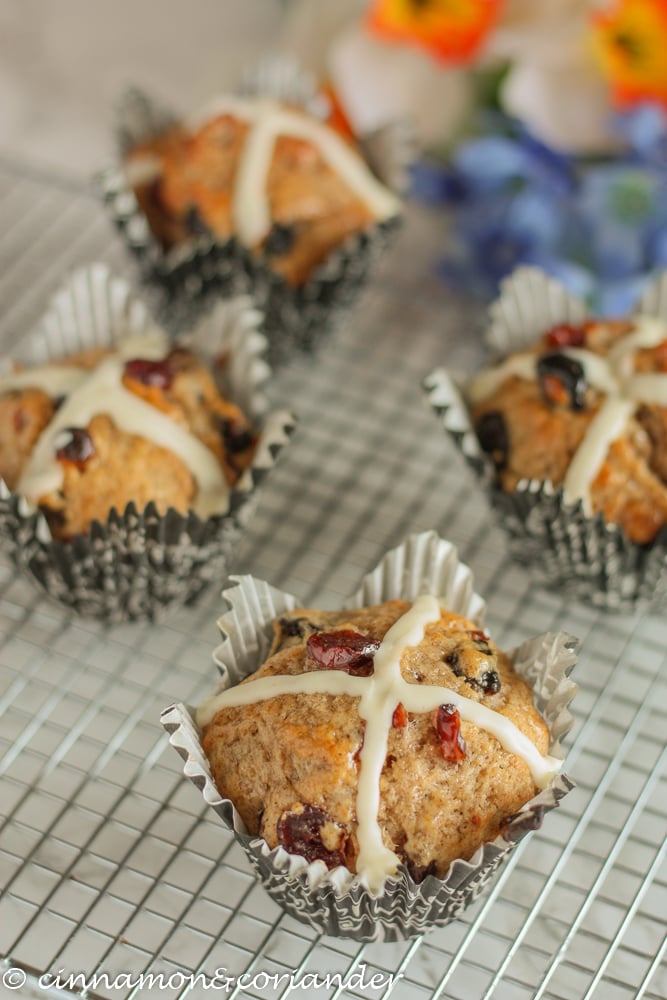 With Easter just around the corner, this is just the right moment for some last-minute Easter Brunch Foodspiration!  Think of today's recipe for Hot Cross Muffins as your ticket to easy-breezy Easter Brunch Success!
These Hot Cross Bun-inspired muffins have all the flavours of a hot cross bun – the spices, the dried fruit, everything – except in a muffin. As muffins take way less time to make than yeasted hot cross buns, this recipe is a real time saver! The spiced buttermilk batter comes together in 5 minutes and after about 20 minutes of baking, you are pretty much ready to go!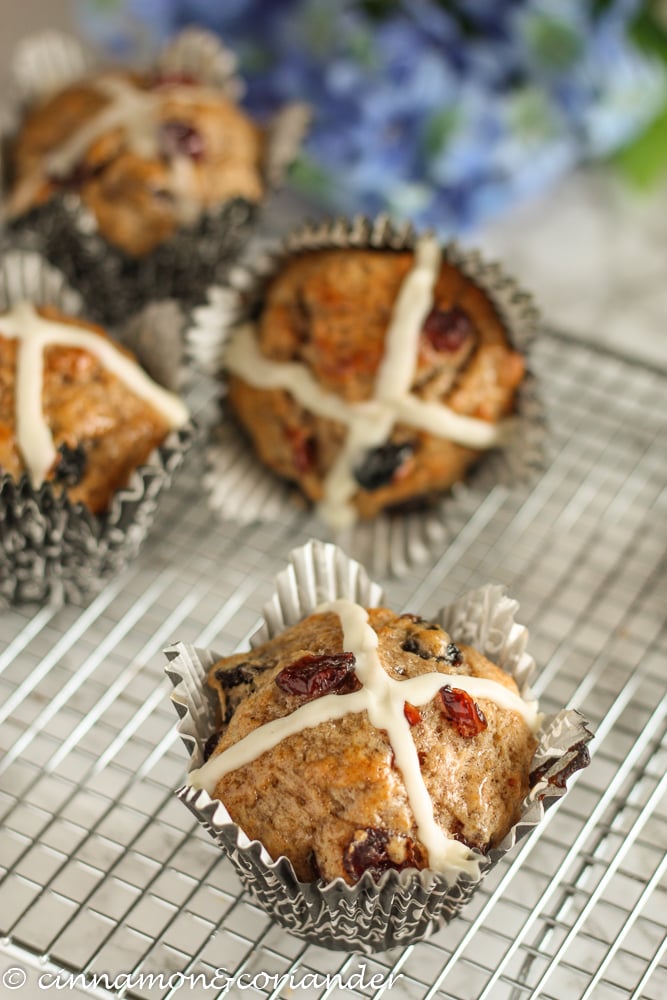 Of course, it wouldn't be a hot cross muffin, without the cross on top. I used a simple sugar glaze. For 12 muffins, I needed about 80 g of icing sugar, to which I added a tbsp of homemade German Egg Liqueur, which basically needs to go into everything I eat on Easter. Egg Liqueur is pretty thick, so if you are using lemon juice or even water, you might need a bit less. Make sure to add your liquid slowly until you have a very thick paste! Otherwise, your crosses will be all over the place as the surface of the muffins is not as even and smooth as a hot cross bun.
If you plan to serve the hot cross muffins for breakfast, you might want to soak your raisins and cranberries overnight. I added a splash of marsala to my soaking liquid – because why not – and it goes really well with the festive spices in the batter. I imagine rum or port would also do the trick. Or just use some orange juice. Also, you might notice, that there's no mention of candied peel in the recipe. Reason: I can't stand it. So feel free to replace some of the dried fruit in the recipe with chopped candied peel to get the "real thing".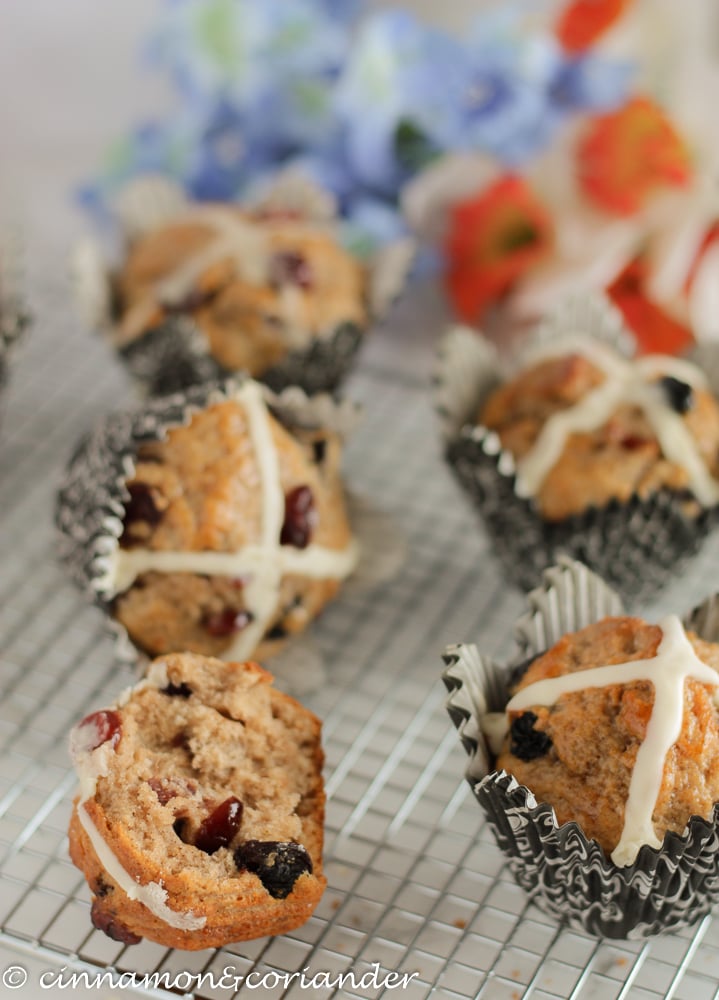 There's nothing like the aroma of freshly baked hot cross muffins wafting through your kitchen on Easter Morning. I really hope you get to try them this year. I simply love this simple recipe and already had to promise to make them again next Easter! I am sure your family will love them just as much. Happy Easter, everyone.
Things you might like:
A note about affiliate links in this post: some of these links will take you to Amazon where I may receive a small percentage of sales, at no extra cost to you.
Hot Cross Muffins
These easy-to-make Hot Cross Muffins are perfect for Easter! Serve these Hot Cross Bun - inspired treats on Easter morning, and you'll be more popular than the Easter Bunny!
Ingredients
250

g

mix of cranberries, raisins, dried cherries

4

tbsp

rum, marsala or port

substitute with orange juice or water

375

g

flour

1/4

tsp

salt

1/2

tsp

baking soda

2

tsp

cinnamon

1/4

tsp

cardamom

ground

1/4

tsp

nutmeg

ground

1/2

tsp

allspice

ground

1/4

tsp

cloves

ground

200

g

sugar

1

tsp

orange zest

optional

250

ml

buttermilk

2

eggs

165

ml

oil

2

tsp

vanilla

4

tbsp

sugar

100

ml

water

80 - 100

g

icing sugar

1

tbsp

advocaat

or lemon juice
Instructions
Preheat the oven to 200 C and line a muffin tin with paper cases. Put dried fruit in a bowl, add alcohol, if using, and cover with some water until the fruit is just covered. Heat in the microwave for 2 to 3 minutes and let stand at room temperature for 2 hours or overnight. Drain fruit and pat dry with a paper towel.

Sift the flour, soda, salt and spices into a large bowl. Rub the orange zest into the sugar, using your fingertips. Stir together sugar, eggs, buttermilk, vanilla and oil. Add egg mixture to the dry mix and stir together with a rubber spatula, until the flour is fully incorporated. It does not have to be smooth, make sure not to overmix the batter. Now, fold in the dried fruit. Divide the mixture among muffin cases, then bake for 20-25 minutes until lightly browned and a skewer inserted into the centre comes out clean. Cool completely on a wire rack.

Meanwhile, place 4 tbsp of sugar in a pan with the water and simmer for about 4 to 5 minutes over low heat, stirring, until sugar dissolves and the mixture thickens slightly. Brush the glaze over the muffins.

Stir advocaat or lemon juice and icing sugar together to make a thick, pipeable icing. Use a piping bag or drizzle from a spoon to draw a cross on each muffin.