Dieser Beitrag ist auch verfügbar auf:

Deutsch (German)
Today we reached minus 22 in Calgary. This is the kind of temperature that makes your nose hair and eyebrows freeze within minutes when walking outside. And no: The novelty has not worn off yet! I still love to sit by the window and watch the beautiful powdery snow outside and I feel like in Winterwonderland every day. But I do also have a constant craving for hot stews and soup. For something that tastes as if granny had made it especially for you and had put in all of her love.
In my search for warming spoonable comfort food, I´ve come across Chef John´s recipe for Chicken and Dumplings on Youtube and decided to give it a shot. He described it as "one of the most comforting things you'll ever eat". SOLD! Sounds good! I also liked the idea of making my own chicken and veg broth and the prospect of all that tender chicken meat together with the cooked veg and herbs made my mouth water!
This is the kind of food you want to eat in your PJs while binge-watching on Netflix. Just put on a big pot and get refills throughout the day! It´s glorious!
I adapted the recipe to my personal taste and added a bit more veg and herbs to the soup as well as a bit of nutmeg and lemon zest to my dumplings. "Season to taste" is key when making your own soup! Feel free to add more salt – or less.This soup is the kind of meal you make for yourself – so add salt and spices until you are happy with the flavour.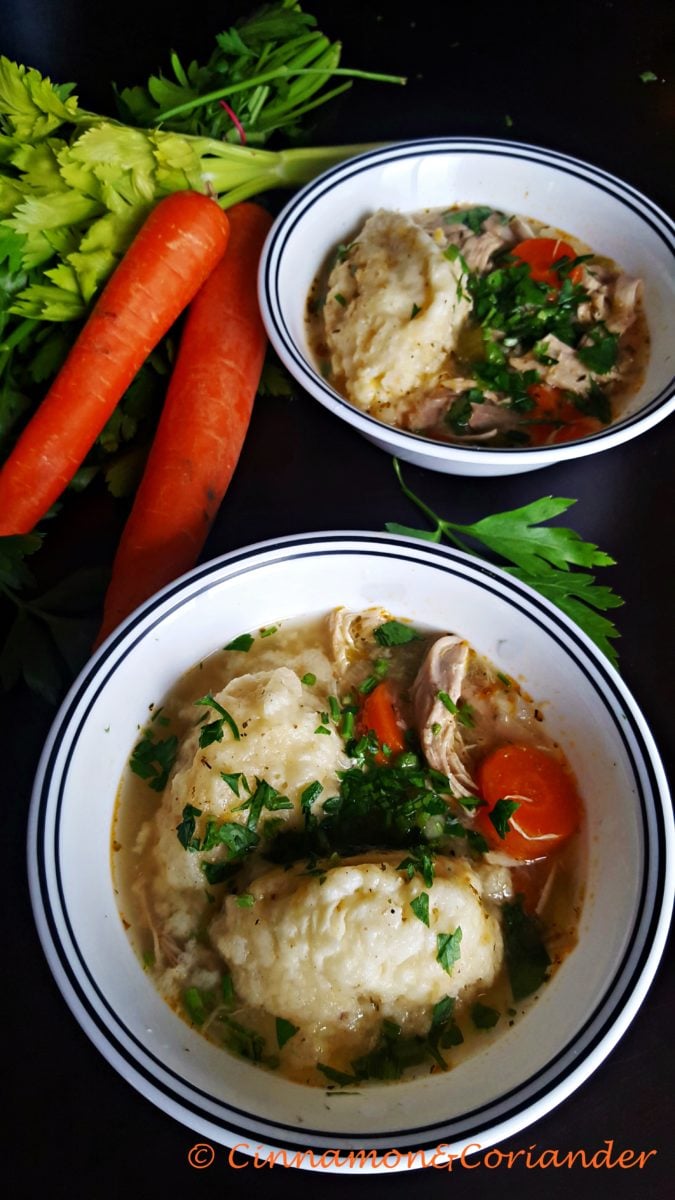 The fluffy dumplings are incredibly easy to make and you just add them to your pot of simmering chicken soup within the last 15 minutes, where they will puff up and become all fluffy and gorgeous within no time. The great thing about this dumpling recipe is that it will work on just about any soup or stew! So feel free to try them on other recipes!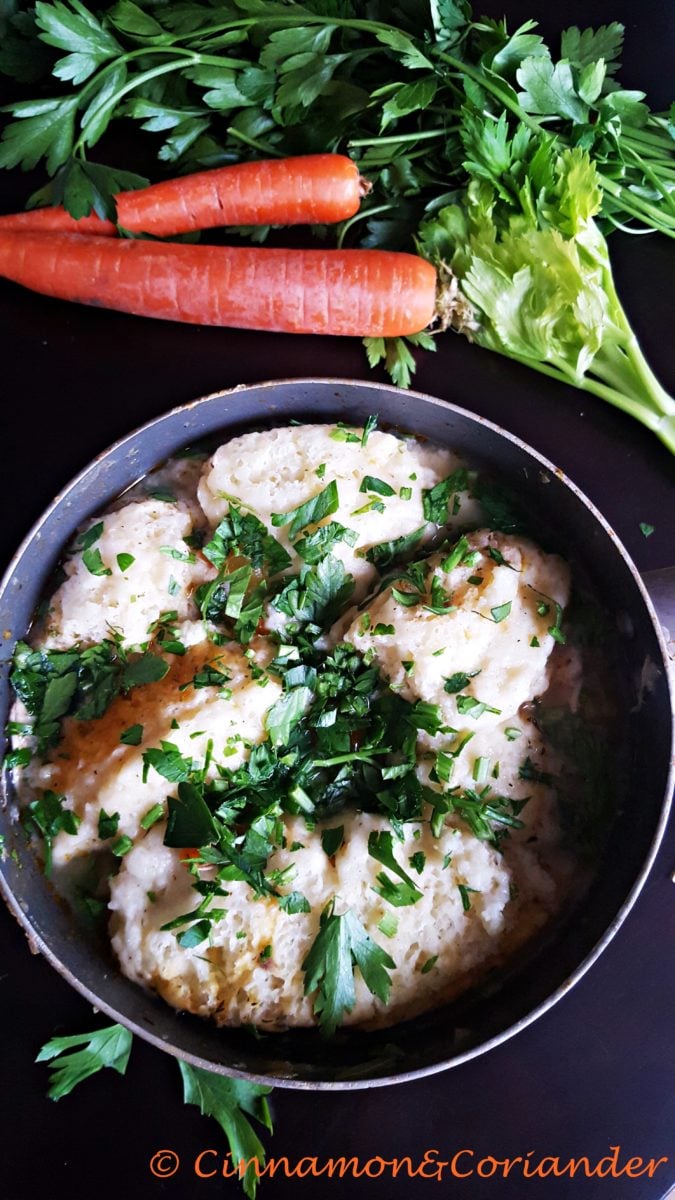 Chicken and Dumplings is definitely one of my new favourite dishes for the cold season! You should really give it a try! It´s so easy to make and fun to eat!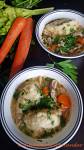 Best Chicken and Dumplings Recipe
Homemade Chicken and Dumplings is a Classic Comfort Food Dish that is easy to make and a pleasure to eat. Fluffy dumplings cooked in a homemade chicken broth - so simple, so delicious!
Cook Time
1
hour
45
minutes
Ingredients
1

whole chicken

3 to 3 1/2 pound

2 1/2

quarts cold water

2

large carrots

cubed

3

stalk celery

chopped

2

hands of green beans

optional, chopped

1/2

celery root

peeled and cubed

1

onion

chopped

3

sprigs fresh thyme

1

sprig rosemary

1

bay leaf

2

tbsp

all-purpose flour

or as needed

salt and freshly ground black pepper to taste

1

teaspoon cayenne pepper

or to taste

1/2

cup

creme fraiche

120 g

1/2

cup

milk

1

tsp

lemon zest

1/2 - 1

tsp

salt

1/2

tsp

nutmeg

2

eggs

2

cups

self-rising flour

see notes
Instructions
Place chicken in a Dutch oven. Add water, carrot, celery, celery root, beans, onion, 3 sprigs of thyme, rosemary and bay leaf. Bring to a boil, cover, reduce heat to low, and simmer for 1 hour. Remove chicken from the Dutch oven and transfer to a bowl; set aside to cool.

Increase heat and bring the stock to a simmer. Skim off any chicken fat that appears on top of the stock and reserve in a bowl. Combine 2 to 3 tablespoons of the reserved fat with flour in a small bowl; stir to make a paste, adding more flour if needed. Add some hot broth and keep on stirring until the mixture thickens a bit. Add the chicken fat/flour/broth mixture to the stock. Reduce heat and simmer for 15 minutes.

Remove chicken meat from the carcass and add to the stock. Season with salt, black pepper, and cayenne pepper to taste. Continue simmering for 10 to 15 minutes.

Whisk creme fraiche, milk, lemon zest, nutmeg, salt, and eggs together in a large bowl. Stir in self-rising flour until almost entirely incorporated; do not overmix.

Scoop large dollops of dumpling mixture on top of the chicken stock. Increase heat slightly to medium-high. Cover and simmer until dumplings appear light and fluffy, and a toothpick inserted into the centre comes out clean, 10 to 15 minutes. Serve with fresh chopped parsley
Recipe Notes
If you don't have self-rising flour you can use 2 cups all-purpose flour sifted with 3 teaspoons baking powder and 1 teaspoon fine table salt.