Dieser Beitrag ist auch verfügbar auf:

Deutsch (German)
These gorgeous Mango Vanilla Curd Tartlets are the perfect summer dessert ! Homemade, crisp Shortbread Shells filled with a rich Vanilla-scented Mango Curd and topped with fresh raspberries!
This summer I had my first golden raspberries! Freshly picked from my in-laws' bushed, with that incredible sweetness that you only ever get when you pick them on a warm sunny summer day. There' s something magical about sun-warmed raspberries!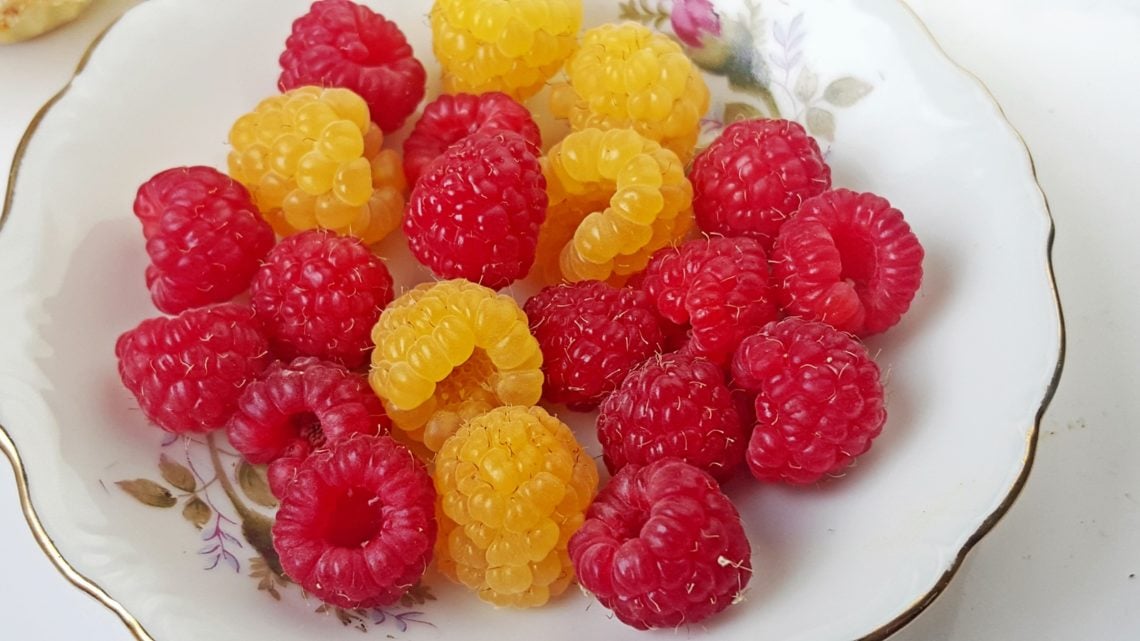 With all those multicolored berries on our kitchen counter I felt inspired to create something special!  I wanted to make a delicate summery pastry . Something bite sized that would showcase the beauty of those perfect little raspberries! The answer: Tartlets!!
For my Tartlets I opted for the combination of a smooth Mango Vanilla Curd and fresh Raspberries. Those two go so well together. By adding some real vanilla to the Mango Curd its flavour gets somehow rounder and more mellow.
The Mango Vanilla Curd itsself is so creamy and addictive that I really had to keep myself from eating it by the spoonful. Fresh raspberries add a bit of tartness and help to offset the sweetness of the mango curd. And they make our Mango Vanilla Curd Tartlets look extra pretty.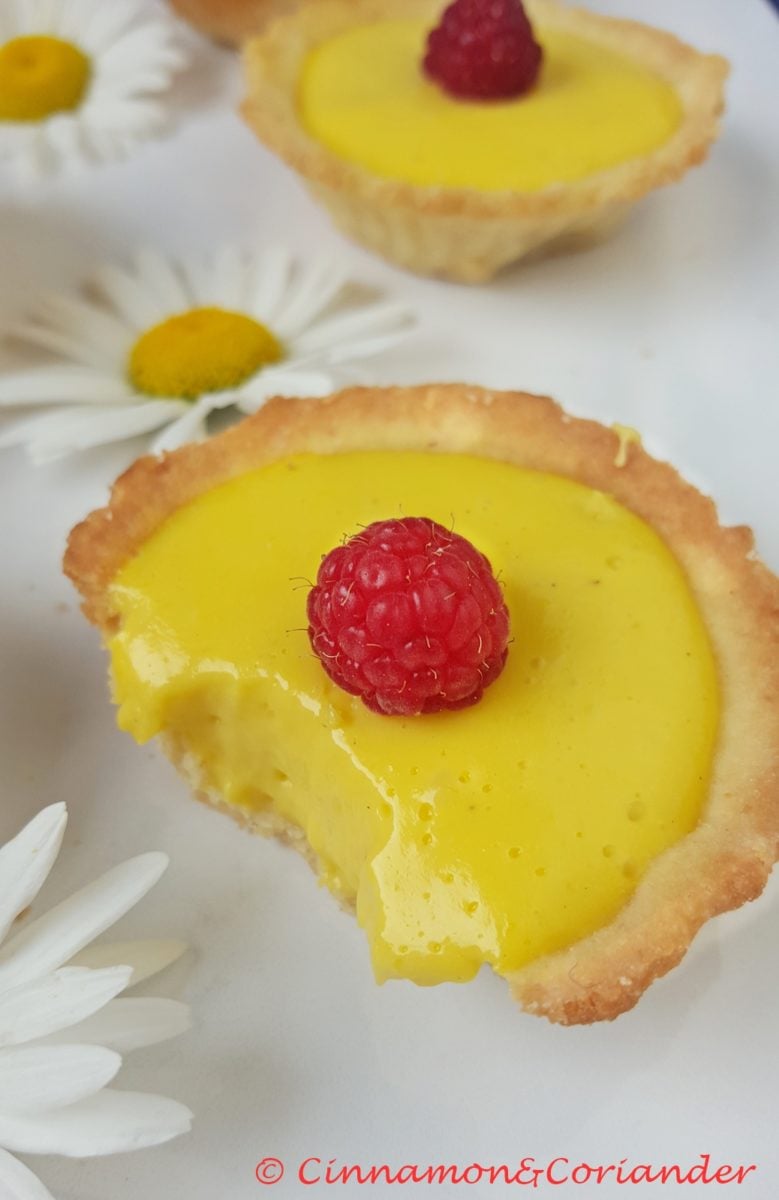 To prevent the filling from running all over the place once you take a bite of your Mango Vanilla Curd Tartlets we add a tsp of gelatine to the curd before we mix in the butter. Once set, the texture of the Mango Vanilla Curd becomes almost like a fruit mousse. Light, airy, refreshing and yet deeply satisfying!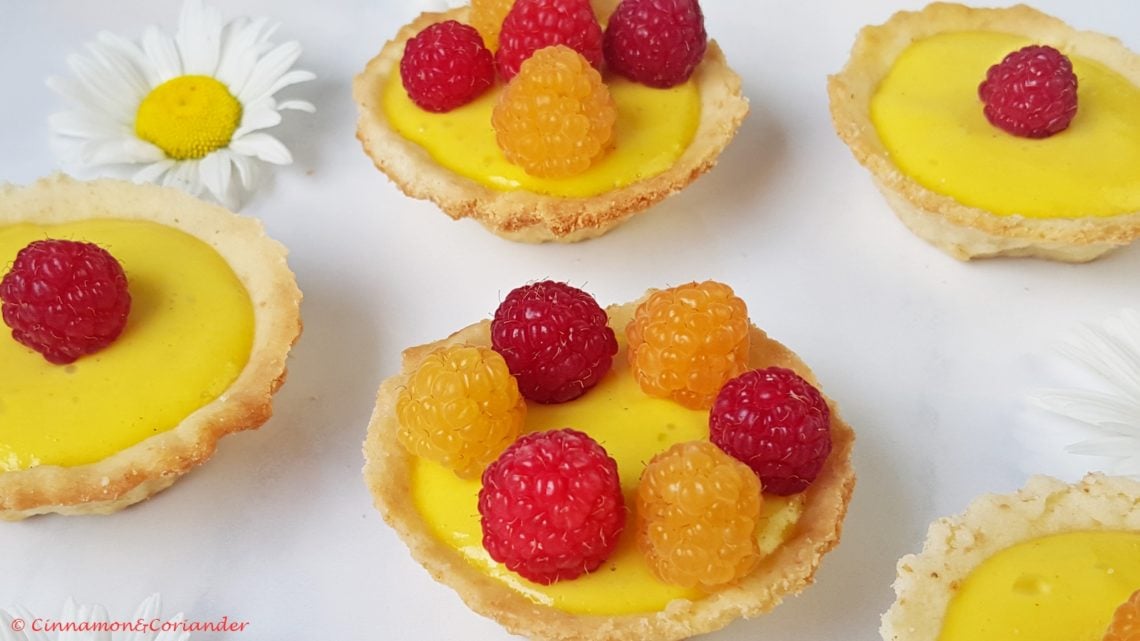 The pastry is recipe I got from my mother in law. She makes the best Tart Shells – all crispy and golden with no shrinkage at all! And guess what, all that WITHOUT BLINDBAKING! You've got to try it! For our Mango Vanilla Curd Tartlets this Tart Shell Recipe is just perfect. I love the contrast between the rich and creamy curd and the crisp, buttery shortbread crust.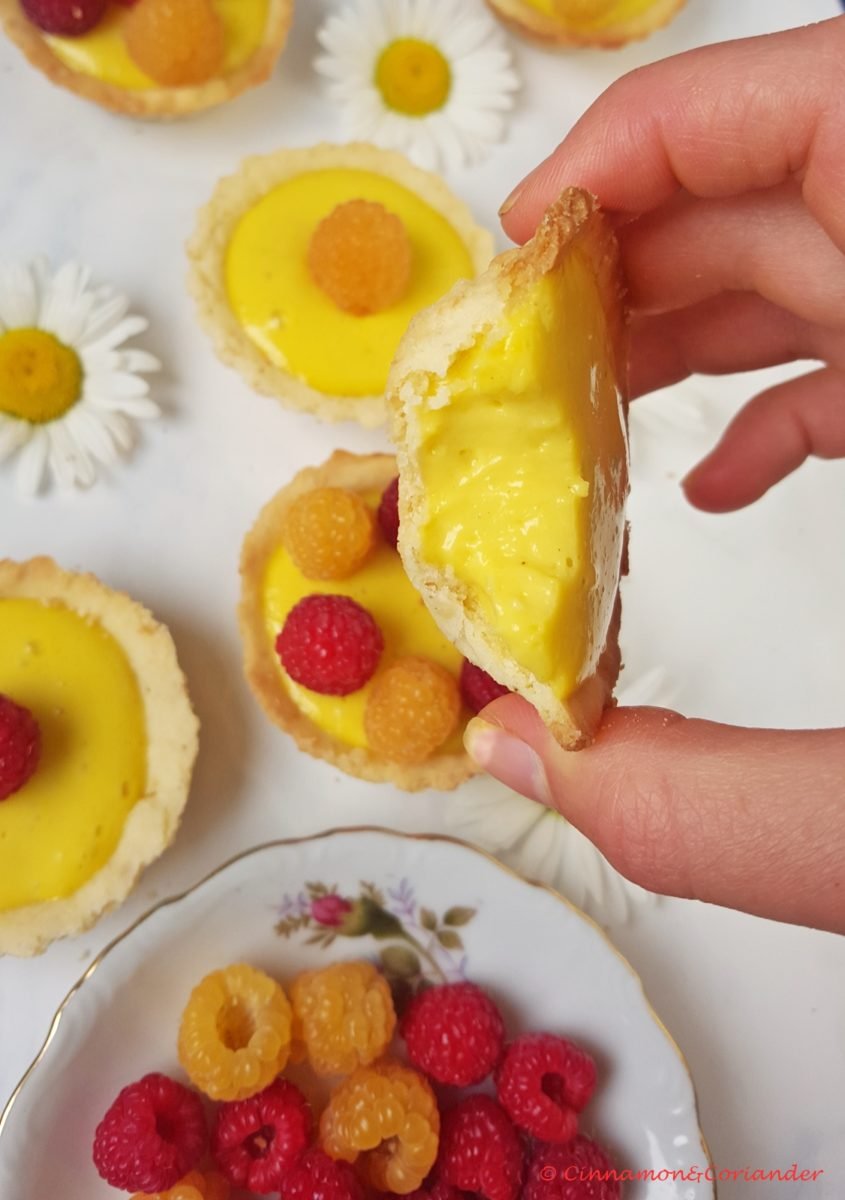 Doesn't this look delicious! And with our Mango Vanilla Curd Tartlets being mini sized we can definitely have more than one!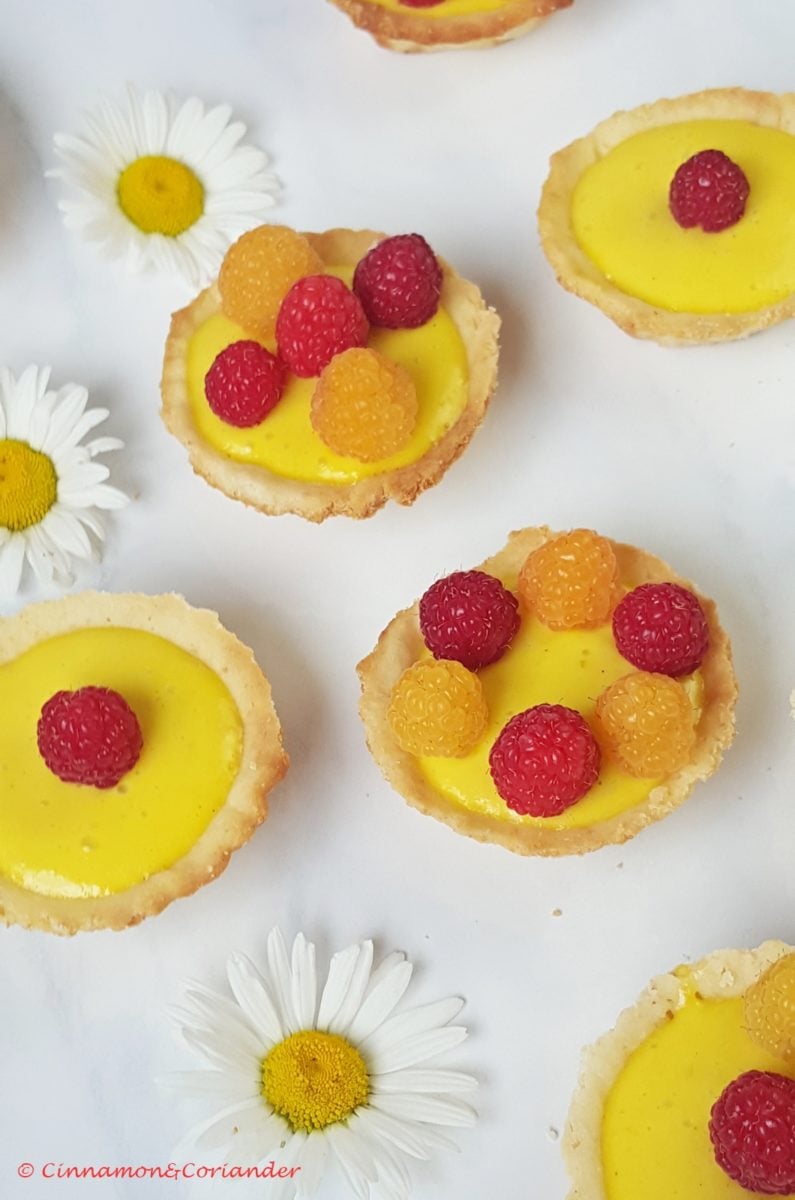 I really hope you give these Mango Curd Tartlets a try! The recipe is really simple and straightforward to make and everyone is gonna love those beautiful fruity Mini Tarts.
If you share my love for fruit curds you will probably also like
My White Chocolate Truffle & Raspberry Curd Tart 
or this refreshing Lemon Curd Mousse Pie
My product recommendations:
Disclosure: I am a participant in the Amazon Services LLC Associates Program, an affiliate advertising program designed to provide a means for us to earn fees by linking to amazon.com and affiliated sites
Mango Vanilla Curd Tartlets with fresh Raspberries
These gorgeous Mango Vanilla Curd Tartlets are the perfect summer dessert. Homemade, crisp Shortbread Shells filled with a rich Vanilla-scented Mango Curd and topped with fresh raspberries!
Ingredients
Pastry

150

g

unsalted butter

25

g

white sugar

75

g

icing sugar

1

egg

30

g

whole wheat flour

220

g

all purpose flour
For the Mango Curd
1

tsp

powdered gelatine

350

g

Mango Puree

1/3

cup

sugar

1,5

tsp

Bourbon Vanilla Extract or 1 Vanilla Bean

1

tbsp

fresh lime juice

1

Pinch of salt

4

large egg yolks

75

g

cold butter

cut into small pieces

fresh raspberries to decorate
Instructions
Makes enough dough for 2 tarts or 24 tartlets.

For 12 Mini Tartlets, you only need half the recipe.

In a bowl cream together butter and sugars as you would for cookies until light and fluffy. Stir in the egg, then fold in the flour. Shape into a ball, cut into half and shape each half into a disk. Shape each portion into a round flat disc. For this recipe, you only need one of the portions, which you now place in the fridge for at least 30 minutes. Put the other half in the freezer and store it there for up to 3 months.

Roll out the chilled dough and cut out 12 rounds using a 10 cm cookie cutter. Place the dough into your mini tart shells and prick each tartlet with a fork a couple of times.Put them in the freezer while you preheat the oven.

Preheat the oven to 190 Celsius (350 Fahrenheit) and bake the tarts shells for 15 Minutes or until slightly golden brown. Take a peek after 10 / 12 min to see if bubbles in pastry need to be popped. Take them out of the oven and let them cool completely before filling.

For the curd

Soak the gelatine in 1 - 2 tbsp of water. In a food processor or with an immersion blender, blend the mango with the sugar, lime juice, salt and vanilla until smooth. Mix in the egg yolks and blend a few seconds until smooth.

Strain through a sieve pressing on solids with back of a spatula to release as much puree as possible. Discard the solids in sieve.

Heat the mango mixture in a pot over medium heat. Stir constantly until it thickens which happens at about 80 degrees Celsius. Take off the heat immediately and add gelatine to the bowl and whisk well until gelatine dissolves. Whisk in ice-cold butter 1 piece at a time. I used an immersion blender for this step.

Cover and chill the mango vanilla curd to room temperature, then pour into prepared crust and refrigerate. Serve them straight out of the fridge decorated with fresh raspberries!
Recipe Notes
The Mango Vanilla Curd Tartlets should be eaten quickly as the pastry shell gets soft when stored in the fridge for more than a day.
Like my recipe for Mango Vanilla Tartlets with raspberries? Pint it on your summer dessert board: