Dieser Beitrag ist auch verfügbar auf:

Deutsch (German)
This delicious & exotic Mango Sauce with Cilantro, fresh Ginger and a hint of Chili goes so well with grilled chicken, shrimps or salmon steak ! Make it for your next BBQ Party. Your guests won't get enough of it!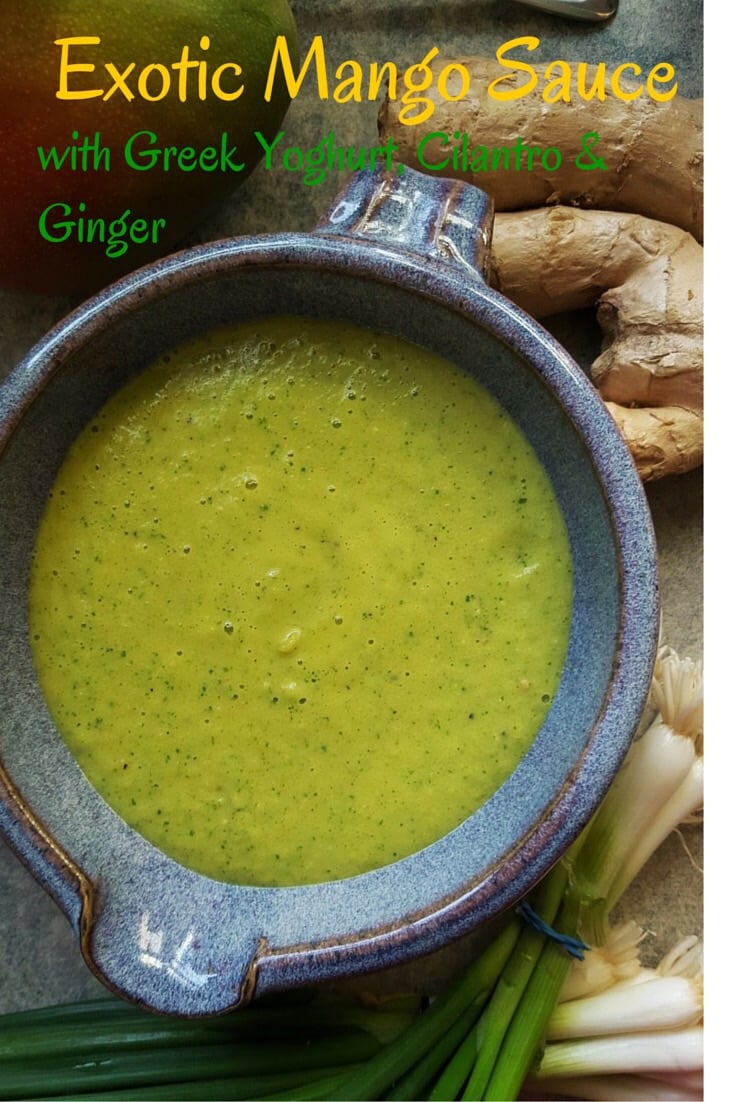 For a 2 person household we have way to many different sauces, chutneys and dips in our fridge! We can't help it. I also really believe that everything can be made delicious by adding a good sauce to it. Give me boiled potatoes and a bottle of Brown Sauce and I'm a happy girl.
Every time we have a BBQ we bring out all the sauces, which makes out dinner table look like the sauce station of a Brazilian Steak House! But once in a while, we manage to keep all the ready made stuff in the fridge. When I make my exotic Mango Sauce!
This simple yet delicious Mango Sauce with fresh cilantro is simply amazing! Fruity, creamy and with a hint of heat towards the end!
All you need to do is chop a mango and put the fruit chunks into a food processor with some cilantro, spring onions, fresh ginger, a dash of both worcester and tabasco sauce and a general helping of greek yoghurt for creaminess et voila: An exotic Mango Sauce that turns your meal into a Caribbean Feast!
The colours alone lift my mood! Nice to look at and even nicer to eat! The Mango Sauce has a perfect pouring consistency – slightly thinner than a dip. And with it being quite healthy you can feel free to have as much sauce as you really want to! Guilt free!
Whenever we manage to get out hands on some ripe mangoes I make a big batch of Mango Sauce. I cover leftovers with cling film and keep it in the fridge where it keeps for about 4 to 5 days.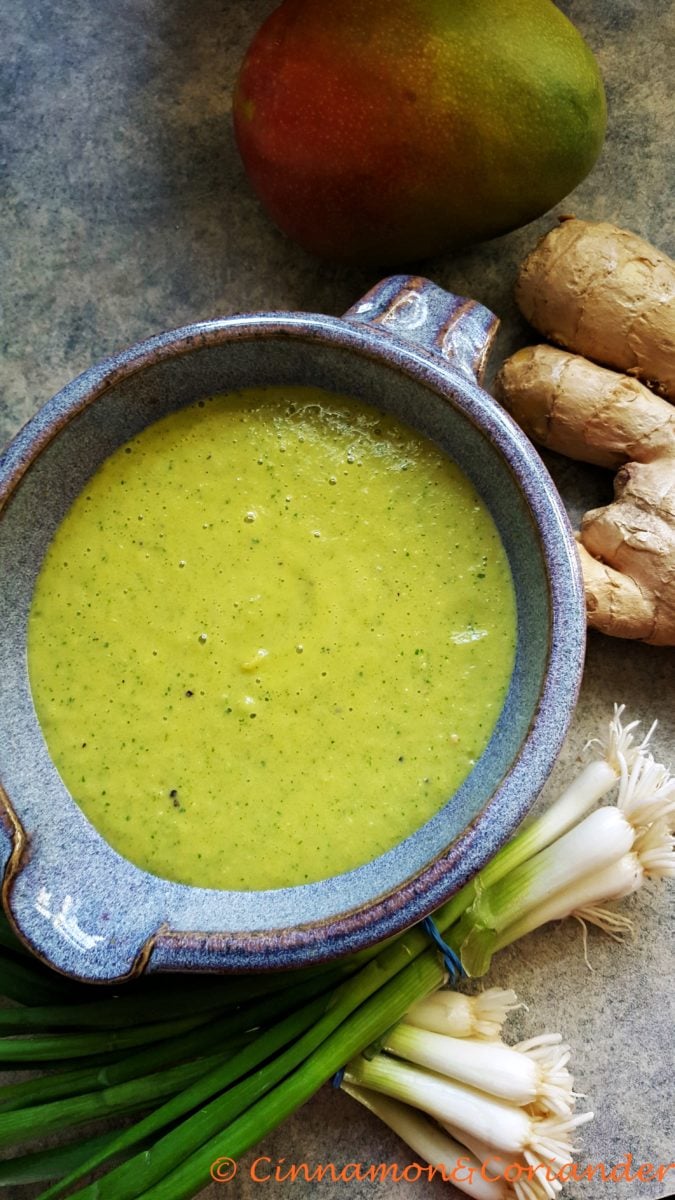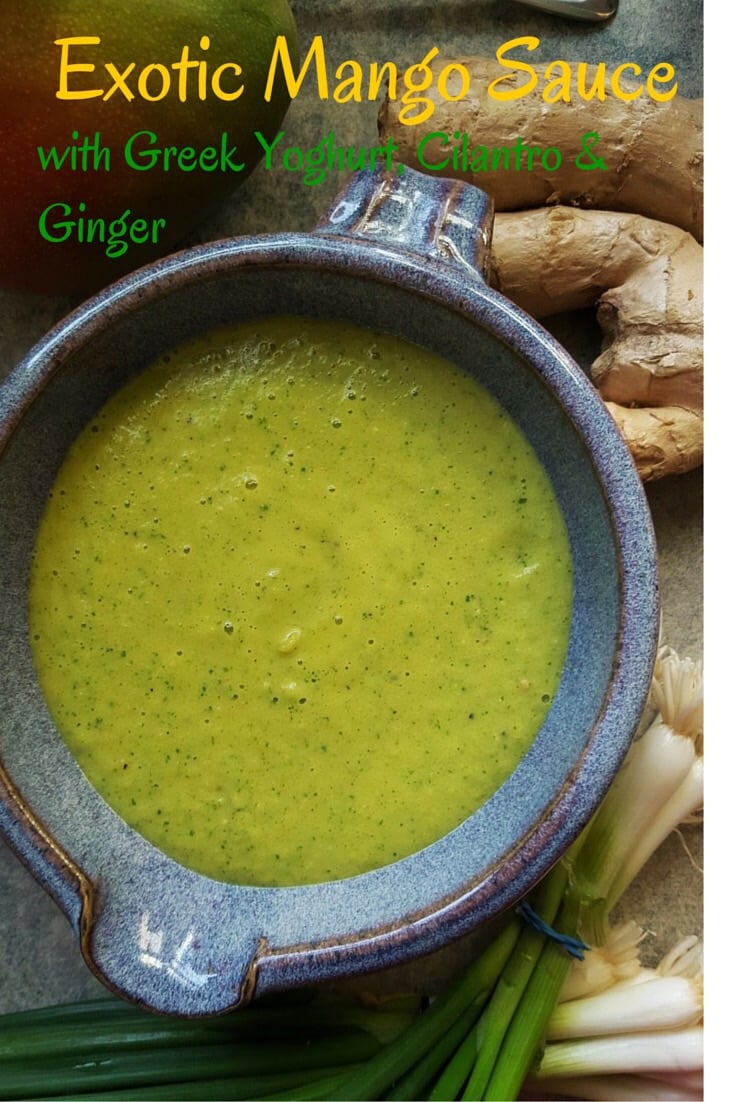 Exotic Mango Sauce
This exotic Mango Sauce is so simple and incredibly delicious! Serve it with grilled Chicken, Shrimps or Salmon!
Ingredients
1

big Mango or 2 smaller ones

1/2

bunch of cilantro

2

spring onions

1,5

tsp of freshly grated ginger

6

generous tbsp greek yoghurt FULLFAT

1

Tbsp Worcester Sauce

dash of tabasco

salt and pepper to taste
Instructions
Peel and cube the mango and put it in a food processor with all the other ingredients. Whizz until smooth and adjust the seasoning to taste!

For storing, pour the sauce into a bowl, cover with cling film and refrigerate.

The Mango Sauce will keep for about 4 to 5 days
Recipe Notes
Make sure your mangoes are ripe and sweet! If your mangoes are on the green side, add a bit of brown sugar or honey to enhance the sweetness