Try my recipe for Achari Paneer – a spicy vegetarian curry with paneer cheese in a creamy & tangy yogurt gravy, flavoured with hot mango pickles! The perfect recipe to enjoy authentic Indian cuisine in your own home.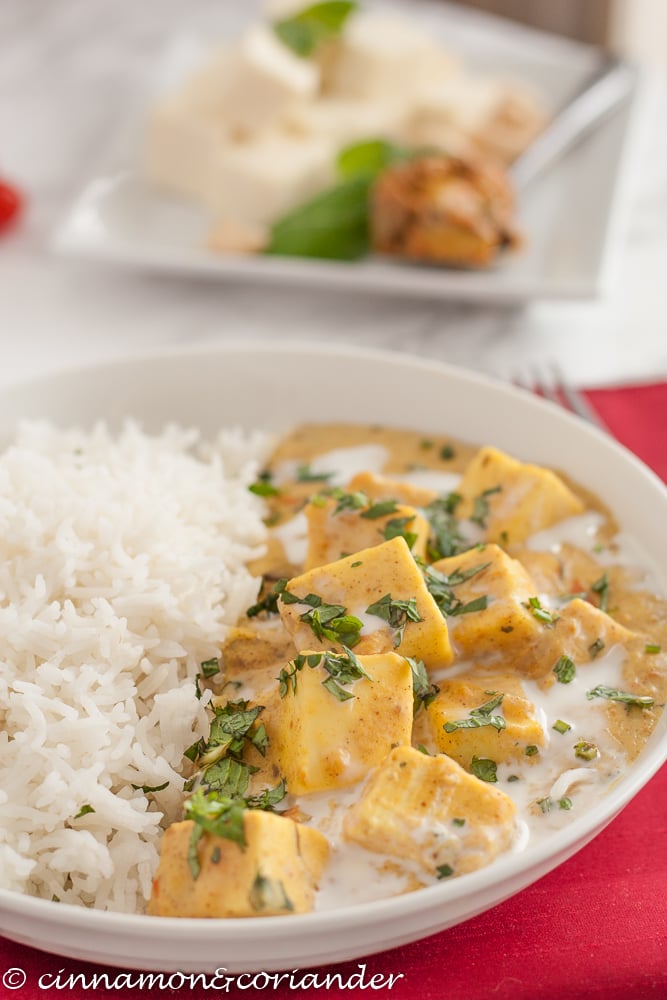 A note about affiliate links in this post: some of these links will take you to Amazon where I may receive a small percentage of sales, at no extra cost to you.
Achari Paneer – the vegetarian Indian curry you have not tried yet, but should!
Once in a while, it is time to introduce a new curry into the dinner – repertoire, right?
Having had a lot of butter chicken and Asian coconut-based curries lately, I was looking for something new, bold and authentic. Preferably meatless, as we are trying to cut down on the animal proteins.
Scanning the internet for vegetarian Indian curries, I came across a dish called achari paneer, which immediately got my attention.
It had paneer cheese in it, which is my favorite meat replacement on earth, plus it listed mango pickles as one of the ingredients for the gravy.
I don't know about you but I am obsessed with mango pickles.
Indian mango pickles are not sweet, but more sour, spicy, salty and…well, powerful! I would not want to miss them in my kitchen.
Admittedly, I hardly ever use them in the proper context – meaning, for Indian dishes, but rather add a tbsp into my hummus or put them in grilled cheese.
Try it, it is life-changing stuff. Anyways, mango pickle – flavored yogurt gravy sounded like tangy and creamy curry perfection to me! And it really is!
This cheesy and creamy deliciousness called achari paneer is definitely a must for fans of vegetarian Indian curries.
How to make this authentic Achari Paneer recipe:
Authentic Indian cooking starts with the toasting and grinding of whole spices!
We kick off the Indian kitchen magic by making our own spice mix and frying paste.
That includes the toasting and grinding of whole spices, using an Electric Coffee or Spice Grinder
. I love this step as it makes the whole kitchen smell like an Indian restaurant!
Next, we make put some onion, garlic, ginger and chilli into a blender to create a basic spicy frying paste.
Making a spice paste like this is actually easier than chopping all the ingredients. Plus, it will make for a smoother gravy in the end.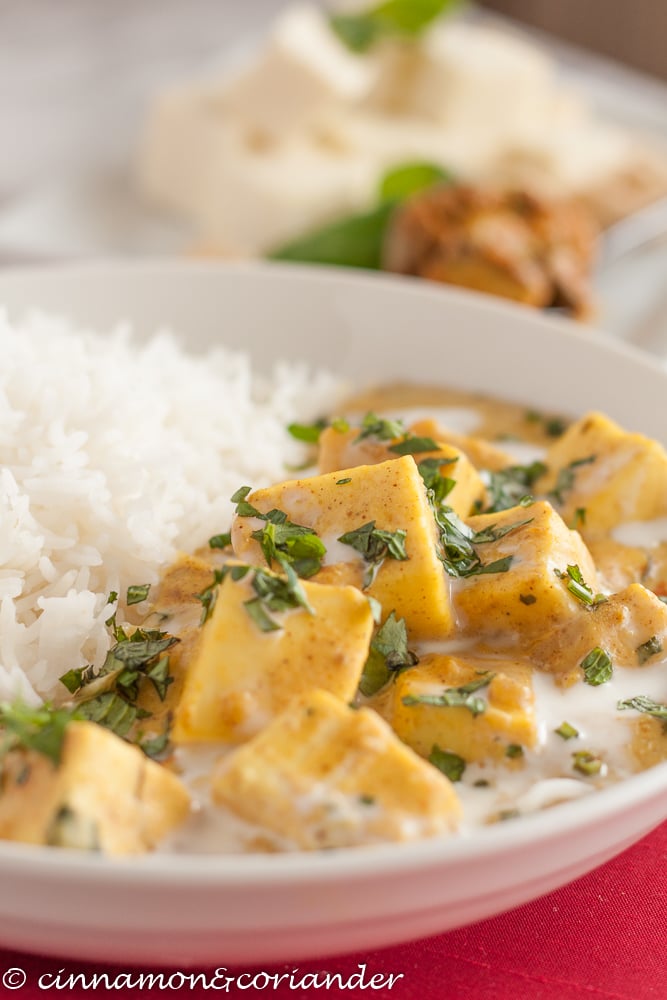 Which spices do I need for this Achari Paneer recipe?
The unique warming spice mix includes chilies, fennel seeds, cumin seeds, and cardamom.
Combined with the heat from the mango pickles this makes this vegetarian achari paneer curry a healthy yet super warming dinner option for the cold season.
What I love most about achari paneer masala, is the perfect, thick-yet-pourable consistency of the gravy.
The secret is a mix of ground cashew nuts, thick, plain yogurt, cream or coconut cream, and chickpea flour as a binding agent. If you have nut allergies, you can leave them out, of course.
If you are a fan of authentic Indian food, you will love this easy vegetarian curry! The big cubes of soft paneer cheese in the tangy, creamy yogurt gravy served over fluffy basmati rice – a curry lover's dream.
The mango pickles are not dominating the flavor profile in achari paneer but rather kick in in the end with a bit of a spicy aftertaste.
You can up or lower the amount of pickles, according to your taste.
My product recommendations:
Disclaimer: A note about affiliate links in this post: some of these links will take you to Amazon where I may receive a small percentage of sales, at no extra cost to you.
★ Did you make and love this achari paneer recipe? Give it your review below! And make sure to share your creations by tagging me on Instagram!
Vegetarian Curry with Paneer, Yoghurt & Mango Pickles | Achari Paneer | Gluten-free & Clean
An easy, tangy and spicy vegetarian curry with paneer cheese, yoghurt gravy and mango pickles! Perfect for a gluten-free diet and clean eating!
Ingredients
200

g

basmati rice

1

tsp

fennel seeds

1

tsp

cumin seeds

1

tsp

brown mustard seeds

2

pods

green cardamom

1/2

tsp

nigella seeds

10

cashew nuts

1

small

onion

2

cloves

garlic

15

g

ginger, fresh

1

green chili, fresh

1

Tomato

1

dried

red chili

250

g

plain yogurt

I used Indian yogurt

1/4

tsp

chili powder

1/2

tsp

ground coriander

1

tbsp

mango pickles

1,5

tbsp

besan (chickpea) flour

250

g

paneer cheese

fresh mint or cilantro for decoration

100

ml

full-fat cream or coconut cream
Instructions
Rinse the rice and soak in cold water for about 30 minutes. Drain in a sieve and put rice into a small to a medium-sized pot. Add 350 ml of water and 3/4 tsp of salt and bring to a boil over medium heat. Reduce temperature to the lowest setting, put the lid on and let boil for 11 minutes. Then, remove pot from heat without lifting the lid and let stand until the masala is done.

Add the first five spices to a small pan and toast without fat on medium heat until fragrant, for about 1 to 1,5 minutes. Let cool and grind spices in a coffee grinder or spice mill.

Grind nuts into fine powder.

Peel onion and garlic and chop coarsely. Cut ginger into small chunks. Halve the chili and scrape out the seeds. Chop it up coarsely. Put onion, garlic, ginger and chili into a blender and puree to a paste. Wash tomato and cut into small chunks.

Heat 2 tbsp of oil in a medium pan over medium heat and add the dried chilli. Fry chilli until it begins to brown. Add onion-paste and let fry, stirring, for about 2 minutes, until the raw onion-smell evaporates.

Add tomato, chilli powder, coriander and mango pickles to the pan and let fry for another 2 minutes. Add ground nuts and fry for 2 minutes more, then add the spice mix from above (step 2)

Add besan flour and stir well, until all the flour is incorporated fully. Stir in the yogurt and add a cup of water. Keep on stirring until the curry thickens, then reduce the heat, add 1 tsp of salt and 1 tsp of sugar. Stir well and let simmer for about 5 minutes.

Cut the paneer cheese into cubes and add to the sauce. Let simmer in the sauce for about 2 minutes. In the meantime, chop fresh herbs and fluff up the rice, using a fork.

Stir fresh herbs and cream into the curry and serve with rice. Enjoy
Like my recipe for Vegetarian Achari Paneer Masala Curry with Paneer Cheese, Yogurt Gravy and Mango Pickles? Pin it!