Dieser Beitrag ist auch verfügbar auf:

Deutsch (German)
No trip to Tulum is complete without checking into one of its many beach clubs! In this little beach club guide, I'll show you Tulum's beach clubs & beachfront hangouts for all budgets and tastes!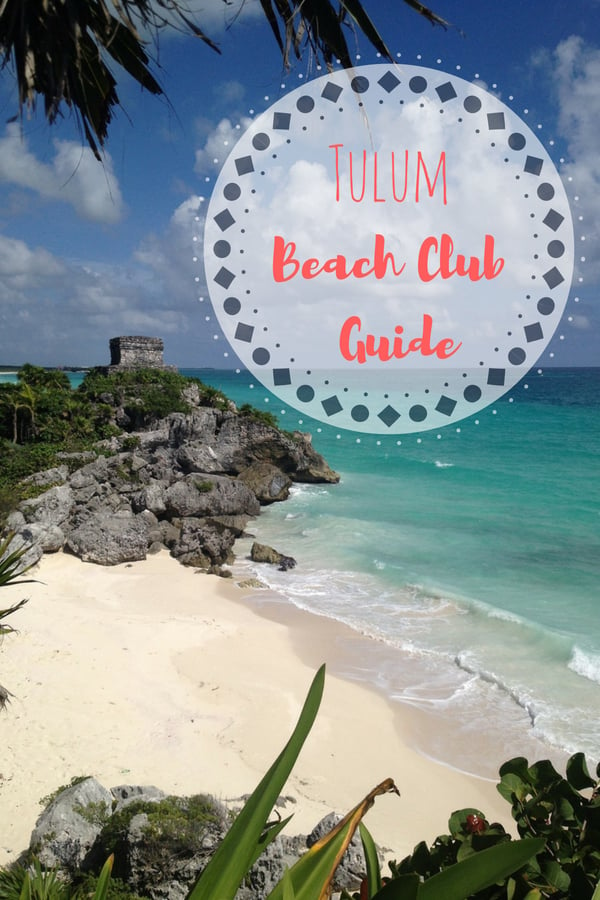 Tulum – Mexico's Boho Beach Hangout
Once known as a laid-back hippie haven, the tiny Mexican village of Tulum has turned from a backpackers' paradise to the ultimate destination for all beach lovers, from bearded hipsters to glamorous supermodels. The beauty of Tulum's white sugar sand beaches is simply breathtaking so planning for plenty of beach time when visiting Tulum is highly recommended. The 10km strip of beach is certainly long and wide enough for you to find your own private patch of sand. But even the lowliest stretch of beach gets tiring after a couple of hours – especially once the hunger and thirst hit you and the ants start to explore your beach towel. That's why I love to hang out at beach clubs!
What is a beach club and why should I check them out?
Let's be honest – vacation time should be all about self-indulgence and ultimate comfort! And this is where beach clubs come into play. They provide the perfect amenities to spoil you throughout the day: drinks, food, sunbeds, showers, you name it!
There are many, many, many beach clubs, beach hotels, beach hotels out there but not all are open to the public.  Some places call themselves a Hotel and Beach club but don't allow outside guests while others don't even call themselves a beach club but grant access to non-guests.
To not loose precious vacation time, it is a good idea to already get a bit of information and see what the best options out there are.When done right, beach clubs can be your ticket to the perfect day at the beach so it's pretty important to find a good one.
I love nothing more than just to hang out at the beach all day with a drink in hand and some nibbles in reach and work my way through my summer reads, so as you can imagine, I have no problem idling away day after day at Tulum's best beach clubs. All in the name of research, of course.
These are my four favorite beach hangouts in Tulum.
Ziggy Beach
General info: Ziggy Beach opens every day from 9 am to sunset, Ziggy Beach Club (next to The Beach Hotel) is one of the most popular options in Tulum for soaking up some rays. They demand a minimum consumption of 510 pesos (2018), which is about 31 Dollars.
My experience: It was the first beach club experience I've had and it blew me away! In fact, I didn't even want to try any other place ( glad I did, though) ! Business at Ziggy's runs smooth like a well-oiled machine: The waiters are super attentive, fluent in English and the service was quicker than at any other beachfront bar I have been to. The food is absolutely amazing and, for a beach club, reasonably priced! I especially recommend the Caribbean Ceviche with Mango, Passionfruit Juice, and Coconut Milk! The bathrooms and showers were clean and very close by.
Ziggy Beach fills up reliably during the day. The audience is young and laid-back, though it can get a bit noisy as the sunbeds are pretty close together. All in all, Ziggy Beach is the perfect spot, if you plan to spend all day at the beach, listening to the music, having lunch and enjoying the sunset with a cocktail in hand.
Make sure to get there before 10 to get a nice spot in the shade ( the further to the right, the more shade)!
Click here for more info.
Alma Tulum Beach Club – for some peace and quiet!
General information: Alma Tulum (Carretera Tulum – Boca Paila km 8.47 Tulum, Q. Roo Mexico, 77780) opens from 8:00 hrs. until 18:00 hrs. Every day of the year.  It offers a bar, restaurant, toilets, showers and lounge chairs for guests.
My experience: This place is perfect if you seek some peace and quiet. I have never seen Alma Tulum really crowded and the sunbeds are spread out a bit further apart from each other, guaranteeing more privacy. Each sunbed comes with a palapa or umbrella for shade, which is really nice and definitely not standard at Tulum's beach clubs. The prices for food and drinks are a bit higher than, say, at Ziggy's but the minimum consumption is somewhat lower, too (around 400, if I remember right). The service is a bit slower and I was not too crazy about their food. I come here for the peace and quiet – my favourite spot to read a book and cure a hangover.
There is Wifi in the restaurant and lounge area and I saw a couple of people working on their laptops! If you get some work done down at the beach, this is a great place to come to.
Zazil Kin – the best value for travellers on a budget!
General info: Zazil Kin Hotel & Cabanas| on Playa Pescadero, Km. 0. 470 Zona Arquelogica, open every day from 9 till 18. 
My experience: Zazil Kin is perfect for those of you, who don't want to spend too much money at the beach. You can either rent a sunbed for 150 pesos/day or you spend 200 pesos at the restaurant and get a sunbed for free. I went for the latter, obviously and did not regret my choice. The ceviche was delicious! The food is also noticeably cheaper than at most beach clubs ( I dare say about 50 pesos less for a main). As this is the public beach, it is not quite as clean as the stretch but you do get that million dollar view of the ruins. Also, there is pretty reliable shade from the palm trees. The service is pretty hands-off, but when they stop by, they are friendly.
For those of you, planning a beach day with small kids: There's a great playground on the attached hotel site! For all those digital nomads out there: there is no wifi!
Click here for more info.
La Zebra Beach Club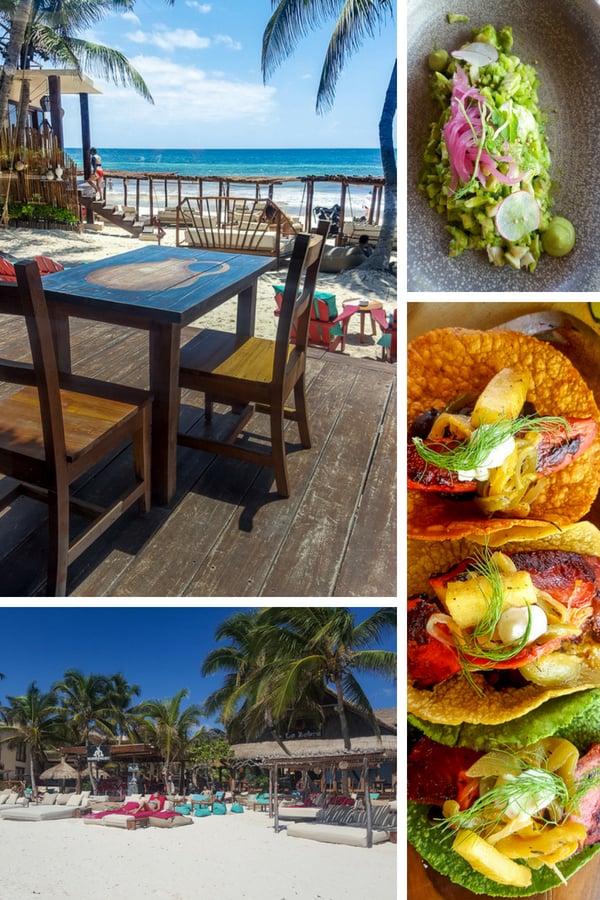 General info: La Zebra, Carretera Tulum-Bocapaila Km. 8.2, Zona Costera,77780 Tulum, Q.R. Open every day, starting at 9.
My experience:
This was by far the most luxurious beach club I have ever been to. My honest opinion? If you want to treat yourself and don't have to watch every dollar (500 pesos minimun consumption) – then go!  Everything there is pretty awesome. From the modern and creative decor, to the the delicious food and drinks and the attentive service. We really felt like VIPs and they surprised us with outstanding service. The waiters are all amazing and fluent in English, and make sure that you never go hungry or thirsty.
As soon as we walked in, we were shown to a nice spot in the shade and a waiter explained to us how everything worked and where all the ammenities were. 10 out of 10 for transparency and costumer service.
The quality of the food is top-notch and everyting is cooked to perfection by chef Eleazar Bonilla. I especially reccomend the Green Ceviche and the Fish Tacos al Pastor! The prices are definitely on the higher end but for the quality and the service you get, I would simply call it appropriate.
The best part ? There is a pop-up bar called the MULBERRY PROJECT . Rather than ordering a cocktail from a menu, guests select the liquor base that most appeals to them and "suggest" ingredients based on a chalkboard listing of market-fresh fruit, vegetables, herbs and spices available that day. Also, you describe the "type" of cocktail you would like — refreshing, sweet, spicy, tropical, bitter, dry, smoky, herbal …you name it. Then it's up to the drink masters to mix the perfect potion. If sipping on a personalized cocktails while lying on a giant sunbed sounds good to you, La Zebra is the place for you!
The bathrooms are giant and very clean, there are showers both indoors and outdoors and there is even a cute playground tucked away in the corner for the little ones.
For the nomads out there: You can ask for the wifi password at the restaurant and work from one of their tables on the patio. Note, that there might be some music an noise coming from the Mulberry Project. They sometimes have Djs, as well.
Click here for more information.
La Rosa del Viento: Italy meets Mexico
General Info: Rosa del Viento, Carretera Boca Paila KM. 10 Tulum, open daily from 9 am,
Minimum Consumption of 410 pesos (20 USD) , Beach Chairs with Palapas, Toilets, Bar, Restaurant, Wifi
My experience: This beach club at the south end of the beach strip is another favourite with beautiful settings right next to natural reserve! The area is a bit tucked away, which is nice if you seek a bit of peace and quiet! They do a really good job at cleaning away the seaweed and the sand is being raked daily. There is wifi(-ish) at the restaurant. Rosa del Viento is reasonably priced but certainly has everything you need to enjoy the day without worrying about anything. The drinks are fresh and delicious, the food is a mix of Mexican and Italian. They make their own pasta and they also have a stoneoven, so their pizza is the real thing. A top pick for couples and families with children alike.
Click here for more information.
So these were my favourite beach clubs in Tulum and I hope at least one of them was just what you were looking for!
Have you already been to one of the beach clubs I mentioned? Do you want to share your own experiences or add another reccomendation ? Leave me a comment and let's get a discussion started!