This Thai-Style Peanut Ice Cream with caramelised Peanuts & Candied Ginger will take you straight to the streets of Bangkok. The use of coconut milk instead of milk makes my Thai Peanut Ice Cream a dairy-free dessert!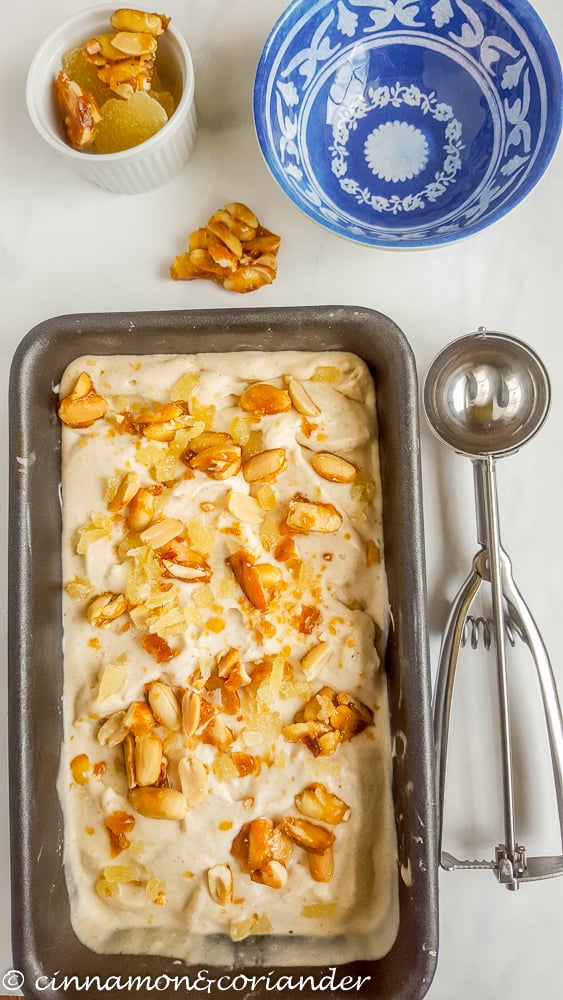 Thailand is known for its street food and if you've ever been, you probably still rave about that delicious pad thai, you had, or those insanely cheap fruit smoothies! My favourite food related memory of our last trip to Thailand is that delicious vegan coconut milk ice cream, which they serve to you in a coconut shell, sprinkled with chopped peanuts. Peanuts and coconut go incredibly well together, especially in ice cream! Ever since I got to try it, I wanted to recreate an ice cream recipe, that would combine those two ingredients.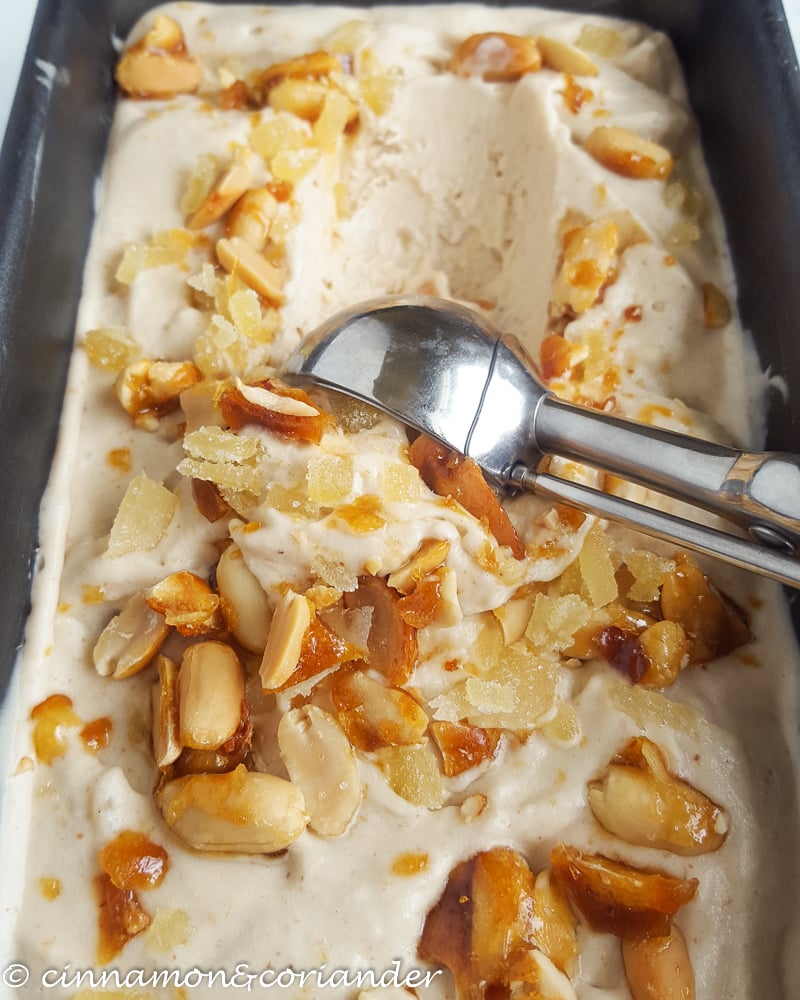 My research led me to Jeni Britton Bauer's Bangkok Peanut Ice Cream recipe. I love Jenis Ice Cream Base
 and have used it in all of my favourite Ice Cream recipes, like my Rhubarb Ice Cream or my Brandy Cherry Goat Cheese Ice Cream. I did change her recipe to create a dairy-free version of Jeni's Bangkok Peanut Ice Cream. Instead of her mix of milk and coconut milk, I went full-on coconut milk and used dairy-free cream cheese instead of regular cream cheese. To add a bit of crunch, I sprinkled some chopped caramelised peanuts and some candied ginger into the soft churned ice cream.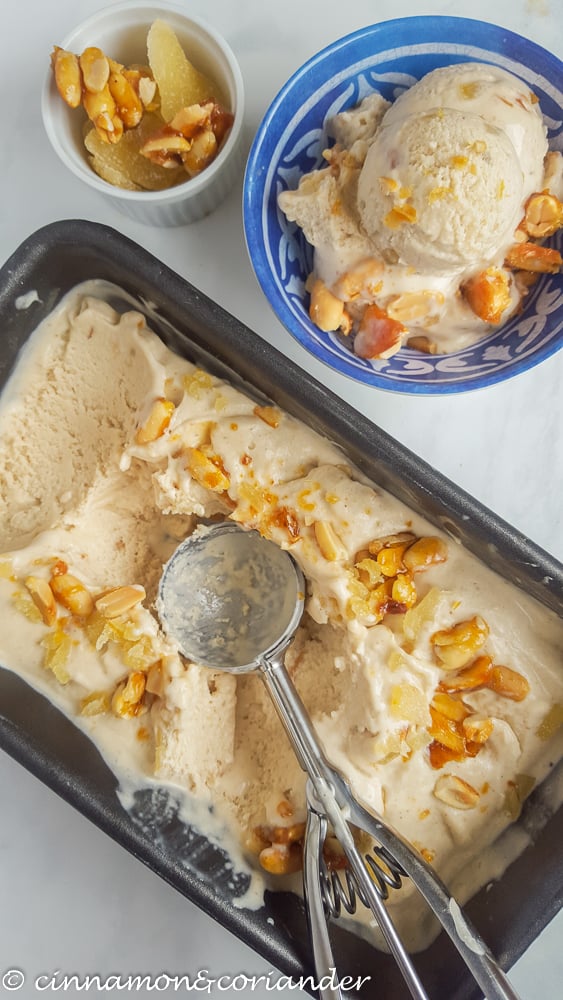 I love that the peanut butter coconut ice cream base itself is so well balanced. You taste the coconut and you get a slight peanut flavour as well, but none of these two flavours dominates the other! The caramelized peanuts and candied ginger add some crunch and take this dairy-free ice cream to the next level!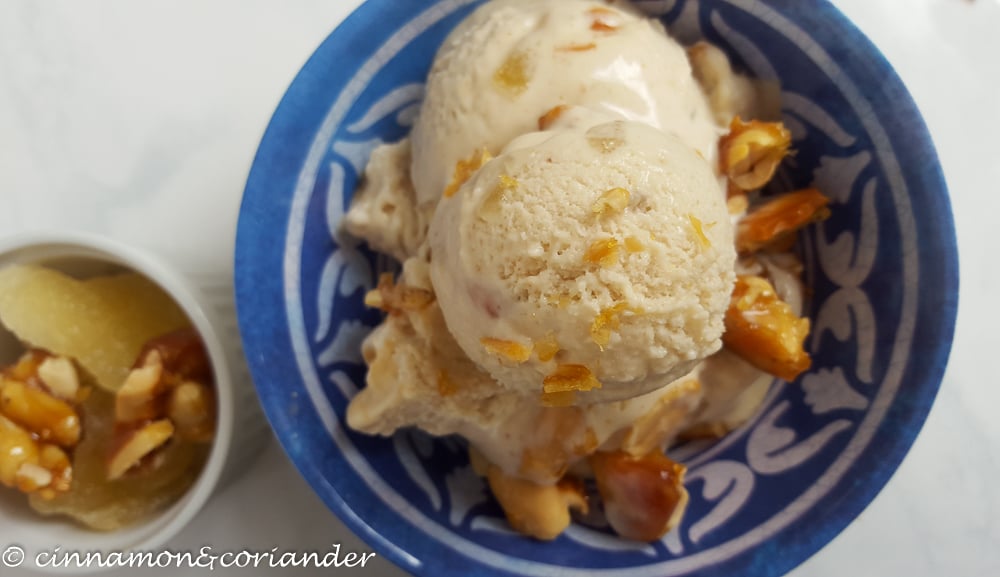 This Thai Peanut Ice Cream is certainly one of the yummiest ice cream flavours I've ever had! I really hope you get to try it yourself!
Note, that for this recipe you need an ice cream maker. Having tried several ice cream makers over the last years, I now use this ice cream maker from Cuisinart
 to make my ice creams and I am really happy with the results. It churns the ice cream reliably within 45 minutes and the bowl fits into our regular-sized freezer easily!
Things you need for this recipe
Disclaimer: A note about affiliate links in this post: some of these links will take you to Amazon where I may receive a small percentage of sales, at no extra cost to you
Thai Peanut Ice Cream with Caramelized Peanuts and Ginger - dairy free
Delicious Thai-Style Peanut Ice Cream with Caramelised Peanuts and chopped Candied Ginger. By using Coconut milk instead of milk this ice cream is dairy-free
Total Time
1
hour
15
minutes
Ingredients
3 1/4

cups

coconut milk

or half coconut milk half coconut cream

1

tbsp + 1 tsp

cornstarch

3

tbsp

softened cream cheese

or dairy free cream cheese

1/3

cup

peanut butter

room temperature

1/2

tsp

salt

2/3

cups

sugar

2

tbsp

light corn syrup

2

tbsp

honey

2

cups

raw peanuts

or roasted, if using salted no added salt in caramel

1

cup

sugar

1/3

cup

water

1/2

tsp

salt

2/3

cups

candied ginger, chopped
Instructions
Mix about 3 to 4 tablespoons of the coconut milk with the cornstarch in a small bowl to make a smooth slurry. Using a hand mixer or a stand mixer with the whisk attachment, mix the cream cheese, peanut butter, and salt in a medium metal bowl until smooth

Combine the remaining coconut milk, sugar, corn syrup, and honey in a 4-quart sauce pan, bring to a rolling boil over medium-high heat, and boil for 4 minutes. Remove from the heat and gradually whisk in the coconut milk cornstarch slurry.

Bring this mixture back to a boil over medium-high heat and cook, stirring once in a while with a spatula, until slightly thickened, about 1 minute. Remove the pot from the heat. Whisking, gradually pour the hot milk mixture into the peanut butter mixture. Whisk until smooth, cover with cling film and let come to room temperature. Chill overnight! Alternatively, pour the mixture into a 1-gallon Ziploc freezer bag and submerge the sealed bag in an ice bath. Let stand, adding more ice cubes as necessary, until cold, about 30 minutes.

For the caramelised peanuts combine the sugar and water in a skillet. Cook over medium heat, stirring constantly until the mixture thickens into a syrup. Add the peanuts and continue stirring for about 10 minutes, or until the liquids evaporate and a sandy-textured sugar mixture coats the peanuts.Lower the heat and continue stirring as the excess sugar in the pan begins to melt. This will take several minutes. Once the syrup begins to form, it will turn from clear to golden to amber. Stir constantly, and be careful that the heat is not so high as to burn or darken the syrup too much. When the syrup is a medium amber colour and the sugary coating on the peanuts has glazed, add the salt if using and turn the peanuts out into your prepared pan. Spread the candied peanuts into a single layer to cool.

Pour the chilled ice cream base into your ice cream freezer and spin until it begins to thicken. Add half of the peanuts and the ginger and let the ice cream maker finish its job.

Pack the ice cream into a storage container, sprinkle with remaining peanuts and ginger and seal with an airtight lid. Freeze in the coldest part of your freezer until firm, at least 2 more hours
Do you like my recipe for Thai Peanut Ice Cream? Pin it using this graphic