My Crispy Coconut Caramel Popcorn with homemade Coconut Caramel is vegan and dairy free! It is the perfect TV snack – so easy to make and it stays crispy for days!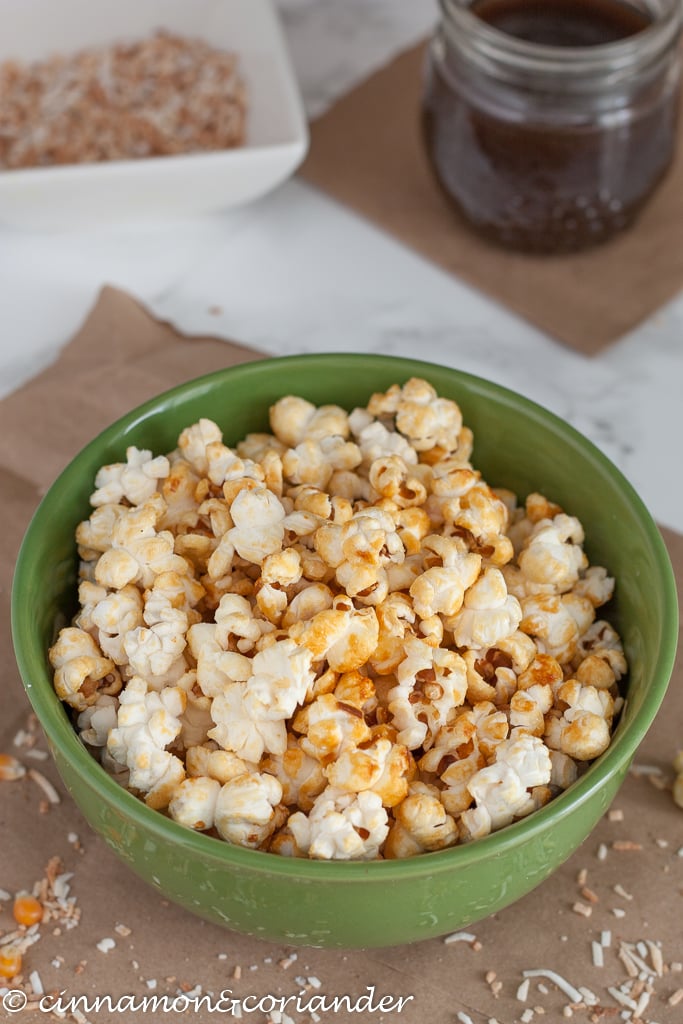 The other day I destroyed the last reason for going to the movie theatre. By learning how to make my own caramel popcorn. Much like learning how to make your own cheese, this is dangerous knowledge. So all of a sudden, plain popcorn is horribly boring. And then, you actually reach the point where even caramel popcorn gets old and you look for a new twist on the sweet and salty drug, that is popcorn. This is where Coconut Caramel comes into play.
Maybe you've heard of Coconut Caramel before. It's the hip, vegan version of regular caramel using coconut milk instead of cream and butter. I've made it quite a few times whenever I needed some last-minute caramel. If you are like me and never have cream in the house, but always a can of coconut milk, then Coconut Caramel might be your new favourite thing. Maybe you'll also hate me a bit for introducing this to you just in time for the sleeveless season. Well, anyways, it's too late now.
Coconut Caramel is my new favourite pancake topping, but I've also used it successfully as a substitute for caramel sauce in my Salted Caramel Apple Pie.   The other day, I felt like experimenting and tossed some homemade kettle corn with coconut caramel and baked it in the oven, just as you would with caramel corn. And as if it weren't indulgent enough already,  I also sprinkled some sweetened shredded coconut on top of the still warm coconut caramel corn. The result: Crispy, sweet and salty popcorn with a wonderfully subtle and round coconut taste. And it's vegan! No doubt, this Coconut Caramel Popcorn is THE best thing I've ever eaten in front of the TV and today, I'll tell you how to make it at home.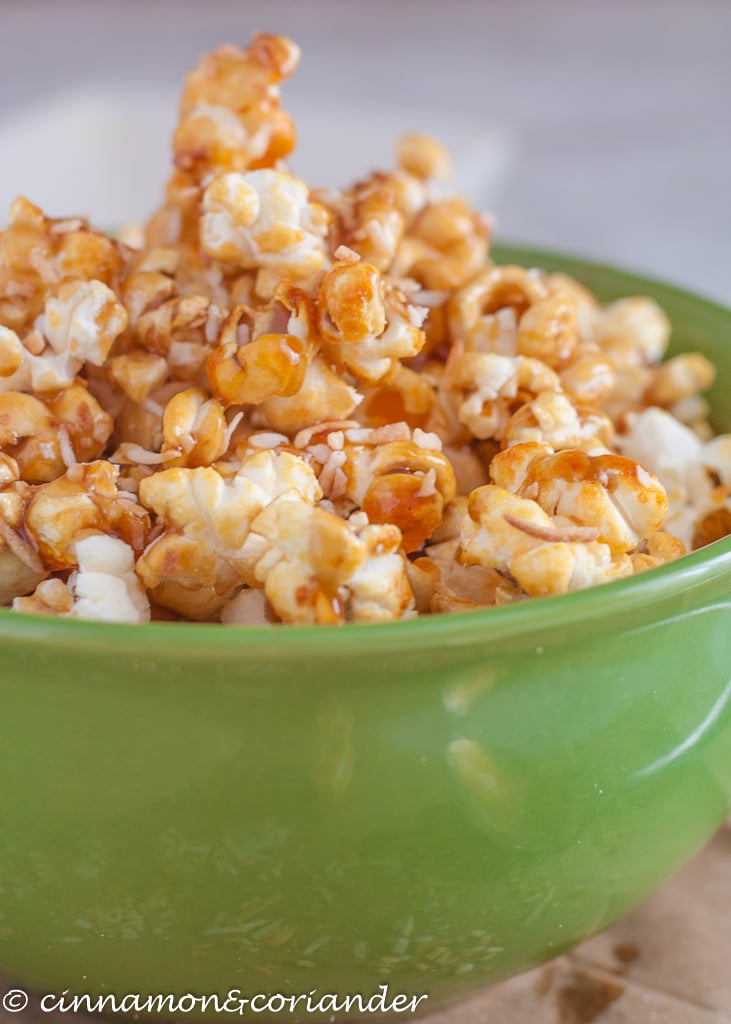 When making my Coconut Caramel Popcorn, I start out with a batch of Kettlecorn, which means that I quickly pop the corn in a pot with hot oil to which I already add some salt and sugar. I imagine you can just use plain popcorn as a base, but by using crunchy sweet & salty popcorn, you can be a bit more sparing with the caramel and will not have one plain tasting popcorn in your bowl.
In my recipe, I used one can of coconut cream. You can substitute it with full-fat coconut milk but you might have to reduce it a bit longer to get the right consistency. Feel free to substitute brown sugar with coconut sugar for a no-refined-sugar version with even more caramel flavour.
Things you might need:
Vegan Coconut Caramel Popcorn
The vegan Version of Caramel Popcorn using dairy-free Coconut Caramel instead of regular caramel sauce!
Total Time
1
hour
20
minutes
Ingredients
3

tbsp

oil

coconut oil

130

g

corn kernels

100

g

sugar

1

tsp

salt

3

tbsp

coconut oil
For the Coconut Caramel
250

ml

coconut cream

200

g

brown sugar

or coconut sugar

2

tsp

vanilla extract

1

pinch

of salt

5

tbsp

shredded coconut or coconut flakes

sweetened or unsweetened

1/4

tsp

baking soda
Instructions
For the coconut caramel sauce
Place sugar and coconut cream in a small saucepan. Heat slowly while stirring to dissolve the sugar. Bring mixture to a simmer and cook for 15 to 20 minutes. The sauce will thicken noticeably and even further as it cools.

To test the consistency, take the saucepan off the heat. Spread a little sauce on a little plate and place in the freezer for one minute. If the caramel doesn't thicken, simmer the sauce for a little longer. As the last step, add vanilla extract and salt to finished caramel sauce and let cool if not using immediately.
For the kettle corn
Pour the oil into the pot and add three corn kernels. These kernels will be your indicator. If you hear them pop, the oil is hot. Cover the pot with a tight-fitting lid and set over medium-high heat.

Add the rest of the corn kernels, along with the sugar and salt as soon as you hear one of the kernels pop. Quickly stir everything together with a silicon spatula to coat all the kernels and replace the lid.

Shake the pot while the popcorn pops. Start by shaking it occasionally and then more frequently and vigorously as the popping increases. Put the pot back on the element every few seconds to maintain the heat.Remove from stove when popping slows down. Don't wait for every kernel to pop or you'll end up burning the popcorn, so as soon as you think it is slowing down, take it off the heat. Total popping time is about 3 minutes on my stove.

Pour the popcorn into a bowl and discard unpopped kernels. Line 2 baking sheets with parchment paper and preheat the oven to 250 F! Bring coconut caramel to a boil and take off the stove. Stir in 1/4 tsp of baking soda. The caramel will bubble up. Keep on stirring and pour everything on your popcorn. Mix corn with coconut caramel sauce.

Bake the popcorn for about 45 minutes. Stir every 15 minutes and sprinkle coconut on top after 30 minutes. Once out of the oven, let cool down. Enjoy!
* A note about affiliate links in this post: some of these links will take you to Amazon where I may receive a small percentage of sales, at no extra cost to you. 
Do you like my recipe for Crispy Coconut Caramel Popcorn? Make sure to pin it: