Try this traditional recipe for German Cheesecake with Poppy Seeds and Quark! The best authentic German Cheesecake recipe perfect for a cozy afternoon! Easy to make! Jump to Recipe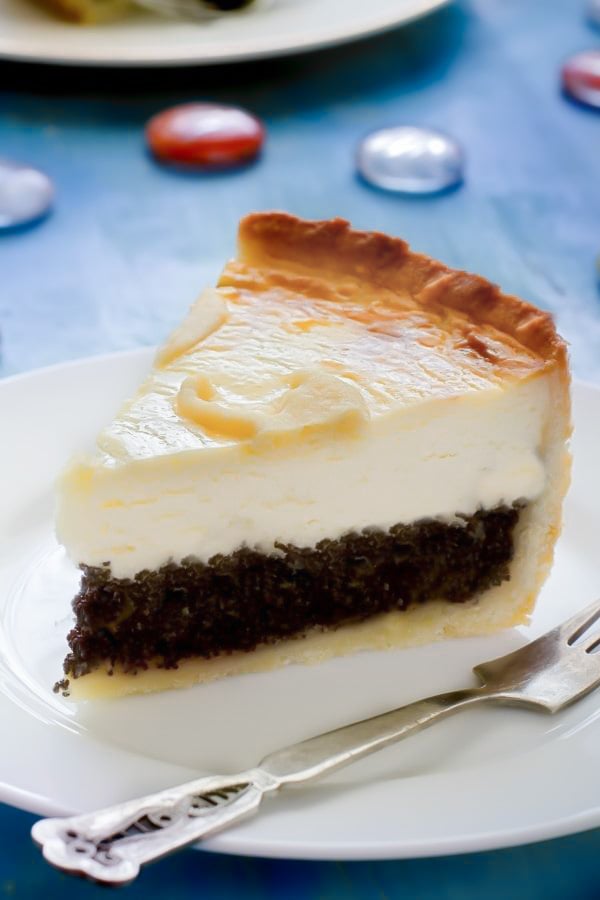 German Cheesecake with Poppy Seeds – the best German Cheesecake recipe
Poppy seeds and cheesecake are a match made in heaven, so you wouldn't want to miss out on this German cheesecake recipe!
What makes German Cheesecake so good?
Less fat
European cheesecake and especially German Käsekuchen is loved and cherished throughout the world! In Germany and most European countries cheesecakes are fundamentally different from American and New York Style cheesecakes.
Where the American-style cheesecake usually consists of a cookie crumble base and mainly of cream cheese and lots of sugar, the European variation uses Quark, a type of low-fat curd cheese and less sugar.
So generally speaking, German cheesecakes are quite a bit lighter than American cheesecake, as Quark's fat content is lower than full-fat cream cheese.
But don't get me wrong While this cake might not be loaded with sugar and cream cheese, this German Poppyseed Cheesecake is not exactly health food either. It's still a treat.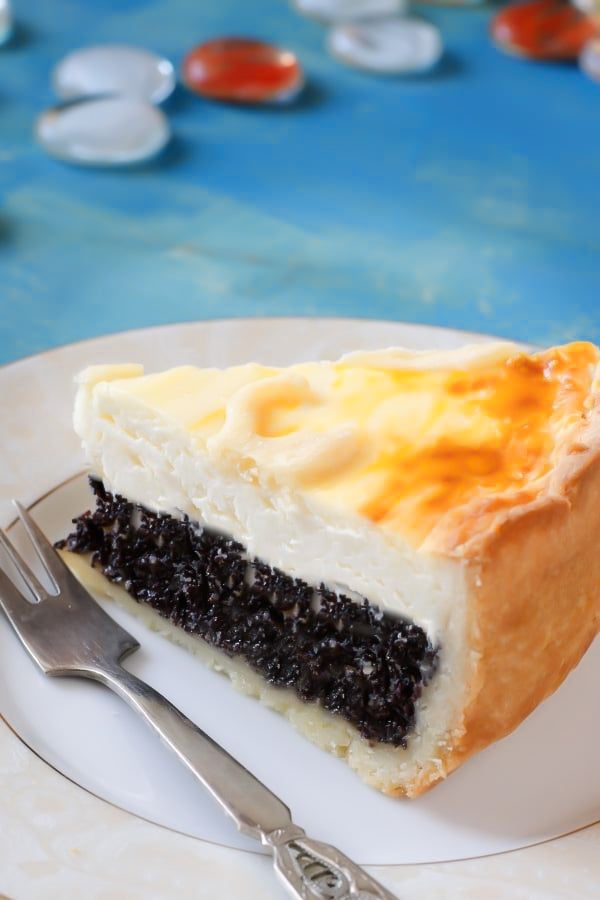 Made from scratch
Another difference is the cheesecake base! As mentioned above American cheesecake uses a cookie crumble base. German cheesecake bases are made from scratch using a simple shortcrust pastry instead of Graham crackers or Digestive cookies. German cheesecake also has quite a bit of shortcrust pastry running up the sides.
Less sugar
I personally really like both variations, but am a little more in love with with German-style cheesecake (Käsekuchen in German) as I grew up with my granny's cheesecake!
One of the great things about Käsekuchen Cheesecake is that there are lots and lots of different versions depending on the region. Many type of cheese filling (e.g. melted butter vs oil, sour cream vs heavy cream, vanilla vs lemon, or rum in the filling.) to the kind of ingredients that you can add to change things up (poppy seeds, raisins, sour cherries, mandarin oranges, apricot, etc).
This poppy seed cheesecake is super-easy to make and you shouldn't be scared away by the amount of poppy seeds needed! Or the rum raisins :-). Though you can leave the rum raisins out!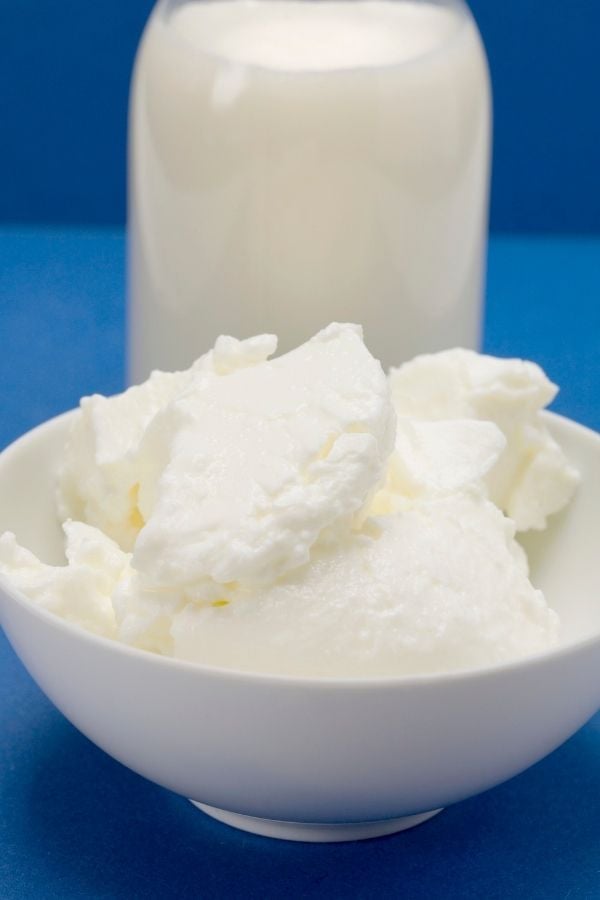 What is quark and do I need it for making German cheesecake?
Quark is a German cheese curd and has a mild creamy taste without the sour tang of yogurt. It is soft un-aged cheese and is not the same thing as cream cheese or cottage cheese. Compared to cream cheese it usually has a much lower fat content and has no salt added. You can find it in most American and Canadian grocery stores.
The best sources are German delis, European bakeries, and natural food stores and co-ops, but it can also be bought online. Aldi also sells is. And hey, it's easy to make it at home using this quark recipe!
Tips:
You can add the rum raisins but it's not a must.
If you hate raisins, use cranberries instead.
The rum is also optional. You can soak the raisins in orange juice instead.
More German cake recipes:
★ Did you make and love this German cheesecake recipe? Give it your review below! And make sure to share your creations by tagging me on Instagram!
German Cheesecake with Poppy Seeds and Rum Raisins
Try this traditional recipe for German Cheesecake with Poppy Seeds and Quark! The best authentic German Cheesecake recipe perfect for a cozy afternoon! Easy to make using quark, rum raisins and a shortcrust pastry made from scratch !
Total Time
1
hour
10
minutes
Ingredients
For the shortcrust pastry:
125

g

flour

plus extra for dusting

25

g

caster sugar

pinch

of salt

1

egg yolk

65

g

cold butter
For the poppy seed filling:
60

ml

milk

25

g

butter

25

g

caster sugar

1/2

tsp

lemon zest

or orange zest

125

g

ground poppy seeds

grind them in a spice mill or small food processor

2

tbsp

soaking rum from the raisins
rum raisins (optional)
1/2

cup

raisins

soaked in 1 cup rum over night
For the cheese filling:
1

egg

60

g

caster sugar

250

g

Quark

or ricotta cheese

100

g

sour cream

full fat

1

tbsp

cornstarch

heaping

1/2

tsp

lemon zest

2

tsp

lemon juice
Instructions
For the shortcrust add all the ingredients to a bowl and, using your hands, knead forcefully until you have a smooth dough. Shape into a ball and wrap the pastry in clingfilm and refrigerate for half an hour.

Soak the raisins in rum. Do this overnight or quickly heat rum and raisins in the microwave and let them plump up in the hot rum for 30 min. Drain saving the rum.

For the poppy seed cheesecake filling pour the milk into a small saucepan and add the butter, sugar, and lemon zest. Bring to a boil while stirring continuously. Take off the heat and stir in the ground poppy seeds and 2 tbsp rum soaking liquid. Cover and set aside.

Preheat your oven to 175°C. Now make your cheese filling. Separate the egg and whisk the egg white until stiff. Stir the sugar into the stiff egg white. Next add the Quark, sour cream, vanilla, cornstarch, lemon zest, and lemon juice to the egg yolk and stir well. Then fold in the egg white and rum raisins, if using.

Roll out the shortcrust pastry into a circle on a dusted surface. Grease your 20 cm springform pan and lay it out with the shortcrust pastry, gently pressing it into the bottom and sides using your fingers. You want the sides to be about 3 cm high.

Now pour the cooled poppy seed mixture onto the bottom of the pastry and smooth it out slightly before pouring the cheese mixture on top of that. Smooth out again and put the cake in the oven. Bake it at 175°C for 35 minutes then turn the temperature up to 200°C and bake for another 10 minutes.

When the cake is done, remove from the oven and leave it to cool completely to room temp, then chill in the fridge for 6 h before slicing. Käsekuchen tastes best when cold, so you could even refrigerate it before serving.
Recipe Notes
You can add the rum raisins but it's not a must.
If you hate raisins, use cranberries instead. 
The rum is also optional. You can soak the raisins in orange juice instead.