Dieser Beitrag ist auch verfügbar auf:

Deutsch (German)
The best easy panna cotta recipe. This light version of the Italian pudding dessert uses Greek yogurt and milk instead of cream! Paired with thyme macerated strawberries this is the perfect no-bake dessert for hot summer days.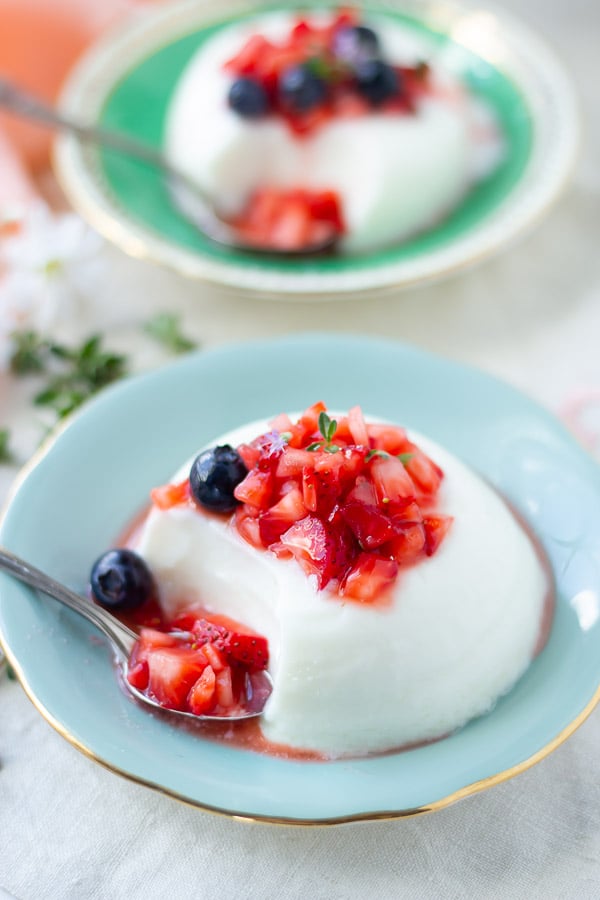 This simple Greek Yogurt Panna Cotta is the perfect smooth, creamy no-bake dessert for summer. You will love the cool tang of Greek yogurt and that hint of lemon paired with the chilled yogurt pudding and the thyme marinated berries.
What is panna cotta?
Panna cotta is Italian for "cooked cream," and stands for a cream pudding / no-bake custard with a luxurious texture that's really simple to prepare. I love panna cotta, it's one of my favorite easy summer desserts for when company is coming! It is pretty fool-proof and always a success. I mean, who does not like berries, lemon, and yogurt combined in a light refreshing dessert?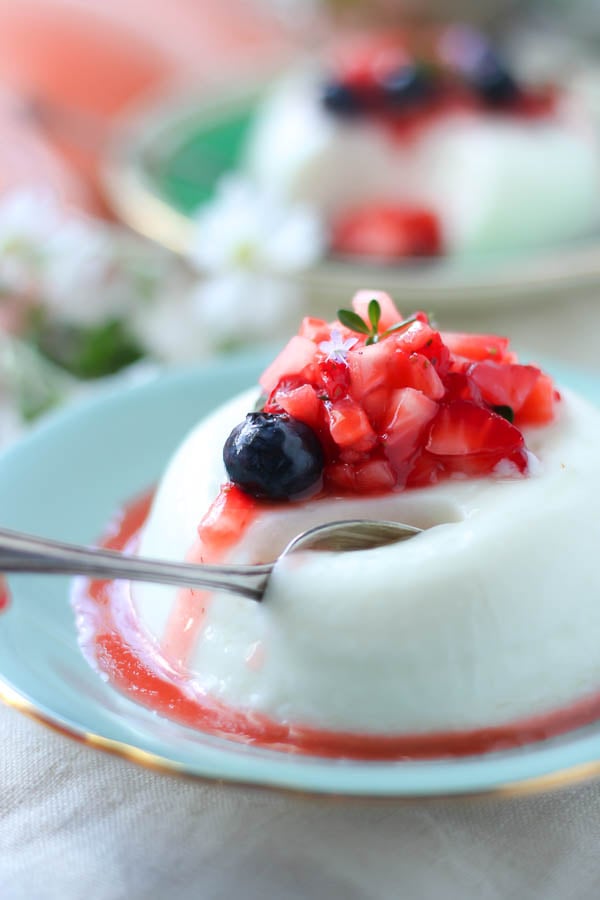 The secret to the best panna cotta:
Getting the proper ratio of gelatin is the key to perfect panna cotta. Too much and your dessert will jiggle like Jell-O, too little and you'll wind up with a runny pudding. The texture has to be just right, creamy yet firm with just the right amount of wobble. This panna cotta recipe gets you just that! Decadent, smooth, silky, and luxurious, yet so much lighter than a traditional Italian panna cotta recipe, which is typically made with heavy cream.
To make this pudding a tad lighter, we use Greek yogurt and whole milk instead. You won't even know the difference.
It's all about that gelatine.
After a few rounds of testing, I was able to nail the proper ratio of gelatin to Greek yogurt for a perfectly soft-set panna cotta. I also like to add some fresh lemon juice and lemon peel to the base but fresh vanilla bean seeds can be used instead. The Greek yogurt adds a balancing tang – so good. The smooth sweetness of this easy Italian summer dessert begs for a hint of tartness; and the thyme macerated berries get the job done!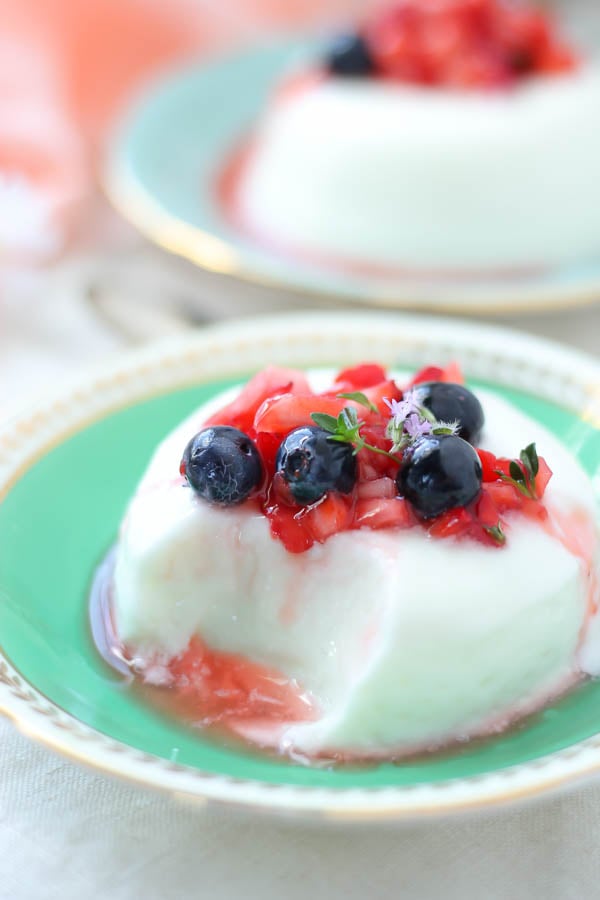 How to macerate berries with thyme:
To amplify the flavor of berries, toss them in sugar some sugar and lemon juice and, then let it steep for 15 to 30 minutes or more. Adding sugar (or a little peach liqueur or my homemade limoncello – Italian nonna secret) to the fruit and letting it sit over time is known as maceration.
Macerating fruit is a simple way to enhance the natural sweetness of the tart berries and this fruit sits, it will soften and generate a delicious syrup with a strong berry flavor. Just what the mild panna cotta needs to really shine.
How to invert panna cotta from a mold?
To make life easy when it comes to presenting your panna cotta, make sure to use round ramekins! While the size isn't super important the shape matters and the container should really be round if you're planning to un-mold the panna cotta accident-free!
For inverting your yogurt puddings, I recommend spraying the bottom of the dished you're chilling the panna cotta in with some non-stick cooking spray or coating it with a brushing of coconut oil. Then invert it onto a plate after it's had at least 6 h time to chill in the fridge.
I find it helps to run a butter knife along the edge to help loosen the pudding, then just give it a gentle shaky shake. Place the serving plate of top of the dish (make sure it's perfectly centered because once unmolded the panna cotta cannot be moved), flip the plate, and the panna cotta should slide right out.
Alternatively, just serve the dessert in pretty little glass jars. Easy peasy! Once inverted, top your yogurt panna cotta with strawberry sauce and serve with more strawberry sauce on the side if you have leftovers.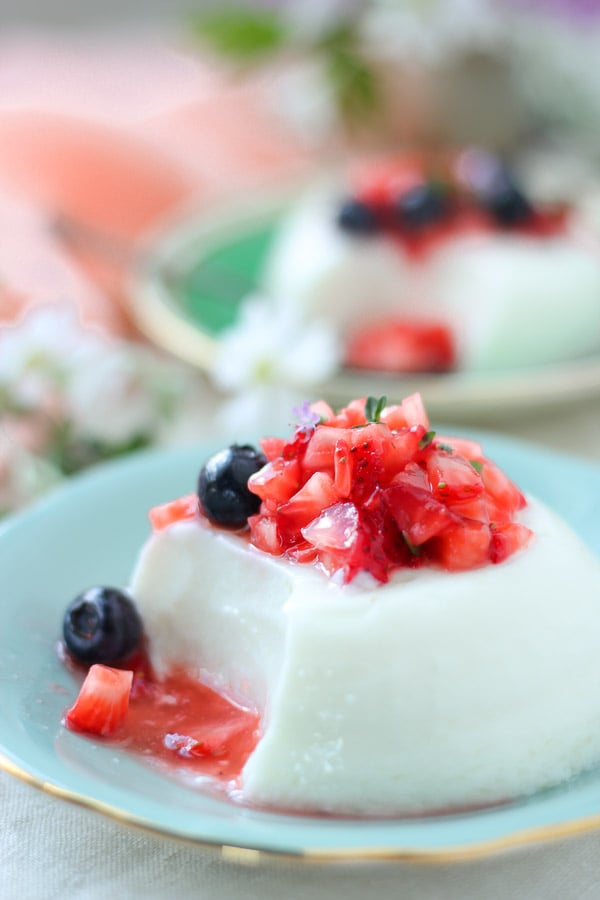 What consistency should the perfect panna cotta be?
The perfect panna cotta should have a soft jiggly texture. So not as firm as jello. Panna cotta barely holds its shape (careful when unmolding) and upon hitting your tongue it should dissolve into tangy creamy bliss.
My panna cotta doesn't set! What did I do wrong?
Did you give the panna cotta enough time to set up? If so, the issue might be that the gelatin didn't melt all the way or you boiled the gelatin mixture. When you boil gelatin, it loses all its thickening power and won't set!
Tips:
Serve with fresh, baked, or poached fruit.
Panna Cotta can be made 2 days in advance. Fruit should be made the day of.
Italian Granny secret – macerate the berries in homemade limoncello. Here's my limoncello recipe.
For an easy Italian dinner party, serve my Pasta Al Limone as a main and Panna Cotta for dessert.
★ Did you make and love this Greek yogurt panna cotta recipe? Give it your review below! And make sure to share your creations by tagging me on Instagram!
Easy Greek Yogurt Panna Cotta Recipe with Thyme Macerated Berries
The best easy panna cotta recipe. This light version of the Italian pudding dessert uses Greek yogurt and milk instead of cream! Paired with thyme macerated strawberries this is the perfect no-bake dessert for hot summer days.

Ingredients
2 3/4

cup

milk

660 ml

2 1/2

tsp

gelatin

powdered

3/4

cup

sugar

150 g

1

tsp

lemon zest

or 1/2 vanilla pod, scraped out

oil for oiling the molds

1 1/3

cups

Greek yogurt - 350 g

plain

2

tbsp

lemon juice

300

g

berries

- 11 oz, chop the strawberries

2

teaspoons

fresh thyme leaves

minced

1/2

lemon

juice

1

tablespoon

granulated sugar
Instructions
Place 60 ml of milk in a small bowl and sprinkle gelatin over it. Set aside.

Combine the remaining milk, sugar, and lemon peel in a medium saucepan and set over medium heat. Stir until the sugar has dissolved, then increase the heat to medium-high. As soon as it comes to a boil, remove the pan from the heat. Stir the gelatine mixture into the milk mixture. Whisk gently until the gelatine has dissolved, then set aside to cool until tepid. Brush 6 molds (180 ml / 3/4 cups each) with some oil.

Add yogurt to a large bowl or measuring cup and whisk. Strain milk into the yogurt using a fine-mesh sieve, stirring, and pressing onto the lemon peel to extract the essence. Whisk gently, trying not to whisk in too much air, then add lemon juice. Stir and pour into molds. Chill panna cotta for 6 h or longer, up to 2 days.

In a small mixing bowl, stir together berries, thyme, lemon juice & sugar and a pinch of salt. Mix well, using your hands, making sure all berries are coated evenly. Set aside for 10-15 minutes.

When ready to serve. insert a knife to loosen the edges of the panna cotta, then turn them upside down over individual plates. Hold down the mold with one hand, grab the plate with the other and give it a shake to release the panna cotta. Spoon the berries over top and serve.
Recipe Notes
Can be made 2 days in advance.